Former Minnesota Democratic Senator Al Franken trolled former Republican President Donald Trump during a hosting gig on Jimmy Kimmel Live, calling out one of Trump's favorite boasts about the 2020 general election, one that actually happens to be true.
Trump has been the subject of increased derision since his announcement that the FBI executed a search warrant for Mar-a-Lago and "even broke into my safe!"
In the days since the search, sources said Trump was in possession of classified material—including nuclear secrets—that prompted the intelligence community to voice concerns about national security and the possibility classified government secrets could prove a boon to foreign adversaries and even allies.
But Franken took particular aim at Trump's insistence that there "is no way to justify" the search of:
"the home of the 45th President of the United States (who got more votes, by far, than any sitting President in the history of our Country!)'"
Did Donald Trump really get more votes for President than any sitting President in our history? Factcheck: True.
But that is cold comfort, indeed, when you lose as badly as Trump did to Joe Biden.
As Franken hilariously lays out below.

Guest Host Al Franken on "Unannounced RAID" at Trump's Mar-a-Lago, Hating Ted Cruz & Jan 6 Hearingsyoutu.be
Franken said:

"Trump is taking it exactly, taking it exactly as what you'd expect."
"Last night, he wrote this: 'There is no way to justify the unannounced RAID of Mar-a-Lago, the home of the 45th President of the United States (who got more votes, by far, than any sitting President in the history of our Country!)'"
"Now Trump keeps saying that he 'got more votes, by far, than any sitting President in the history of our Country!' I know that sounds good, but it doesn't mean much when you lose by 7,052,770 votes."
"You've heard of Ireland, right? That's more than the entire population of Ireland. It's the entire population of Ireland plus every single person in Nebraska combined."
"Plus a completely sold out Michigan Stadium in Ann Arbor and everyone who works at every Burger King in America, plus every person the average American will meet in their entire life, plus every Major League Baseball player and NBA player."
"Plus a Southwest flight at maximum capacity, throw in every person to date who's got monkeypox in Indiana, and there'd still be six people left over… that's the entire Allman Brothers Band. That's how many people Donald Trump lost by. Give or take a million."
And he even had a helpful graphic.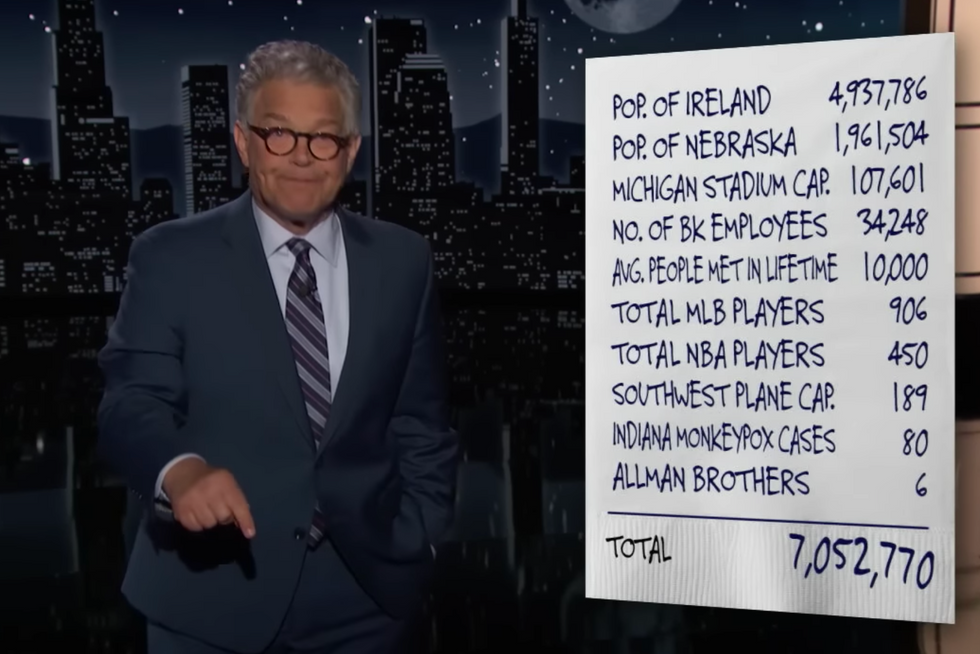 ABC/Jimmy Kimmel Live
Many applauded Franken's remarks and agreed with his assessment.

Trump has continued to falsely assert he won over Democratic President Joe Biden despite never providing any credible evidence, instead citing yard signs and crowd size during the height of the pandemic as "proof."

Data shows that Trump would not have been able to make a worthwhile case for his own victory even if he had tried (and he did).

President Biden received 81,284,666 votes during the 2020 general election and 306 electoral votes, above the 270 needed to become the 46th President of the United States. Biden's win made Trump the first President to lose a reelection bid since George H.W. Bush, also a Republican, in 1992.
Trump—who also lost the popular vote in 2016—has long described his first electoral college win as a "landslide," but has failed to note Biden defeated him by a larger electoral vote margin than Trump defeated Hillary Clinton by in 2016.
Nate Silver, the statistician best known as the face of FiveThirtyEight, "found that the percentage of electoral vote won by Trump [in 2016]—56.9 percent—was well below the historical average, 70.9 percent," according to a Factcheck.org investigation conducted at the time.
Factcheck.org added "Silver found that Trump's share of electoral votes ranked 44th out of 54 elections going back to 1804. Before that, Silver noted that "presidential electors cast two votes each, making it hard to compare them to present-day elections."
CORRECTION 8/17/22: A previous version of this article stated Trump's claim that he won more votes than any sitting president in history in 2020 was false. The article has been updated.