Documentary filmmaker Abigail Disney was flabbergasted after seeing a photo of a massive crowd watching fireworks at Walt Disney World.
Disney – the daughter of the late senior executive for the Walt Disney Company, Roy E. Disney, Walt Disney's nephew – shared a post with the photo of the crowd.
Two pictures from the event were originally shared on WDW News Today – an unofficial online news source for Disney parks – after the company announced closures of their parks due to concerns over the spread of the coronavirus.
---
On Sunday, WDWNT posted the photos, writing:

"Current crowds at the Magic Kingdom for tonight's showing of Happily Ever After... #DisneyWorld"
Current crowds at the Magic Kingdom for tonight's showing of Happily Ever After... #DisneyWorld https://t.co/xtBoObaQAx

— WDW News Today (@WDW News Today) 1584319300.0
They later posted saying that it was "extremely crowded" in the parks.
It's extremely crowded in here tonight... https://t.co/IfhC6wZpxt

— WDW News Today (@WDW News Today) 1584319342.0
Every step we take, brings a new hope, a new day ✨ https://t.co/r7dvfZMosl

— WDW News Today (@WDW News Today) 1584322225.0
But the Disney scion was not impressed and had a few words expressing her disbelief:

"Are you f'king kidding me??"
@abigaildisney/Twitter
On Wednesday, the World Health Organization (WHO) declared the coronavirus a pandemic after COVID-19 began to rapidly spread across the globe.
In response, the Walt Disney Company announced on Thursday they would be closing the Disneyland Resort in California, Walt Disney World in Florida, and the Disneyland Paris Resort through the rest of the month starting on March 16.
Shuttering the U.S. parks followed the closures of the Disney parks in Asia, including in Shanghai, Hong Kong, and Tokyo, amid concerns of the coronavirus.

To close out the parks, crowds gathered en masse, shoulder to shoulder, to watch the popular "Happily Ever After" fireworks at the Magic Kingdom park in Florida to say so long to Mickey and friends.
Many on Twitter joined Disney in her outrage over the display.

@JohnDiglesias/Twitter
@SJUA08/Twitter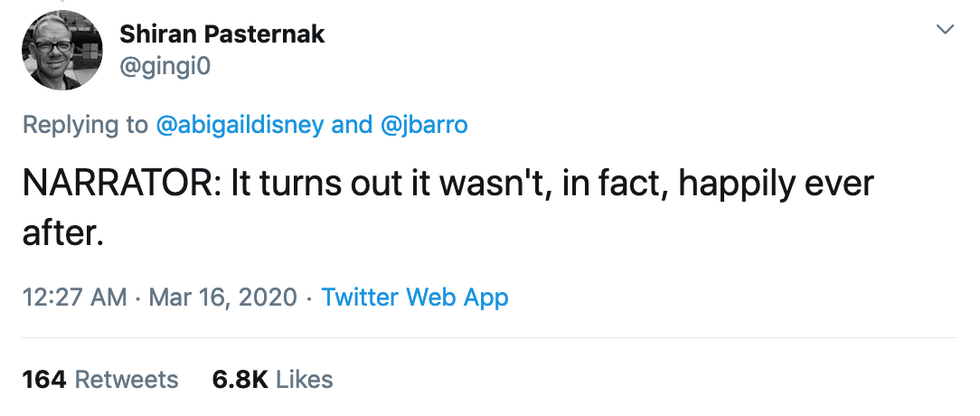 @gingi0/Twitter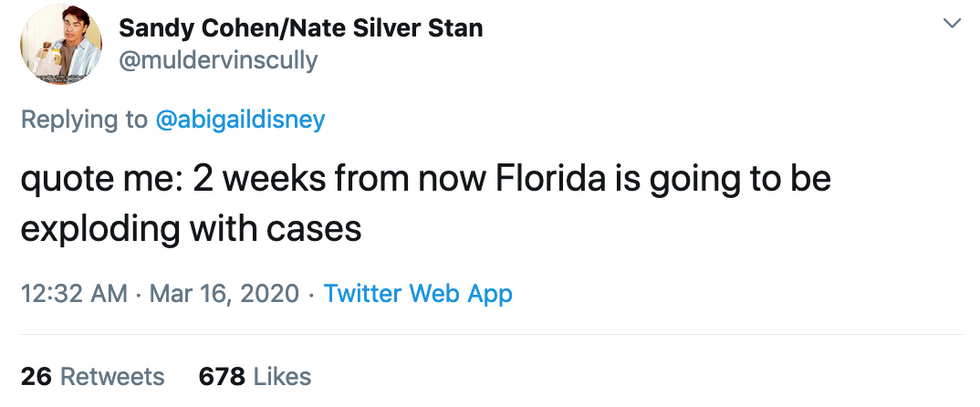 @muldervinsculler/Twitter
@SpeakUpNoworNev/Twitter
@CriticFromAfar/Twitter

@RightSkeptic/Twitter
@TomAuggie/Twitter
This is not the first time the granddaughter of the Walt Disney Company co-founder Roy O. Disney has spoken out against the company.

The outspoken heiress criticized the huge pay gap between front-of-line Disney theme park cast members and Disney Co. CEO Bob Iger for his $66 million yearly salary.
She told Yahoo in an interview:

"Bob needs to understand he's an employee, just the same as the people scrubbing gum off the sidewalk are employees."
Disney also announced on Monday they will be shutting their stores in the Disney Springs shopping district and all of their company-owned hotels at 5 p.m. on Friday.

There are safer ways to enjoy the Disney fireworks -- check out Amazon for a few ideas here.