In a series of viiral videos, TikTok user j_rodriguezxo confronted a man at the gym for taking a photo of her during her workout at a Planet Fitness.
Another person at the gym told Janelle Rodriguez a man took a picture of her from behind while she was working out.
So she took her phone with her and started recording their interaction.
Rodriguez started by saying:
"Someone just came and told me you took a picture of me."
The man responded:
"You?"
After pressing him further, he said:
"Take a picture of you? Why would I do that?"
He denied he took the photo, but refused to show his phone's camera roll to confirm it.

Rodriguez said:
"If I go to the front desk right now and ask him to play back those cameras and you're taking a picture of me, you're going to be in big trouble."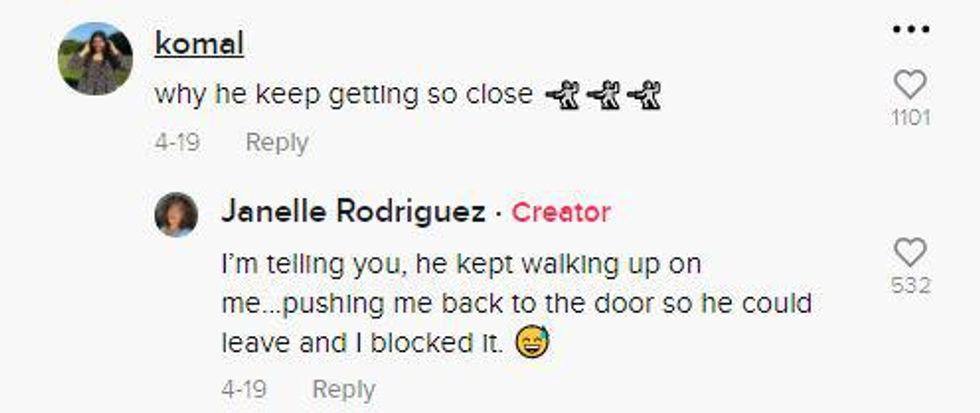 @xoxo.komal/TikTok
In the second video, the man shows her his phone, trying to cover up the photo he took, but she could see it was a close up of her butt.

Rodriguez begins to raise her voice, saying:
"Delete it right now, before I make a f'king scene."
In the last two parts of the video, she continued to tell him to delete the photo from his phone as he tried to leave the gym.
Rodriguez yelled:
"My body is not for you to take a f'king picture of. How dare you!"
User _itsgala commented:
"That sh*t is saved in his deleted files lorddd Jesus!!"
But Rodriguez made sure it was completely removed from his phone before he left.
Thousands of people commented in support of Rodriguez and what she did to hold the man accountable for his behavior.

@wikidnezz/TikTok

@leilaniii2/TikTok

@bigdikboi/TikTok

@ferniesanders2024/TikTok

@s_johnson_voiceovers/TikTok

@annachant/TikTok
Rodriguez responded to comments in follow up videos.
One commenter asked:

"why isn't anyone helping her"
Rodriguez explained no one helped while this was happening, but many people at the gym were watching while this went on. After the man left, she went up to the front desk and explained what happened.
She explained:
"No one asked me what was wrong."
"They were like 'Oh, we're so sorry this happened.'"
"What do you mean? You watched the whole thing and did nothing!"
"Y'all need to get some better training."
According to the National Sexual Violence Resource center, 81% of women in the United States report experiencing some form of sexual harassment and/or assault in their lifetimes.
This needs to change.