It may almost be 2022, but we are still seeing reasons why women feel safer exercising in women-only gyms.
Just this week, a woman shared a video on TikTok with evidence of the dangers women face in shared spaces like the gym, which she caught on her phone.
TikTokker @marziii10 was doing squats with weights when she decided to record a video of herself so she could track her form and her progress.
Then a man approached and set his gym bag, but not his phone, down next to where she was lifting, so the woman thought her phone must have been in the way, given where she had left it.
The woman apologized to the man while collecting her phone and ending the recording, which the man said was no trouble.
It was only when @marziii10 returned to her car and played her recording back she realized what had actually been going on.
@maryiii10 confided:
"I was recording myself and it looks like I wasn't the only one. I'm disgusted."
You can watch the TikTok video here:
@marziii10

I didn't notice until I watched the video in my car… #wtff #gymfail #gross #whatdoido #fyp
When she watched the video, she realized the man had only set his gym bag down as an excuse to get closer to her while she was working out.

And when he didn't set his phone down, as well?
It was because he was recording her squatting from behind, zoomed in on her butt. @marziii10 circled his hand with the phone in the video, in which viewers can see her squat being recorded.
In a follow-up video, the TikTokker emphasized she was only recording a video to track her own progress and form, so she could continue safely adding weight and deepening her squats while exercising alone.
But it was alarming to her and to some fellow TikTokkers how much she had to defend herself against male TikTikkors who insisted on coming to the secret videographer's rescue.
You can watch the follow-up video here:
Some tried to use @maryiii10's posting of the video against her, as well as the fact she caught the guy on camera without asking him first.


@marziii10/TikTok

@marziii10/TikTok

@marziii10/TikTok

@marziii10/TikTok

@marziii10/TikTok
But the distinction, others argued, was the possible intention behind the guy's recording and the consent he would need for that.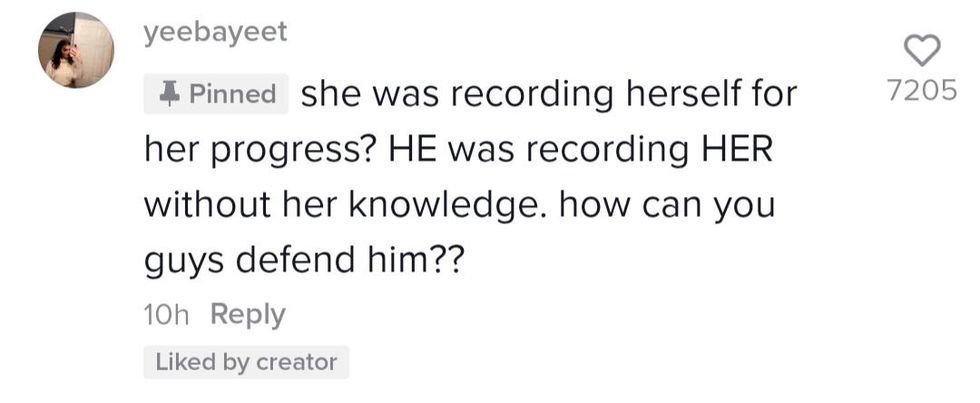 @marziii10/TikTok

@marziii10/TikTok

@marziii10/TikTok

@marziii10/TikTok

@marziii10/TikTok
The TikTokker shared she would be going forward with reporting this incident to a manager at the gym, as well as pursuing legal action if any activity was captured on the gym's cameras which would give her more evidence to work with.
But she declared she would be doing that work in privacy off-line, as her video had not been received well.
"I think I'm going to do all of that off-line, because it seems like my videos have landed on the wrong side of TikTok."
"If you don't see a problem you are the problem."
Most importantly, the TikTokker pointed out the criticism she was receiving was a distinct reflection of a sexist and abusive culture, and they were actively contributing to that culture.
"I don't even think I want to address all the comments that I see because it's a literal war zone in those comments and I'm just baffled, to say the least on some of those comments on that video."
With spiraling conversations like this, it's no wonder women prefer to work out with other women instead of in co-ed gyms where instances like this can happen, and where even when they have proof, the women are criticized for wearing gym clothes.