New York city—the pulse, the beat, the drive...
And then, of course, the total and complete cynicism of every single person who lives inside the tightly packed urban center.
One newly engaged woman experienced a true NYC moment for the history books.
She encountered a cynicism so deep it could do nothing but answer her happiness with an immediate negation.
@baykenz

The nicest city ♥️✨ #newyork #engaged #engaged #newyorkchristmas #fiance #funny #nyc #k18hairflip
TikToker Bailey Kenworthy (@baykenz) yelled out the window, "I'm engaged, New York!" and was swiftly met with a passerby's response of "SHUT THE F**K UP."
As the room took a moment to collect itself after the perfectly timed moment, Kenworthy turned to the camera with a little hair flip and said "I just love it here."

@baykenz/TikTok

@baykenz/TikTok

@baykenz/TikTok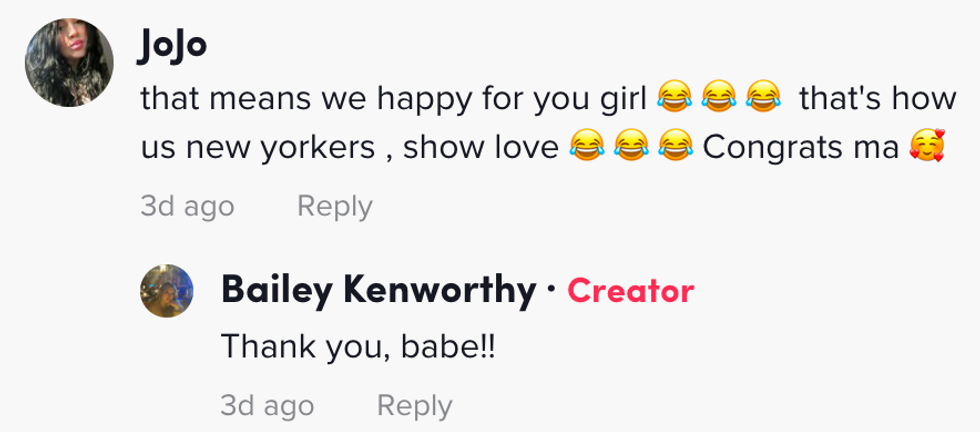 @baykenz/TikTok
TikTokers were amused by the video because of how in-keeping it is with New York city's reputation.
But some people noted the video's similarity to other moments from pop culture.
Some said it invoked the end scene from How To Lose A Guy In Ten Days, while others noted Monica Geller from Friends' moment announcing her engagement to Chandler.

@baykenz/TikTok

@baykenz/TikTok

@baykenz/TikTok

@baykenz/TikTok
The moment was so perfect the video has amassed over 2.8 million views and 438,000 likes.

"I love that my video is blowing up," said Kenworthy to the New York Post.
Kenworthy works as a patient service specialist for the University of Texas Medical Branch's Coronavirus Disease 2019 unit.
She was visiting NYC over the holiday when her happy moment happened.
"I enjoy when others laugh at my jokes."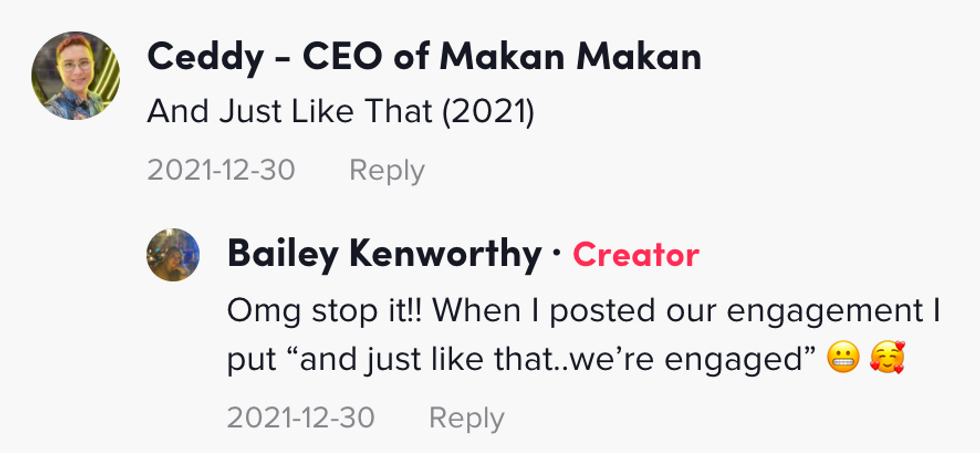 @baykenz/TikTok

@baykenz/TikTok

@baykenz/TikTok

@baykenz/TikTok
Kenworthy said she didn't regret shouting her announcement out the window, despite the less than enthusiastic response.
"I just love it here, [it] was my whole vibe the entire week we spent in NYC, no matter how non-friendly anyone acted."
Kenworthy and her fiancé plan to marry in November, pandemic permitting.