Tyler James Williams recently took to Instagram to address rumors he might be gay, and also comment on the dangers of speculating about anyone's sexuality.
The Abbott Elementary star shared a statement to his Instagram stories, clarifying that despite rumors, he is not gay.
He added how speculating on anyone's sexuality is a harmful practice.
You can see Williams' Instagram post here: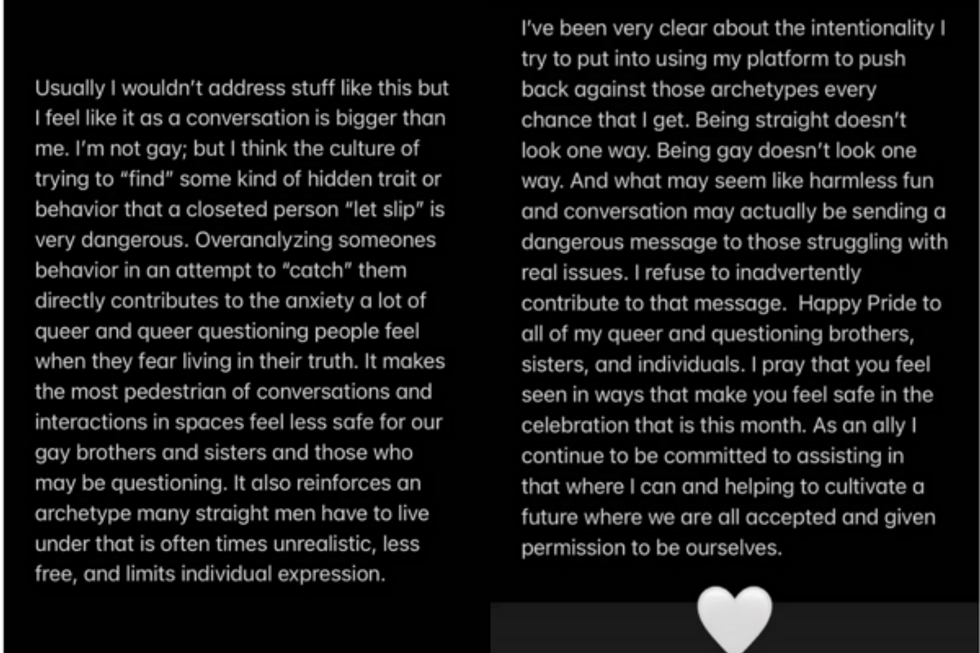 @willtylerjames/Instagram
Williams explained guessing someone's sexuality based on certain traits or behaviors is what often leads to LGBTQ+ people being afraid to openly express themselves, particularly those who might be questioning their sexuality and identity.
He wrote:
"Usually I wouldn't address stuff like this but I feel like it as a conversation is bigger than me."
"I'm not gay, but I feel like the culture of trying to 'find' some kind of hidden trait or behavior that a closeted person 'let slip' is very dangerous."
"Overanalyzing someone's behavior in an attempt to 'catch' them directly contributes to the anxiety a lot of queer and queer questioning people feel when they fear living in their truth."
"It makes the most pedestrian conversations and interactions in spaces feel less safe for our gay brothers and sisters and those who may be questioning."
Williams added publicly speculating on someone's sexuality based on their behavior also perpetuates outdated, harmful gender stereotypes.
"It also reinforces an archetype many straight men have to live under that is oftentimes unrealistic, less free, and limits individual expression."
Williams referred to his notable fashion choices on the red carpet—always following a distinctive style far different from the traditional black tie most men wear to award shows and galas.
He explained he made it his mission to break conventions about how masculinity should be perceived.
"I've been very clear about the intentionality I try to put into using my platform to push back against those archetypes every chance that I get."
"Being straight doesn't look one way."
"Being gay doesn't look one way."
"And what may seem like harmless fun and conversation may actually be sending a dangerous message to those struggling with real issues."
"I refuse to inadvertently contribute to that message."
Williams ended his note with a touching nod to Pride month.
He stated as an ally he will continue to support and fight for the LGBTQ+ community so they will one day safely live in a world free of judgment.
"Happy Pride to all of my queer and questioning brothers, sisters and individuals."
"I pray that you feel seen in ways that make you feel safe in the celebration that is this month."
"As an ally I continue to be committed to assisting in that where I can and helping to cultivate a future where we are all accepted and given permission to be ourselves."
People took to Twitter to express their support for his statement.
Many expressed their own frustrations over why someone's sexuality should be a talking point.
Williams shot to stardom at the age of 12 whkle playing the title role in the sitcom Everybody Hates Chris, loosely based on the childhood of comedian Chris Rock.
Williams told GQ in March his exposure to fame at such a young age resulted in his being in an ongoing state of "hypervigilance."
He continues to struggle with people's preconceived notions about him because of his career.
"I still get triggered by things that are part of everybody else's childhood."
"Every time someone comes up to me, regardless of what it is they recognize me for, what that says to me in the moment is that I'm seen."
"I have to be on, immediately, because someone's watching."
"Hypervigilance was one of the things that we had to tackle, because I would be listening to everyone's conversation in a room."
"I could hear my name being brought up from two, three tables down."
"I could see how many people clocked me when I walked in the door."
"And that's not healthy."
Abbott Elementary has been one of the most critically acclaimed and beloved sitcoms in recent memory.
Season two broke the hearts of many viewers after central character Janine—played by show creator Quinta Brunson—told Williams' character Gregory she needs some time to herself following an almost torturous "will they/won't they" over the course of the show's first two seasons.