Recent Wheel of Fortune contestant, Tenaya, is all of us right now.
Who among us hasn't been on the spot and flubbed something that seems perfectly obvious to everyone else? Most of us have a 4th grade spelling bee word we should have known, or drawn a sudden blank for a word and had to replace it with something else or just make hand motions until someone understood.
Tenaya, faced with a puzzle that most considered easy, flubbed her guess in a way people are calling one of the funnier fails in the show's long history.
That's probably not how she wanted to make Wheel of Fortune history, but here we are.
Can you guess the solution?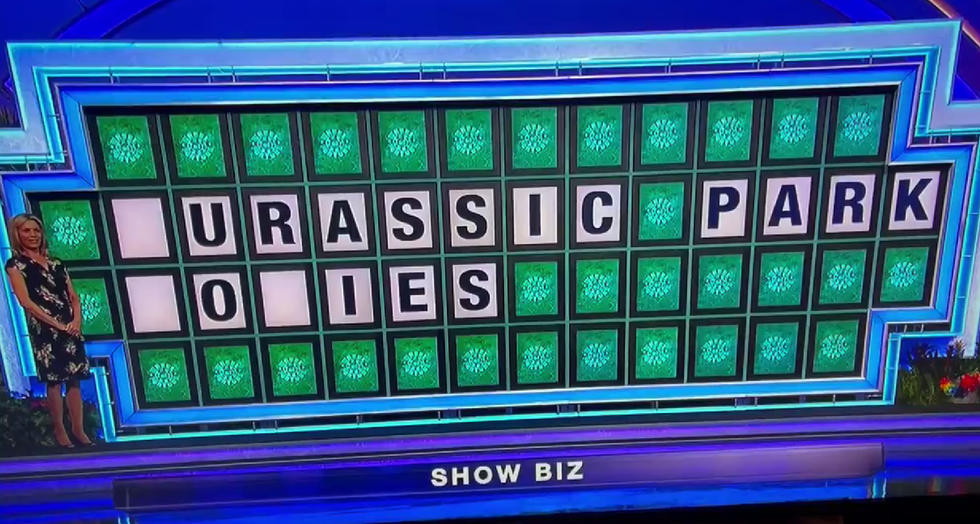 @producepat/Twitter
If you're like most people, you immediately got "Jurassic Park" for the first two words. Now let's talk about that third word.

The correct answer is "movies" but let's be honest, a good amount of you had your brain insert other words.
Worse, a lot of you got stuck on that wrong word even though you knew it was wrong. Your brain annoyingly blocked everything else out and left you stuck in your wrongness.
Now let's all watch Tenaya do it!
After asking to solve the puzzle, she confidently gets the "Jurassic Park" part out, but the hesitation in her voice is clear as she gets to the third word of the puzzle.
Then she gets it very wrong (but oh so right) when she guesses...
..."bodies."
Twitter had a field day with it, of course.
Even the dinosaurs got in on it when the Jurassic World official Twitter account weighed in.
But Tenaya wasn't the only one!
Be honest, what was your guess?