TV star Jesse Tyler Ferguson and the original creative team for the Broadway musical The 25th Annual Putnam County Spelling Bee stepped in after a superintendent announced the cancellation of a high school's production of the show due to "vulgarity" and for a character having "two gay dads."
Ferguson played Leaf Coneybear in the original Broadway cast that opened the show in New York in 2005.
The musical comedy centering on a middle school competing in a spelling bee contest won two Tony Awards and has spawned numerous productions worldwide and in schools around the country–including junior versions of the show without profanity.

Recently, Cardinal High School student Riley Matchinga was cast in the Middlefield, Ohio school's production as Logainne Schwartzandgrubenierre–a contest competitor with two gay dads.
She described them as the following:

"Carl Dad is kind of drill sergeant with spelling. He wants his daughter to be super successful and win, win, win."
"Where Dan is more like 'Ok, it's time for a break. We can let her chill out for a little bit.'"
Three weeks into rehearsals, the director and music teacher Vanessa Allen received an email from the Cardinal Schools' Superintendent asking why there was an unsettling buzz about the show.
Allen said of the superintendent's concern:
"He mentioned something about inappropriate content."
Allen claimed the Cardinal Local School District's school board addressed complaints of "sexual innuendo" and "the gay dads" in the show.
However, Superintendent Jack Cunningham denied those claims but did issue a statement saying the show was being canceled for "vulgarity."
Allen apprised her students of the disappointing news but gave them the power to decide how to move forward.
She recalled telling them:

"We gave them the option that we are willing to—for lack of a better word—fight this decision."
"But only if that's what you want us to do."
After all the work they put in up until this point, Matchinga and her classmates were not going to back down.

The senior student said:

"And we're all like, 'Yes, let's fight it. Let's do it. We love this show."
"We think it's a really good show and something worth putting on."
Upon hearing about the Cardinal School's cancellation of Spelling Bee, Ferguson explained the reason for it was "kind of abusive."
He began with:

"There's something I feel I just have to get off my chest. I'm a little rattled."

Ferguson explained in a social media video post that some of the show's content can easily be modified or censored, but the one point of contention that parents "bump up against" was in regards to the "two gay dads" component.
He noted that having played a gay father for 15 years on the hit TV sitcom Modern Family made an influential impact on viewers who commended the show for its representation and for inspiring positive changes within their own families.
He continued:

"I guarantee you that there's someone at this school who is maybe being raised by gay parents but, definitely, more than one person at this school is gay or lesbian or bisexual and the message that this sends to them, that that is not ... family friendly is toxic and harmful and kind of abusive."
One of the students involved in the production expressed gratitude for Ferguson's input.
"hi!! my name is hanna hansen and i was supposed to play rona in the show at cardinal. i just want to say thank you so much for this, you have no idea how much it means for you to stand with us:) thank you thank you thank you."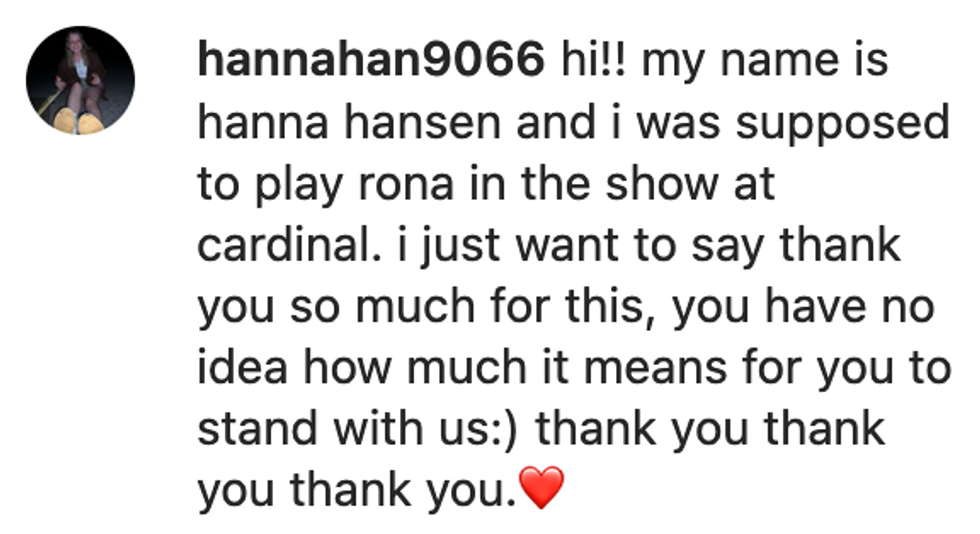 @jessetyler/Instagram
Another student involved in the production also commented:
"AS THE CARDINAL STAGE MANAGER: THANK YOU SO MUCH FOR YOUR SUPPORT!!! each and every one of us is so thankful for you speaking out!!! it genuinely means so much to all of us that are involved!!!!"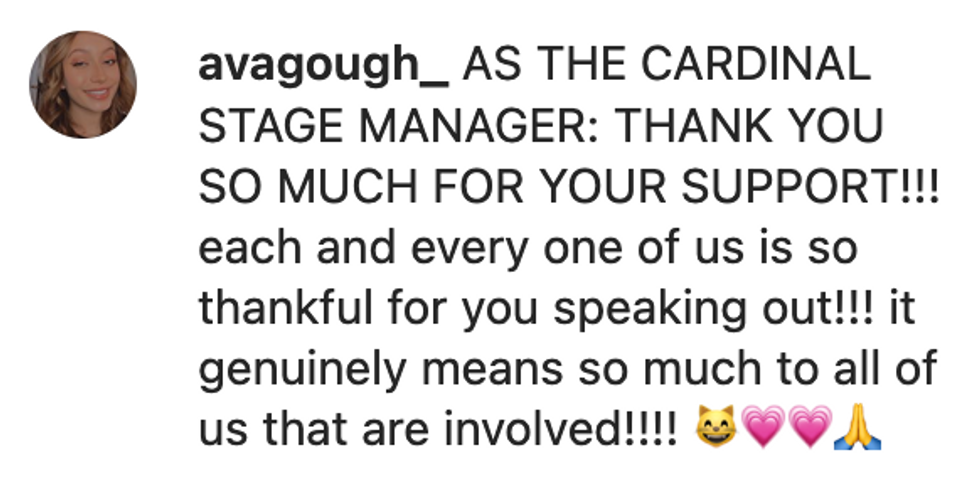 @jessetyler/Instagram
More commenters shared their personal stories of overcoming anti-LGBTQ+ challenges and they emphasized the importance of representation.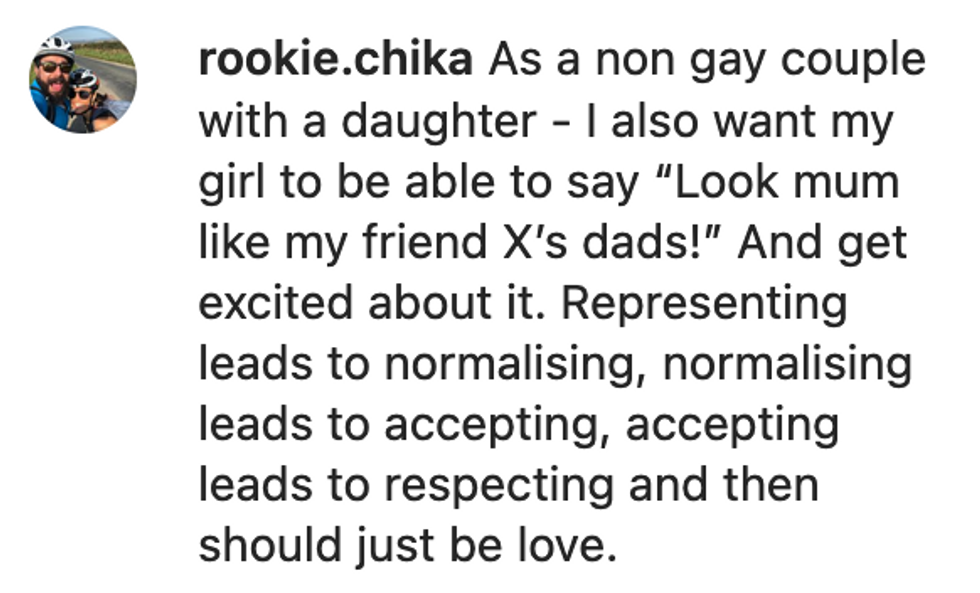 @jessetyler/Instagram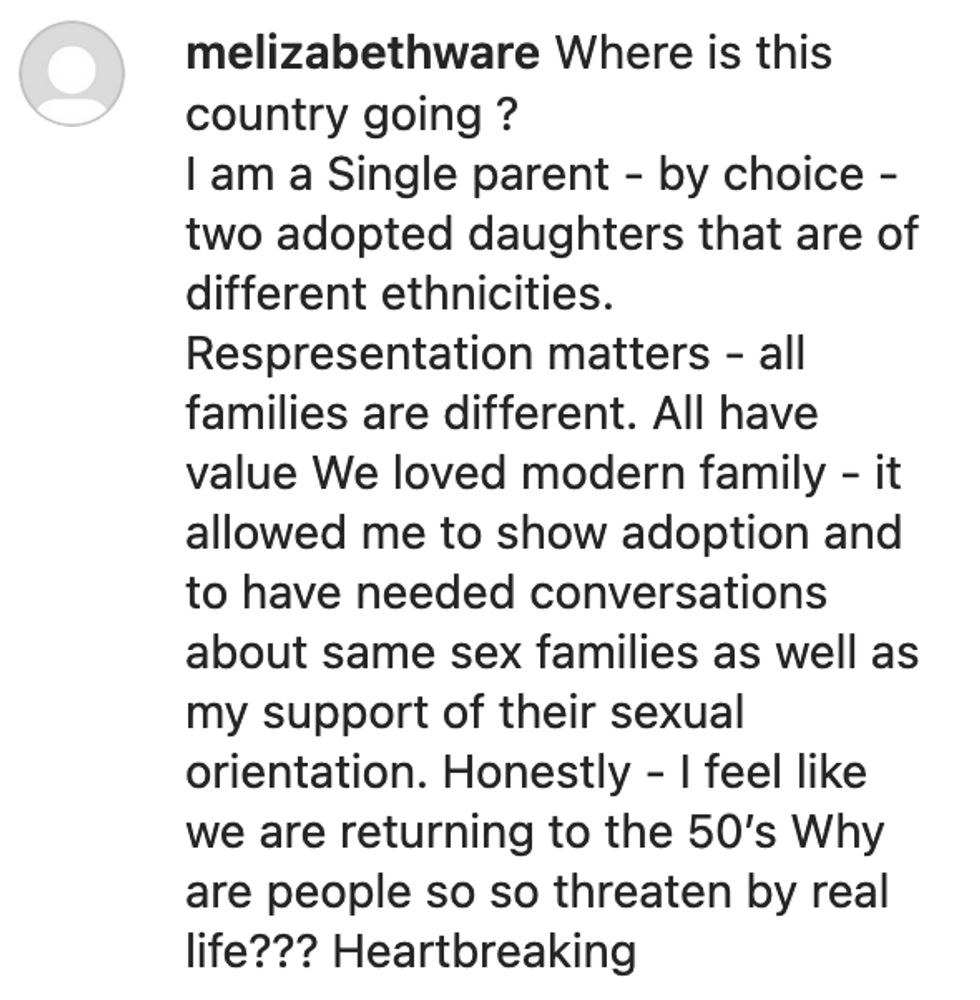 @jessetyler/Instagram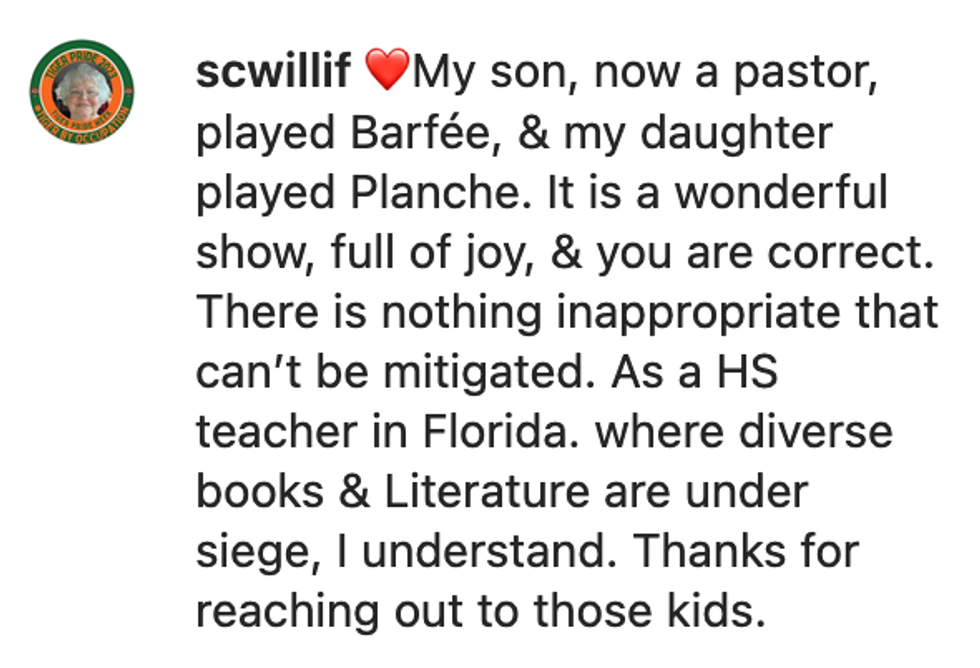 @jessetyler/Instagram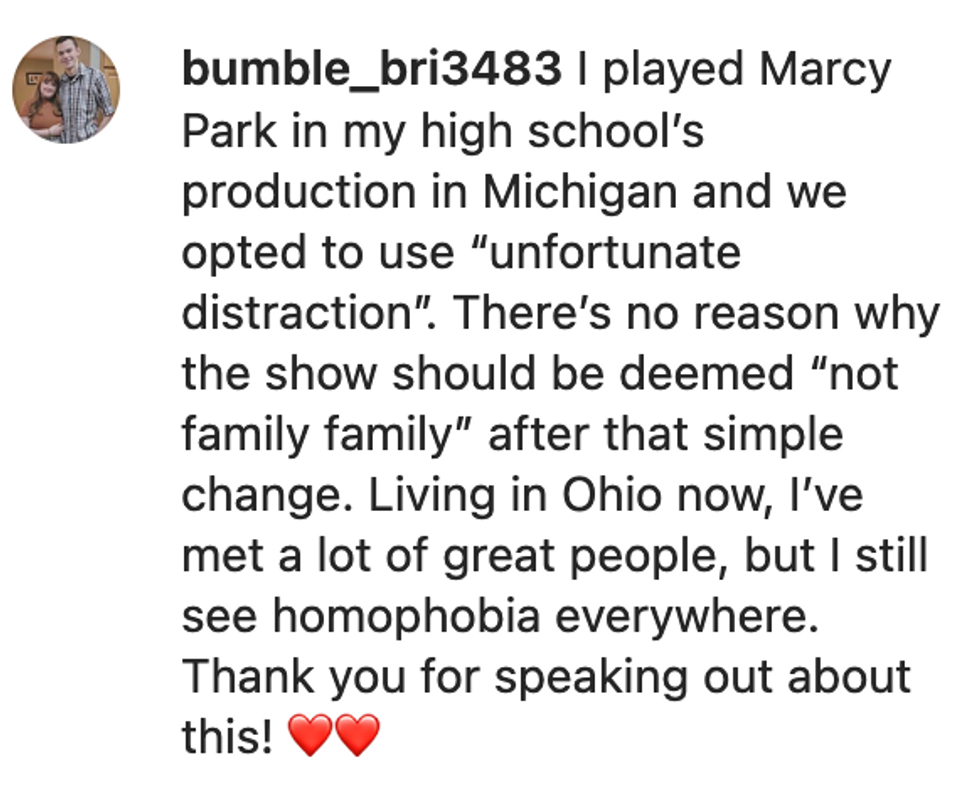 @jessetyler/Instagram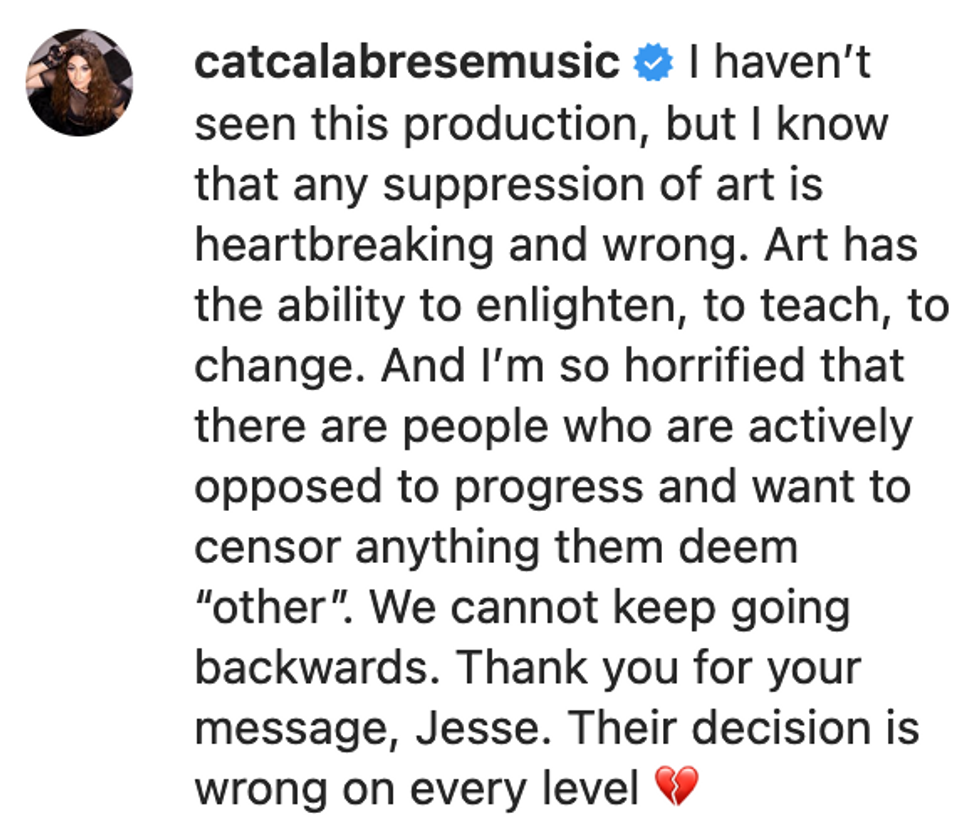 @jessetyler/Instagram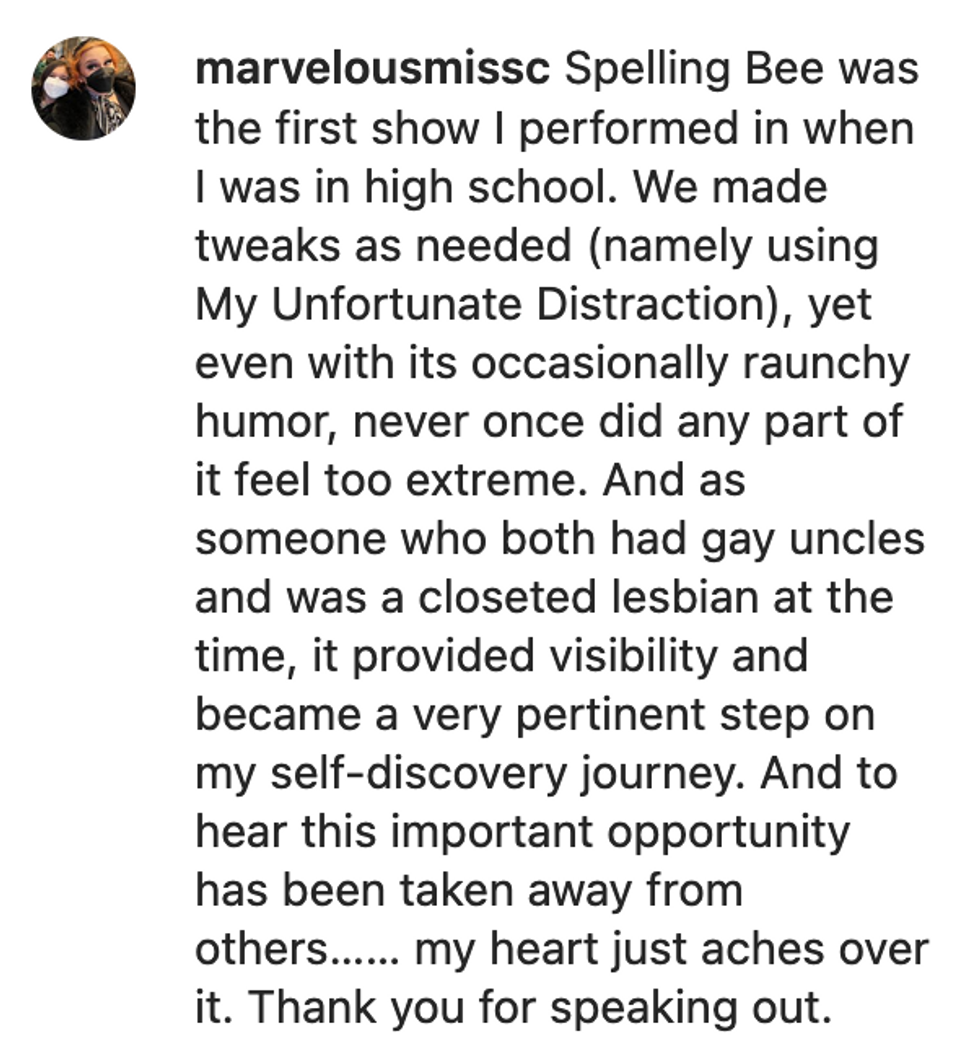 @jessetyler/Instagram
Ferguson's video prompted Spelling Bee creators Rebecca Feldman–who conceived the show—and book writer Rachel Sheinkin to also weigh in.

Sheinkin explained how she met the school board halfway by accommodating them on some 20 requested lyric changes to the show to avoid canceling the production.
Said Sheinkin:

"It's heartbreaking for the kids if you cancel it in the middle of rehearsals and construction and the rest."
But there were specific things the lyricist was not willing to budge on.

"There were a lot of different requests and we weren't able to accommodate ones that changed the story or the character arc."
"But we were very happy to accommodate ones that changed individual words and a whole lot of 'damn' and 'goddamnit.'"
One example included changing the lyric "good lord" to "good grief."
Another lyric changed from "and I've heard that she's pro-choice/ though still a virgin," to, "but she will not make her choice/ 'till she is certain."

To maintain the show's integrity, however, Sheinkin refused to change the lyric "I'm not that smart," in the song "I'm Not That Smart," sung by Leaf Coneybear–which Ferguson originated on Broadway–because that was what the character has heard from his family.
Sheinkin said:
"Clearly, that's a bigger change than we're going to be able to make. And it has to do with the character's story who comes to appreciate his own intelligence."
Commenting on the school wanting to sugarcoat the real hardships young students navigate in school, like bullying for example, Sheinkin said:
"We thought it sounds like they're wanting all the characters to be nice and not all characters in drama are nice."
Matchinga added there was more to theater than just mindless entertainment.
"Theater is about more than just getting on stage and singing a song and dancing a dance."
"It's about making people think critically and think about life in ways that you wouldn't on a day to day basis, and empathize with people."
After an agreement was reached, rehearsals resumed so the show could eventually go on.
Superintendent Jack Cunningham wrote an email obtained by NPR, saying:
"We are focused on learning from our situation and moving forward internally."
Allen considered this a victory and said:

"Whatever the original reasons for the objections ... we came to a place of common understanding and common sense and consideration for the students, and I think it's fair to say there's consideration for the students on all sides."
Looking back, Allen noted how the experience made her more apprehensive about her decisions in the future.
"I think we all see what's happening nationally with censorship. And I never thought that I would be dealing with it."
"But now, after all this, I'm starting to question everything I'm doing."
Drew Cohen, President and CEO of Music Theatre International which licenses musicals–including to high schools–understands Allen's nervousness.
"They're nervous about just saying the wrong thing or doing the wrong thing," Cohen said.
"The last thing they want to do is have a problem with the parent body or the board because they picked the wrong show."