Forget a horse-drawn carriage or a vintage Rolls-Royce. One Lancashire bride chose a convoy of bright orange moving vans to get her and her bridesmaids to the church on time.
---
The HGVs were at the center of Stacey and Michael Clark's romance, after they met and fell in love at first sight at HJ Clark and Sons – the removal firm his family have run for five generations, where her dad, Johnny Morris, 60, also worked.
Primary school teacher Stacey, 32, of Kirkham, who has two children, Charles, six, and Harriet, two, with Michael, 35, recalled:
"I think it was love at first sight."
She continued:
"I was 18 and working part time in the office and Michael, who was 21, left me a packet of cherry drops on the desk. He knew I liked them.
"Then I found his number in the work address book and sent him a text to say thank you.
"We weren't together instantly. We went out a few times then Michael moved away for six months then when he came back we got together properly."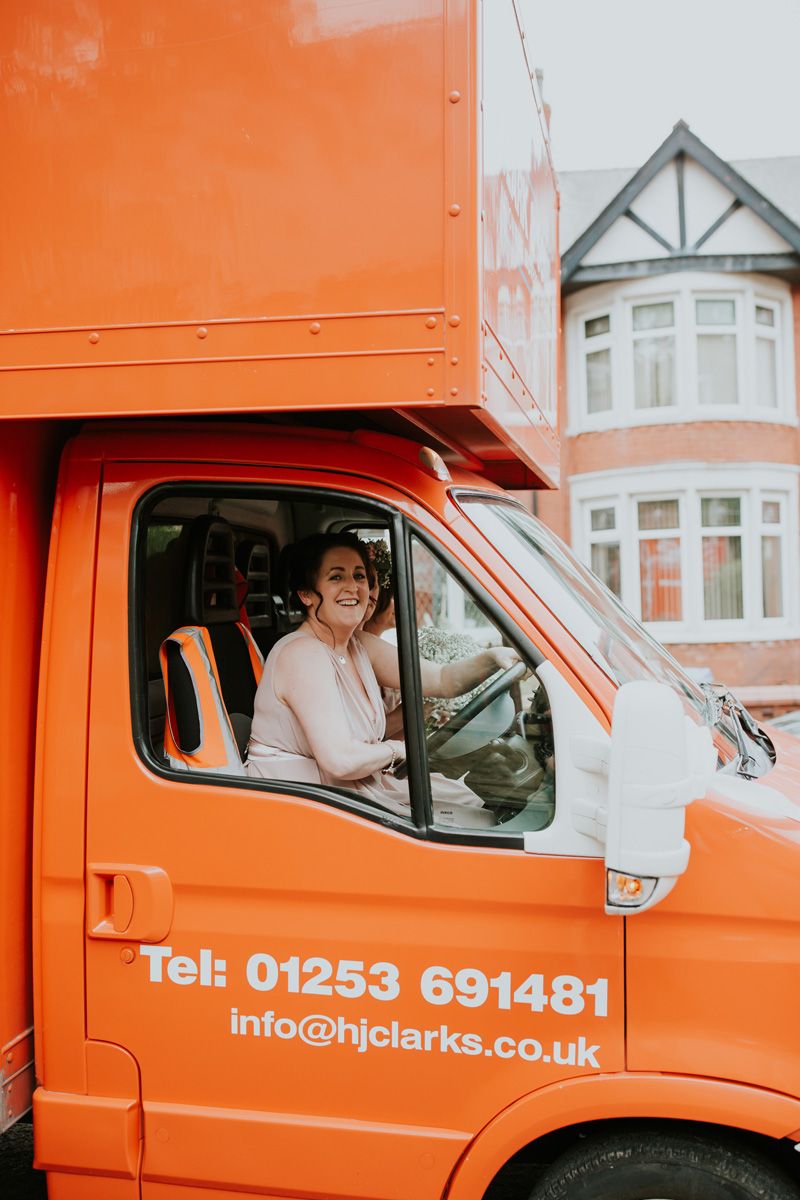 Kerry Morris (PA Real Life/Jo Boulton Photography)
For Stacey, being driven to the church for her big day on May 31 in one van along with her mom, Lesley, 60, by her dad, while her sister Kerry Morris, 37, who has an HGV license, drove her other sister Toni Morris, 35, and friend Sara McDonald, 32, and Michael's sister Jenny Goodson-Clark, 37, drove Chloe Fletcher, 32, and Stacey Dutton, 34, – all of them bridesmaids – as part of a three vehicle convoy, was just perfect.
Seeing it as a great way to honor the role the family firm, started in Lancashire in 1909, had played in their relationship, she laughed:
"I thought it would be a good gimmick and a bit of a novelty.
"It was a really lovely way to do it. I don't think anyone else will see someone coming to their wedding in a removals van. It was 10 out of 10 and I wouldn't have wanted it any other way."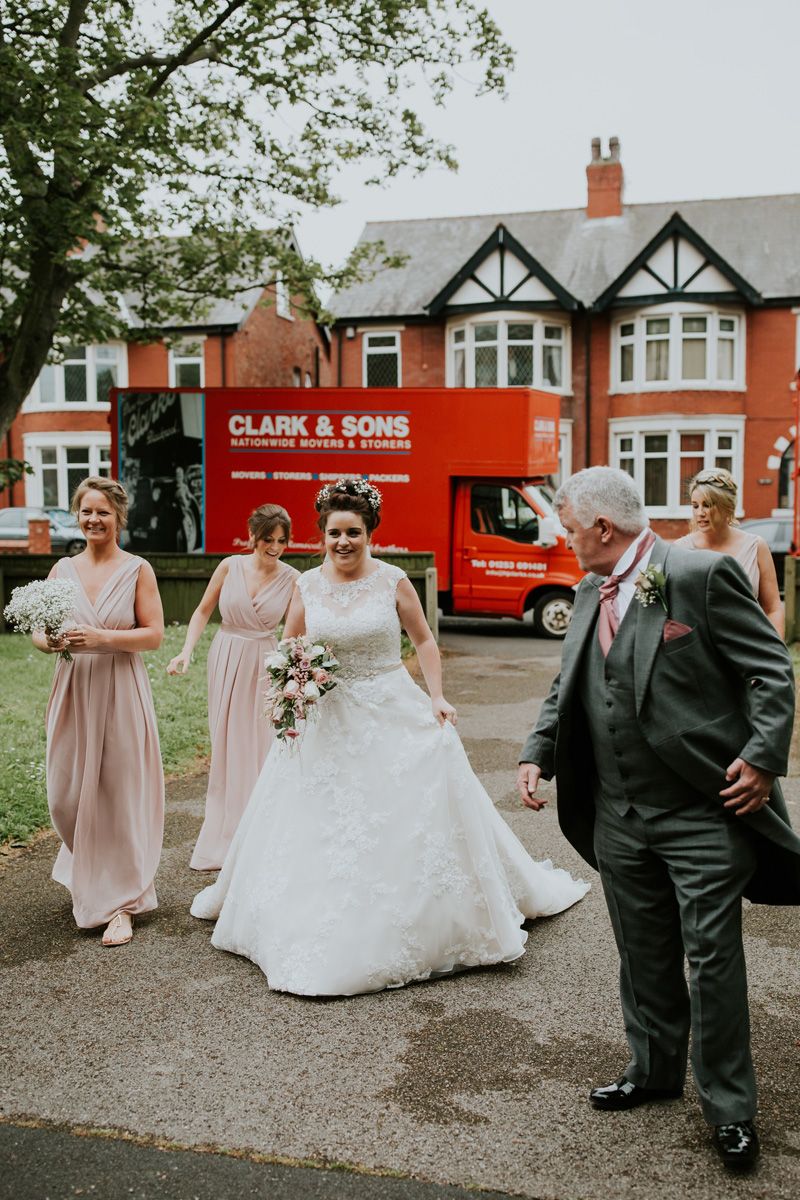 Bride Stacey arrives at the church (PA Real Life/Jo Boulton Photography)
She continued:
"It was really special. It just sums up how our relationship started and the history in our families.
"Anyone who knows Michael knows how much he loves removals, too. He even washes the vans three times a week!"
The night before the wedding the three moving vans were driven to Marsh Farm Hall in Great Eccleston, Lancs, an impressive local venue where the reception was held and where Stacey was staying, and decorated with white ribbons, ready for the bridal procession.
"My dad was getting quite stressed."
— Stacey Clark
And, after their traditional white wedding ceremony, her dad Johnny drove the happy couple back to the reception, as they glugged on champagne in the cabin.
Stacey said:
"My dad was getting quite stressed. He'd taken Michael's sister Jenny for driving lessons before to help her with the maneuvers and he was worried she wouldn't be able to keep up. She was driving so slowly that he kept checking the mirrors. It was really funny.
"Jenny was so scared because she's not used to driving removal lorries. She said she had to put tissues down her dress because she was sweating so much from the stress! But everyone got there in one piece."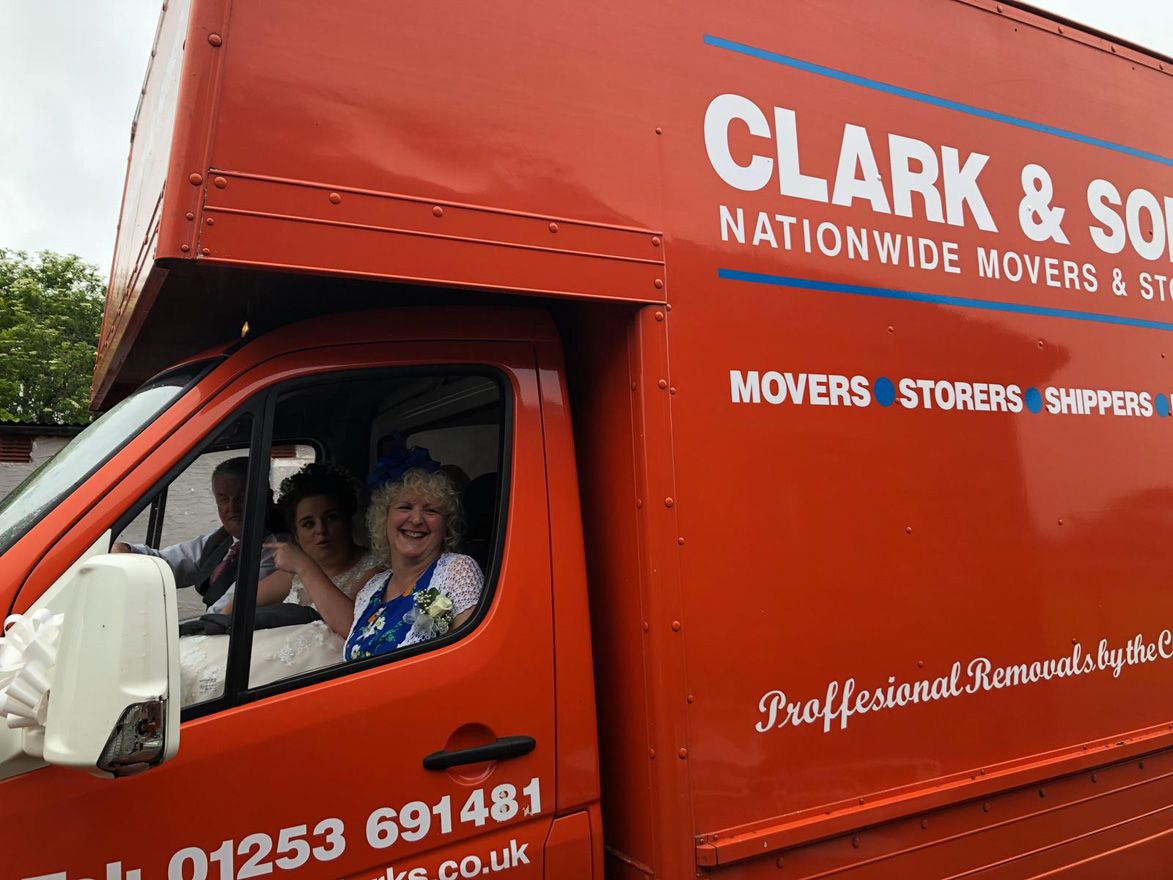 Bride Stacey arrives at the church (PA Real Life/collect)
"Lots of people came outside their houses as we drove past and waved as we tooted the horn," Stacey said.
"There were eight ushers waiting outside the church as well as nine nieces and nephews. Some of the guests came out to have a look, as did the vicar, who was laughing.
"I can't actually remember how I got out of the cab, but I think my dad helped me."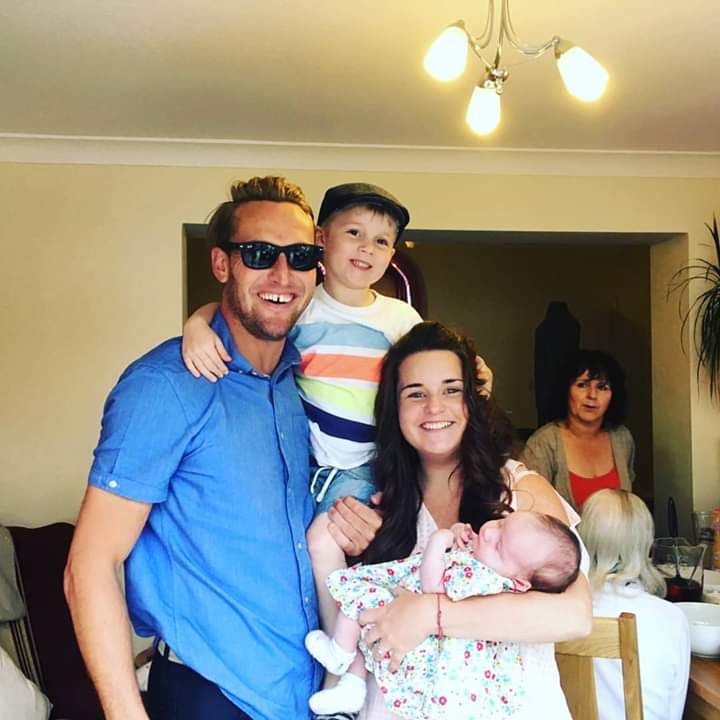 Michael and Stacey with children Charles and Harriet. PA Real Life (PA Real Life/collect)
Despite his devotion to the removals business, Stacey insists that Michael, whose mom Geraldine Clark died of breast cancer 15 years ago, does have a romantic side – even though he keeps it well hidden.
She said:
"He proposed to me in June 2017 on my 30th birthday. I'd just given birth to Harriet and we had a big family party, so he got down on one knee in front of everyone.
"It was totally out of the blue. Nobody was expecting it. Their jaws hit the floor. He's not the most romantic person."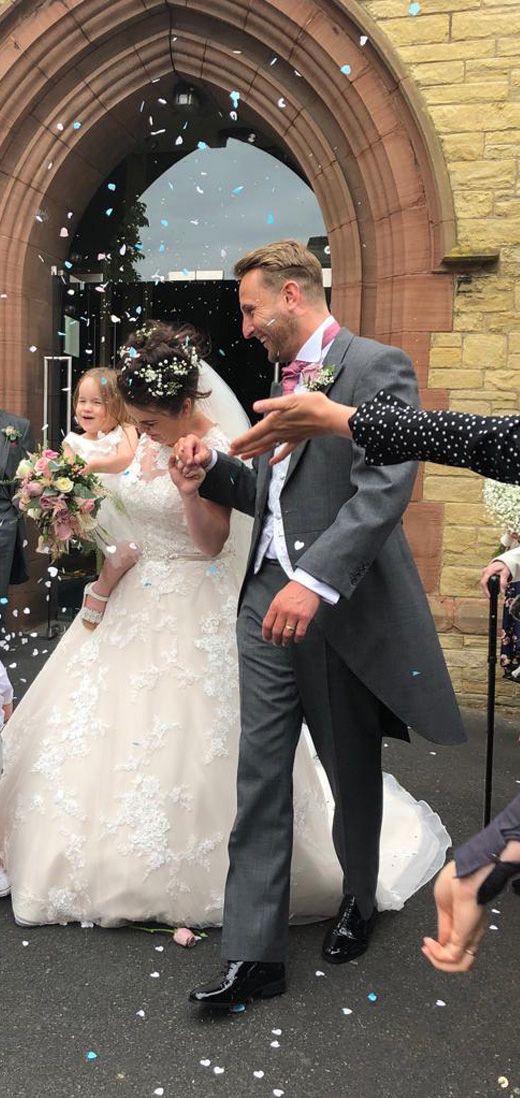 Stacey and Michael (PA Real Life/ collect)
Stacey explained:
"He'd had the engagement ring for a year and was just waiting for the right time.
"I said yes straight away – well as soon as I got over the shock."
And while Michael, who has been working for his dad since leaving school, takes his work very seriously, he would never take his new wife for granted.
"And I guarantee I'll never go to another wedding where the bride turns up in a removal van."
– Michael Clark
He said:
"The business is very important to me, as it has been in my family for five generations.
"I've worked for my dad since leaving school. It's a tradition. I was basically born into it.
"And I guarantee I'll never go to another wedding where the bride turns up in a removal van."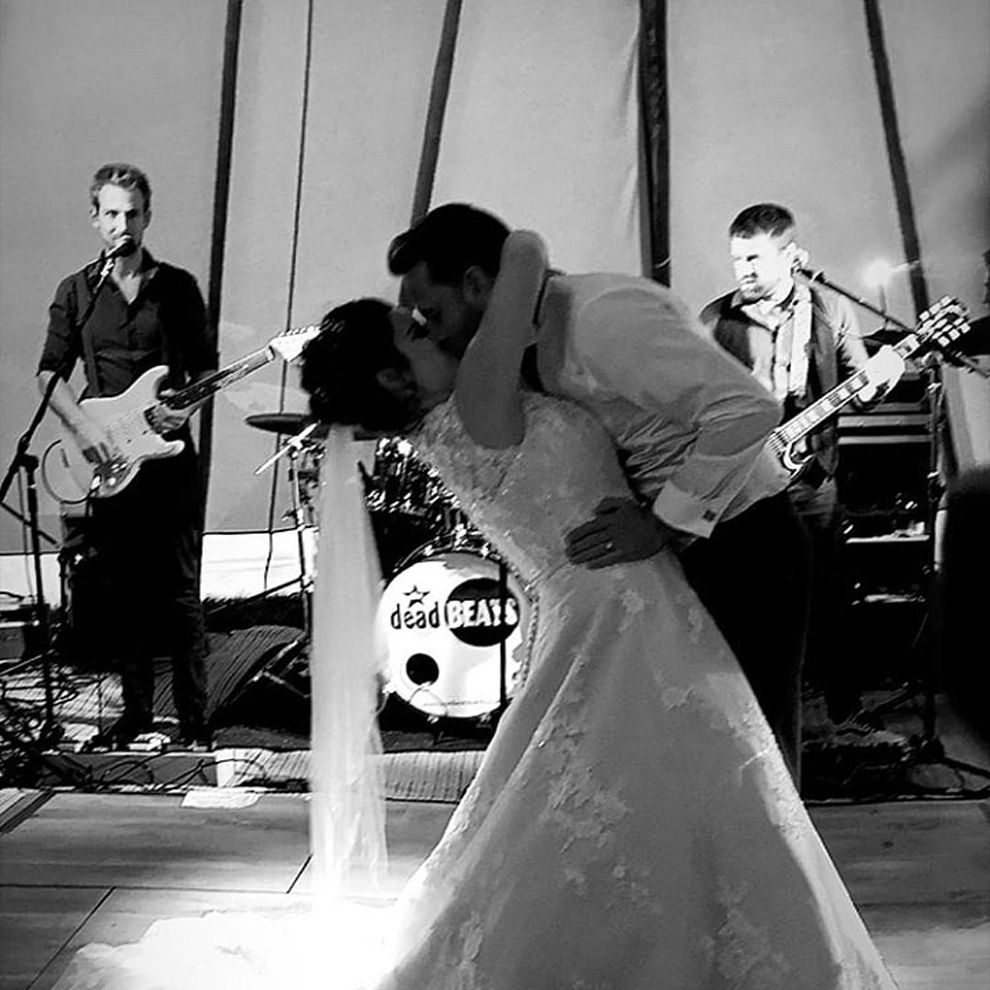 Stacey and Michael (PA Real Life/ collect)
Michael continued:
"I thought it would be a quirky thing to do because removals are a big part of our lives, although when I suggested it to Stacey I think at first she thought it was a joke, but then she said it was a great idea.
"The vans are bright orange so when you run them in convoy they get a lot of attention – even more so with a bride in the cabin. When I took them back to the yard afterwards I was really sad cutting all the ribbons off them. I thought, 'This is as good as they're ever going to look.'
"It was a lovely day. Stacey is fantastic. Nobody else would put up with me. I lost my mum when I was in my twenties and lost my way a bit but Stacey stuck by me and has always been by my side. She's never given up on me."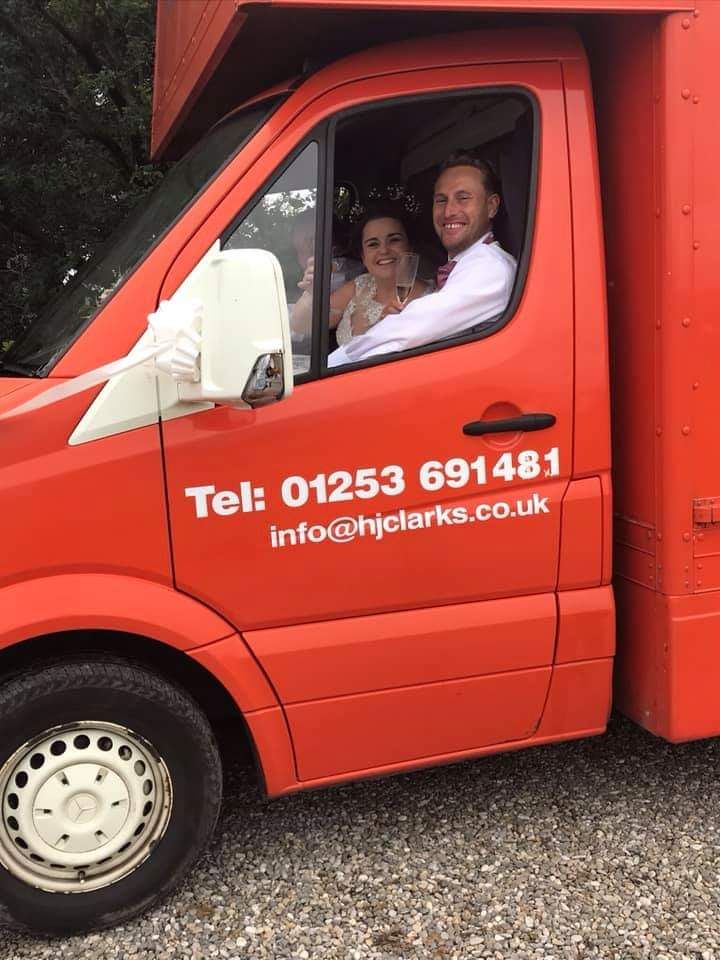 Michael and Stacey. PA Real Life/collect
Now the couple are planning to book a two-week honeymoon at the end of July.
But the ceremonial duties are not over for the removal vans quite yet.
Michael laughed:
"My dad said when he dies he wants to be taken to the his funeral in the back of a removal van. It's his dying request."