UberEats driver and TikTok user @jonathanreisig has filed a police report against eight officers after what should have been a routine food delivery ended in his traumatic detainment.
Jonathan doesn't specify in his videos which police department or school he is talking about, but previous videos indicate he lives somewhere in Texas, likely near Austin.
In his first video about the incident, Jonathan explains what happened.
He accepted an order to be delivered to a school, thinking absolutely nothing of it.
Deliveries are made to schools on a daily basis and the driver understood what procedures needed to be followed.

Jonathan picked up the order, arrived at the school, spoke to the person at the gate and was sent through with instructions on where to go.
He then parked his vehicle and began walking with the food towards the office as instructed.
That's when he noticed two police officers walking behind him.
The officers began questioning Jonathan about what he was doing at the school, but didn't seem to believe him when he explained he was delivering an UberEats order.
The officers decided that was a suspicious story, regardless of the fact he was carrying a food order labeled UberEats and with a name and contact information on it.
They decided he was so suspicious, in fact, they handcuffed him, placed him in the back of a cruiser and called for backup. That backup came in the form of six other officers, who decided their best course of action was to thoroughly search Jonathan's vehicle.
The eight officers were so convinced Jonathan must have been guilty of something they even threatened to arrest the Superintendent when she came out to confirm the order was legitimate and the man was just there doing his job.
Their "reasonable suspicion" was so strong they didn't budge, even after the Superintendent began recording and pointed out how ridiculous and excessive this was and told them she was going to file a complaint.
None of the officers ever explained what made his presence so suspicious.
All told, he was detained by the eight officers for almost an hour while they prevented him from doing his job, forced him to cancel further orders, intimidated him, searched his vehicle, and threatened to arrest people who tried to help.
His second video detailed the aftermath of his complaint.
The two officers who initially followed him have been put on administrative leave without pay.
Interestingly-slash-dishearteningly, UberEats didn't actually seem surprised when Jonathan reported what happened and why he had to cancel orders.
According to the person he spoke to, they've been getting lots of calls about similar incidents and have actually been considering "blacklisting" certain locations over it.
TikTok was absolutely horrified.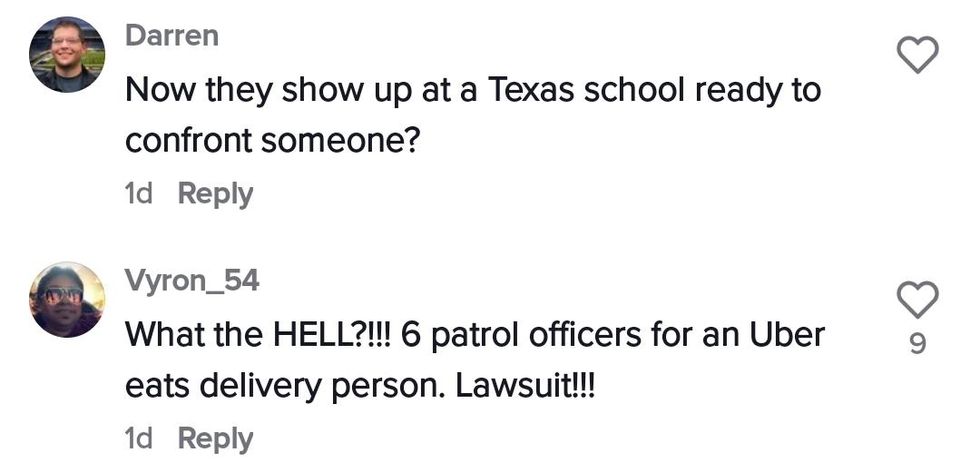 @jonathanreisig/TikTok

@jonathanreisig/TikTok

@jonathanreisig/TikTok
@jonathanreisig/TikTok
@jonathanreisig/TikTok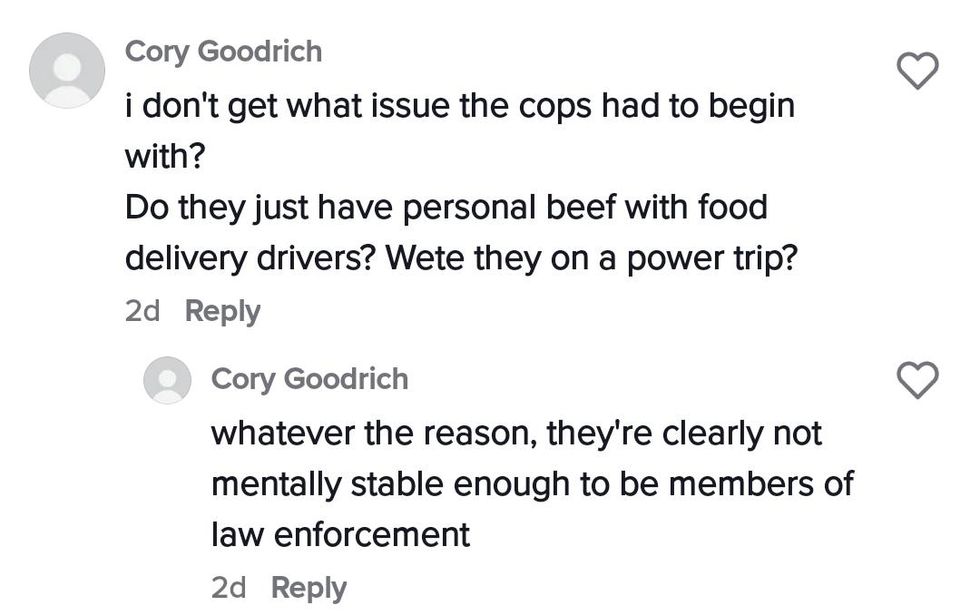 @jonathanreisig/TikTok
@jonathanreisig/TikTok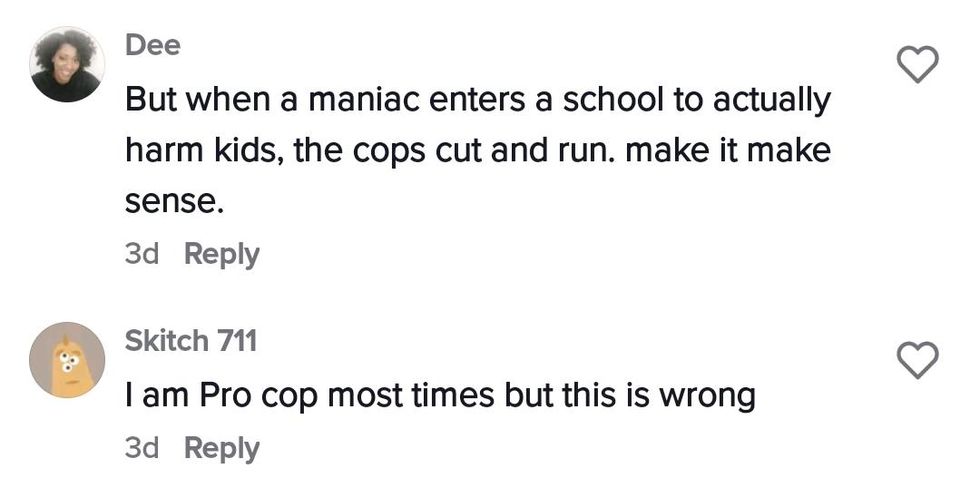 @jonathanreisig/TikTok
Jonathan is working with an attorney and the Superintendent to get this situation resolved.