It's been nearly two months since Donald Trump lost the election.
Bigly.
It's been reaffirmed over and over again since. In one more week, it will be certified by Congress.
Two weeks after that, Trump's term will come to an end, whether he chooses to cooperate or not. Nevetheless he's still campaigning.
"Entitled frat boy" Trump—as he was characterized by longtime ally Geraldo Rivera—even went so far as to post what is arguably the most embarrassing campaign ad of his political career on social media yesterday. The ad is a riff on the old "Beef: It's What's for Dinner" ad campaign from the 90s.
Get ready to cringe your shoulder joints apart.
The ad features clips of what some would consider highlights of Trump's presidency.
Clips showed Trump signing bills, meeting with Supreme Court Justices Neil Gorsuch, Brett Kavanaugh and Amy Coney Barrett and posing proudly at various construction sites combine with innumerable shots of military might, all set to Aaron Copland's "Hoe-Down" just like the old Beef Industry Council's ubiquitous ads back in the day.
And for good measure, Trump even threw in something that absolutely did not happen. Over a shot of him meeting with foreign leaders, a Nobel Prize was superimposed on the screen.
Trump was indeed nominated for the Nobel Peace Prize—because literally anyone can be—by far-right, Islamophobic Norwegian politician Christian Tybring-Gjedde, but he did not win the prize. Better yet, Trump featured the wrong Nobel Prize in the ad.

Instead of the Nobel Peace Prize, Trump featured the Nobel Prize medal face design for physics, chemistry, physiology or medicine and literature.
The Nobel Peace Prize—which President Barack Obama and President Jimmy Carter did win—features Alfred Nobel in a slightly different pose with the inscription around the perimeter of the medal instead of to the right and left of Nobel's silhouette.
Given the absurdity, it's hard to think of a suitably embarrassing coda to this deeply delusional ad.

But Trump somehow manages to stick the cringe-worthy landing. As Copland's music reaches its climax, we are treated to the infamous clip of Trump bear-hugging the American flag.
Cue the beef-adjacent slogan:
"Trump: He's what's for America."
If you're banging your head against a table or laughing so hard your ribcage is breaking apart, you are not alone.
Twitter absolutely roasted Trump to a crisp.
Though many of his supporters believe otherwise, there is no legal recourse for Trump to throw out over 7 million votes so he can win the election.
Their Kraken team tried and lost over and over and over...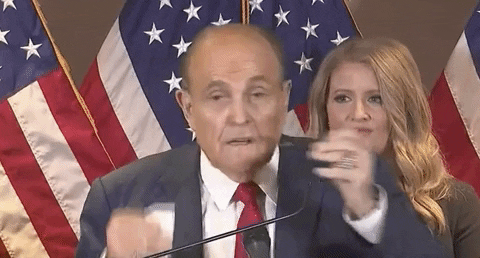 Giphy
While some diehard Trump supporters still believe Vice President Pence will overturn the election during the certification of the results next week on January 6, the laws governing the process are ironclad.

Maybe there's a career in advertising available.