Longtime Trump ally Geraldo Rivera, of Fox News, just laid into Donald Trump on Twitter.
The conservative talk show host has apparently reached his limit. On December 26, Rivera criticized Trump's continued, obsessive attempts to contest his over 7 million vote election loss to President-elect Joe Biden.
Rivera's rare criticism would be remarkable enough on its own. But it was his creative approach that really caught people's attention.
Rivera tweeted: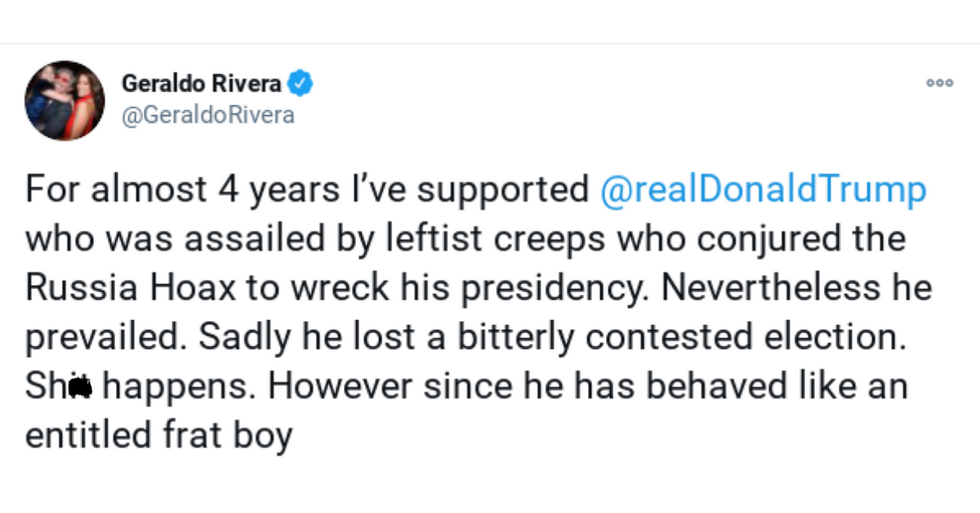 @GeraldoRivera/Twitter
People on Twitter were impressed.
Others felt Rivera took far too long to speak out against Trump's behavior.
Rivera's tweet, however, was not the pundit's first break with Trump over the election.

It's been seven weeks since it became clearJoe Biden defeated President Donald Trump in the presidential election with record numbers. And yet, Donald Trump spent those seven weeks trying to overturn those results.
By the time the Electoral College formally declared Biden the winner of the election on December 14, Trump and his allies filed and lost over 50 separate legal appeals to force recounts in key states and omissions of ballots.
And on the day the Electoral College results came down, Rivera appeared on Fox News and pleaded with Trump to accept "it is over."
Despite all those failures, Trump continued to make repeated unsubstantiated claims, conspiracy theories and outright lies on Twitter and in the few public appearances he's made since the election.