Following a health scare at the Ryder Cup, Tom Felton gave his fans an update on his health on Instagram—guitar in tow.
The actor, best known for playing the villainous Draco Malfoy in the Harry Potter films, was participating in a celebrity golf match at the Ryder Cup in Haven, Wisconsin on Thursday.
Felton was representing Team Europe alongside Finnish hockey player Teemu Selanne, competing against US Olympic gold medalists hockey player Mike Eruzione and speed skater Dan Jansen.
But at the 18th hole, Felton collapsed. He was attended to by medics before being put on a stretcher and taken to a nearby hospital.
Fans could be heard cheering on the actor—who turned 34 just the day before—as he was driven away on a golf cart.
The PGA issued a statement on the incident, but disclosed no further details as to what was the cause of Felton's collapse.

"In today's Ryder Cup Celebrity Match, actor and musician Tom Felton experienced a medical incident on the course while participating for Europe."
Felton's fans were quick to express their concern for Felton on Twitter upon hearing the news.
Felton's friend Derek Pitts attempted to put the minds of concerned fans at ease, offering a short and concise update on his friend in an Instagram Story.
"He's okay, speedy recovery brother!"
But a bigger sigh of relief came when Felton himself took to Instagram, posting a video captioned "feeling better by the day xx".
A singer/songwriter as well as an actor, Felton greeted his fans with a few notes on his guitar, before thanking them for their kind thoughts and words.
"Hello everyone, ladies and gentlemen, boys and girls!"
"I just wanted so send a huge thank you for all the lovely well wishes as of recent."
While he didn't offer any more clarity as to what exactly happened, Felton described the incident as a "scary episode" but confirmed he was "on the mend."
"People have been taking really good care of me."
"So thank you very much for anyone that has sent messages of get well soon, because I am on the mend, officially."
Felton then serenaded his fans singing, "Don't you worry girl, Tom will be doin' fine", before concluding he was "on the road to recovery" and had to resume watching "The Ryder Cup action" before signing off.
Felton's fans came out in droves in the video's comment section, expressing their relief Felton was back on his feet again.

@t22felton/Instagram

@t22felton/Instagram

@t22felton/Instagram

@t22felton/Instagram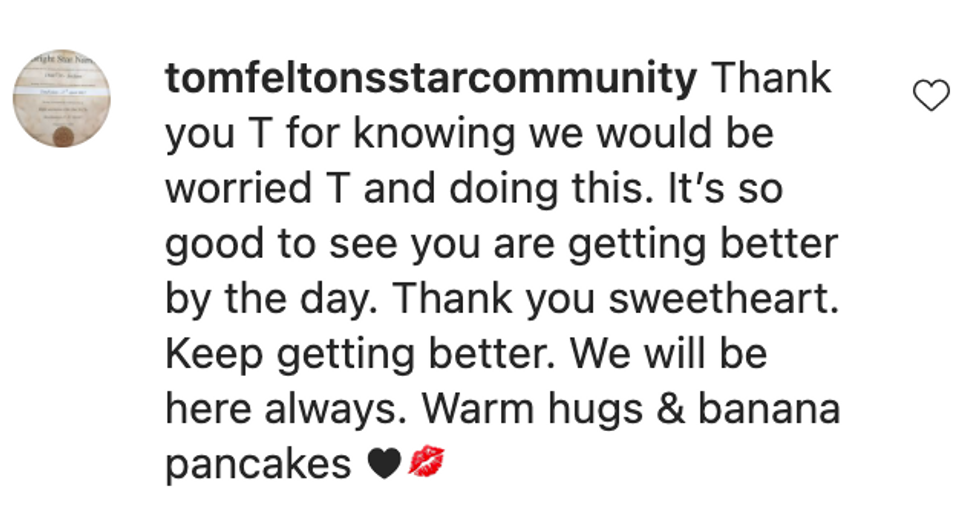 @t22felton/Instagram

@t22felton/Instagram

@t22felton/Instagram

@t22felton/Instagram
We also offer Felton love and support for a full recovery