Only in Texas...
---
Today in "Things that should have been obvious right from the jump but this is the Texas GOP we're talking about" news, the Texas GOP have placed their feet firmly in their mouths with a campaign ad many see as mocking the Hindu religion.
Fort Bend County, Texas, has a large proportion of Asian Americans, at about 20%, and a significant number of Urdu, Gujarati, and Hindi speakers. So when it came time for the Hindu holiday Ganesh Chaturthi, which fell on September 13 this year, the Texas GOP decided to create a campaign ad targeted at this sector of the population, ostensibly in celebration of the holiday.
That's not quite how it worked out though, for reasons that will be readily apparent as soon as you move your eyes down to the next line.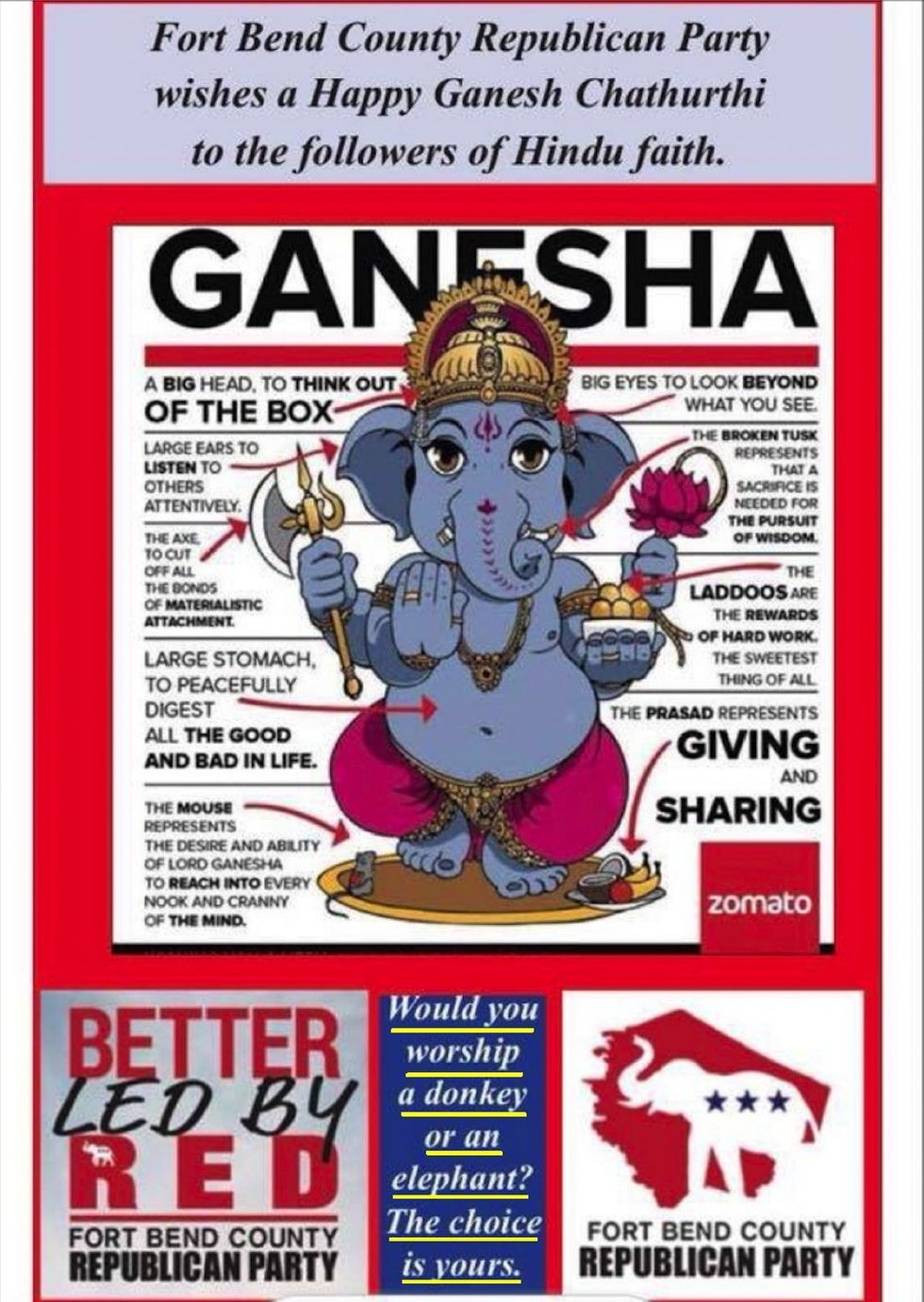 The Hindu Herald
The ad, placed in The Hindu Herald, likens the elephant-like Hindu god Ganesha to the elephant symbol of the GOP and contrasts it with the DNC's donkey mascot, bearing the tagline, "Would you worship a donkey or an elephant? The choice is yours."
Local candidate Sri Preston Kulkarni, an Indian-American Democrat running in Texas' 22nd Congressional District, which includes much of Fort Bend County, was offended by the ad, calling it "highly inappropriate" on Twitter, and pointed out on his Facebook page that "equating Hindus' worship of Ganesh with a political party's symbol is wrong and promotes inaccurate stereotypes about the Hindu-American community."
Speaking with Huffington Post, Mr. Kulkarni said, "When I saw the ad, I was shocked. Imagine if this was about the Jewish religion or the Christian religion?"
For its part, the Texas GOP said the ad was meant as a celebration, and that local Hindus helped craft it.
"This ad was created with input from those of Hindu faith so that we could properly pay respect to the sacred festival," wrote Fort Bend County Republican Party Chairman Jacey Jetton.
"This highlights the difficulty in outreach that can be positive for one group but not for another in the same community. We offer our sincerest apologies to anyone that was offended by the ad. Obviously, that was not the intent," she went on to say.

On social media, people shared Kulkarni's outrage:
And many were skeptical at best of Jetton's characterization of how the ad was created:
While others couldn't help but bristle at the design standards adding insult to injury:
That about sums it up!