Academy Award-winning actress Susan Sarandon has long been a lightning rod for political controversy, and her recent commentary on the NYPD has been no exception.
Following a highly publicized funeral for slain NYPD officer Jason Rivera that drew an astonishing crowd of police officers to a gathering in the streets of New York, Sarandon shared a meme that called the funeral "fascism" and in her own words questioned the need for the NYPD at all.
The backlash from police organizations and conservatives has been swift. Sarandon has since deleted the tweet, but you can see a screenshot below.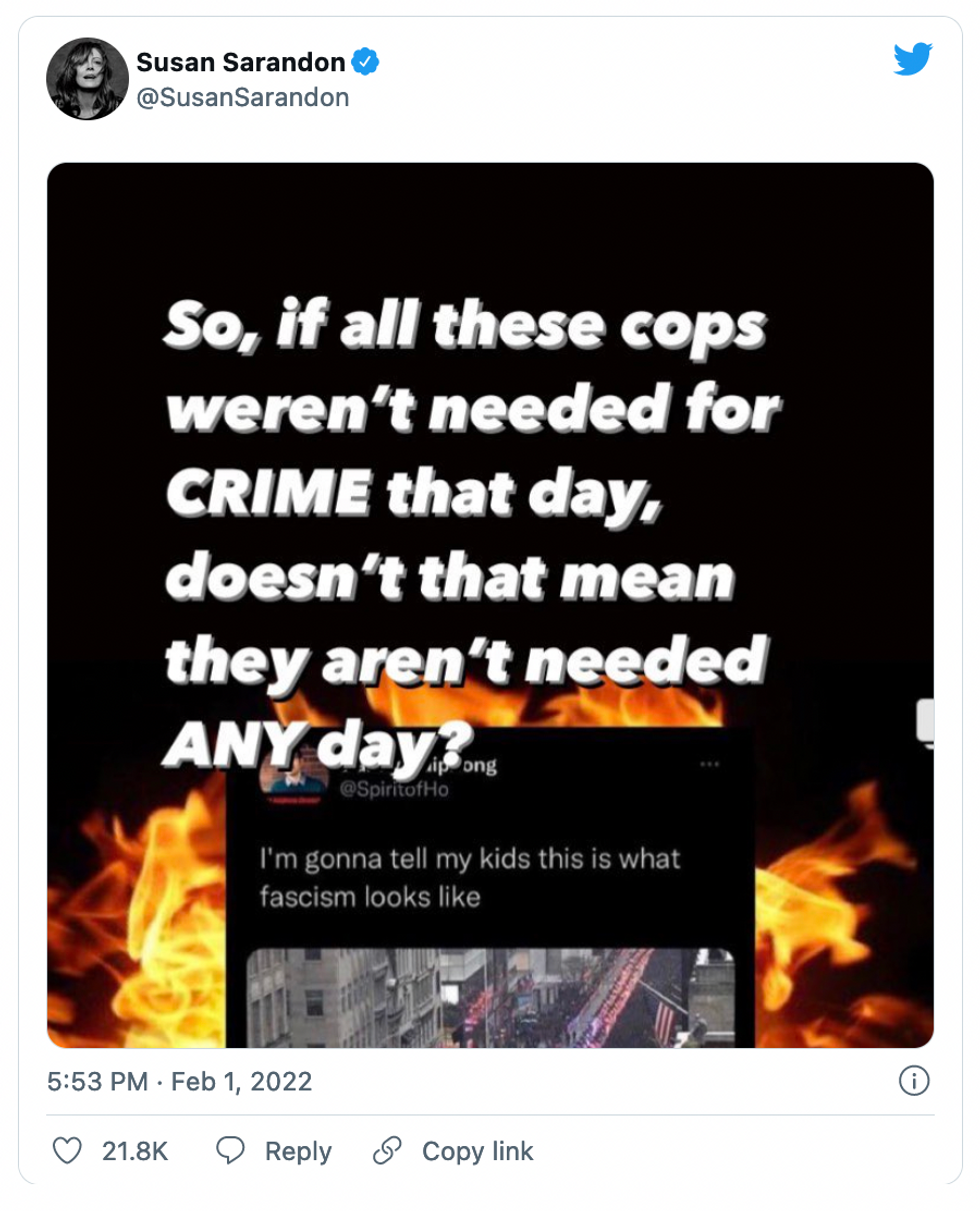 @SusanSarandon/Twitter
The NYPD funeral at the center of Sarandon's post drew several critiques last week from people unnerved by the astonishing size of the crowd that turned out to honor fallen officer Jason Rivera, one of two officers slain during a recent domestic violence call.
Given the increasingly militarized nature of police forces across the country and the NYPD's recent history of racial profiling and violence against protestors, some found the imposing crowd disturbingly reminiscent of the militarized police forces that tend to be central features of fascist regimes, including journalist Danny Haiphong.
Sarandon, clearly agrees. Along with a screenshot of Haiphong's tweet calling the crowd "fascism," Sarandon questioned the need for the NYPD at all in a graphic posted to both her Instagram and Twitter accounts. She wrote:
"So, if all these cops weren't needed for CRIME that day, doesn't that mean they aren't needed ANY day?"
The backlash from police organizations and conservatives was nearly immediate. The Police Benevolent Association of the City of New York clapped back at the actress, who they called "privileged" and out of touch.
The National Fraternal Order of Police, the nation's largest police union, also spoke out against Sarandon, calling her a "D-list" actor and castigating her for attacking the police on the day they were burying the second officer who died alongside Rivera, Wilbert Mora.
Soon, a tidal wave of angry criticism was crashing Sarandon's way, especially from conservatives.
But it wasn't just conservatives who were offended by Sarandon's sentiments. Many Democrats joined in the chorus castigating her as well.
Sarandon has frequently criticized the NYPD and has been a vocal supporter of the calls to defund and abolish police forces that arose in the wake of the murder of unarmed Black man George Floyd by Minneapolis police in 2020.