President Donald Trump first publicly floated the idea of a military branch focused on outer space in 2018.
By December of 2019, the United States Space Force officially became the sixth branch of the United States Armed Forces.
---
If you thought a space fleet born from a bumbling President was a comical idea, you're not alone.
Right around the time the Space Force was being proposed, Netflix announced it would be launching a new workplace comedy called Space Force. The show ishelmed by the same creators of the U.S version of The Office and headlined by the show's original star: Steve Carrell.
You can watch the trailer below.
Space Force | Official Trailer | Netflixwww.youtube.com
The series tells the story of Mark Naird (played by Carrell), who's tasked by the President to successfully create a space force and send astronauts to the moon...again.

The show is set to premiere in a little over a week, so it's not surprising that hype is beginning to build.
One internet hero even attached a photo of Carrell's character complete with a bio in a display at the United States Air Force Museum.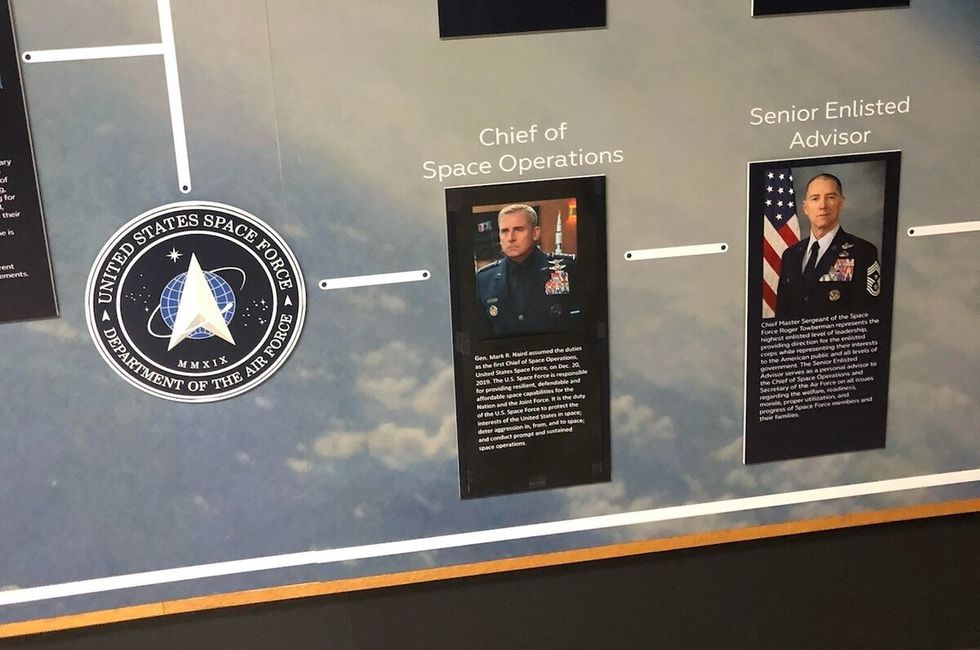 @MilitaryTimesOP/Twitter
The bio for Carell's character reads:

"Gen. Mark R. Naird assumed the duties as the first Chief of Space Operations, United States Space Force, on Dec. 20, 2019. The U.S. Space Force is responsible for providing resilient, defendable and affordable space capabilities for the Nation and the Joint Force."
"It is the duty of the U.S. Space Force to protect the interests of the Unites States in space; deter aggression in, from, and to space; and conduct prompt and sustained space operations."
People thought the prank was hilarious.
The real life Space Force and the fictional one have made for some interesting collisions.
Space Force blasts off on May 29.