A young woman was captured on film during a concert signing lyrics to her father in a viral video that is giving everyone the warm fuzzies.
---
Facebook user Julianne Cragg was at a Three Days Grace concert filming the show when she noticed the exchange in the crowd. She posted the video to her feed and it immediately gained traction.
She captioned the video:
"At last night's concert, we witnessed something absolutely beautiful. Keep In mind this was a rock concert (Three Days Grace in Edmonton)."
"We saw this girl and a man who seemed to require a lot of dancing room, irritating at first until we realized what was happening."
"Her father is deaf, she was signing the lyrics to him. We couldn't care less about what was happening on stage, watching them was absolutely mesmerizing."
"They were both very sweet and her father was very proud of his daughter. So here's one of the songs, sorry just a crappy snippet of what happened."
The daughter, Karri Carberry, 19, who is from Edmonton, Alberta, used American Sign Language or ASL to share the lyrics with her dad, Darrin Carberry.
She was thrilled the video gained so much attention and told Good Morning America:
"It was our first concert together.I feel absolutely shocked and amazed at all of the views and responses we have been getting!"
"It's an amazing feeling and we're both very happy that everyone around the world is enjoying it so much."
Cragg is also happy the video reached so many people.
She says:
"I'm thrilled that it's made a few people happy"
We think it's more than a few. The video had over 24,000,000 views and people on social media love the story.
We loved this story.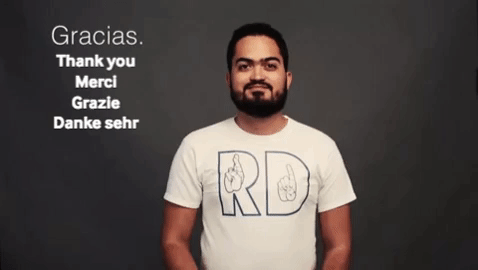 Giphy