Actress Sharon Stone—the star of such classics as Total Recall, Basic Instinct, and Casino—revealed she previously suffered nine miscarriages while attempting to have a child of her own.
Stone's admission came shortly after the Supreme Court published a ruling overturning Roe v. Wade—the 1973 landmark decision that once protected a person's right to choose reproductive healthcare without excessive government restriction.
Stone shared her story in the comments section of an Instagram post by People magazine, which featured a testimonial from Dancing With the Stars veteran Peta Murgatroyd who spoke about suffering a miscarriage while her husband and fellow dancer Maks Chmerkovskiy was in Ukraine.
Stone said people "don't have a forum to discuss the profundity of this loss," saying peoples are often "made to feel it is something to bear alone and secretly with some kind of sense of failure."
She noted people are in need of "compassion and empathy and healing," adding:
"Female health and wellness left to the care of the male ideology has become lax at best, ignorant in fact, and violently oppressive in effort."
You can read her remarks below.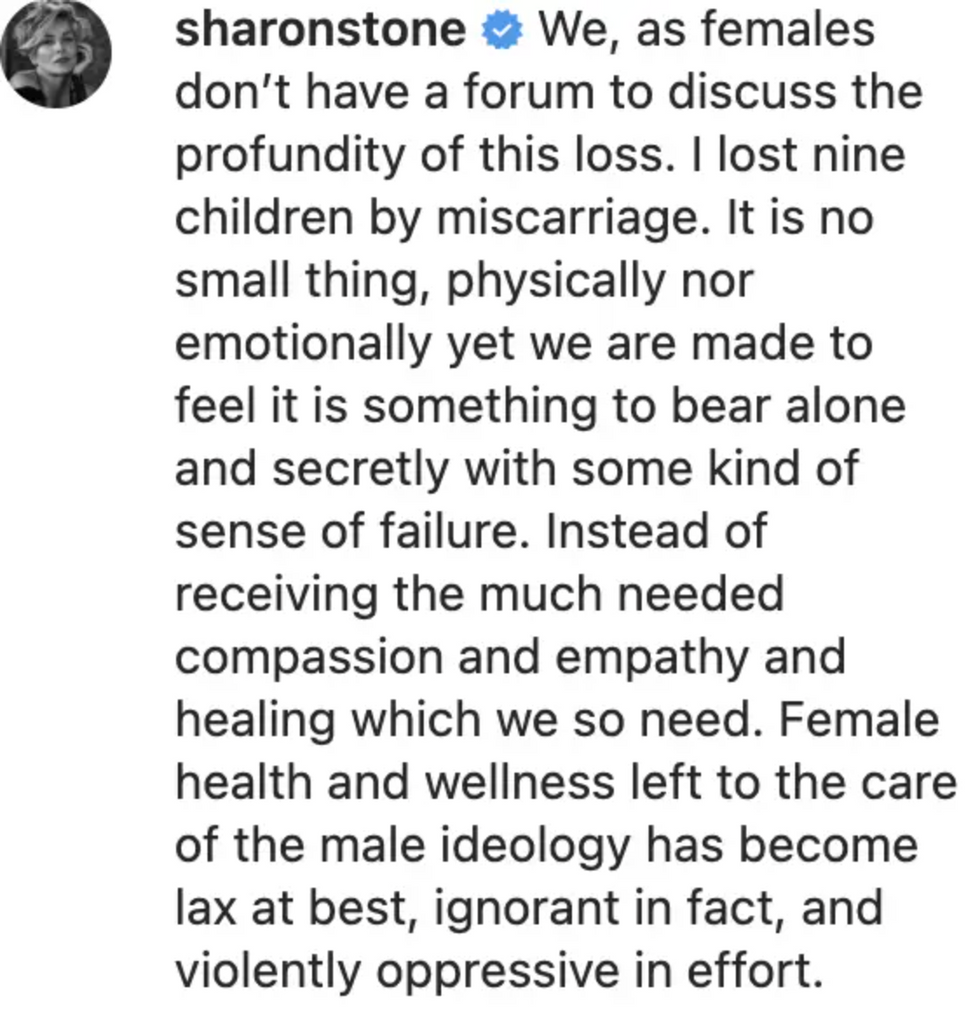 @sharonstone/Instagram
The impact of Dobbs v. Jackson Women's Health Organization, the ruling that overturned Roe, sparked concern among members of the medical community, who warn abortion bans will impact the way doctors treat pregnancy complications and pregnancy loss.

For example, a Texas law that went into effect last September that prohibits virtually all abortions after a "heartbeat" is detected has received significant criticism because people have been denied treatment for miscarriages, ectopic pregnancies and severe pregnancy complications.
Stone's words resonated with many of her fans, who shared their criticisms of the ruling as well as their own stories.

While miscarriages, ectopic pregnancies and other complications are not uncommon, they can still be deadly.

Stone has previously spoken about her miscarriages, revealing in her memoir they were the result of an autoimmune disease and endometriosis, an often painful disorder in which tissue similar to the tissue that normally lines the inside of the uterus grows outside of it.
These conditions left Stone unable to have biological children.
She and her then-husband, the investigative journalist Phil Bronstein, adopted a child in 2000. Stone adopted two more children after their divorce.