An Oklahoma Republican has come under fire on Twitter for a post from his official campaign account that combined transphobia and racist sentiment.
Oklahoma Secretary of Education Ryan Walters posted a tweet with a black-and-white image of a White female high school student washing her hands in a bathroom while watched by two Black students who appear to be eyeing her suspiciously.
The image included the words "Student Safety Over Liberal Agenda." Walters captioned the post by declaring he "will always fight for students."
You can see Walters' tweet below.
The image itself is below.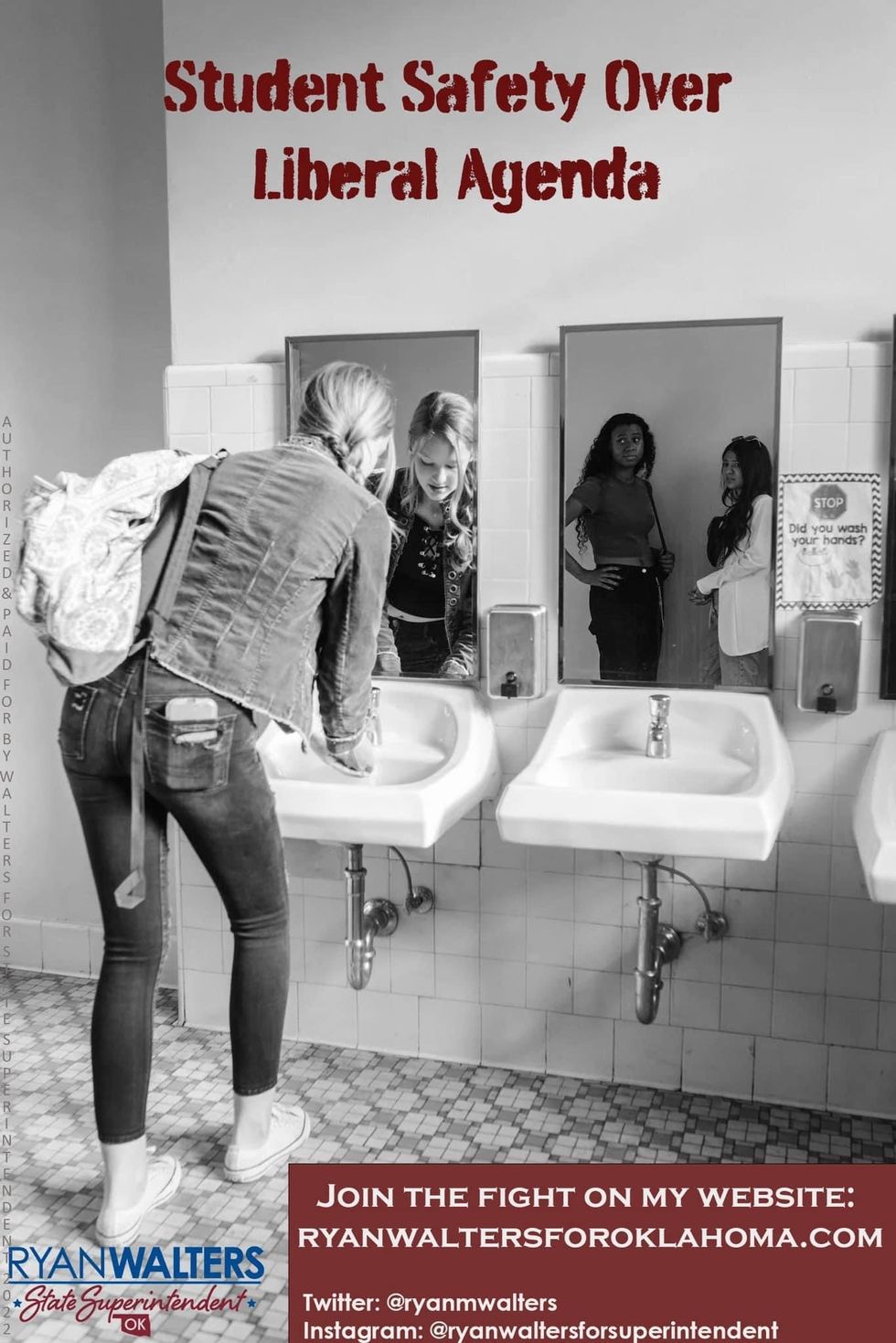 @ryanmwalters/Twitter
Walters' post proved so contentious he was called out in an editorial by The Oklahoman, who likened his tweet to "metastasizing poison."
"There's nothing exemplary about Walters' implications in Saturday's tweet. It's time for Oklahomans to take a stand for leadership that exudes decency and competence from the superintendent and demand that either he end his disparaging rhetoric, or resign."
"That would be the best antidote for this metastasizing poison, a good place to start."
Walters' concerns about "student safety"—and the decision to stage the campaign photo in a bathroom—bears similarities to ones conservatives directed toward the LGBTQ+ community in what has become one of the more defining elements of the culture wars.
Concerns about "bathroom predators" have long galvanized the right, perhaps most prominently during early 2016, when the North Carolina legislature passed a bill overturning local gay and transgender protections. The bill was a direct response to a prior nondiscrimination ordinance in the city of Charlotte, which had offered a wide range of protections.
Most notably, the Charlotte ordinance allowed citizens to use the restroom that best matches their gender identity. State lawmakers acted ostensibly out of concern that women and children could be victimized by sexual predators posing as transgender to enter women's restrooms, a claim that was immediately contested by civil rights groups.
The tweet was also called out for racism because the young women spying on the one washing her hands in the "student safety" ad appear to be people of color.
Many called out Walters' transphobia and racism as a result.

Walters has generated controversy more than once while in office.
He has previously subscribed to the conservative conspiracy theory that liberals are teaching critical race theory to young schoolchildren and vowed to "ban" it altogether.
Walters was also criticized last year after he claimed to have been told by a former colleague that students were identifying as cats and using litter boxes, an assertion that further fueled anti-fueled transphobia among the right-wing.