A Republican Party official in Delaware was asked to step down by his party leadership after posting a homophobic slur on Facebook.
But while he acquiesced to their request, he said he has no regrets and no intention of apologizing.
---
In a comment about a church shooting in Texas, Delware GOP New Castle County Chair Chris Rowe used the word fa***t. A video about the shooting that had been posted on Facebook was removed by the original posting site, YouTube.
In response, Rowe commented:
"F****ts cannot handle reality. Bad guy loses FB pisses themselves."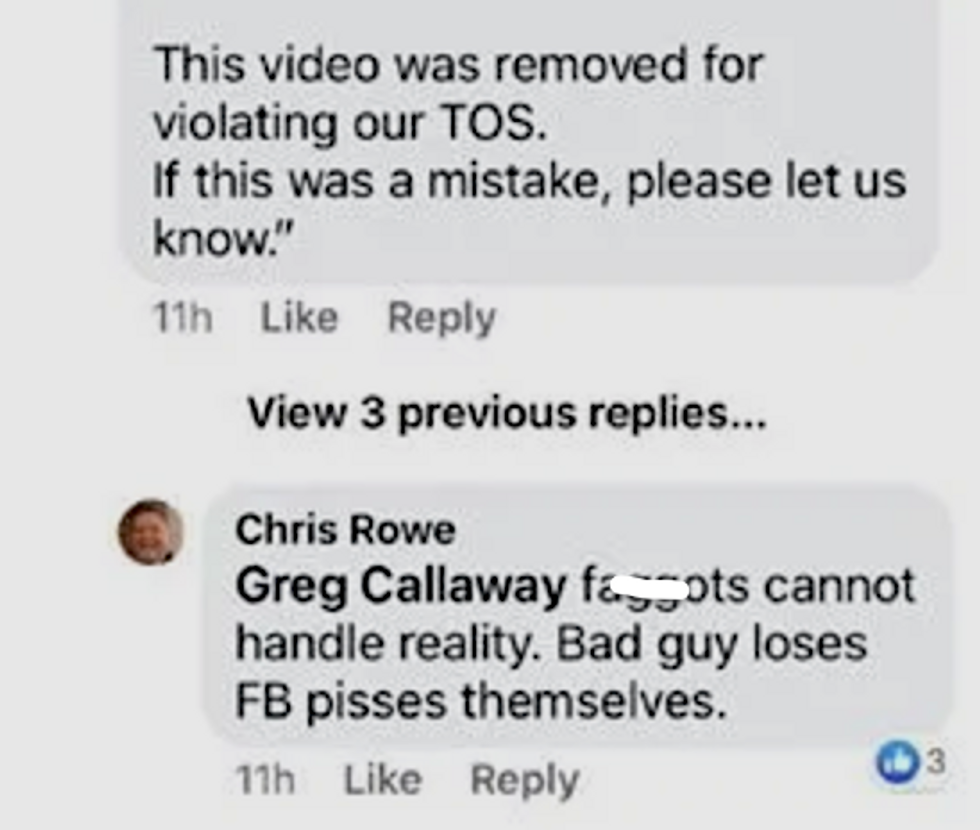 Chris Rowe/Facebook
The comment with the homophobic slur that Rowe said he stands behind has since been deleted.

In response to backlash, Rowe used the New Castle County GOP Facebook page to respond stating he owed no apologies.
That post has also since been deleted.

The last reference to Rowe on the page alerted members to tune in to WDEL FM radio for a Monday appearance by Rowe.
In his since deleted post on the New Castle GOP page, Rowe stated:
"My friend asked me why I used that specific word. He said, 'Dude, I know you have many friends who are gay or lesbian, so why choose this word?' I told him I have been using that word since before it ever meant what people are offended by today."
"In this context I used it for it's impact & it was between close friends. … It was locker room talk between 2 men."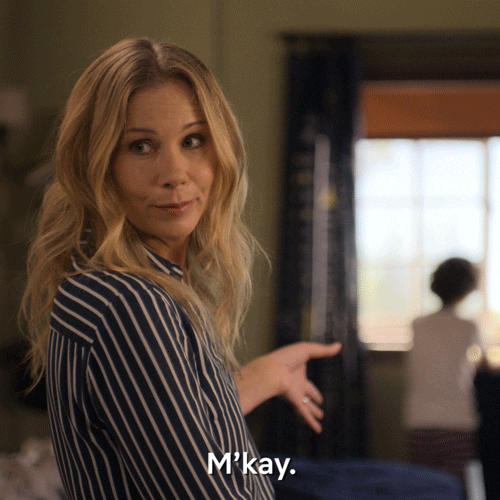 Giphy
In an interview with WDEL over the weekend, Rowe stated:
"It's a tactic of the progressive left and the Democratic party has that fringe element in it unfortunately in Delaware that takes every opportunity to go after their enemies."
"They're operating, in my opinion, in a de facto state of war against any opposition to them—even within their own party."
"I posted something like 'f****ts on Facebook' out of anger, not out of detriment to any gay individual or community. I could have used any other expletive in its place, if you know what I'm saying."

"It was a mistake, a mistaken use of a word and it was done in a brief moment of anger."
Regarding an apology, Rowe told WDEL:
"I don't think an apology is in order. That, in my opinion, would be an admission of guilt that I intended something bad and I did not."
The response to Rowe's posts and attempts to justify his use of the word was less than supportive toward Rowe.


The GOP of New Castle County/Facebook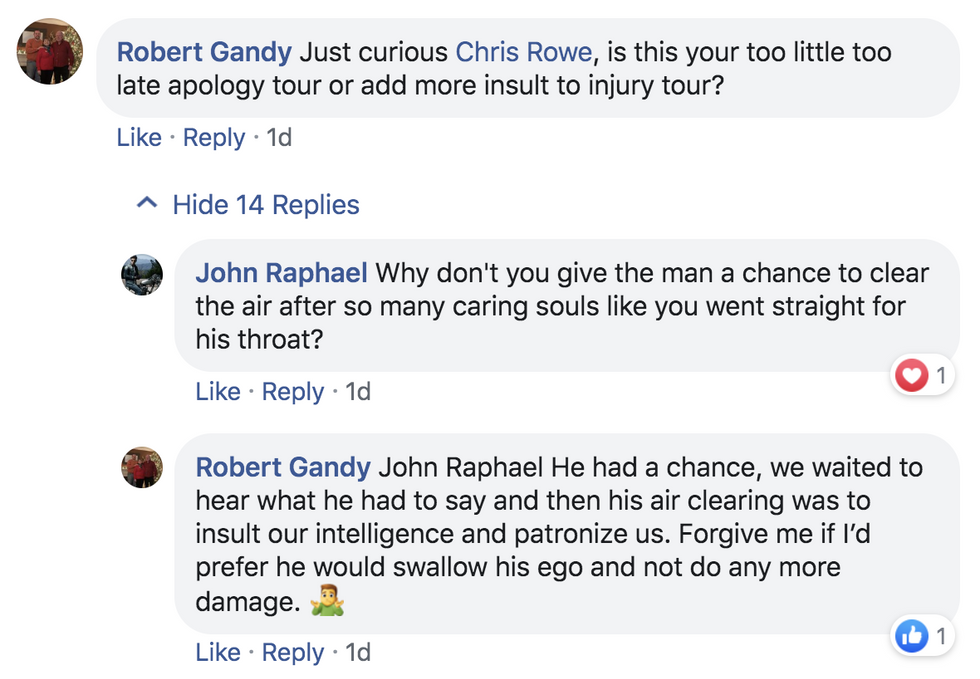 The GOP of New Castle County/Facebook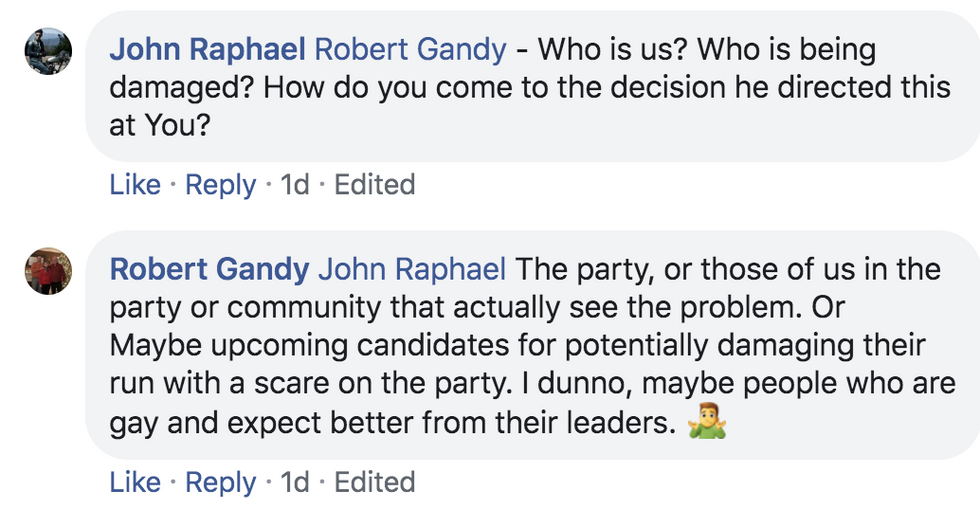 The GOP of New Castle County/Facebook

The GOP of New Castle County/Facebook

The GOP of New Castle County/Facebook
Despite Rowe's claim he owed no apologies, the Delaware state GOP leadership disagreed.
In an official statement submitted to the press and posted on Facebook, state Chair Jane Brady condemned Rowe's choice to use a homophobic slur and his refusal to apologize or take any form of personal responsibility for his choices.
She also dealt with antisemitic remarks by another GOP official, Nelly Jordan, in the same statement.
In regards to just Rowe, Brady stated:
"Neither I nor the Delaware Republican Party, which I represent, condone any statements that demean or show disrespect to others. I have requested Chris Rowe's resignation and he has agreed to tender it."
"His comment was offensive and did not reflect the values of respect and tolerance held dear by the Delaware Republican Party. Ultimately, as a result, he lost the support of those he was to lead."
"Our Party includes individuals from all different backgrounds, joined together to advance the principles we hold dear. I am proud of Delaware Republicans and their support for the broad range of diversity that makes our Party stronger."
Whether Rowe apologizes or just makes additional excuses in his Monday live WDEL radio appearance remains to be seen.
Rowe has not yet officially resigned.