A Republican lawmaker in West Virginia received backlash and resigned after his use of gay slurs in a private chat became public.

John Mandt Jr. is a hot dog entrepreneur and House representative for District 16 in West Virginia who was first elected in 2018.
According to a press release in October, House Speaker Roger Hanshaw announced Mandt Jr. resigned from the House of Delegate in October to focus on "priority matters of his personal life."
However, Mandt's resignation came hours after his homophobic messages in a Facebook group chat called, "The Right Stuff," came to light.
In the group chat – which included conservative state lawmakers and office candidates – Mandt allegedly wrote:

"Silly F*ggot, D*cks are for chicks!!"
He also mocked a piece of legislation by referring to it as the "queer bill" and speculated about the sexuality of another lawmaker because he was "a little feminine."

Screenshots of the conversation were taken and posted on Twitter on October 3 – the day Mandt's resignation was announced.

Was going to go to bed. Saw something upsetting. I know a lot of Catholics think that homophobia isnt real. I hav… https://t.co/QrFs3uJY7F

— Rachel! (@Rachel!) 1601699512.0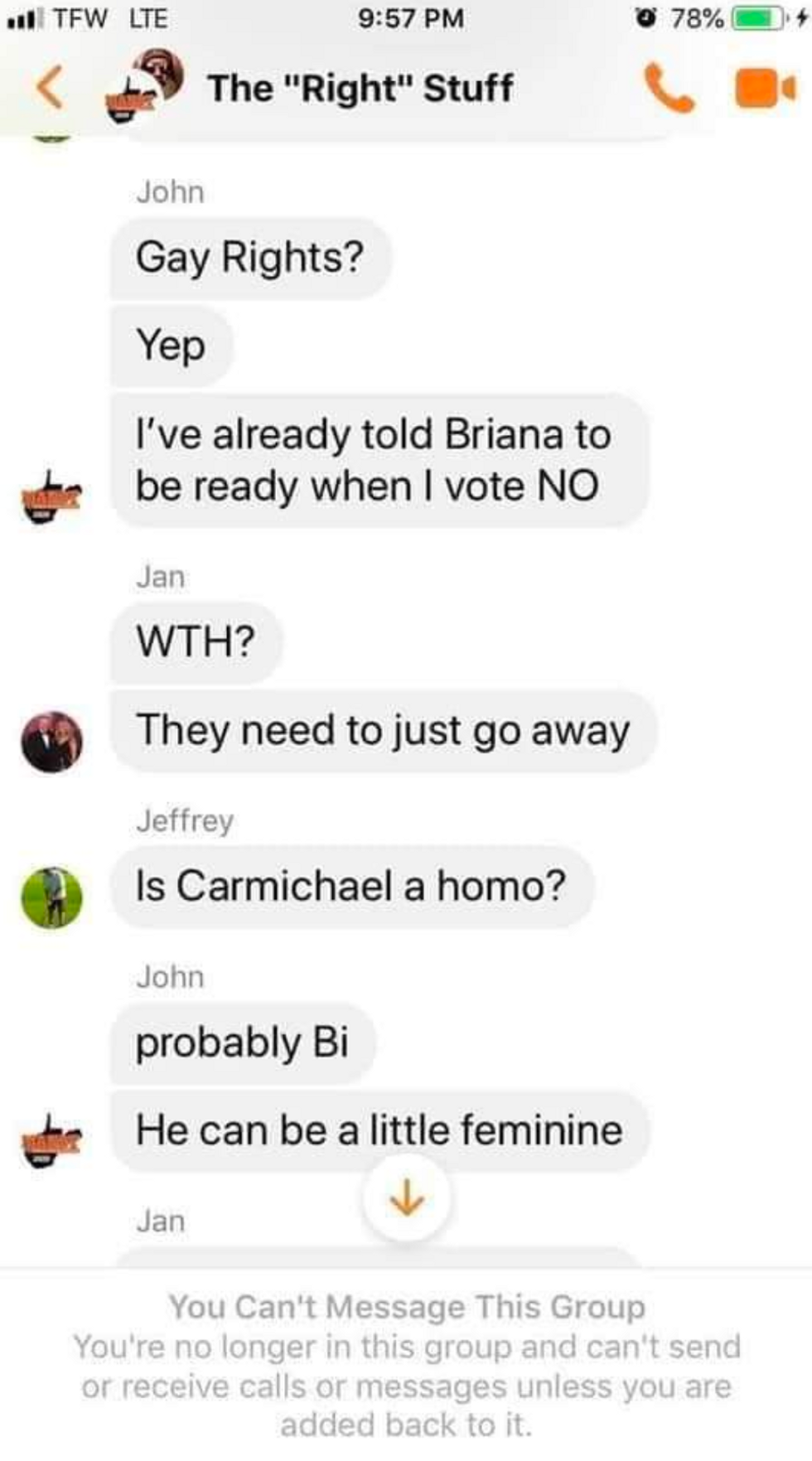 @RachelEnders3/Twitter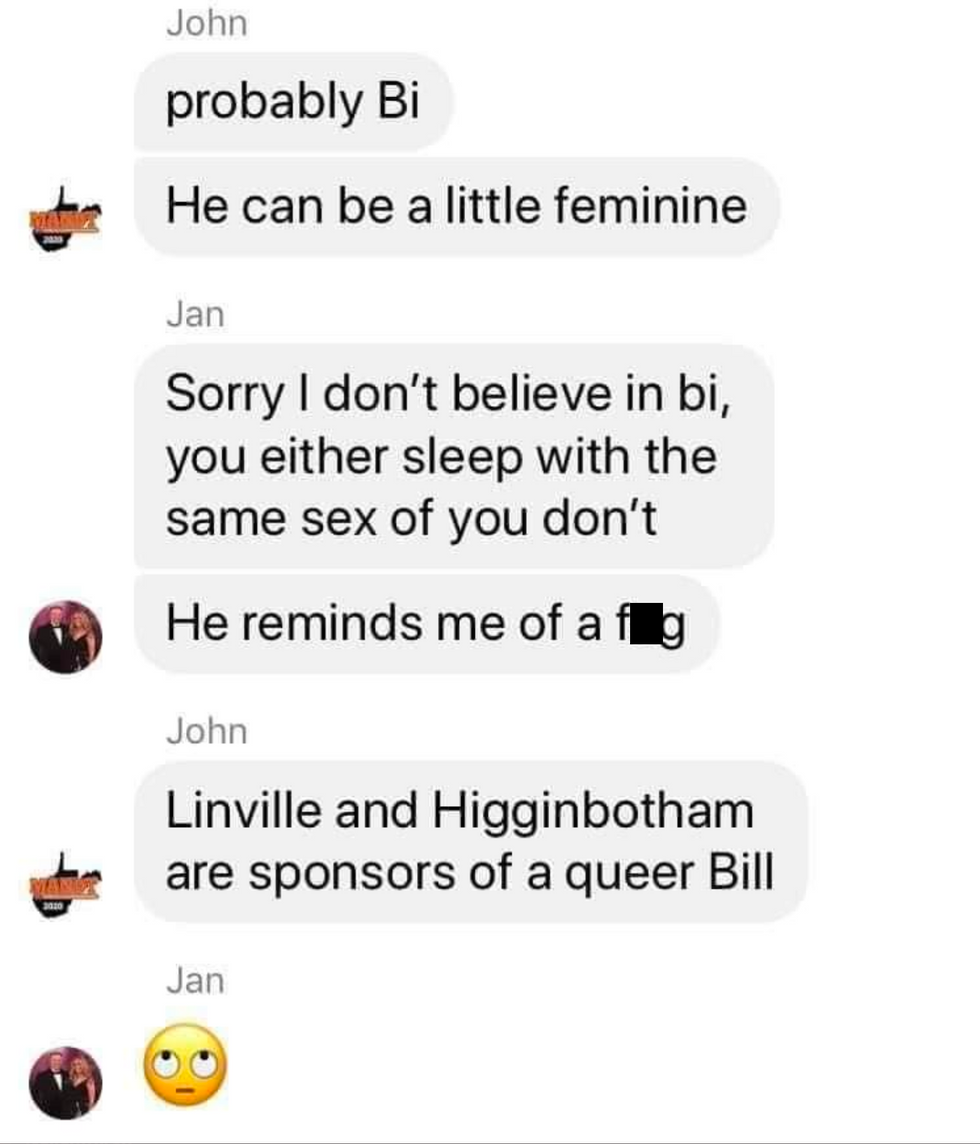 @RachelEnders3/Twitter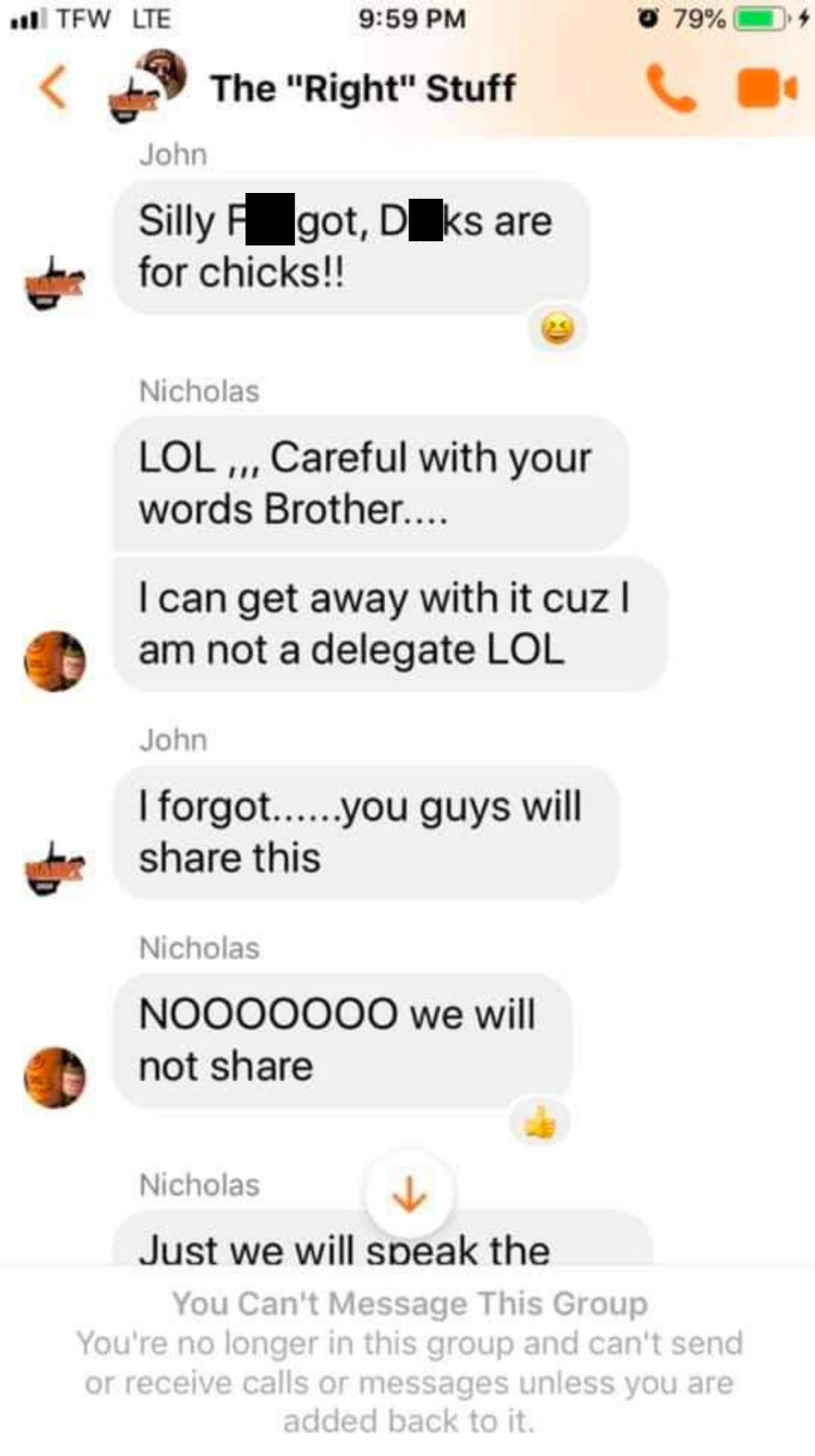 @RachelEnders3/Twitter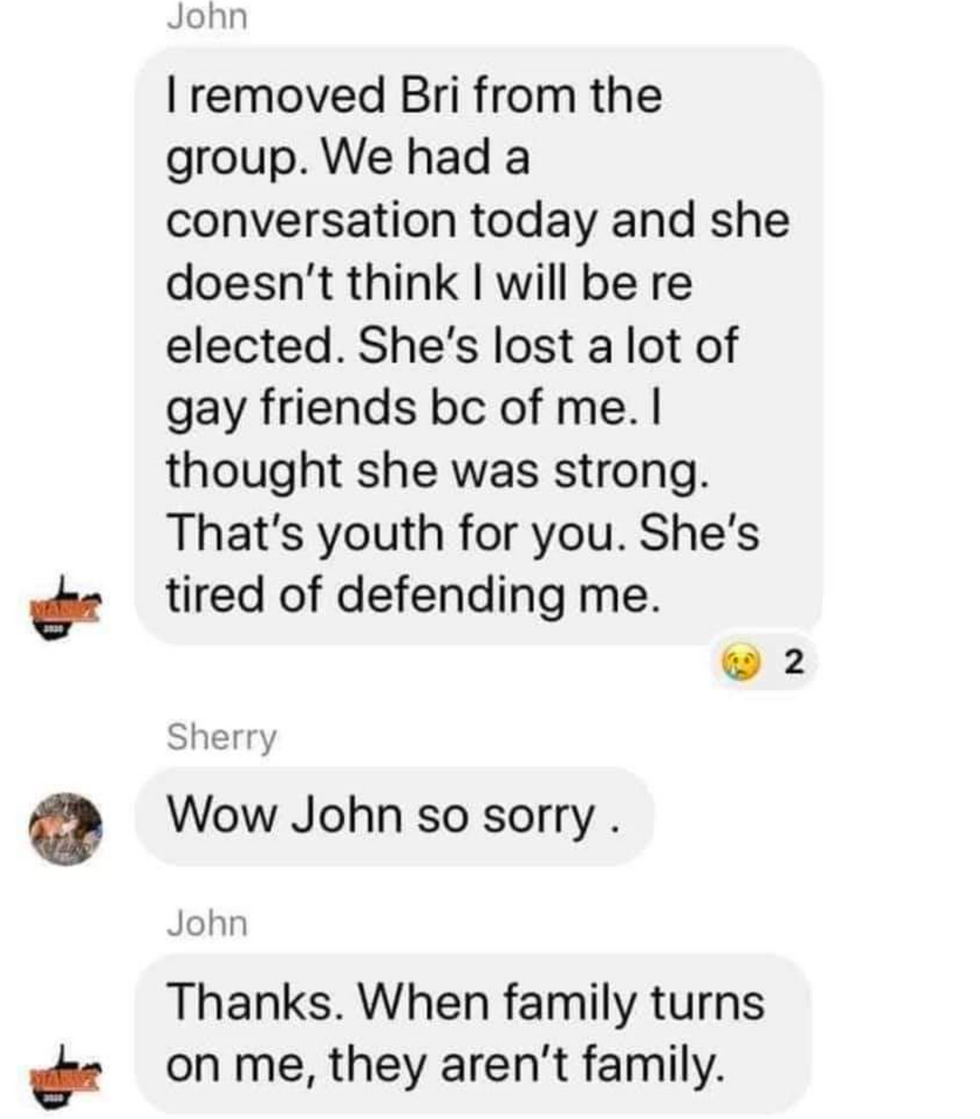 @RachelEnders3/Twitter
In a political plot twist, Mandt turned around hours after he resigned and declared he would run for re-election.
He won the general election in November by a narrow margin with 71 votes.
GOP House Speaker Roger Hanshaw bluntly admonished Mandt upon his resignation, saying bigotry had no place in the state.
But after confirmation of his return to the chamber, Mandt exalted Hanshaw in an email to the news wire as "a great man and a phenomenal leader."
He added:

"I'm looking forward to continuing my hard work in the legislature and along with my colleagues."
On Sunday night, in an effort to save face with lingering accusations of bigotry, Mandt spoke again about the leaked homophobic messages from October.

But his attempt at an apology fell short.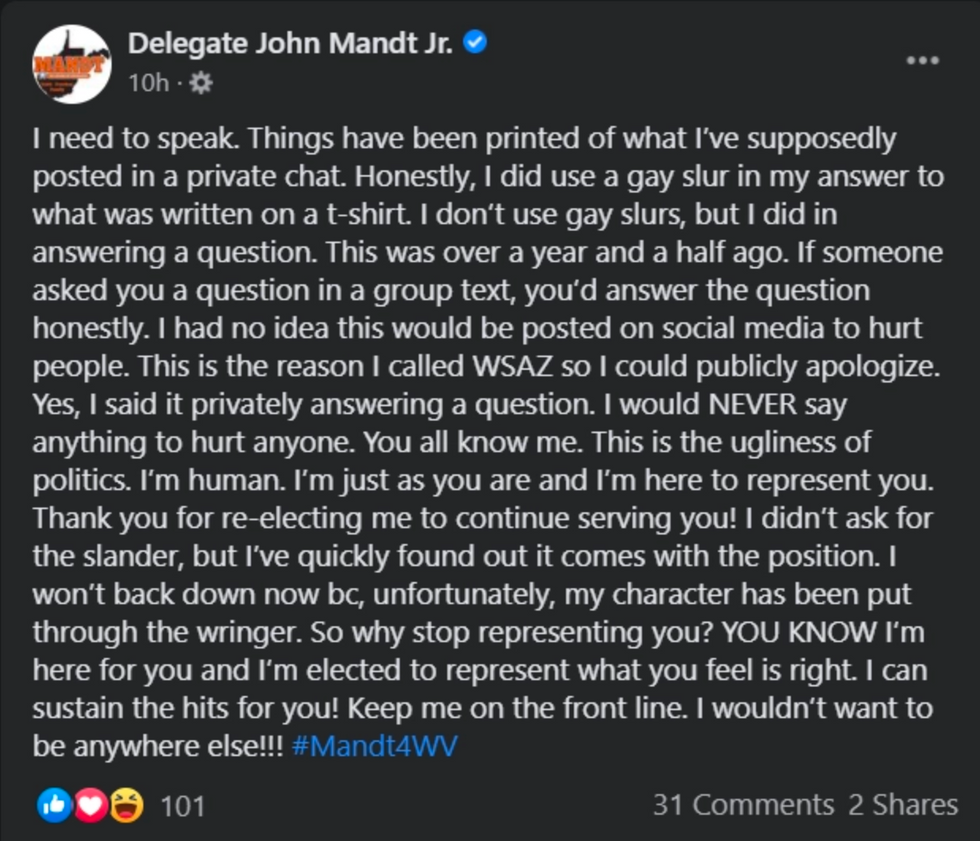 WOWKTV
In a Facebook message made private to his followers, Mandt said he doesn't use gay slurs but admitted to using them in the group chat.

He wrote:

"I need to speak. Things have been printed of what I've supposedly posted in a private chat."
"Honestly, I did use a gay slur in my answer to what was written on a t-shirt. I don't use gay slurs, but I did in answering a question."
"This was over a year and a half ago. If someone asked you a question in a group text, you'd answer the question honestly."
"I had no idea this would be posted on social media to hurt people."
"This is the reason I called WSAZ so I could publicly apologize. Yes, I said it privately answering a question. I would NEVER say anything to hgurt anyone. You all know me."
"This is the ugliness of politics. I'm human. I'm just as you are and I'm here to represent you. Thank you for re-electing me to continue servicing you!"
"I didn't ask for the slander, but I've quickly found out it comes with the position."
"I won't back down now bc, unfortunately, my character has been through the wringer. So why stop representing you? YOU KNOW I"m here for you and I'm elected to represent what you feel is right. I can sustain the hits for you!"
"Keep me on the front line. I wouldn't want to be anywhere else!!!"
Reactions to his apology were mixed, with some saying Mandt lacked sincerity.

Cabell County resident Bebe Meadows said:

"There's no integrity. No trust. If you can't take a person for their word, then what do you base anything on?"
Rosalynn Quinones, who works in Cabell County, said:
"Besides the statement, I think you should really show that you apologize maybe helping in a way that you can more be proactive than just a statement in Facebook about apologizing."
Fellow 16th District Delegate Sean Hornbuckle told the news station he and Mandt have a good working relationship but believed the re-elected lawmaker needs to prove himself.
"As the public, as people, that we should give him a second chance but he also has to prove it. I think that the way he can prove it as a legislator is through good policy."
You can watch the news report here.

Openly LGBT+ members of the state legislature, like Cody Thompson, expressed displeasure at Mandt's return as "hurtful."
"It hurts. I work with these people."
"In general, I'm very proud of a lot of things we can work together on for the betterment of the people of West Virginia, but when it comes down to seeing these comments, it's really hard to work with those who, they may smile to my face and talk to me, but behind closed doors or in conversations with others they use homophobic slurs."