Comic Pete Davidson issued a statement standing up for himself in the face of non-stop online bullying,
---
In the era of social media it seems people have forgotten to stay in their own lane and instead take it upon themselves to get personally involved in the love lives of celebrities. Recently, Davidson and his fiance Ariana Grande announced their split and some of her fans have been all out attacking Davidson ever since.
In a recent statement on Instagram, he came out to defend himself and put a little perspective on how we should be treating people we don't know.
In the note Davidson says:
"I've kept my mouth shut. Never mentioned any names, never said a word about anyone or anything."
"I'm trying to understand how when something happens to a guy the whole entire world just trashes him without any facts or frame of reference. Especially in today's climate where everyone loves to be offended and upset it truly is mind boggling."
"I've been getting online bullied and in public by people for 9 months. I've spoken about [borderline personality disorder] and being suicidal publicly only in the hopes that it will help bring awareness and help kids like myself who don't want to be on this earth."
"I just want you guys to know. No matter how hard the internet or anyone tries to make me kill myself. I won't."
"I'm upset I even have to say this. To all those holding me down and seeing this for what it is – I see you and I love you."

For her part Grande also reached out to those fans who may be part of the problem in an Instagram story saying:
"i know u already know this but i feel i need to remind my fans to please be gentler with others. i really don't endorse anything but forgiveness and positivity."
"i care deeply about pete and his health. i'm asking you to please be gentler with others, even on the internet. i've learned thru my own mistakes not to be reactive on socials so i do understand."
"but you truly don't know what anybody is experiencing ever. regardless of what they choose to display on social media or how they may appear in public."
"i can promise u that. so please let whatever point you're trying to make go. I will always have irrevocable love for him and if you've gotten any other impression from my recent work, you might have missed the point."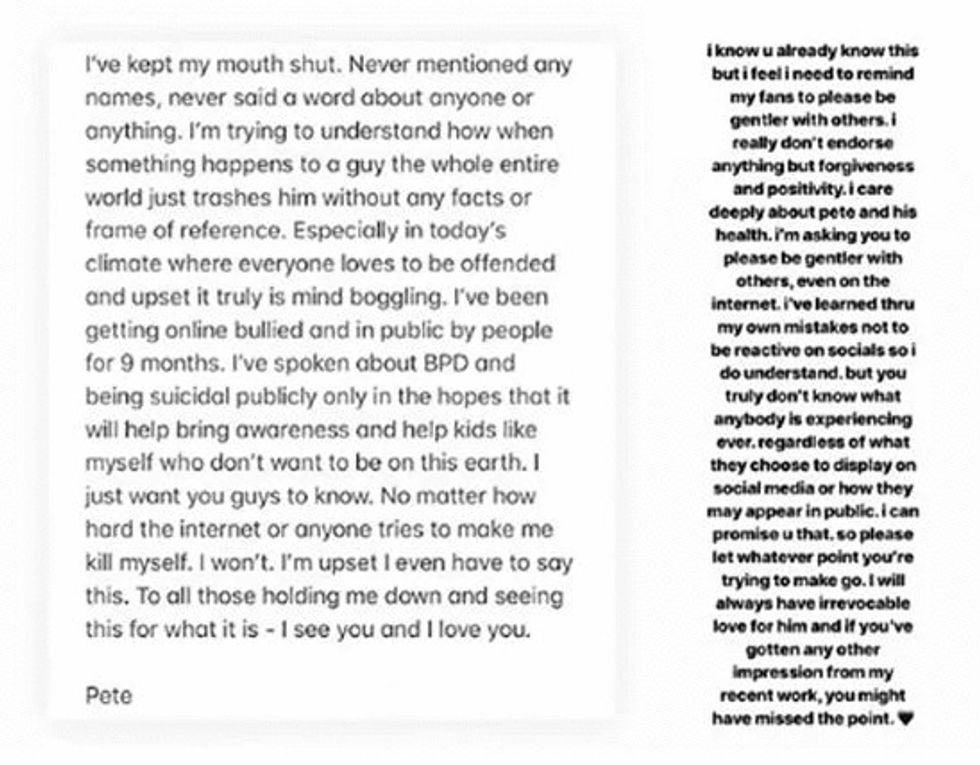 Ariana Grande Instagram Story
People got the message and stepped up to give Davidson support.
if you don't like pete davidson, cool. dark humor isn't for everyone. by no means does that give you the right to t… https://t.co/rfagQ9x9Qg

— 👻 (@👻) 1543871641.0
I like Pete Davidson, I hope he finds peace.

— Charles J. Moore (@Charles J. Moore) 1543875097.0
It's sad that Pete Davidson even has to say these words. The world we live in can sometimes be pretty darned crumm… https://t.co/JqZ90AWYrE

— To Hair and Back Author (@To Hair and Back Author) 1543870161.0
@latimesent Why do people feel the need to tear a person whom they don't personally know, apart? #StopBullying #PeteDavidson @nbcsnl

— 🌊 Annie Edmonds (@🌊 Annie Edmonds) 1543899078.0
@latimesent Love Pete. But this is a true BPD statement. I hope he finds his peace.

— jodyboo (@jodyboo) 1543889677.0
@Complex Sending you many blessings and hugs Pete Davidson. https://t.co/2Shq7sUaNt

— Tiffany (@Tiffany) 1543885195.0
@Complex Dear Pete Davidson, My name is Dylan Riley I am 13 years old and have been listening to your stand up and… https://t.co/rlX2Nr6PXA

— Dylan Riley (@Dylan Riley) 1543895962.0
@Complex Taint nothing good about a troll! YOU ARE LOVED PETE DAVIDSON!! ❤️❤️❤️❤️❤️ https://t.co/WNJVyGQpuZ

— Cherisa Ruki💜 CNP シェリサ (@Cherisa Ruki💜 CNP シェリサ) 1543896194.0
@latimesent Pete Never been a fan girl but you've stolen my heart. 61 year old grandmother so don't fret about stal… https://t.co/o190DhYLPM

— Kate Venables (@Kate Venables) 1543885365.0
@latimesent #StopBullying #PeteDavidson https://t.co/meSV1OI3h5

— Clovers are Purple (@Clovers are Purple) 1543928080.0
We have to wonder if it is worth it for celebrities to even be on social media.
H/T: Los Angeles Times, UpRoxx