*Warning: Article contains violent threats against a transgender child below.*
The Achille ISD school district in Oklahoma completely shut down from Monday, August 13, to Wednesday, August 15, as a result of threats made against a transgender child by parents of the child's fellow students.
---
In a private Facebook group for parents of children in the school district, parents began posting transphobic comments about the little girl, which "included plans to attack the child with a knife and have her beaten up by other kids at the school."
What prompted these horrific threats? Maddie, the trans child, used a girls bathroom on the first day of school.
Upon seeing the hateful comments, a concerned member of the group took screenshots and posted them on the official school district's page: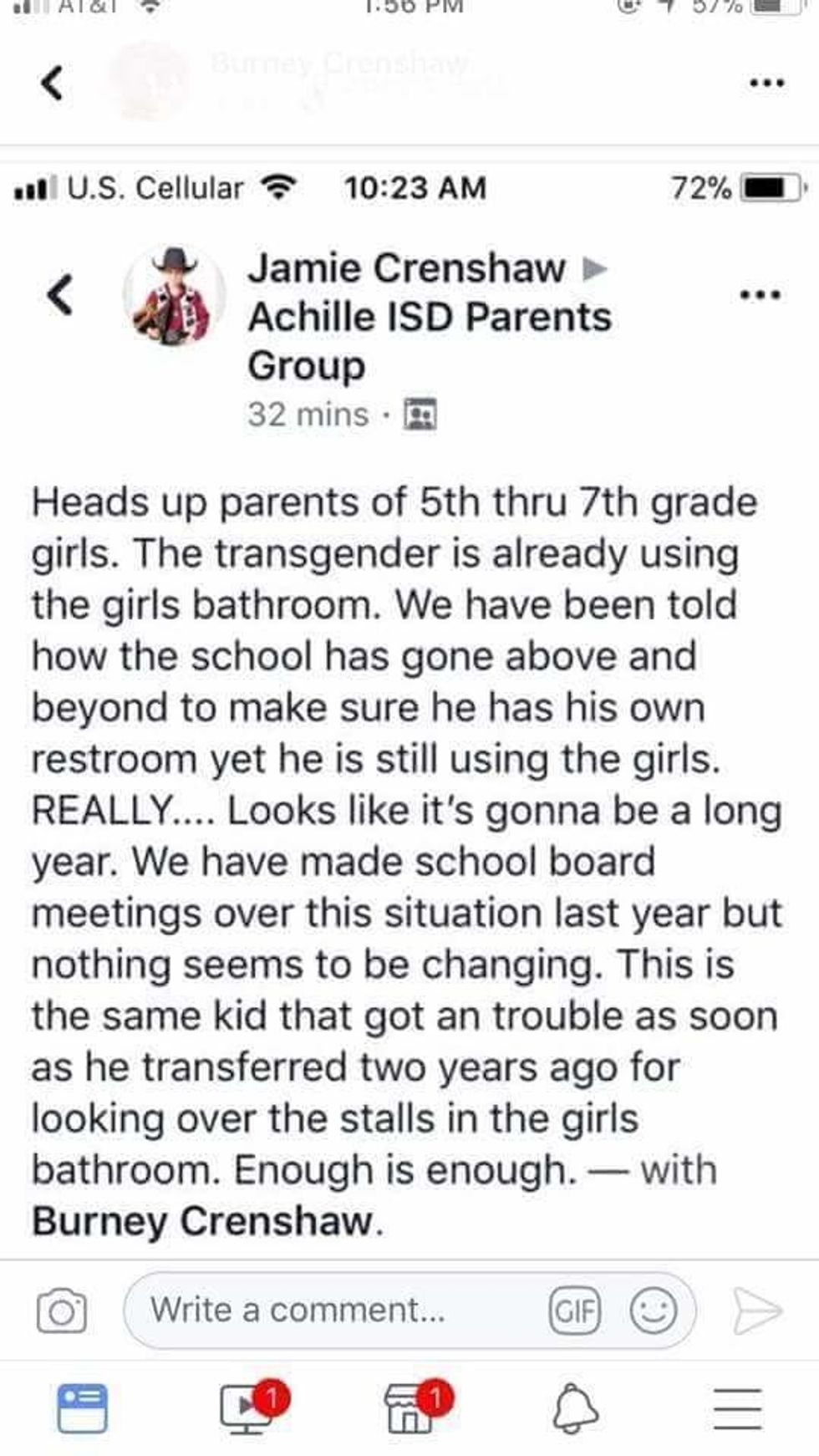 @not2daymfz/Twitter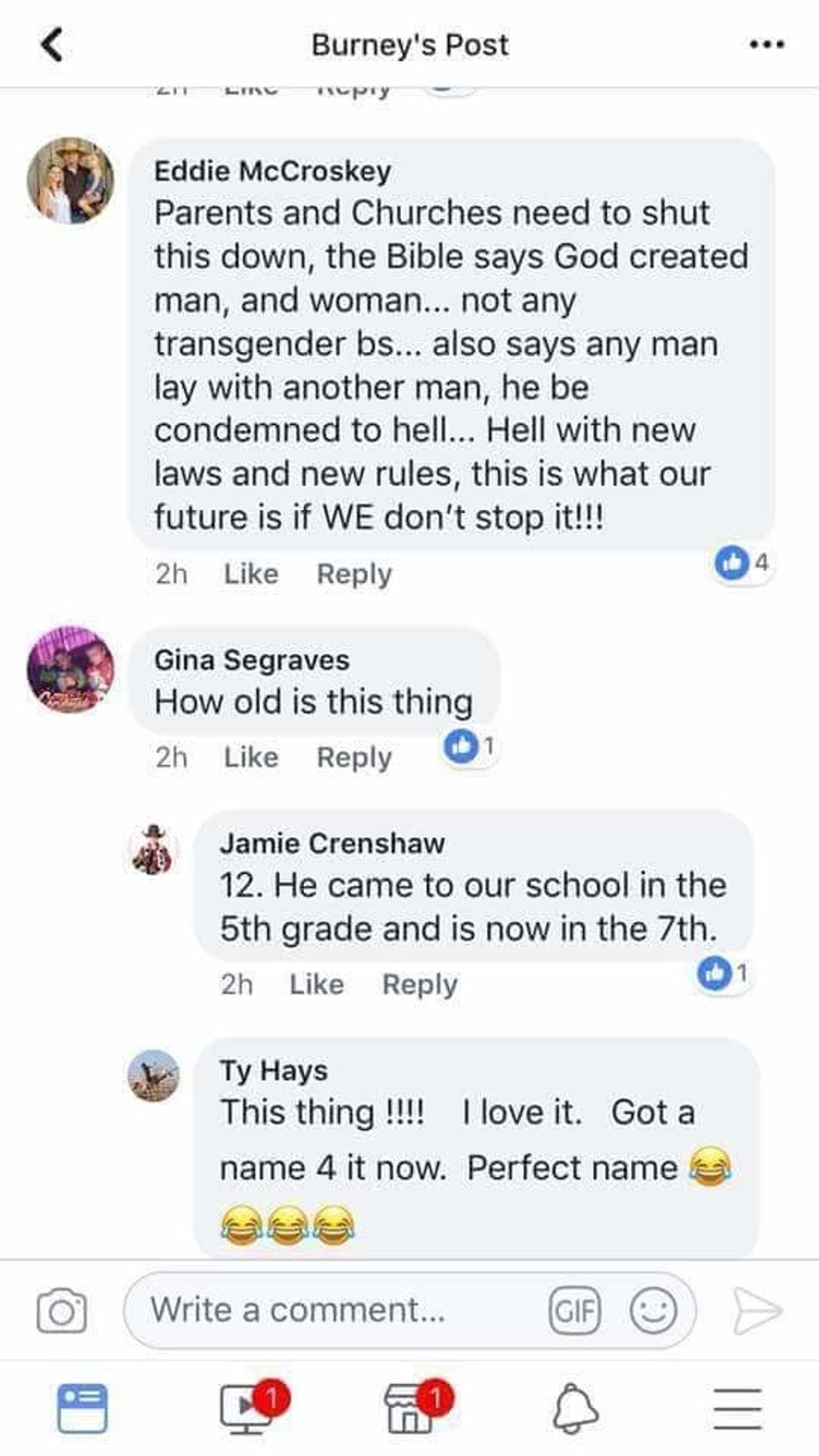 @not2daymfz/Twitter
In some of the posts, parents refer to the trans child as a "thing" and a "maggot." One goes so far as to say:
If he wants to be a female make him a female. A good sharp knife will do the job real quick.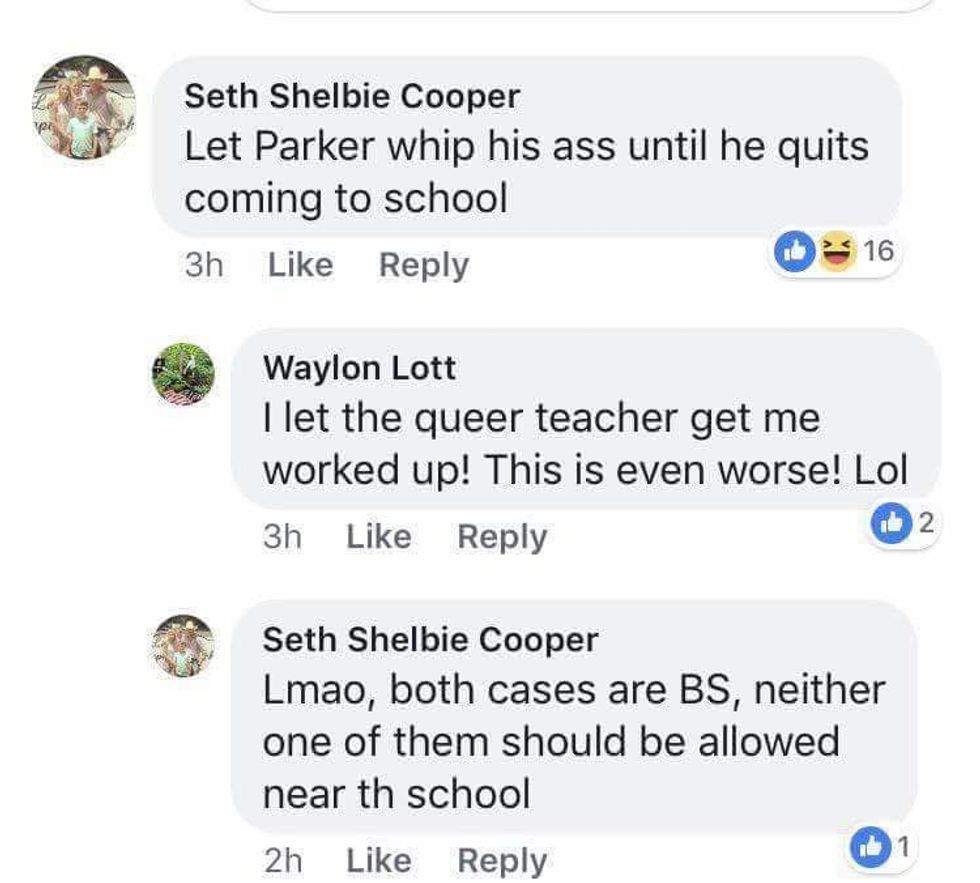 @not2daymfz/Twitter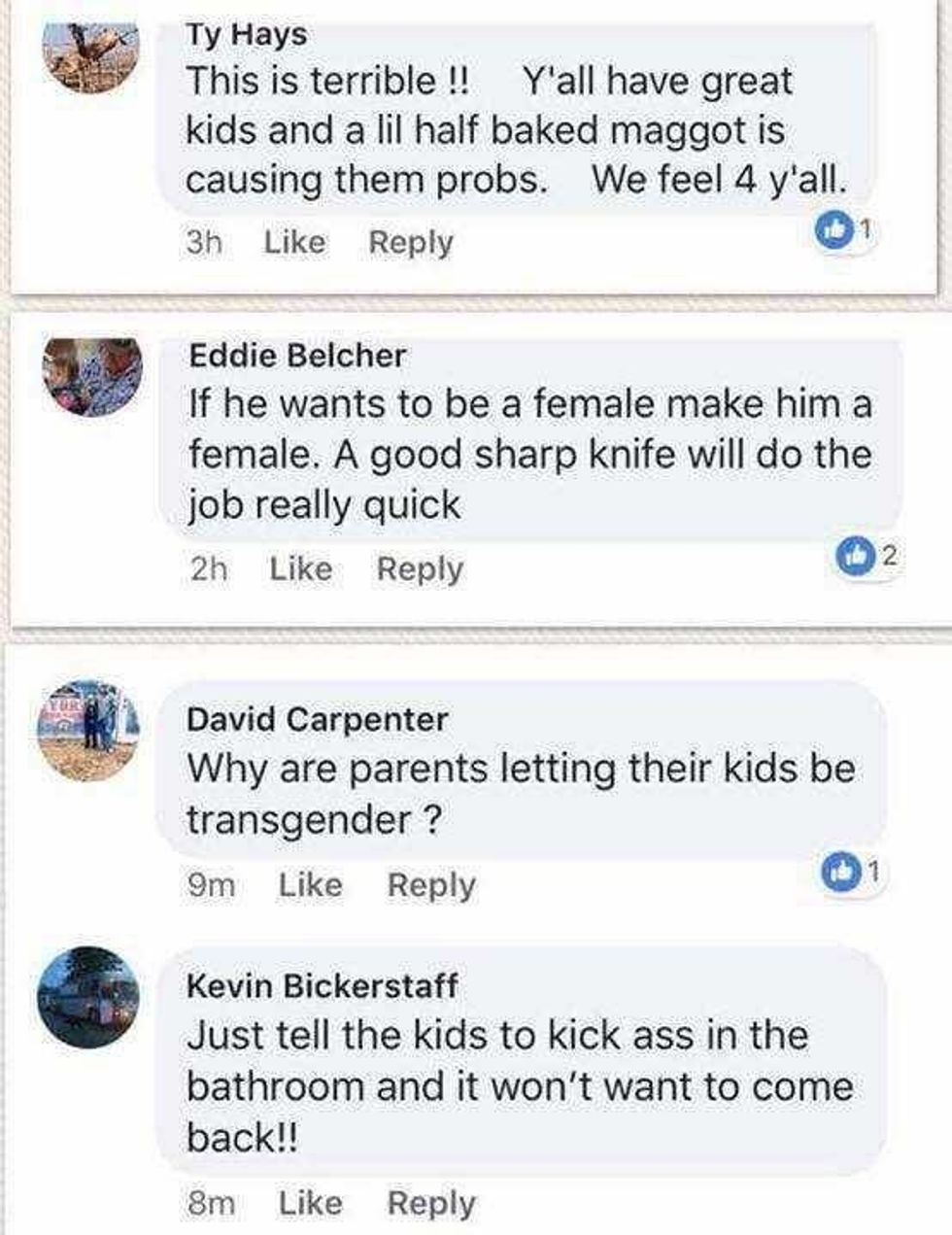 @not2daymfz/Twitter
Achille ISD superintendent, Rick Beene, commented on the situation:
We are putting in extra measures to help safeguard our students. We appreciate all the concern for our Achille students. Our school is shut down until Wednesday for safety precautions. While I will not go into specifics, we have increased security.

Ever wonder about the harassment and bullying transgender children experience? Check out this post and replies in a… https://t.co/qUjfowIehh

— Charlotte Clymer🏳️‍🌈 (@Charlotte Clymer🏳️‍🌈) 1534057822.0
Local news station KXII reports that Maddie and her parents are afraid for their safety, and are "staying at a secure location."
Dear cis people expressing shock at those adults threatening that trans kid. The threats aren't shocking to me. Tr… https://t.co/CSlEh2xBKw

— DSA Transylvania 💀 (@DSA Transylvania 💀) 1534298065.0
Beene also commented that the Facebook group in which the hateful comments were made is not officially associated with the school district, and that many of the participants in the fear-fueled discussion weren't actually residents of Achille. He commented:
Achille Public Schools and administration believe everyone should receive a safe and free education. We have a very talented staff that cares about each and every student. We remain one of the few small Oklahoma schools to have a resource officer and have had [one] for the last several years.
Re: Oklahoma school threats It's one thing for people to be misguided and misinformed about trans people. It's sad… https://t.co/HatQfTB0xT

— Nightwing (@Nightwing) 1534285991.0
Lisa DelCol, a board member at PFLAG Oklahoma City and parent of a transgender teen, commented that Oklahoma still has a "long way to go" when it comes to LGBTQ+ equality:
I know there are a lot of kids struggling. Our homeless youth population here — a good chunk is LGBTQ+ kids who have been kicked out by their families.
[COPIED] Our ADULT neighbors in #Achille #OKLAHOMA are threatening to assault, mutilate, & KILL a #trans child for… https://t.co/HRgHOPzjaG

— Kum-by-Nah Nation (@Kum-by-Nah Nation) 1534018460.0
Reading the comments these parents left in the Facebook group, DelCol was reminded of her own experiences raising a child who was trans:
When my child came out to me, my first thought was, 'Oh my god, world, please don't hurt my kid.' My first fear was for their safety; how they're going to be treated out in the world.
A 12-year-old trans girl uses the girls' restroom at school. In a private Facebook group, parents — grown adults —… https://t.co/LCyP4GiTtI

— Forrest Milburn (@Forrest Milburn) 1534274477.0
Paula Sophia Schonauer, a retired police officer who ran for local office in 2014 (and lost by only 22 votes), commented that incidents of hate have increased in frequency since President Donald Trump's election in 2016.
Right after the election, I was filling my tank at a gas station, and someone drove by and called me a freak. And people generally have reported to me more blatant discrimination since then.
@cmclymer I'm outraged that "Adults" said these things about a child. In the 1970s children of color being transpo… https://t.co/pjAl5lC6ea

— Veronica Viridis (@Veronica Viridis) 1534076727.0
Schonauer believes most of Oklahoma's residents are "fair-minded" people, but that many "just don't know enough about trans issues yet." If given the chance to interact and learn about real trans individuals, she's confident transphobic incidents like these will become less common.
We can only hope that this is true, and that Oklahomans are given an educational opportunity soon.