Billionaire Elon Musk came to the defense of Dilbert creator Scott Adams after Adams's recent racist rant resulted in his getting dropped from newspapers.
Media outlets made the decision to drop Adams' longtime comic strip from circulation after Adams called Black people "a hate group" and advised White people to "get the hell away" from them because of his belief Blacks are inherently racist against Whites.
Musk tweeted, "What exactly are they complaining about?" in response to the cartoonist's post about newspapers dropping his long-running strip.
Musk later deleted the tweet but why he did so is still unclear.
You can see it below.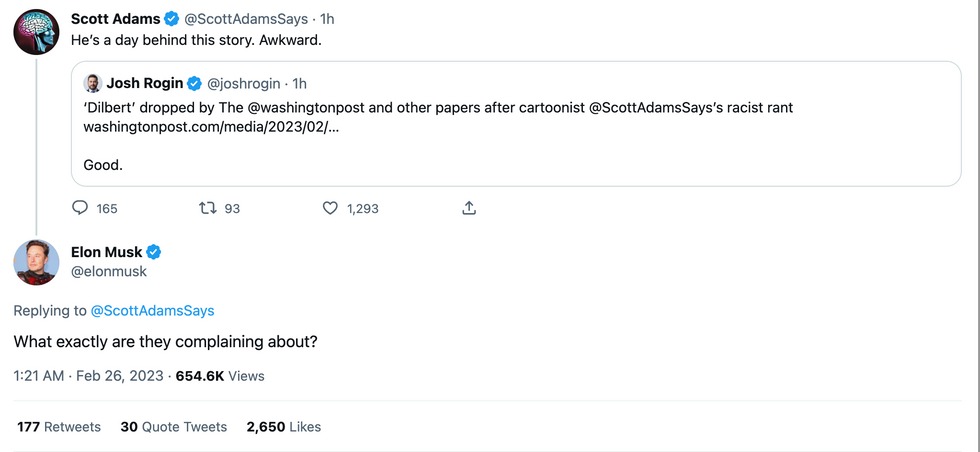 @ScottAdamsSays/Twitter; @elonmusk/Twitter
Not long afterward, Musk criticized the media for being "racist" in its reporting of Adams' citing a recent Rasmussen poll which found that 53 percent of the Black respondents agreed with the statement "It's okay to be white."
Musk, responding to the conservative-aligned Twitter account Monitoring Bias—which claims to provide "unwoke" analysis of data regarding "culture wars and institutional bias against white and Asian people in America"—wrote:
"The media is racist."
"For a very long time, US media was racist against non-white people, now they're racist against whites [and] Asians. Same thing happened with elite colleges [and] high schools in America. Maybe they can try not being racist."
You can see Musk's response below.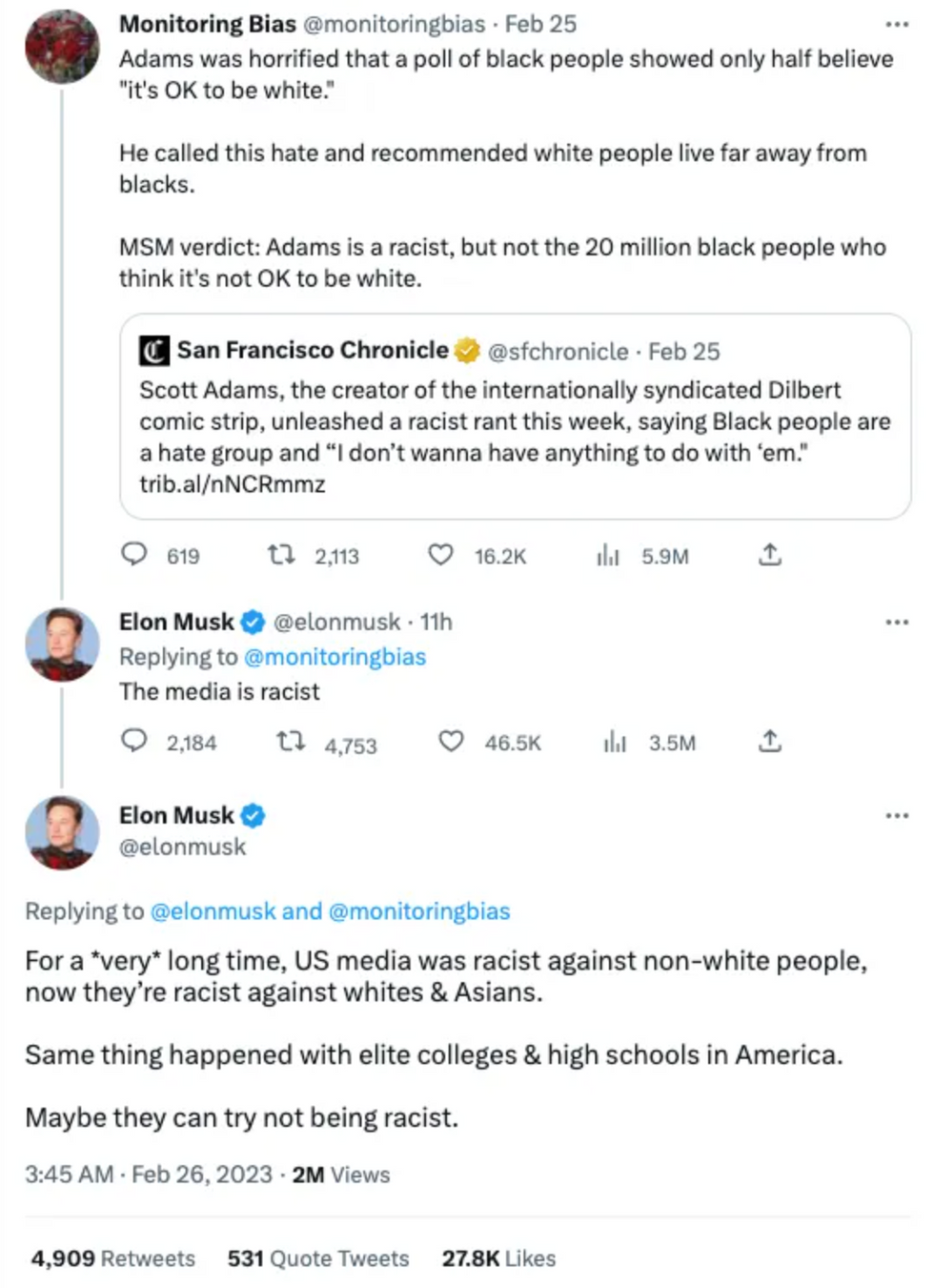 @monitoringbias/Twitter; @elonmusk/Twitter
Musk never outright condemned Adams' remarks and his efforts to scrub his responses from Twitter did not go unnoticed.
Many have criticized Musk for defending the Dilbert creator and suggested he still holds racist views he internalized growing up in apartheid-era South Africa.
Adams continues to face heavy blowback for his remarks.
Andrews McMeel Universal (AMU)—the longtime distributor for Dilbert—announced it was cutting ties to Adams and his strip because of incompatible "vision and principles" after Adams' issued his remarks.
AMU said it "values free speech" and is "proud to promote and share many different voices and perspectives" but said it "will never support any commentary rooted in discrimination or hate," adding that Adams' comments about race "do not align with our core values."