As the nation is reeling over the tragic death of NBA legend Kobe Bryant, fans began expressing their shock and sympathies on social media.
But the words of MSNBC anchor Alison Morris commenting on Bryant's death were scrutinized after viewers alleged hearing her saying the n-word.
---
Here is a clip of the report posted by Twitter user "Jimmy Jump."

People chimed in with their responses.
Morris denied the allegation of using the racial slur while she was on the air.
She took to Twitter to explain the unfortunate misunderstanding.
"Earlier today, while reporting on the tragic news of Kobe Bryant's passing, I unfortunately stuttered on air, combining the names of the Knicks and the Lakers to say "Nakers.'"
Responses to her statement were mixed.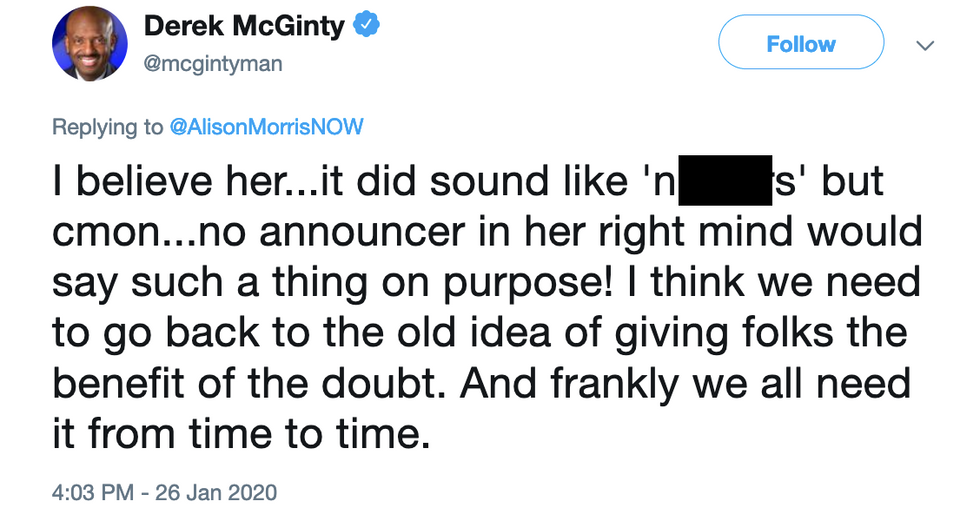 @mcgintyman/Twitter
Attempts at levity were made over the ridiculous debate.
Those who remain unconvinced of the stutter explanation wanted her off the air for good.

They even started a campaign to oust Morris in a petition, claiming what the reporter said:

"was not Accident but on PURPOSE because she paused before she said 'Los Angeles Ni***** '".
Everyone seems to have heard something different.
Some felt it was time to end the debate and focus on the victims and their families.
While an investigation into the crash is still in its early stages, authorities cited foggy conditions.

On Sunday evening, Los Angeles County Sheriff Alex Villanueva said:
"We do know there was an issue with visibility and a low ceiling. The actual conditions at the time of impact, that is still yet to be determined."
Fans and colleagues continue to mourn of the loss of the NBA hero.

Shaquille O'Neal posted a tribute to his late friend.

"There's no words to express the pain Im going through with this tragedy of loosing my neice Gigi & my brother @kobebryant I love u and u will be missed."
"My condolences goes out to the Bryant family and the families of the other passengers on board. IM SICK RIGHT NOW."
On Monday, fans gathered outside of the Staples Center in Los Angeles–where The Lakers play–to pay their respects for Bryant and his daughter.
The full list of victims hasn't been released by authorities, but family members of the victims confirmed their identities in tributes posted online.
In addition to Kobe and Gianna "Gigi" Bryant, the other victims have been identified as husband John, wife Keri and daughter Alyssa Altobelli; mother Sarah and daughter Payton Chester; coach Christina Mauser and pilot Ara Zobayan.