A woman who thought she couldn't be a mom after being diagnosed with cervical cancer in her twenties is expecting her second baby thanks to a treatment designed to protect fertility.
Charlotte Sage was just 28 when her second routine smear test revealed she had high risk human papilloma virus (HPV) and high grade cervical cell changes.
A year before she had emigrated from the UK to Bedford, New Hampshire with her now husband, Lewis, it was confirmed she had stage one B1 cervical cancer in October 2017. She became her consultant's first patient to receive special fertility sparing treatment.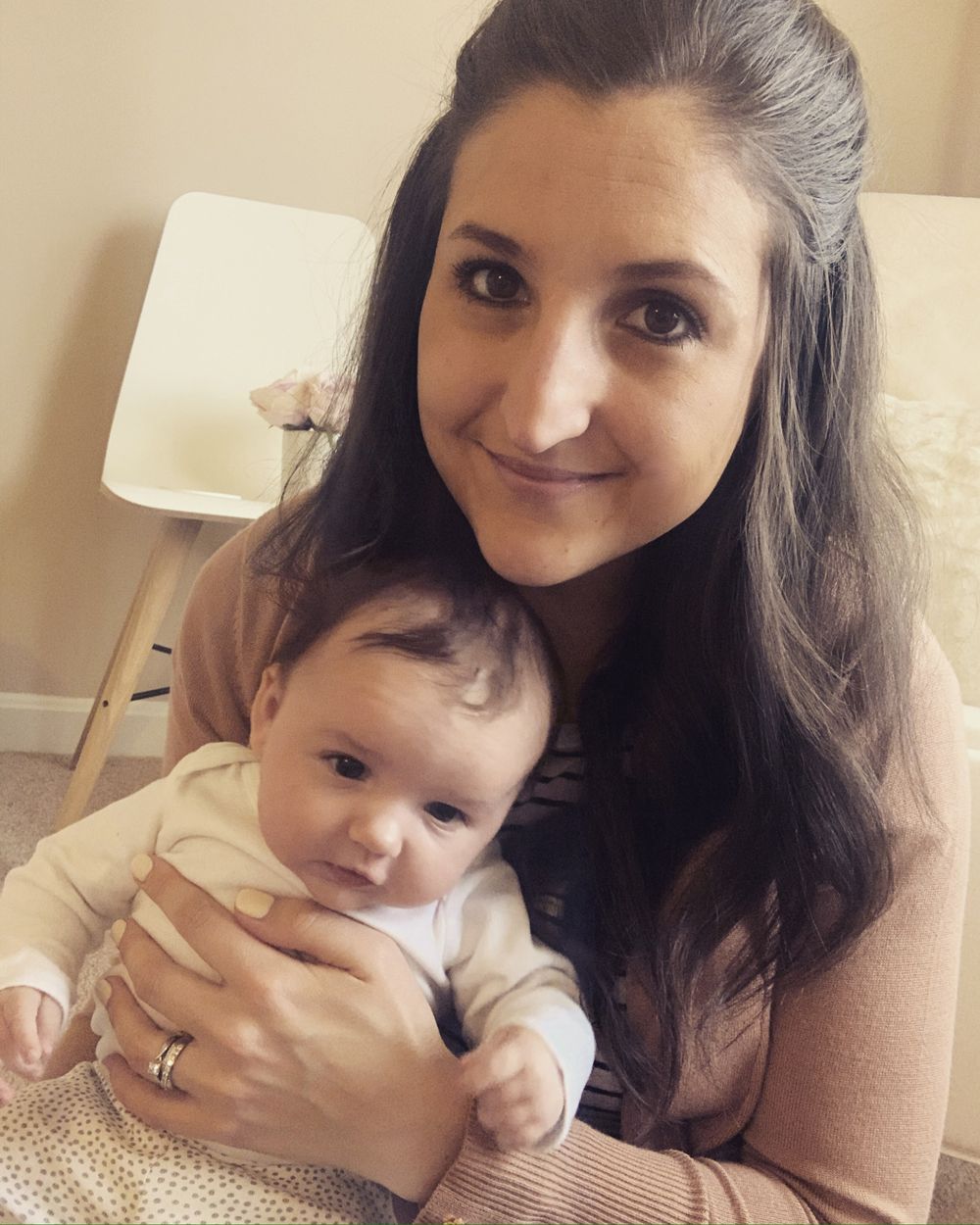 Charlotte and two month old Olivia (PA Real Life/Collect)
She recalled how her oncologist at Catholic Medical Center in Manchester, New Hampshire, had just returned from a medical conference on cancer treatment designed to protect fertility.
"I was a perfect candidate. I was her first patient and she really understood that I wanted to have a family one day," she said.
"She went through the more aggressive options like having a hysterectomy, but told me about this new way of delivering chemotherapy in smaller weekly doses."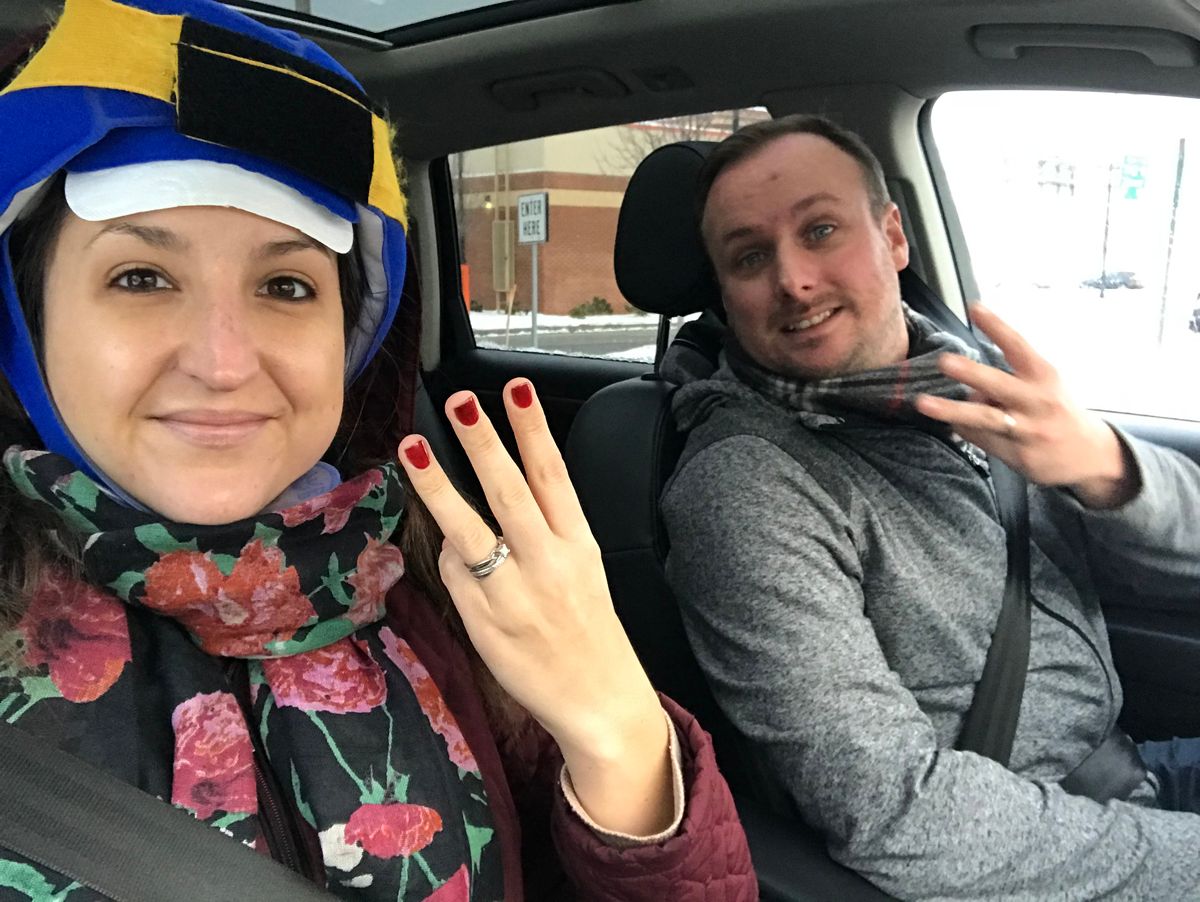 Charlotte and Lewis after her third chemo and wearing her cold cap (PA Real Life/Collect)
"It was using two types of chemotherapy drugs – taxol and carboplatin, which are typically administered to women with ovarian cancer," she continued.
After receiving smaller doses of chemotherapy over a nine week period, as well as surgery to remove the tumor on her cervix, Charlotte was declared cancer free in April 2018. Discovering she was pregnant for the first time with her daughter Olivia exactly a year later.
Now, she's preparing to celebrate her little girl's first birthday on December 16.
"I didn't feel confident about conceiving at all. I really didn't know which way it was going to go, but I just focused on the treatment and hoping everything would work out," Charlotte explained.
"We were told if nothing happened for six months after trying, we should visit the doctor, but we didn't need to. It was amazing."
"I had to be closely monitored because they thought I might have been at risk of developing what is known as an incompetent cervix, too, where the cervix shortens and opens in the second trimester, increasing the risk of miscarriage or premature birth, but I didn't and it really it was an uncomplicated pregnancy."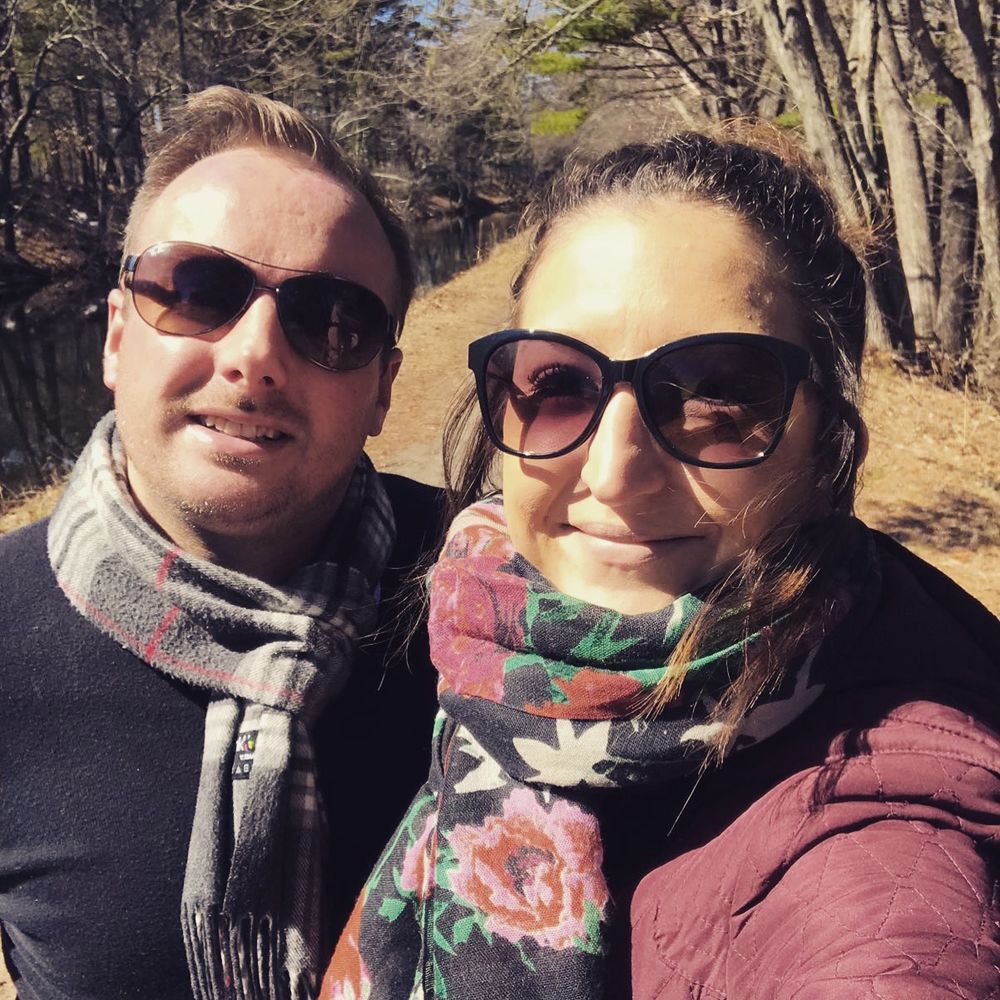 Charlotte and Lewis (PA Real Life/Collect)
"Now I'm 15 weeks pregnant with a sibling for Olivia and I want other women facing cancer to know that there can be a happy ending," she added.
Charlotte was still living in the UK when she had her first routine smear test at 25, which was clear.
She had moved to the USA when her second test revealed abnormalities.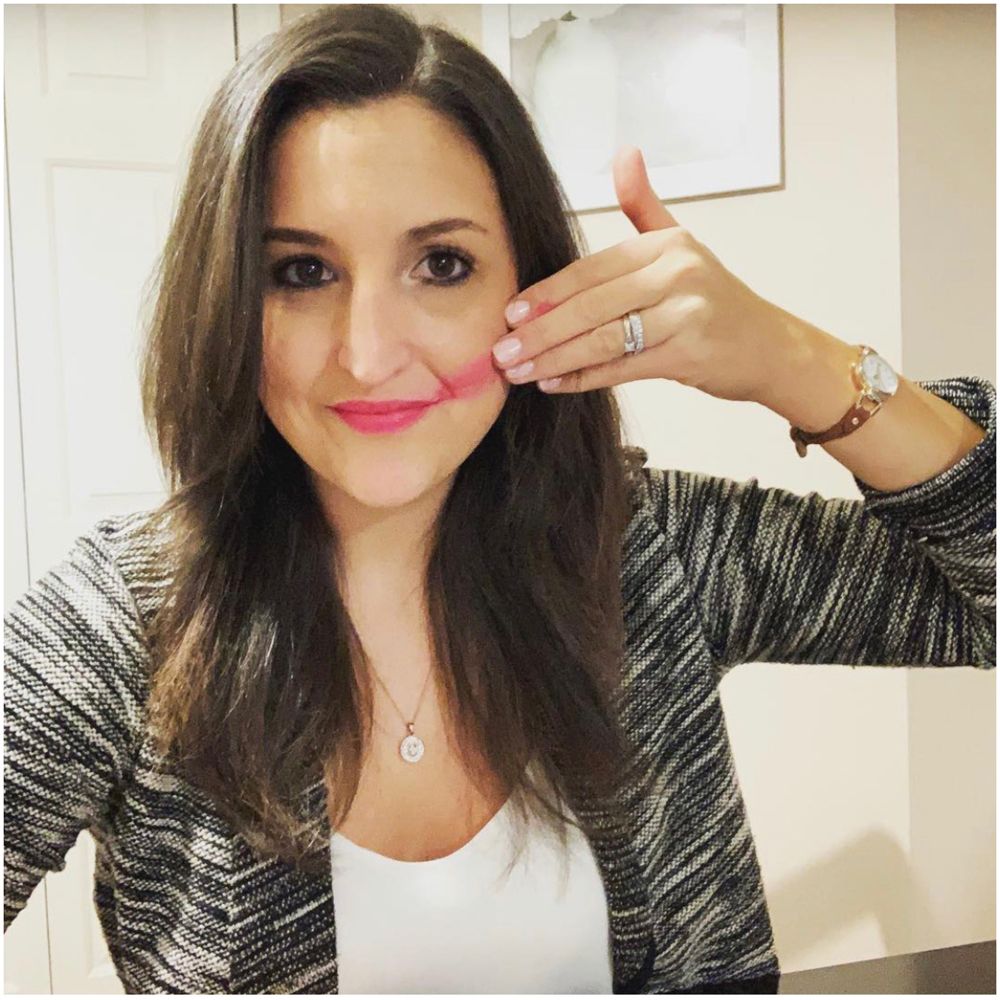 Charlotte taking part in Jo's Cervical Cancer Trust's Smear for Smear campaign (PA Real Life/Collect)
"It was a shock because my smear test three years earlier had come back completely normal. I had no symptoms whatsoever," she said.
"The doctors sent me for a colposcopy, a procedure which looks at the cervix, and a biopsy, but they couldn't get clear margins, so I was referred for a cold knife cone biopsy, a small surgical procedure instead."

"After that, I was diagnosed with stage one B1 cervical cancer. I wasn't expecting it at all. You hear and read about cancer, but you never expect it to happen to you."
#Coronavirus pandemic and the restrictions that have been imposed on our lives are going on for a lot longer than a… https://t.co/akXnumETxy

— Jo's Cervical Cancer Trust (@Jo's Cervical Cancer Trust) 1603715103.0
"I just expected I'd get a call saying everything was fine, but instead it was a call telling me I had cancer," she said.
"When you're told that news, your mind just runs away with you. You think through all these different scenarios, like, 'Will I be able to have children? Will I have surgery? Will I die?' My husband and I had always wanted a family and were at that age when we were going to start trying soon."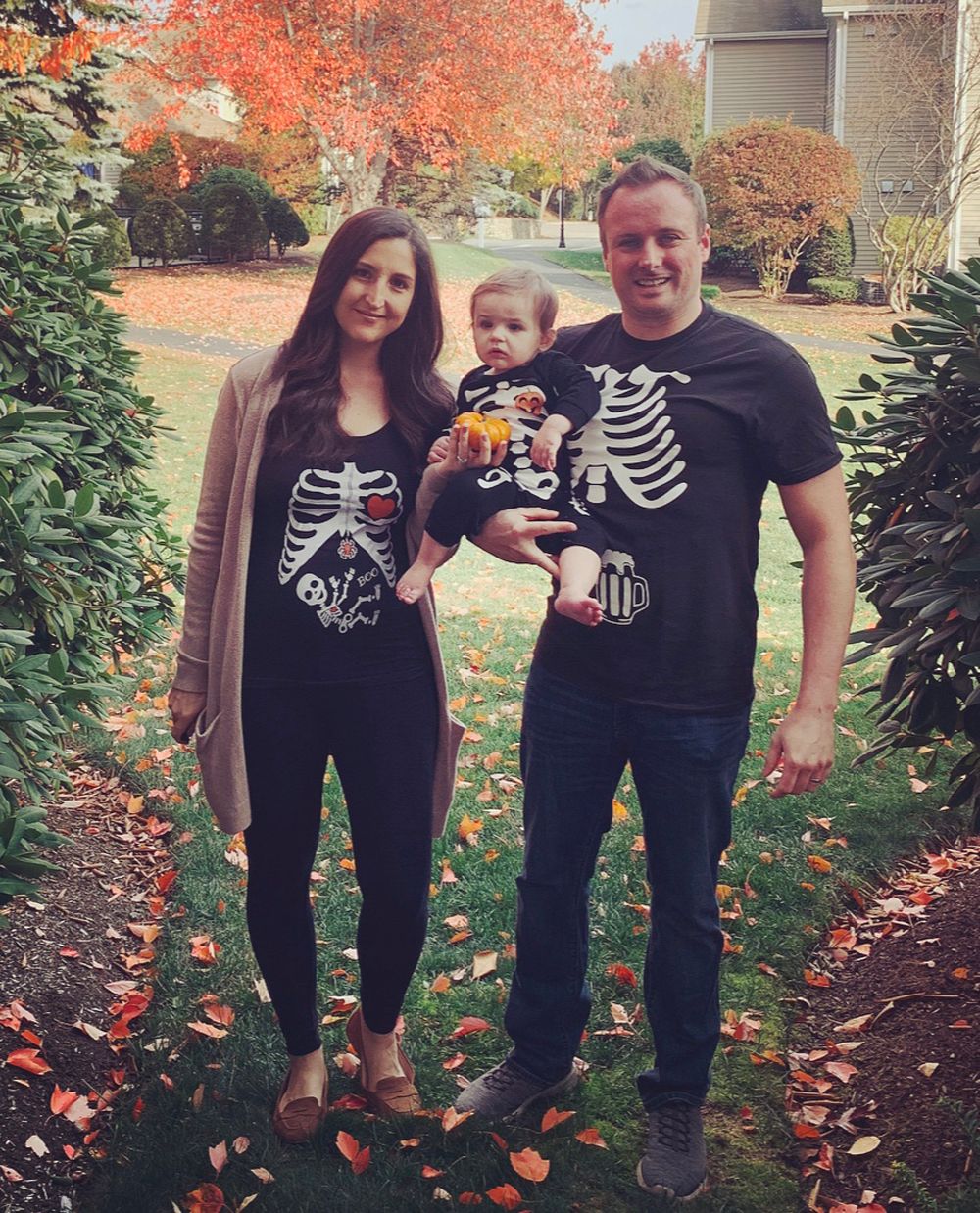 Charlotte and Lewis with Olivia dressed for Halloween (PA Real Life/Collect)
"Lewis and I had been together for nine years, but had only been in the US for a year before my diagnosis and my family were in the UK," Charlotte said.
"Then I had to phone them and tell them what had happened. It was really tough."
A further procedure confirmed that the cancer had not spread to her lymph nodes, after which she began her chemotherapy treatment in January – which was administered every Friday for nine weeks.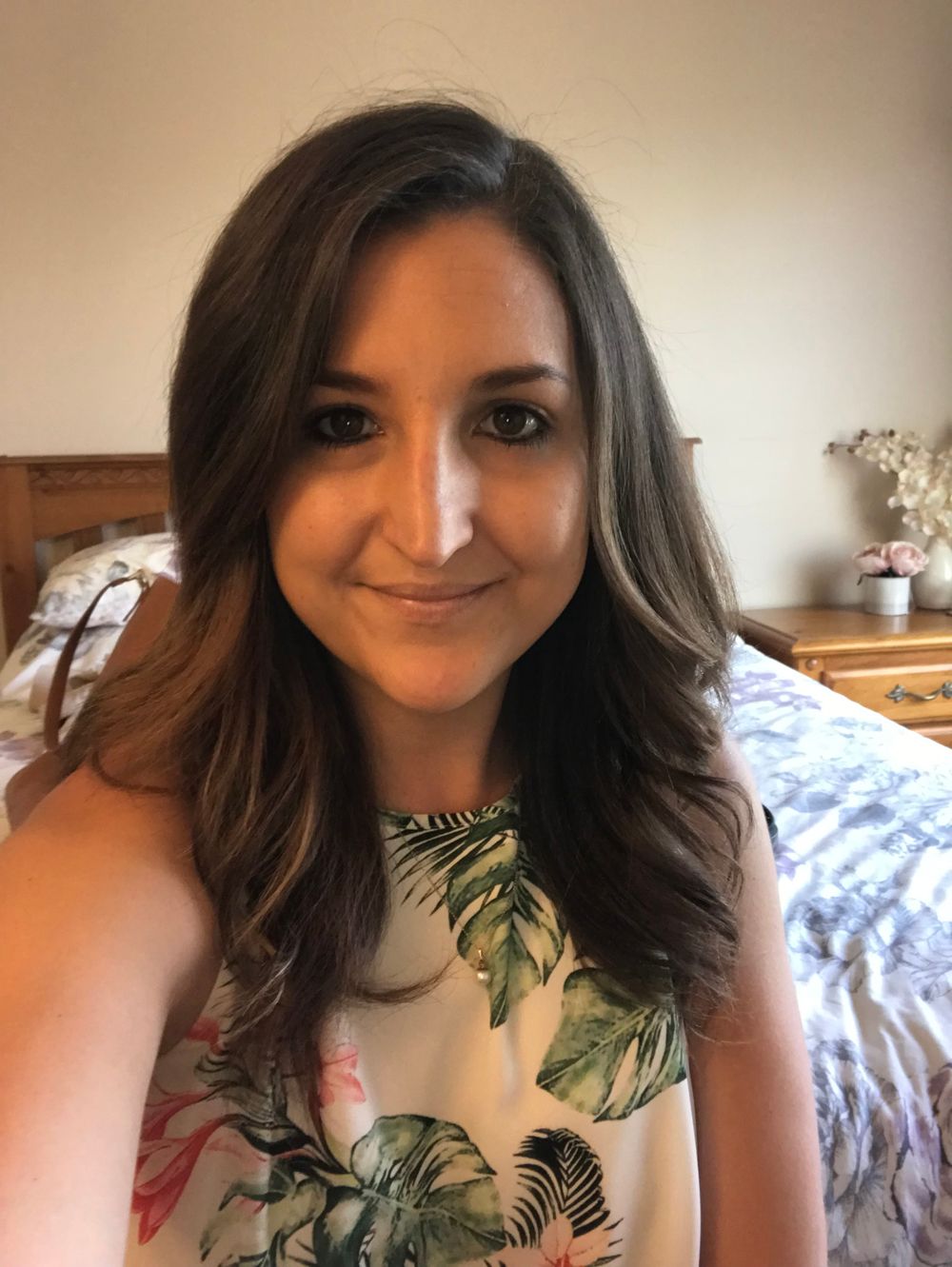 Charlotte (PA Real Life/Collect)
"The aim was to shrink the tumor, so it was small enough to be removed in a single operation," she said.
"I was a sales manager at the time and would have my appointment on the Friday, before resting over the weekend, then I'd work from home at the beginning of the week, so I didn't have to take any time off."
"Towards the end of the treatment, I was very tired, so I did have to slow down, but I found morning sickness was worse than the chemotherapy."
Charlotte also had a cold cap, a type of cryotherapy which reduces blood flow to the hair follicles in a bid to minimize hair loss.
"That was the hardest part of the whole thing. You have to rotate this cap, which you can't do alone, so I had a lot of help from my husband and my mum and friend flew out to help me, too. The caps had to be kept at a temperature of -32C and worn for eight hours," she said.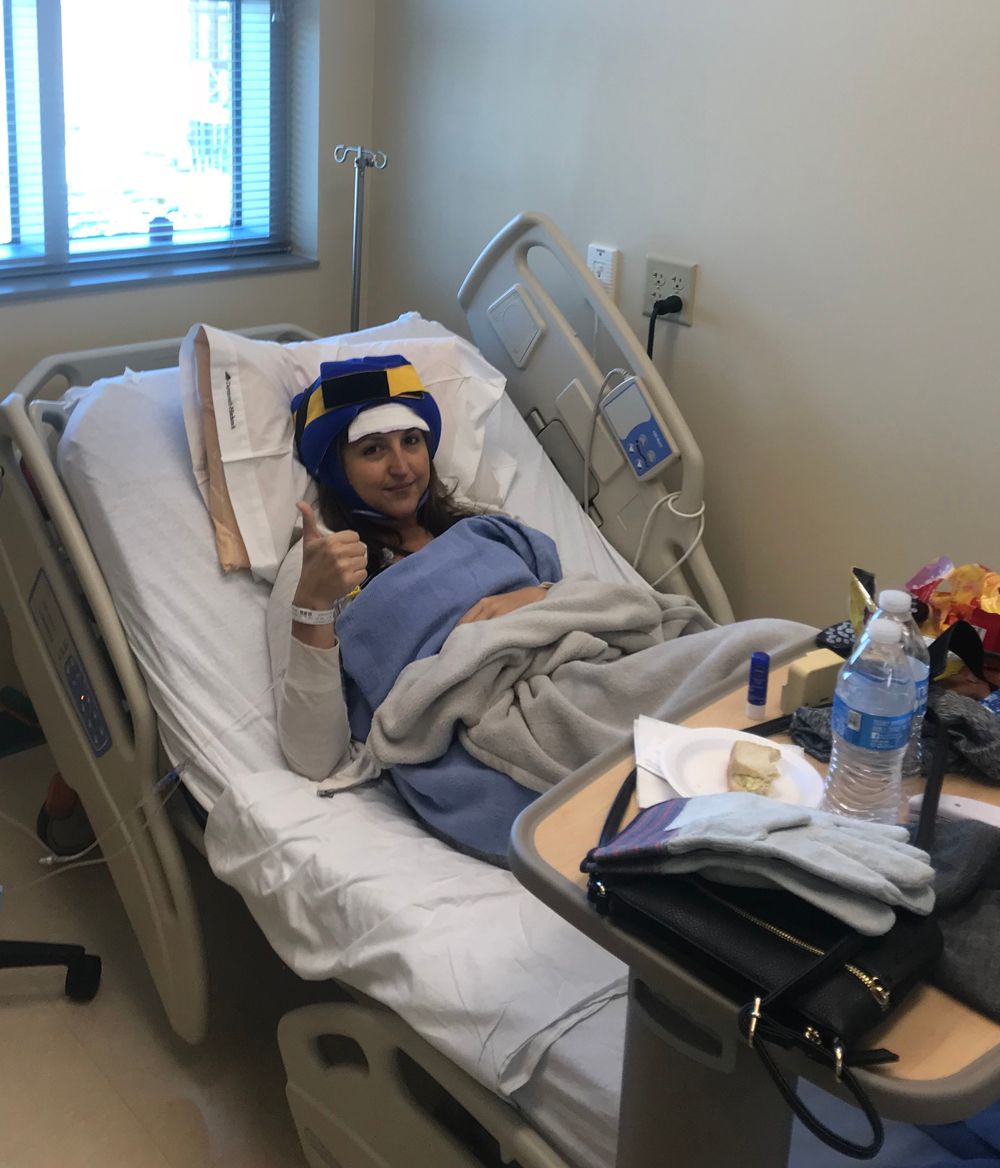 Charlotte's first chemo session (PA Real Life/Collect)
"It felt like a kind of extreme brain freeze. It is excruciatingly painful at the beginning, then you have to wait for it to go numb," she added.
In April 2018, Charlotte had surgery to remove the last of the tumor on her cervix and was declared cancer free.
"I was at work and could see my oncologist calling, but I was too scared to answer the phone," she said.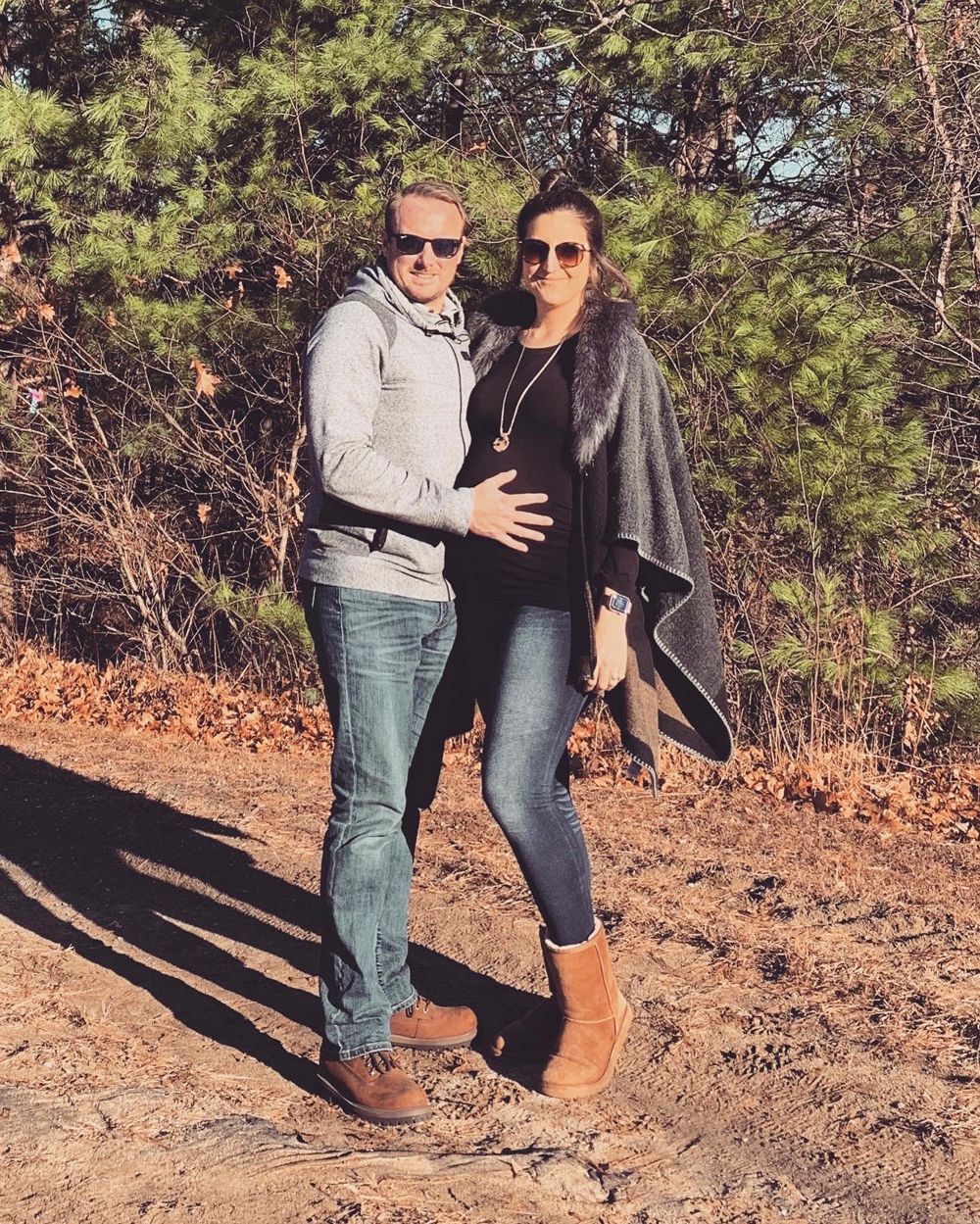 Lewis and Charlotte when she was pregnant with Olivia (PA Real Life/Collect)
"She left me a long message, so I took myself outside to listen to it and I just cried and cried," Charlotte recalled.
"I called Lewis, who was in the car on a business trip and told him the news. I could hear him and his colleague celebrating."
"My work colleagues could see I was crying, so thought it was bad news, but I told them it was good news and they were so happy that we went out for dinner that night to celebrate."
#HPVvaccine data for England shows that uptake for 2019/20 was 59% compared to 88% in 2018/19. The pandemic is aff… https://t.co/bGH2QtOMOb

— Jo's Cervical Cancer Trust (@Jo's Cervical Cancer Trust) 1603374604.0
Despite being delighted to be cancer free, Charlotte still had little confidence about her prospects of conceiving.
Advised to wait six months until they started trying for a family, to ensure the chemotherapy had left her system, the couple visited friends and family in the UK, then went for a well-deserved holiday to the Dominican Republic.
Then, exactly a year after receiving the all clear, Charlotte discovered she was pregnant.
With baby Olivia born on December 16, 2019, giving birth at the hospital where she was treated felt like she had come full circle and completed her journey.
"Nothing can really prepare you for the moment when your baby is delivered, you fall completely in love with someone you've just met," Charlotte said.
"It was really special, because of what we'd been through over the preceding two years. It really was a happy ending."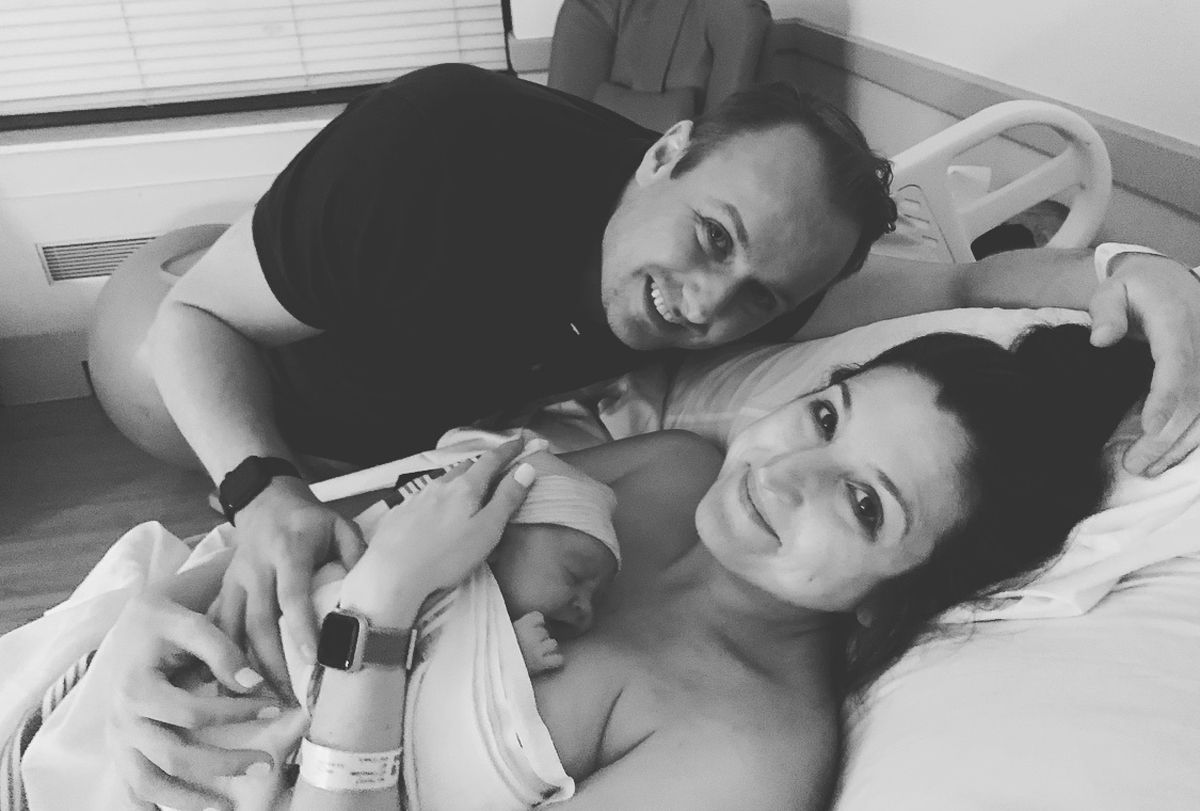 Lewis and Charlotte with newborn Olivia(PA Real Life/Collect)
"Olivia is 11 months old now and she's a cheeky, happy little girl. We have had a different first year because of lockdown, so a lot of our family still haven't met her, which has been hard, but we do a lot of video calls," Charlotte continued.
Now Charlotte and Lewis are looking forward to a second miracle as they prepare to welcome a baby brother or sister for Olivia in April 2021.
Working to raise awareness of the disease with charity Jo's Cervical Cancer Trust, who supported her throughout her treatment, Charlotte is encouraging other women to make sure they have regular checks.
"I wanted to share my story to show people that if you are diligent and make sure you have a regular smear test, you can go on to have a perfectly normal life after a cancer diagnosis," she said.
"I didn't have any symptoms, which shows that getting checked regularly is so important. Thankfully, in my case, they caught it early enough and the treatment was a success."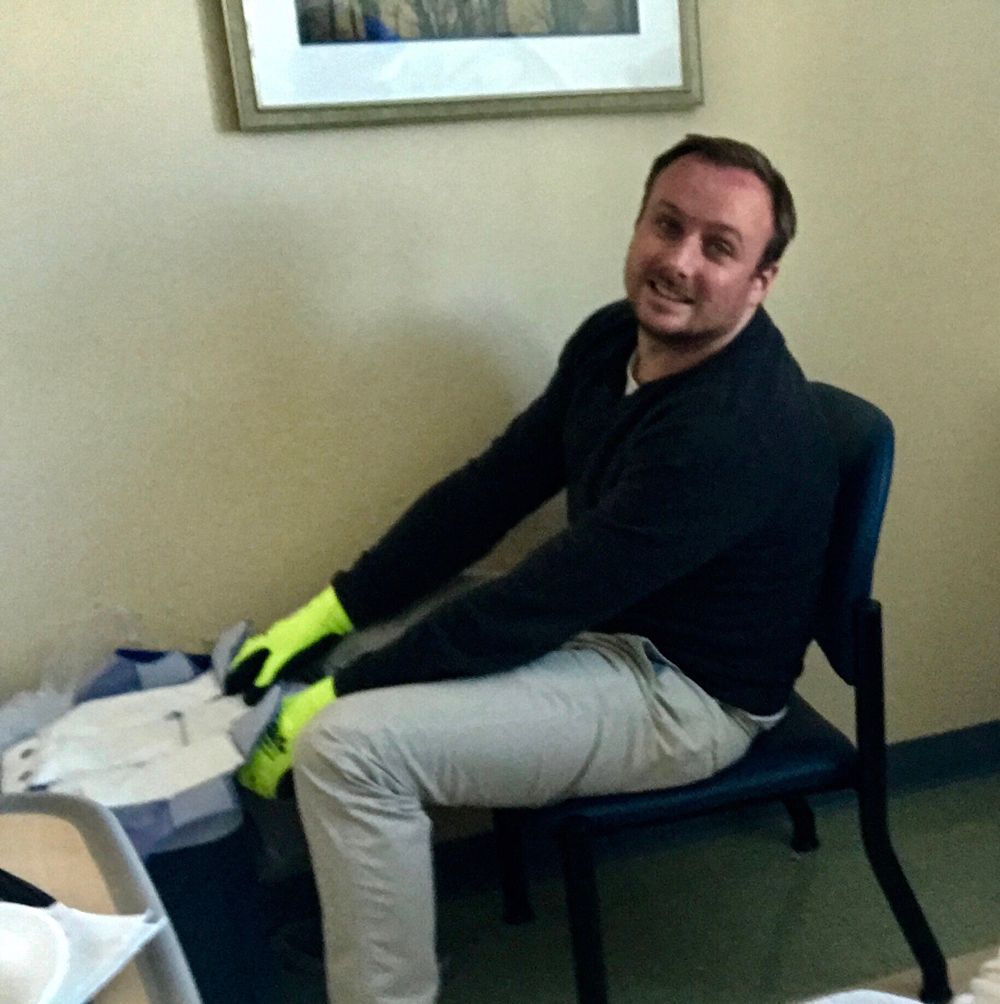 Lewis rotating the cold caps to minus 32C(PA Real Life/Collect)
"I know not everybody has a happy ending, but I want my story to give hope to people that there is treatment out there that means they can recover and go on to have children naturally," she added.
Setting up an Instagram page to keep family and friends up to date on her progress, Charlotte has also connected with other cancer survivors.
"When I was first diagnosed it was really helpful to speak to other people who had been through something similar and now I can offer help to others women, too," she said.
"Charlotte's powerful story shows how important cervical screening is. Cervical screening is a life-saving test which can detect those who are at higher risk of developing cervical cancer," Robert Music, Chief Executive of Jo's Cervical Cancer Trust, said.
"However, cervical screening is not an easy test for everybody and the pandemic has undoubtedly made it harder for some, with it being more difficult to get an appointment in places and concerns about catching or spreading Coronavirus putting people off."
For more information visit jostrust.org.uk or call their free helpline on 0800 802 8000 and find Charlotte on Instagram @the.small.c