Yet another altercation stemming from a person refusing to wear a face mask sparked anger on social media over the weekend, as a video hit Twitter Sunday showing a man ranting in a store about being denied service for his refusal to wear a face mask.
According to the store owner's daughter, who uploaded the video, the man's rant contained racist language. As she described on Twitter, the man called the store employees "brown-skinned sheep."
"This man came into my father's store and started coming at my brother for refusing him service for not wearing a mask. He started being racist and called him and the rest of the employees 'brown skinned sheep'."
The quote is not captured in the video, but the man is heard saying, "It's not about racism" when an employee questions him about it. (Warning: This video contains profanity.)
In the second part of the video, the man is repeatedly asked to leave by an employee, but refuses.
In the videos, the man insists that masks don't work and essentially chalks them up to a trend, repeatedly stating, "It's conformity, bro."

And as if the racist comment weren't bad enough, the man then backs up his assertion that masks couldn't possibly work with a diatribe about farts. Yes, farts--you read that correctly.
"If somebody f*cking farts through their a**, through their underwear, through their pants, and you smell it--"
The man then cuts himself off, but we can presume his point is that viruses are not containable because farts aren't. Or something?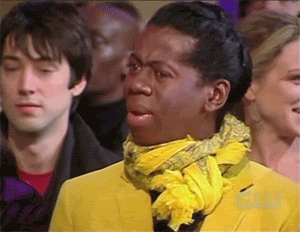 Giphy
In the second part of the video, the man filming can be heard repeatedly telling the ranting man to leave, to which he replies:
"I've been coming here for over a year, no I'm not going to leave."
On Twitter, people were angered and appalled by the display.
The incident took place in New York City, which was hit so hard by the pandemic earlier this year it had to resort to measures like storing corpses in refrigerated semi-trucks.
Both the city and the state of New York are currently seeing an uptick in cases, particularly among young people.