Kristin Bell and Dax Shepard are one of those celebrity couples that is very open and honest about how surreally weird life can get. They decided pretty early on that there was "no avoiding" talking about their personal lives since they're both in the public eye so much.
So they committed to just being honest, whatever that means.
Recently, it meant Kristin Bell offering some clarification to a commenter who believes the couple "can't f**cking stand each other."
To understand how we got there, we have to start with Dax and the show Top Gear. If you've not watched it, the show is essentially a bunch of people being ridiculous with, around, and about vehicles.
It's been a massive hit in multiple countries for decades, and Dax appears on the American version of the show.
As such, he commissioned an artist to paint a massive mural of himself and Kristin Bell on the side of a large vehicle. The mural was an homage to a 1977 Chuck Norris film.
The artist did a wonderful job capturing exactly the 70's van mural vibe Shepard was aiming for.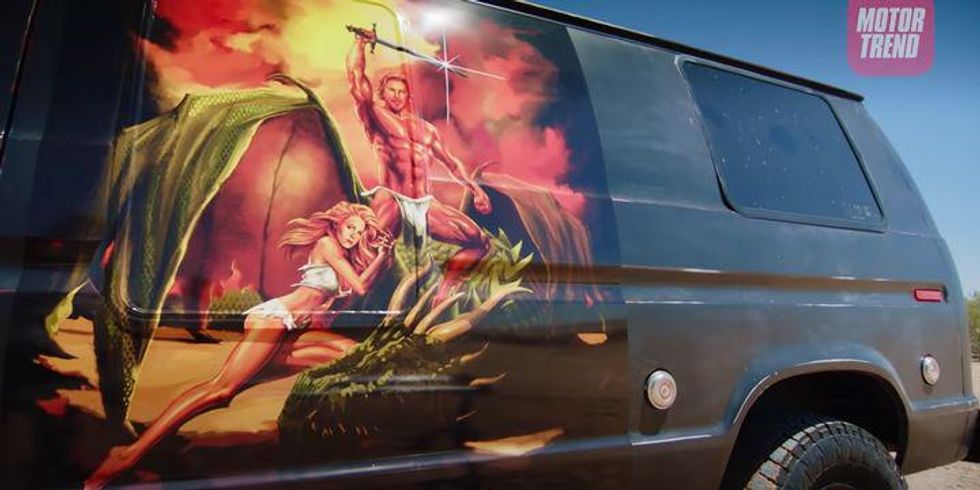 MotorTrend / Youtube
The mural features a loin-cloth-clad and super-abbed Dax standing atop a dragon he has just slain. He is holding his sword victoriously overhead.

Kristin is sprawled across the floor at Dax's feet, gripped onto his muscular leg, wearing a white two piece.
It certainly got laughs as intended, but as Dax explained, he knew it wasn't something he would be able to keep.
"I've always loved those 70s muraled up vans. I've wanted one, and my wife is pretty adamant that's the one vehicle she doesn't want in our driveway."
"She wasn't thrilled with the level of 'female empowerment' that was depicted in that mural, understandably."
"And my kind of excuse was we had to honor the era in which this was popular. It didn't fly."
That brief snippet made its way to social media via a PopCulture post.

That post lead to this comment: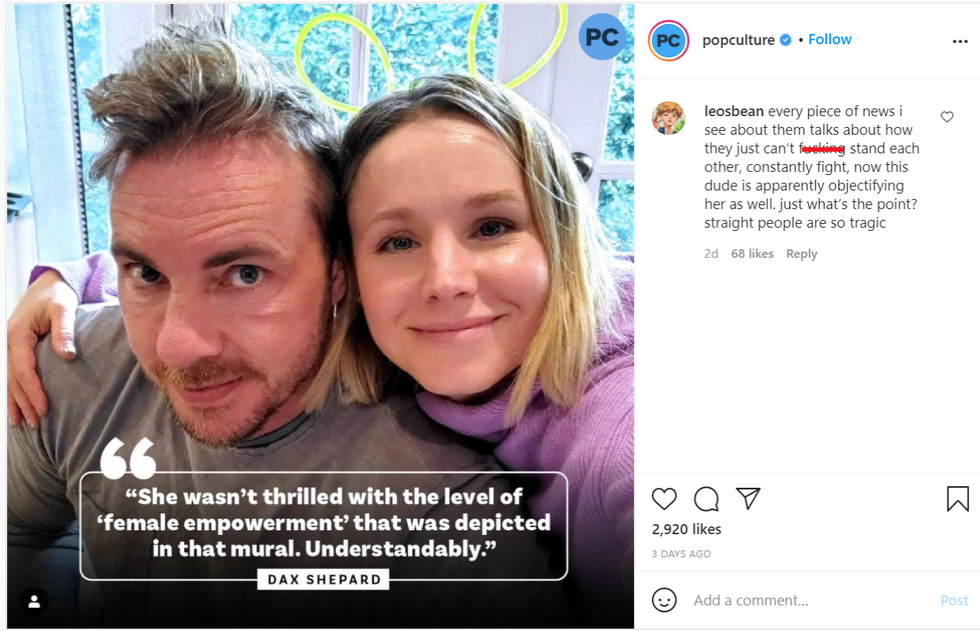 PopCulture / Instagram
It reads:

"Every piece of news I see about them talks about how they just can't f*cking stand each other, constantly fight, now this dude is apparently objectifying her as well."
"Just what's the point? Straight people are so tragic."
Bell was quick to clarify the comment wasn't even close to the truth.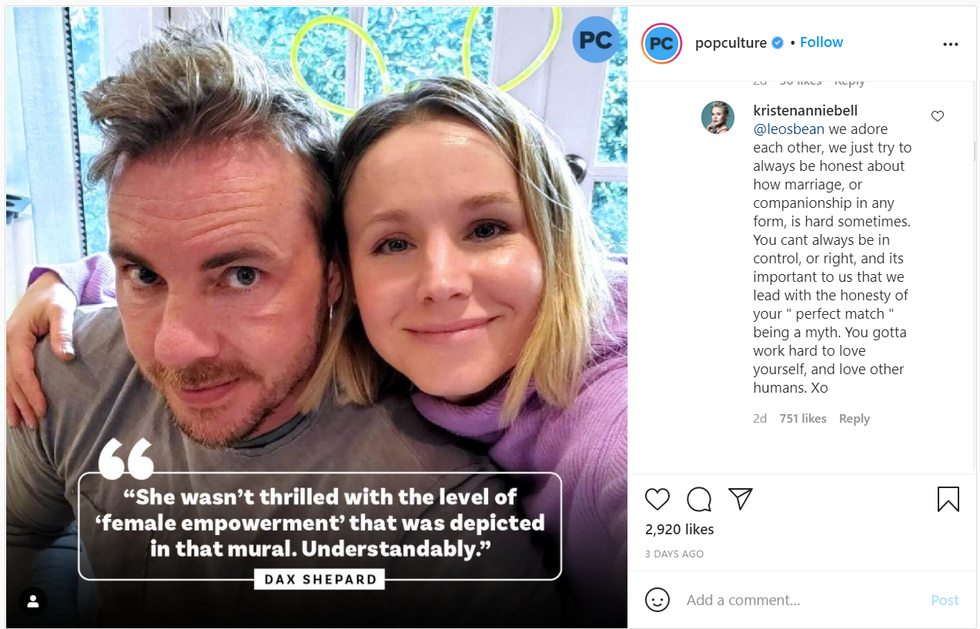 PopCulture / Instagram
Her comment reads:

"We adore each other, we just try to always be honest about how marriage, or companionship in any form, is hard sometimes."
"You can't always be in control, or right, and its important to us that we lead with the honesty of your 'perfect match' being a myth."
"You gotta work hard to love yourself, and love other humans. Xo"

The comment and Bells response predictably ignited a comments section war.

Some people targeted the original commenters "straights are tragic" line, while others rushed to Bells defense. Of course, some chose to personally attack Bell.
The mural itself spawned quite a bit of "passion" as well.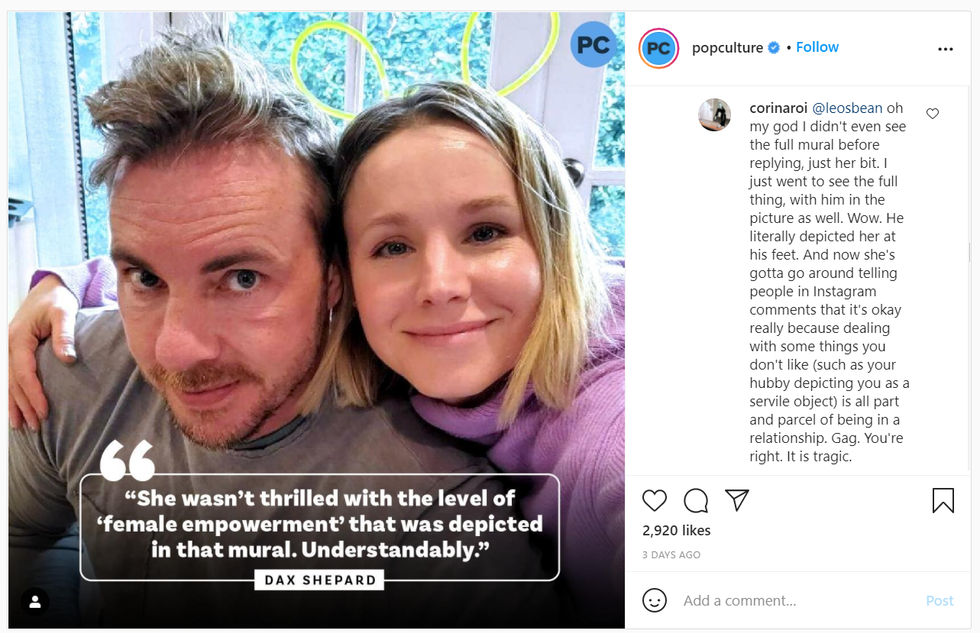 PopCulture / Instagram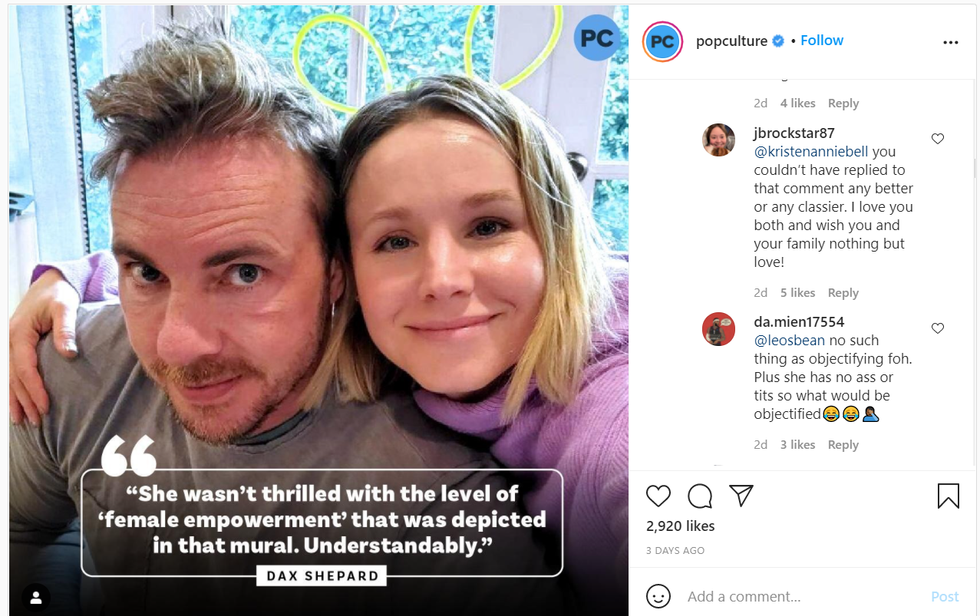 PopCulture / Instagram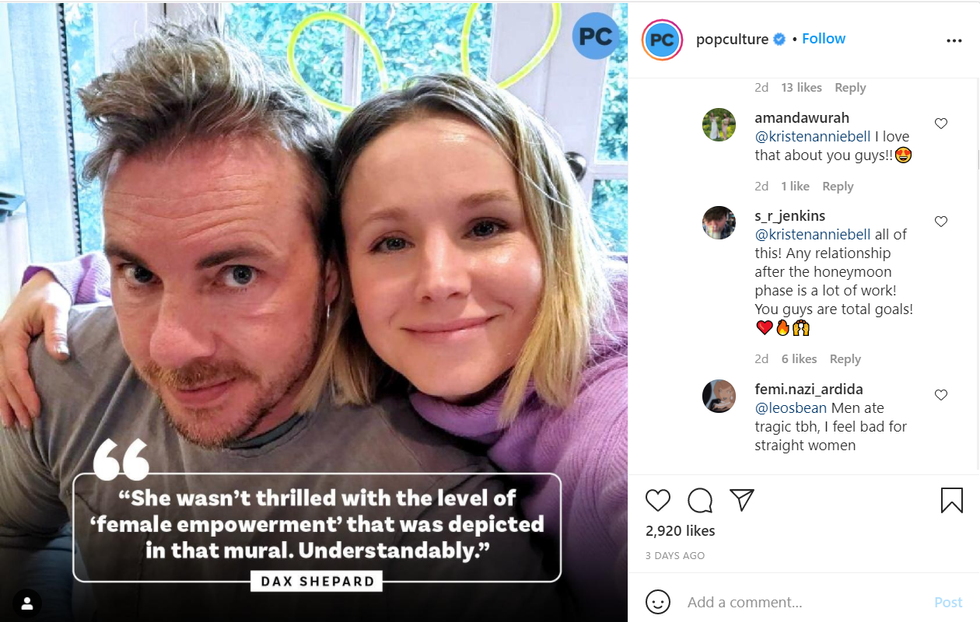 PopCulture / Instagram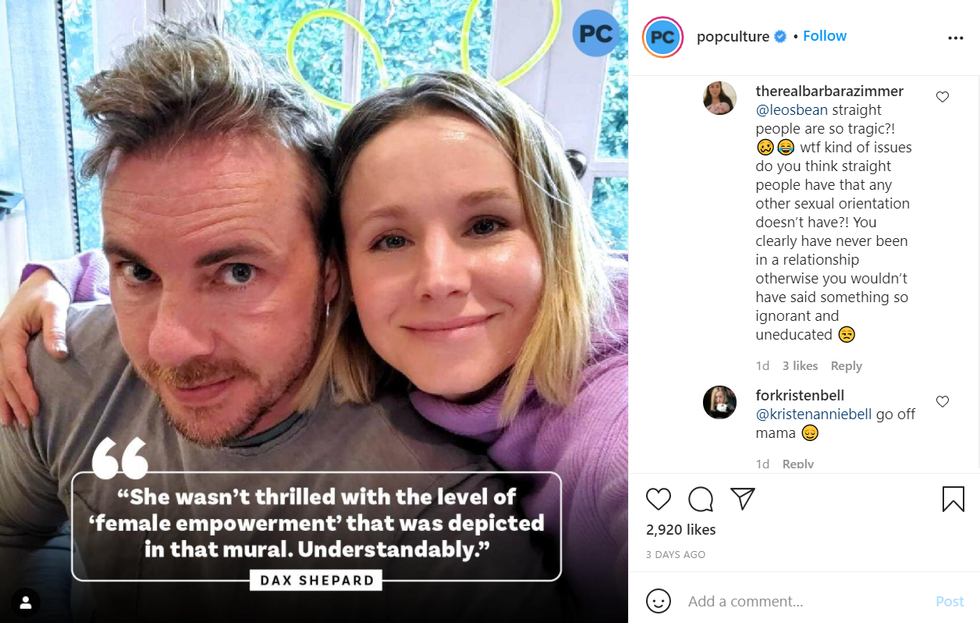 PopCulture / Instagram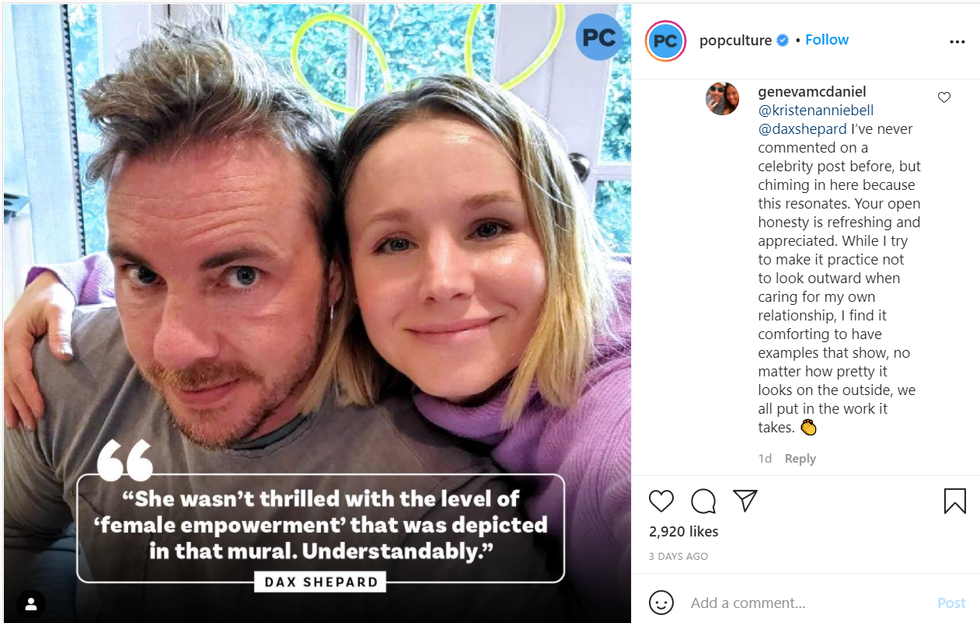 PopCulture / Instagram
Well, sounds like that's the end of that.