Nope! Keke Palmer will not let internet trolls get away with spewing hate.
The actor and singer—who has publicly shared her struggle with acne over the last several years—was recently met with some rude remarks online.
In December 2020, she posted a series of unfiltered pictures on Instagram and wrote she tried everything to help clear her skin with no success.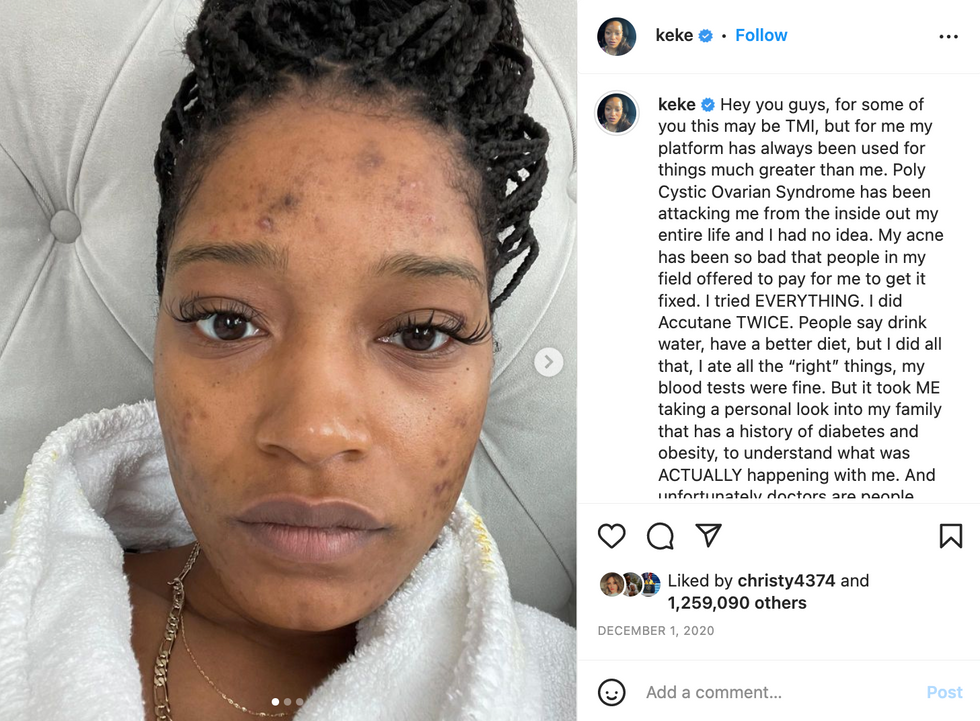 @keke/Instagram
Palmer—who frequently goes make-up free—recently posted another video to Instagram on the topic.
In her video, Palmer expressed her disappointment that with all the advancements in modern medicine—many with nearly immediate results—there is still no 'surgery' for acne.
Video contains NSFW language.
While many agreed with Palmer and even shared their own experience, sadly there were a few who negatively commented on Palmer's makeup-free appearance.
But she was not going to let them get away with it.
In response to the remarks, Palmer tweeted:
"I just saw a few comments of [people] saying I was ugly cause I wasn't wearing any makeup."
"And I really want y'all to get the help y'all need because makeup isn't real."
"I'm beautiful in real life, because of who I am, not what I look like."
She followed up:
"I wish I could bottle how I feel about myself and sell it."
"Because some people take comments to heart and these [people] just say anything."
"I mean truly it's insane to say anyone is ugly, but especially me."
Friends and fans of the Nope actor applauded her response.
On December 3, Palmer hosted Saturday Night Live for the first time.
In her monologue, she shared some exciting news, saying:
"I'm especially glad to be here though, because there's some rumors going around."
"People have been in my comments saying, 'Keke's having a baby,' 'Keke's pregnant,' and I want to set the record straight."
"I am."
We wish her all the best.
We also hope the trolls have learned their lesson.
Don't mess with Keke!