Those of us who prefer noshing corn right from the cob are familiar with the handsy labor involved.
Singer Jason Derulo, 30, had a simple solution he was more than happy to demonstrate for us in a TikTok video with a cray-cray "life hack."
---
The "Talk Dirty" singer—who also starred in that Cats movie—attached the piece of corn to a power drill and let the motorized tool do all the work for him as he single-handedly devoured the good stuff.
"Hey, have y'all seen this?" he enthused.
"I've always wanted to try it. Life hack."
Unfortunately, something went wrong with the corn spinning rotisserie-style on high speed as he chowed down.
Did we see pieces of teeth flying out of his mouth along with the kernel bits?

He yelled in pain, stopped the drill, and revealed for the camera that his life hack attempt may have hacked away at his two front teeth.
Oh no, Jason!
Twitter felt "hith" pain.

He was reminded that the corn challenge was never a good idea.
Some were nonplussed by the corn fail.
Rest assured, his pearly whites are intact, as the Daily Mail recently shared paparazzi photos of the singer pulling his mask down from inside a car in Los Angeles after dropping off his girlfriend and New Jersey model, Jenna Frumes.
It looks like we've been had by the known prankster.
Again.

He also pulled a similar stunt where he lost his tooth after falling into the pool.
Some were confused as to whether or not those were his veneers that took a beating, or the work of video magic.
We may never know, but it seems the hitmaker is frequently hitting up TikTok to keep us all entertained during these trying times.

You can enjoy your own corn on the cob with this Jumbo Corn Cob Holders set for 8 with Norpro Butter Spreader available here.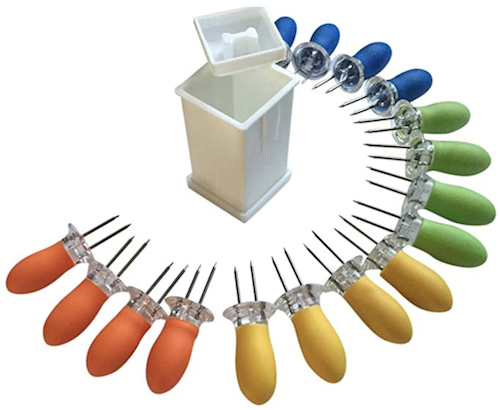 Amazon