It's January, which means many celebrities and influencers are sharing their advice for how to better yourself in 2022.
This includes everyone's favorite Hollywood Type-A, actress Reese Witherspoon, who took to Instagram yesterday to share her recommendations for self-improvement in the New Year.
And they were all great ideas! But celebrity chef and Food Network icon Ina Garten had some better ones, and they started with Garten bluntly telling Witherspoon--and speaking for so, so many of us--"I'm probably not doing any of those things!" And it's left tons of people on the internet cheering her on.

It all began with Witherspoon sharing four "habits" she intends to work on in 2022 after reading a book on the topic.
Reese's hot tips include starting the day with a big glass of water, getting 10 mins of outdoor light, spending 30-60 minutes reading every day, and getting to bed by 10pm.
While those are inarguably good ideas, if you're like all too many rank-and-file people--especially those with kids--that schedule doesn't even sound possible, let alone preferable. And for many more of us it just sounds... well, downright dull.
Enter Ina Garten, whose entire brand is basically comfort and luxury, from her dreamily cozy Hamptons home where she shoots her best-known series The Barefoot Contessa, to the elegantly indulgent meals she cooks for her husband and friends--which always, always include several giant cocktails.
In a comment on Witherspoon's post, chef Ina dropped a decidedly Gartenian alternate plan for the New Year that had the harried and more decadence-minded among us cheering and howling with laughter.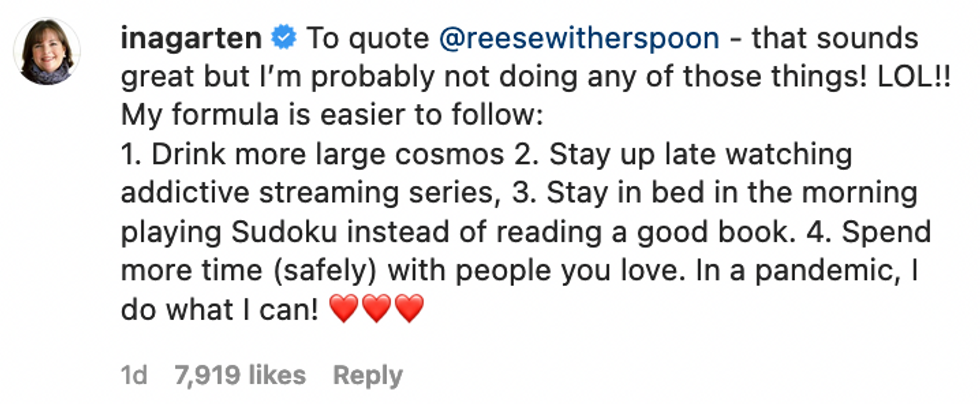 @inagarten/Instagram
Garten wrote:

"To quote @reesewitherspoon - that sounds great but I'm probably not doing any of those things! LOL!! My formula is easier to follow:"
"1. Drink more large cosmos 2. Stay up late watching addictive streaming series, 3. Stay in bed in the morning playing Sudoku instead of reading a good book. 4. Spend more time (safely) with people you love. In a pandemic, I do what I can! ❤️❤️❤️"
Now THAT's a plan we can all make happen... and respectfully, Ms. Witherspoon, it sounds like a LOT more fun. And on social media, people were absolutely Team Ina.
Sorry Reese, but Ina wins this one!