When it comes to having an unsatisfactory dating experience, there are no refunds.
Unfortunately, that concept was lost on a guy who expected the woman he went out with to pay him back for their first date after she turned him down to for a second one.
Michigan TikToker Kyle Estella (@nkestella) said she drove for over an hour from Ann Arbor to East Lansing to meet someone on a first date back in September and realized the guy was not worth repeatedly driving the long-distance for.
But when she was transparent with him about not having enough free time for the commute, he asked her what her problem was and accused her of ghosting him.

"I'm so done with dating," she declared and posted a TikTok video of screenshots from their awkward texts after she turned him down.
@nkestella

Reply to @heatherl92 #greenscreen part 2 of my horrible date 😂 #TheHarderTheyFall #icant
Estella responded to his accusation with:
"I just saw we wanted different things and explored different avenues."
To which he responded, "Bro what. You never gave me a chance, you go off and ghost me."
She clarified that she "gave someone else a chance then decided to focus on myself."
But her response was not good enough for him and, once again, accused her of ghosting him as her "best option."
When she asked what the alternatives were in the situation, he wrote:
"Keep in touch ghosting someone feels like sh*t, I'm sure it happened to you before...you liked that guy, and he didn't even like you back."
He maintained she could've given him a second chance. He also said he believed they "had something" and was "willing to make the drive back and forth."
When she admitted she didn't "feel an intense connection" with him, he argued chemistry can't be achieved in four hours, and he suggested the lack of a connection may have had to do with her not texting back or making an effort.
Shocked at his defensiveness, Estella informed him, "Just us texting alone give me toxic energy, you can't deny the bad vibes."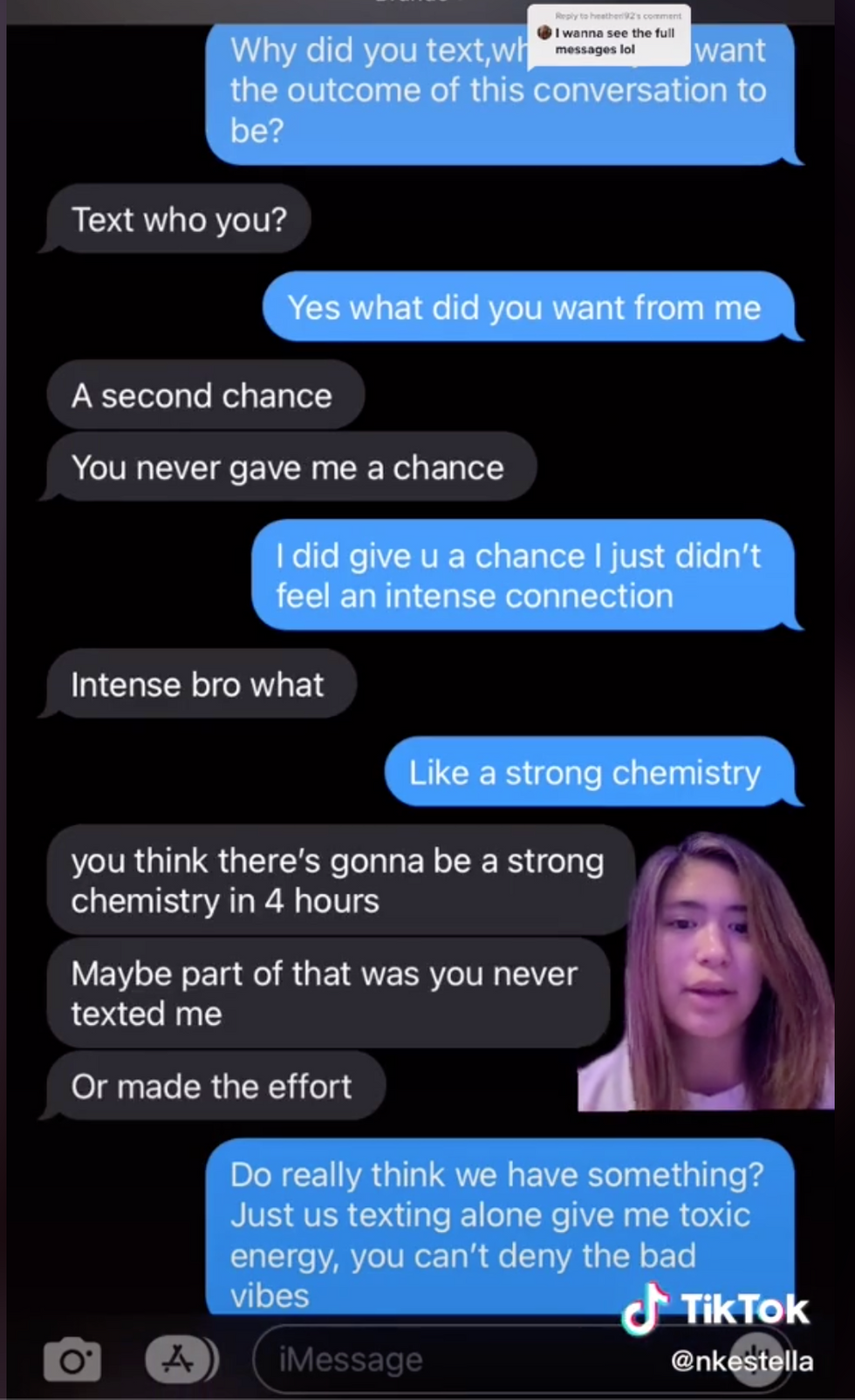 @nkestella/TikTok
He kept calling her "Bro," and the conversation devolved into him mocking her and calling her "stupid" for focusing on another guy he claimed was likely not into her at all but was using her.
@nkestella/TikTok
The guy then demanded she pay him back for parking and dinner.
When she obliged him with, "do u take Amex," he said, "No, PayPal."
But when Estella said she didn't have PayPal, he told her to "make one."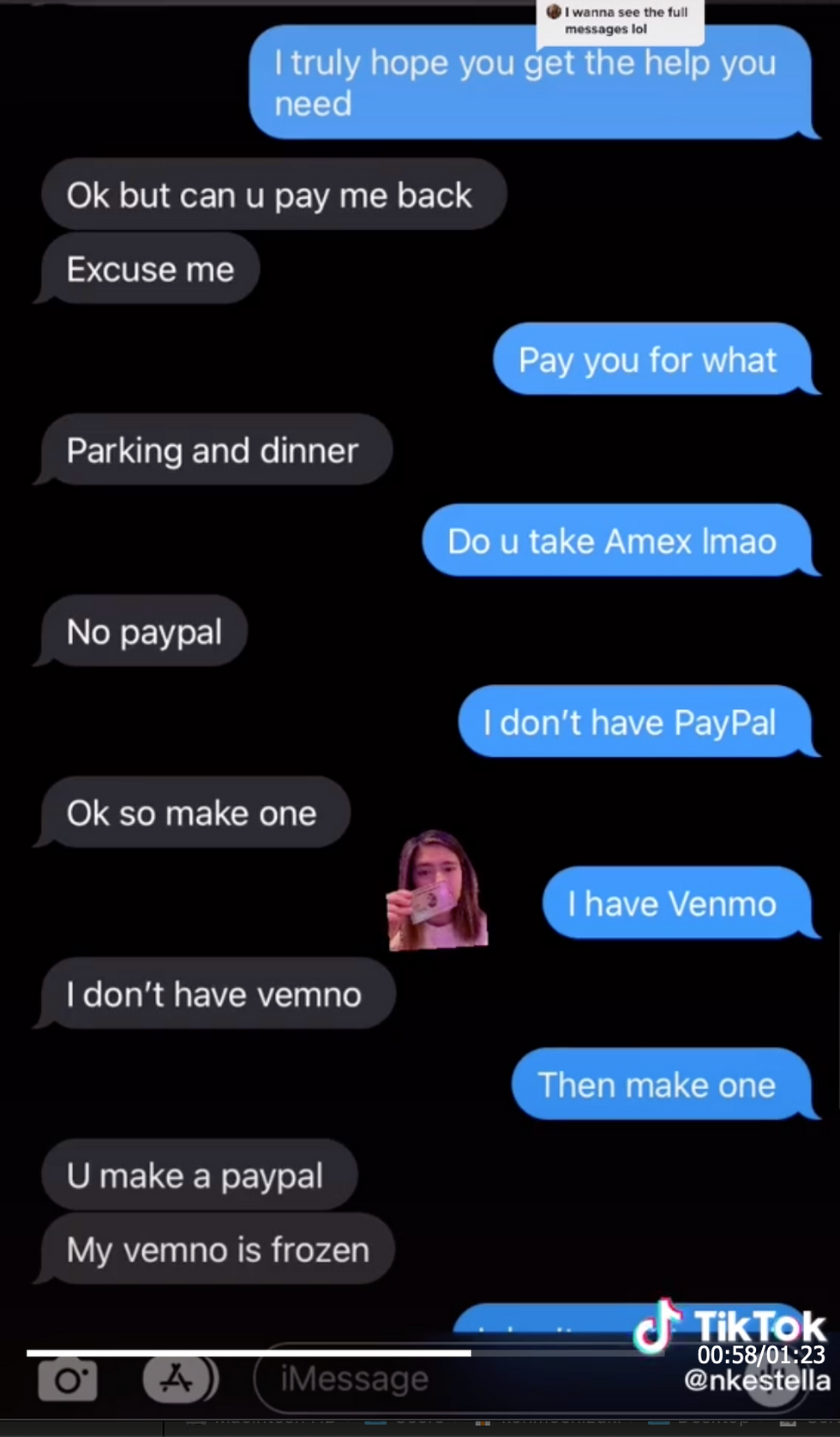 @nkestella/TikTok
She refused to pay him back and called him out for his toxic masculinity based on "the fact you call women whores, if things don't go your way u ask for a refund that's not normal behavior."
She verified the alleged indiscretion by mentioning her friend—whom he matched and communicated with on Tinder—had just informed her about it.
He denied the allegation and said he didn't "give a f'k" about her opinion of him.
She ended the thread with "Okay," and he gave it a thumbs up, indicating "he really wanted the last word."

TikTokers gave their assessment of the kind of guy he is.
Spoiler alert: He was given low scores.

@nkestella/TikTok

@nkestella/TikTok

@nkestella/TikTok

@nkestella/TikTok

@nkestella/TikTok
The Daily Dot directly reached out to Estella for a comment and is awaiting her response.