The groom having his first look at his ravishing bride on the day of the wedding is undoubtedly a momentous and emotional experience.
But as beautiful and touching it can be, a couple seeing each other for the first time in their nuptial outfits, moments before exchanging their vows, can also be a tad stressful.
To break the ice, Jessica Fama, the bride-to-be, hatched a plan to prank the groom on their big day by having the groomsman become a stand-in for her for the much-hyped about moment.
The result was a satisfying success.

@j_fama

months of keeping a secret worth it!!! #wedding #weddingprank #groomsmen #thelehaneattraction
In the TikTok caption, she wrote, "Months of keeping a secret worth it!!!"
She had conspired with the groomsman to pull off the wacky stunt, and based on the groom's reaction, it truly was well worth the effort.
The beginning of the video showed the groomsman holding a bottle of beer and completely decked out in a wedding dress and veil.
His commitment to the role was evident in his giddy gait as he rounded the porch corner of a yellow house.
The cheeky groomsman then approached the unsuspecting groom from behind and grabbed his rump to get him to turn around.
And when he turned to face the love of his life, the groom's eyes widened before bursting into fits of uncontrollable laughter.

@j_fama/TikTok
The groomsman, observing his buddy laughing with tears in his eyes, said with arms outstretched, "Come here, are you going to give me a hug motherf'ker?"
Fama knew ahead of time this was going to be an effective way to combat nerves.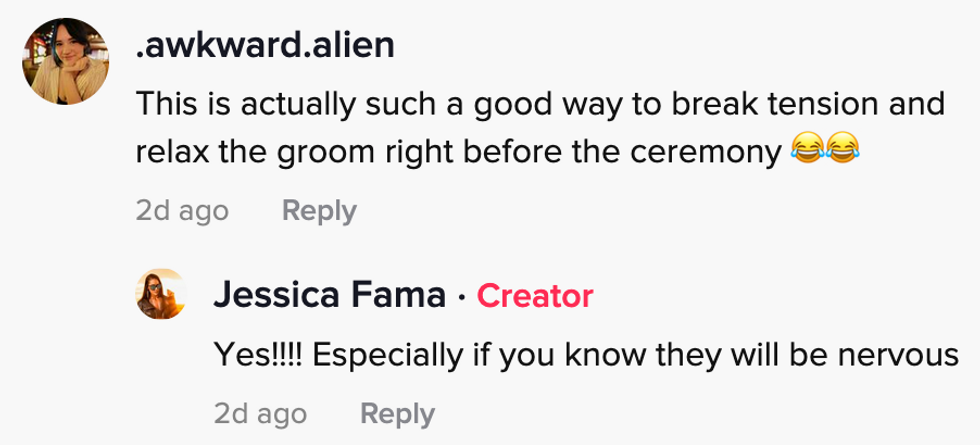 @j_fama/TikTok
The groom and groomsman continued howling in the video until the groomsman finally told his friend in stitches about the real bride:
"Now you really gotta see her though, she looks hot!"
TikTokers were delighted by the awesome first-look fakeout, and they commented on the groom's priceless reaction.

@j_fama/TikTok

@j_fama/TikTok

@j_fama/TikTok

@j_fama/TikTok

@j_fama/TikTok

@j_fama/TikTok

@j_fama/TikTok

@j_fama/TikTok
People were impressed with the groomsman, who managed to keep the veil perched on his bald head.

@j_fama/TikTok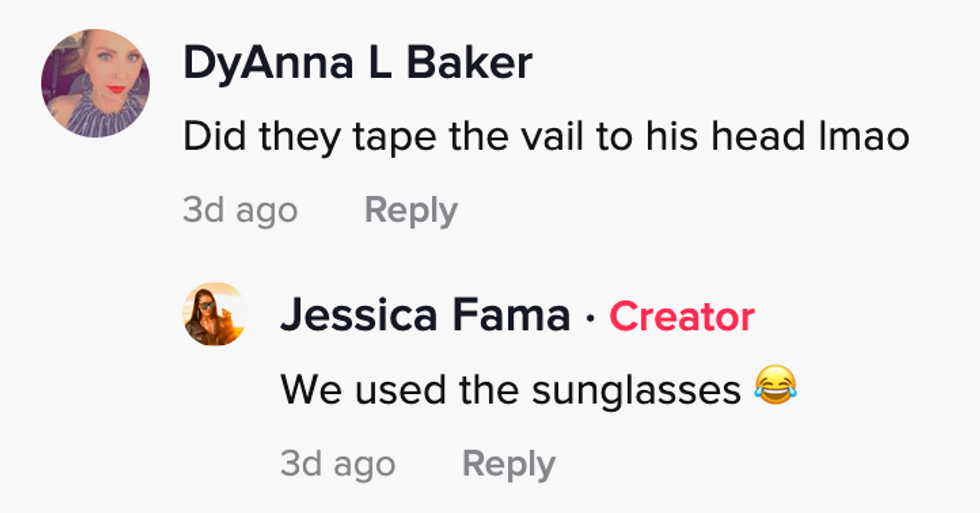 @j_fama/TikTok

@j_fama/TikTok
After their friends asked for the real first-look footage, Fama posted this follow-up video.
@j_fama

I said I wouldn't cry and then I teared up because I was so excited to see him! #marriedmybestfriend #firstlook #wedding
This time, the groom was able to share a tender moment with his stunning bride-to-be, without all the nerves.
Cheers to the happy couple!