Glenn Close knows how to make award shows pay attention to her, even if she's not receiving an award.
At the 2021 Oscars, as Questlove and Lil Rel were playing a music guessing game with audience members, they approached Close's table playing the 1988 song "Da Butt" by Experience Unlimited.
Surprising everybody, Glenn Close correctly guessed the song and then did a little dance that had us all squealing with delight.
While the moment was scripted, many are considering it the best moment of the 2021 Oscars.
Close also shared some impressive knowledge about "Da Butt":
"So Spike Lee had it written for his brilliant movie School Daze. Sadly, my friends at the Oscars missed it and it was not nominated so it couldn't have won."
It didn't take long for the moment to be turned into a gif.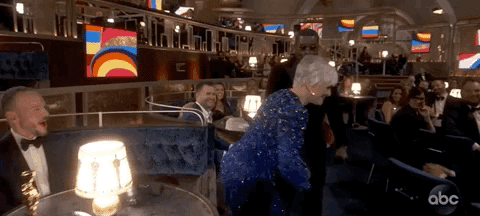 Giphy
The image of Glenn Close then getting up in her blue sequined dress and shaking what her mama gave her will forever be burned into the minds of Oscar viewers.

Whenever the Oscars starts giving an Academy Award for Most Iconic Oscars Moment, we think Glenn Close should definitely receive a nomination.