Former Republican President Donald Trump's personal attorney Rudy Giuliani attempted to dismiss the testimony from Cassidy Hutchinson, a former aide to Trump's White House Chief of Staff Mark Meadows who told the House Select Committee tasked with investigating the January 6 insurrection that Giuliani had sought a pardon from Trump.
Writing on Twitter, Giuliani called the committee a "Witch Hunt Cabal" that "has now exceeded even its prior fraudulent" [sic]. He went on to describe Hutchinson as a "reckless liar" who gave "false testimony."
But then he accidentally incriminated himself when he claimed Hutchinson "was never present when I asked for a pardon," adding he told Trump "I did not want or need one."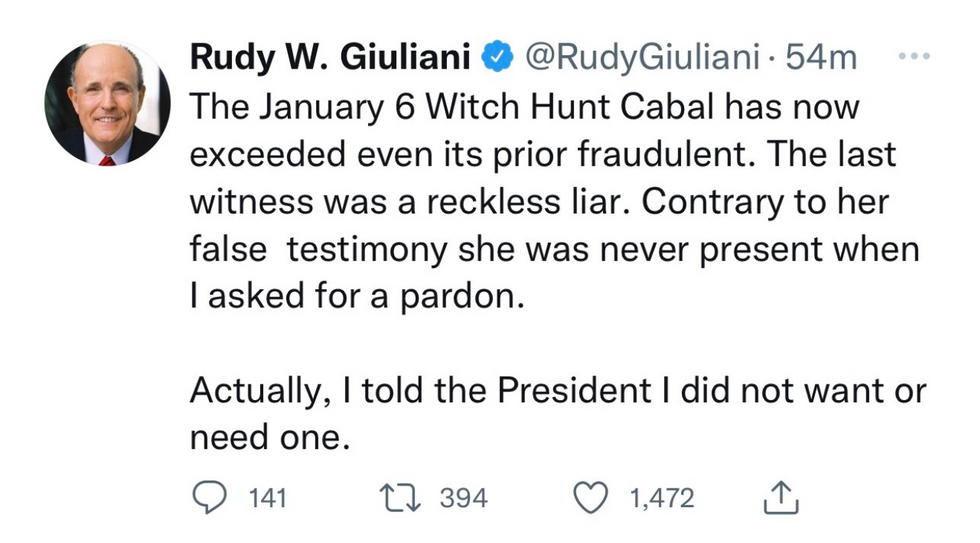 @RudyGiuliani/Twitter
Giuliani later deleted that tweet, adjusted his account settings so only people he follows or mentions can reply, and this morning followed up with another tweet insisting that he "NEVER lied nor did anything wrong" and that the subject of pardons only arose "because the lying radical left try to frame innocent people."
But others had already seen Giuliani's previous tweet and he was criticized for his behavior.
The House Select Committee is aware that Giuliani was involved in talks about pardons because John Eastman, an attorney who actively worked with the Trump administration to overturn the results of the 2020 general election, emailed Giuliani and asked to be included on the pardon list.
Hutchinson's testimony has received pushback from Republicans on the House Judiciary Committee, who said she gave "all hearsay evidence."
Hutchinson testified Trump said he "didn't care" a mob of his supporters—who would later attack the United States Capitol on the false premise the 2020 general election had been stolen— attended the "Stop the Steal" rally on January 6, 2021 armed with weapons.
Hutchinson also told the House Select Committee tasked with investigating the attack a Secret Service agent told her Trump had gotten into a physical altercation when he attempted to grab the steering wheel of the presidential limousine.
By Hutchinson's recollection, the Secret Service agent said Trump had wanted to go to the United States Capitol and see his White nationalist and White supremacist lead supporters.