Fox News personality Tucker Carlson criticized comedian Jon Stewart, saying he looks "like a guy who lives in the men's room at your public library, eating imaginary insects out of the air" and "a homeless mental patient."
Carlson didn't stop there, saying Stewart is "shrieking and disheveled and very short." So short, in fact, that he's "too short to date."
These attacks were childish even for Carlson, who has never been above mocking people he doesn't like—particularly liberals—on his program.
You can hear what he said in the video below.
Stewart soon responded, noting Carlson's open praise for Hungarian autocrat Viktor Orbán, writing the following response on Twitter:
"@TuckerCarlson believes me too short to date…and yet somehow, miraculously, I remain tall enough to not know what Victor [sic] Orban's a** tastes like!"
Stewart suggested Carlson knows Orban tastes like goulash, a soup or stew of meat and vegetables seasoned with paprika and other spice that is considered the Hungarian national dish.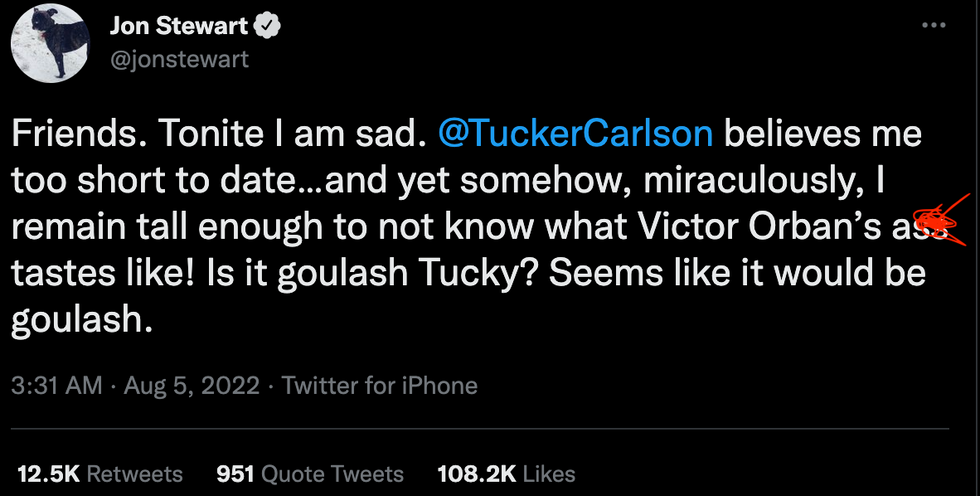 @jonstewart/Twitter
Carlson and Stewart have disliked each other for the better part of twenty years, ever since the two sparred on CNN's Crossfire, which Carlson hosted at the time and which Stewart suggested was little more than a soapbox for Carlson than a space to hold public figures accountable.
Stewart—who is happily married—inspired his followers to pile onto Carlson with digs of their own.
Conservatives have lashed out at Stewart in recent days since Republicans in the Senate voted against vital benefits for United States military veterans.
Republicans voted to block a procedural vote that would clear a path for a vote on legislation to expand benefits for veterans who were exposed to toxins like burn pits in combat zones in Afghanistan and Iraq.
Burn pits are a common waste disposal practice at military sites outside the United States but have been the subject of controversy because burning solid wastes in an open pit generates numerous pollutants that cause different types of cancers, respiratory disorders, high blood pressure, autoimmune disorders and even birth defects.

Republicans like Pennsylvania Senator Pat Toomey accused Democrats of crafting a bill to address issues involving groups dealing with illnesses or crimes, saying they then sneak in something completely unrelated they know could never pass on its own, and "dare Republicans to do anything about it."
The Senate this week finally approved the bill, which Republicans reluctantly allowed to pass amid outrage from veterans and prominent advocates like Stewart, who called out Republican sabotage of the legislation as an example of "corruption at its finest."