When rap artist Drake was first spotted with pink fingernails on an Instagram post on July 2, the internet was not ready–and neither was he.
The image of Drake's perfectly two-tone pink design on his manicured nails was featured on his stylist's Instagram post and later on his fan page champagnepapi.
The posts were deleted after they sparked mixed reactions online, with many social media users poking fun at the "Way 2 Sexy" rapper's fabulous fingernail aesthetic.
One user responded to a tweet showing Drake's pink nails and said of the rapper, "He waited for July so nobody would suspect him," suggesting a closeted Drake would be clear of suspicion after the LGBTQ+ Pride month of June was over.
But the trolling resumed on Saturday when Drake took to Instagram and posted several behind-the-scenes pics from his recently kicked-off tour promoting the Her Loss album.
One of the photos on the post showed his pink nails which is a recent trend adopted by fellow artists Kid Cudi and Machine Gun Kelly and is also rising in popularity ahead of the live-action Barbie movie.
The 36-year-old captioned the post with:

"I don't mind that we don't talk. Rather be in your thoughts."
"Rather be on top of your list of 'what ifs' and not your list of 'and what nots.'"
But the Degrassi: The Next Generation TV show alum was forced to defend himself when his friend, rapper Lil Yachty, ribbed Drake on his imposing diamond earrings.

Yachty wrote:

"Boy got them heavy hangers in his ear."

@champagnepoppy/Instagram
In response to his buddy's ribbing of him, Drake let off some steam–especially after having previously endured the negative responses and teasing over his pink nails.

"GET OUT MY COMMENTS YOU TOLD ME TO PAINT MY NAILS SO I STOP BITING THEM AND NOW THE WORLD IS BEING HOMOPHOBIC FOR THE 1st TIME SINCE RICH FLEX…which wasn't that long ago now that I think about it."
He added:
"wait is the world homophobic? Smh."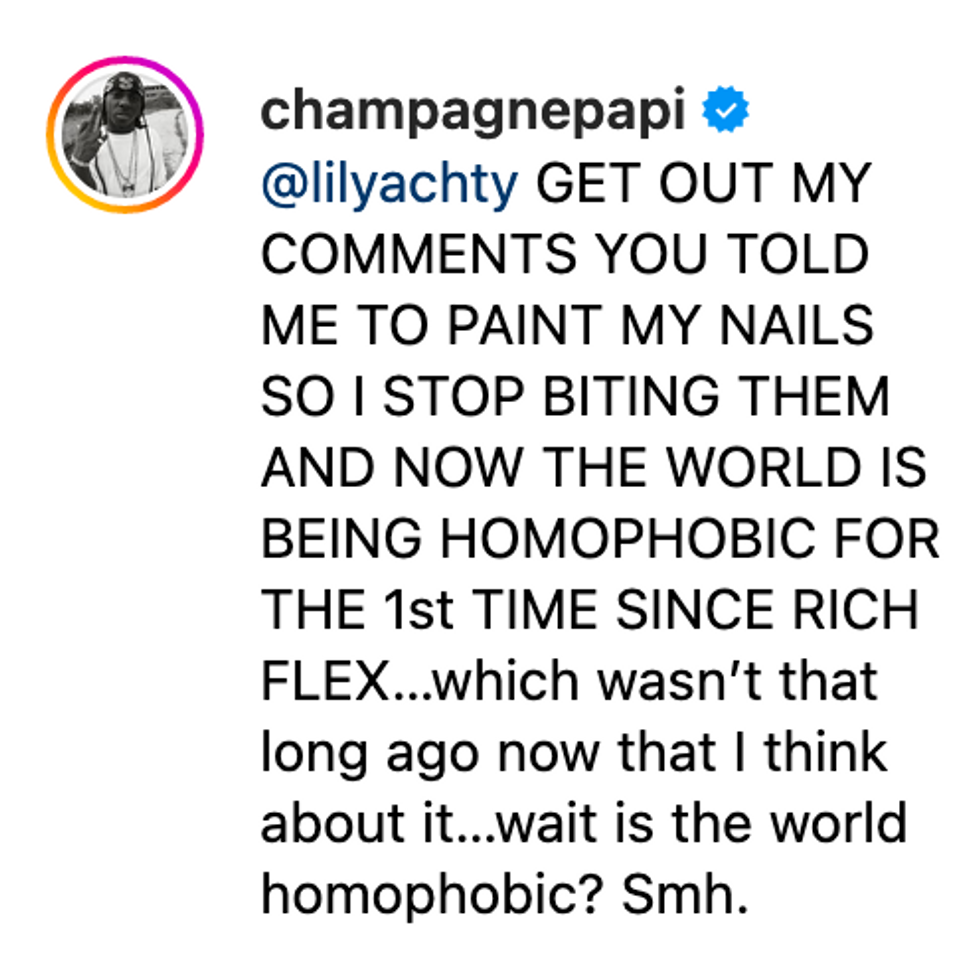 @champagnepoppy/Instagram
Drake's comments addressing the nail color backlash came after he and Atlanta-based rap star 21 Savage–with whom the rapper is currently touring–released their single "Rich Flex."

Fans teased the rapper for the song in which Drake suggested he was flirting with his collaborator with the lyric:

"21, can you do somethin' for me?"

In response to Drake's reaction to Yachty's earring comment on his post, he replied:
"woo-sah brother, [you're] not supposed to have these episodes in public, it's fine."
"They just don't get u bro #UDIFFERENTAF."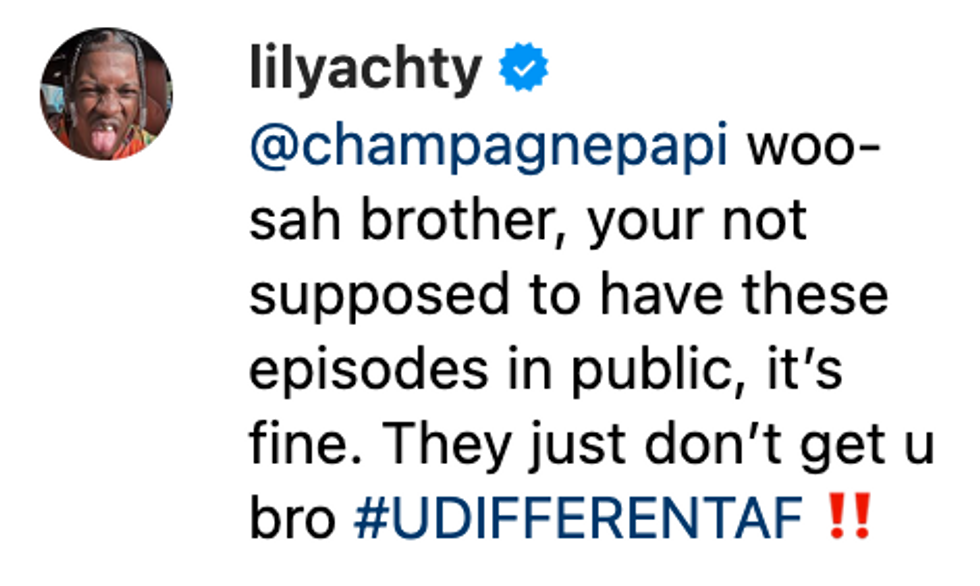 @champagnepoppy/Instagram
Fans gave their two cents over the friendly barbs.

Others shared their thoughts on all the flak Drake was receiving for his style.

Drake and Yachty have recently formed a close-knit friendship and have been vocal about their bond in interviews.
After Yachty contributed beats to Drake's 2022 album, Her Loss, his admiration for Drake grew.
He gushed about him on the Rap Radar Podcast, saying:

"So I've been telling [Drake] for the last, like, I don't know how many years, like, 'Bro...can I even just be in the room?"
"I just wanna soak it up and see how you do it. I wanna see you rap, I wanna anything, you know?' For real."
"I just feel like he's -- to my opinion -- the greatest rapper ever. And that's my personal opinion. I ain't arguing with nobody or their mama."
Drake and 21 Savage's joint tour It's All a Blur–which launched in Chicago–is currently making stops in North America in addition to a stop in Drake's hometown of Toronto, Canada.
The tour concludes on October 9 in Columbus, Ohio.