Last week, the DeSoto County Sheriff's Office posted two widely circulated photos of Florida Republican Governor Ron DeSantis and County Sheriff James Potter surveying the damage caused by Hurricane Ian, which hit the state as a Category 4 storm.
What caught everyone's attention wasn't the fact DeSantis was doing his job but that he was doing it while wearing a rather immaculate pair of white rubber boots that looked remarkably out of place given the circumstances.
You can see the photos below.
The photos proved to be rather damaging given the fact DeSantis has been accused of using the disaster—which has killed at least 130 people—to make himself look good.
A local journalist who tried to ask DeSantis just that was ejected from the area by the governor's campaign staff.
But it was the boots that had people captivated, so much so many decided to use their Photoshop skills to troll DeSantis to brilliant effect.
One person said the boots resembled a pair of gogo boots.
Speaking of gogo boots... here's a much more striking pair.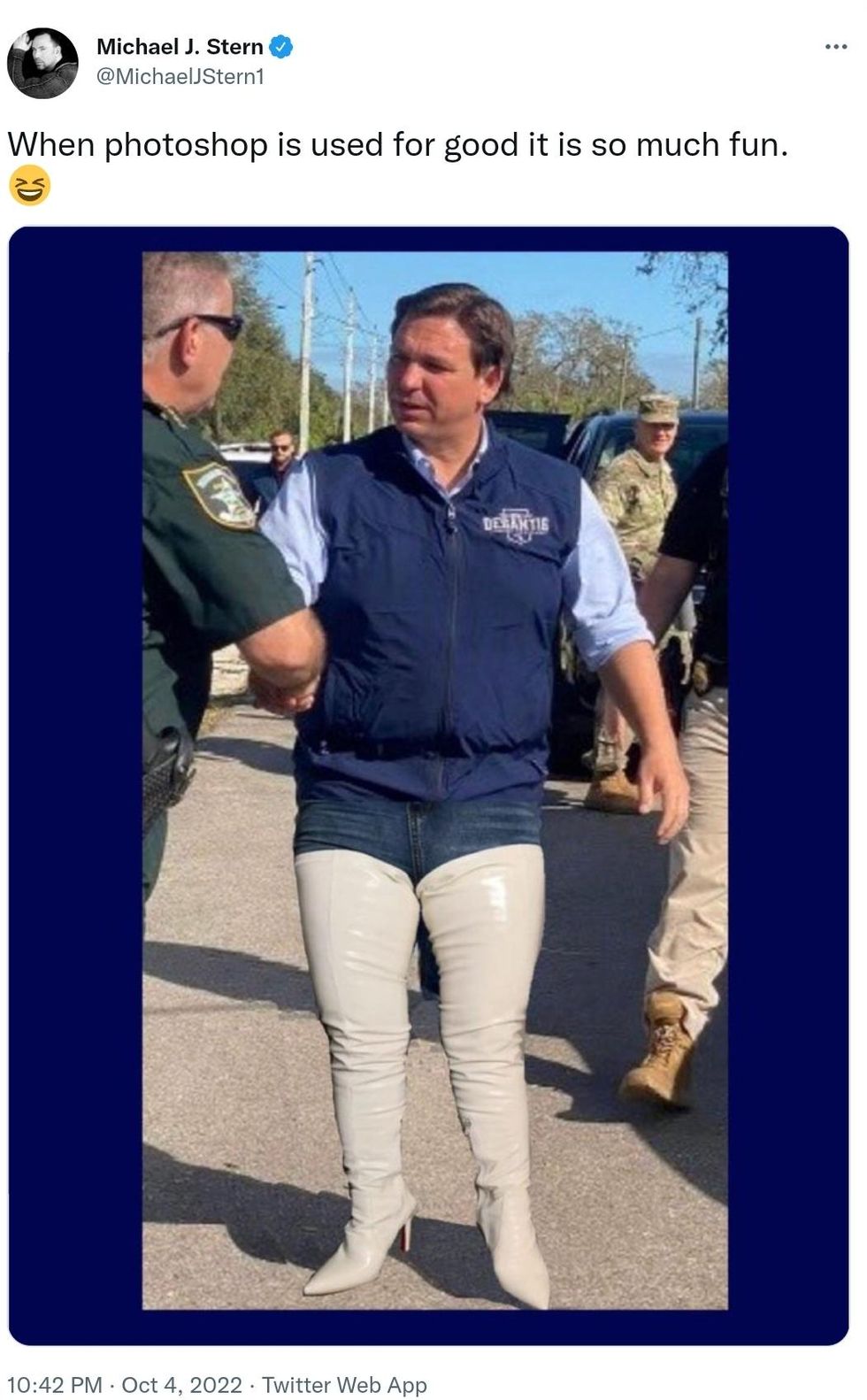 @MichaelJStern1/Twitter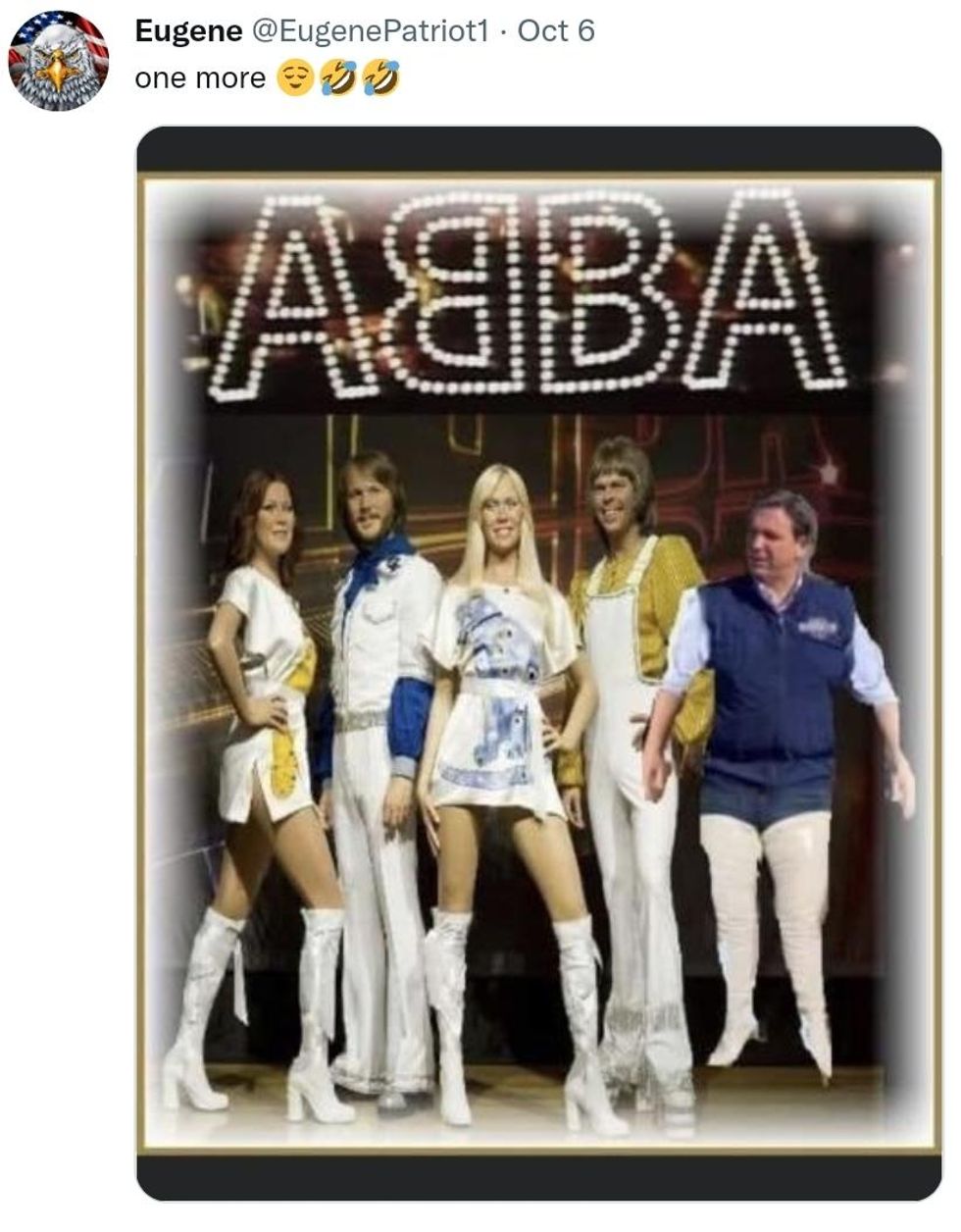 @EugenePatriot1/Twitter
Another likened him to singer Nancy Sinatra, best known for the 1966 pop hit "These Boots Are Made for Walkin'."
Did we mention that one person said the boots made him look like Bibendum, the Michelin tire company's iconic logo?
Or others suggested he resembled the Green M&M?
Or that he looked like a cheerleading squad reject?
Or that he looked like he was wearing gigantic clown shoes?
Indeed, boot season has arrived...
... even a throwback to the time former Republican Governor Chris Christie was memed after sunbathing on a New Jersey beach temporarily closed due to a government shutdown...
...and...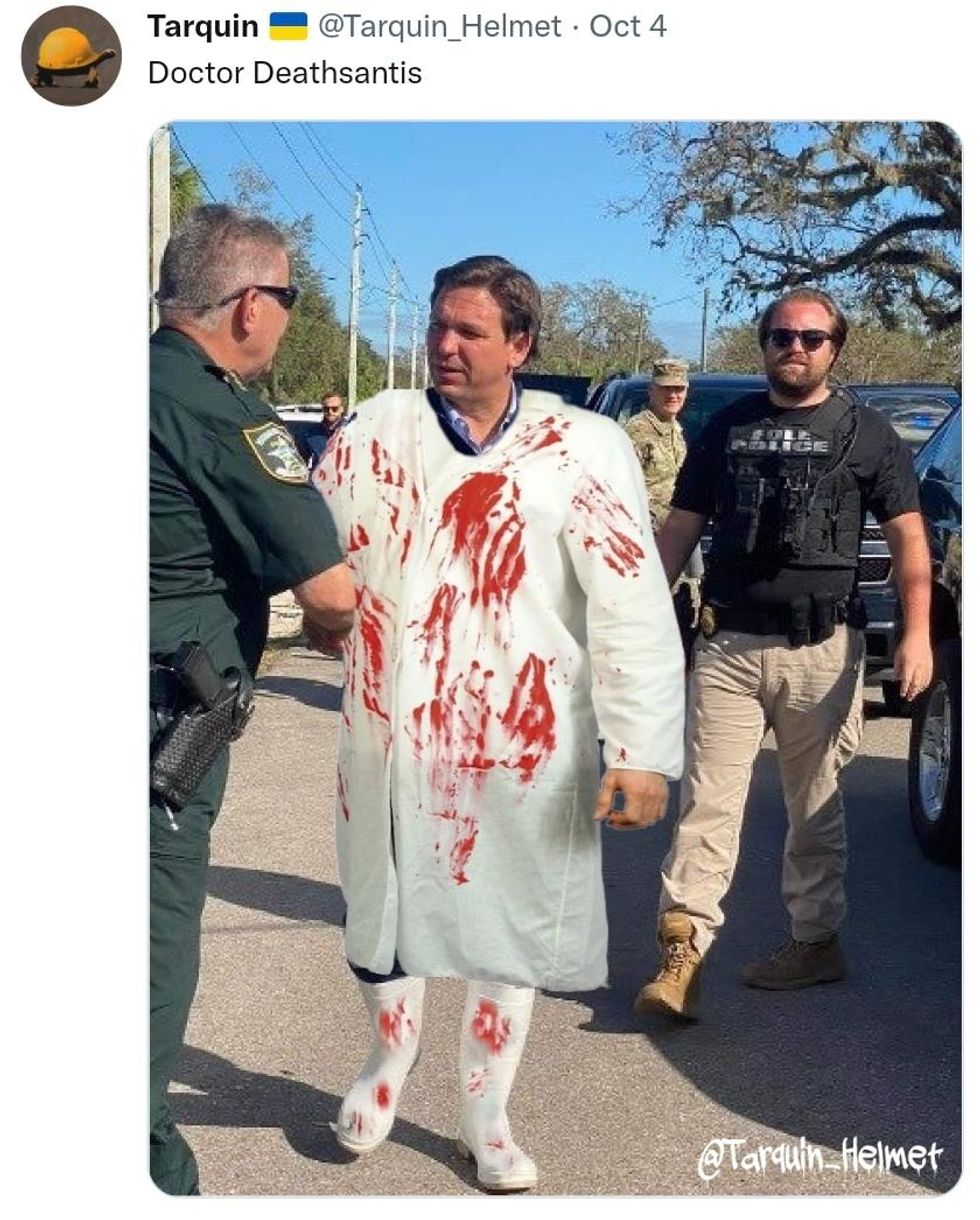 @Tarquin_Helmet/Twitter
Hurricane Ian is the deadliest storm to hit Florida since the 1935 Labor Day hurricane. The storm caused catastrophic damage with losses currently estimated at $50 billion dollars and at least 137 fatalities, according to the most up-to-date count.

Earlier this week, DeSantis praised the federal government for its cooperation in "cutting through the red tape, and that's from local government, state government all the way up to the President."

DeSantis—a GOP favorite to run in 2024—has typically attacked Democratic President Joe Biden but has nonetheless called for politics to be set aside as Florida begins to rebuild following the deadly hurricane.
President Biden has extended the federal emergency relief he first enacted before the storm by 30 days and authorized federal assistance to be available for 60 days.