Gadsden County Commissioner Jeffery Moore—appointed by Florida Republican Governor Ron DeSantis—turned in his resignation after photos emerged of him allegedly wearing a Ku Klux Klan costume circulated online.
The Talahassee-Democratreported Moore resigned from the five-person county board of commissioners on Friday, September 23. Gadsden is reportedly Florida's only majority Black county.

Gadsden County Sheriff Morris Young told reporters photos were brought to him last Tuesday and multiple people were able to confirm the individual in the pictures was Moore.
According to Young, Moore did not deny he was the man in the KKK costume.
"He never denied at all."
"Refuted nothing when I showed him the pictures."
"I thought he needed to resign and I told him that."
The photo was reportedly taken at a Halloween party. The other people who were at the party had their faces scratched out of the image.
You can see the photo for yourself below.
In his resignation letter to DeSantis seen below, Moore wrote he was unable to continue in his position for "personal reasons."
He had been appointed to fill a vacancy created by the retirement of a previous commissioner.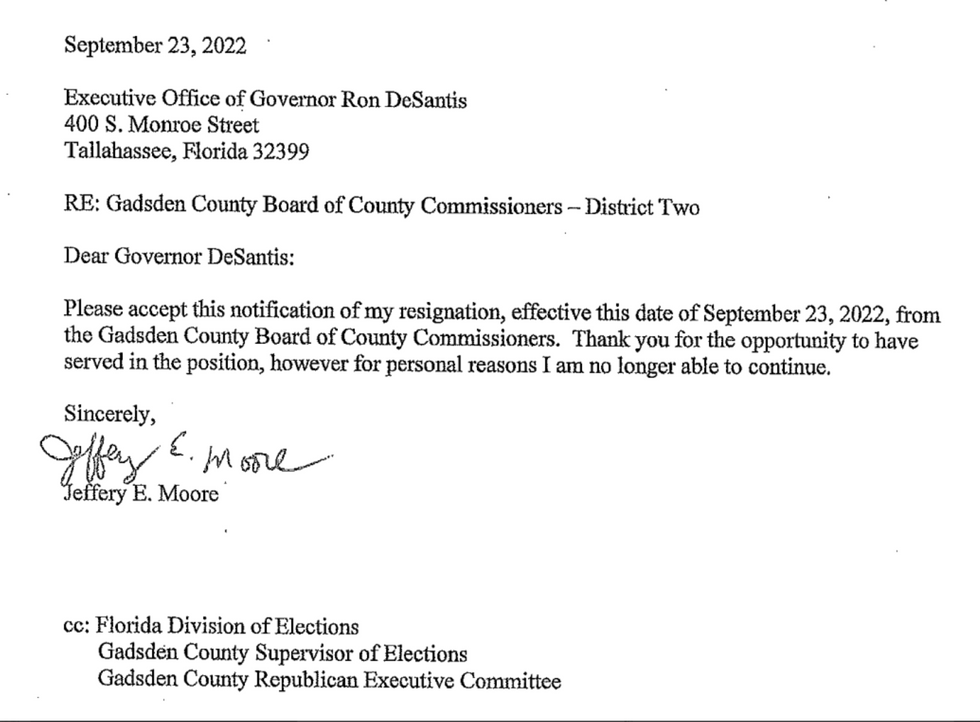 @ChrisCannFL/Twitter
In a separate letter to Shirley G. Knight, the Gadsden County Supervisor of Elections, he also cited "personal reasons" behind his decision to officially withdraw from the race in District 2 to fill the seat on the board.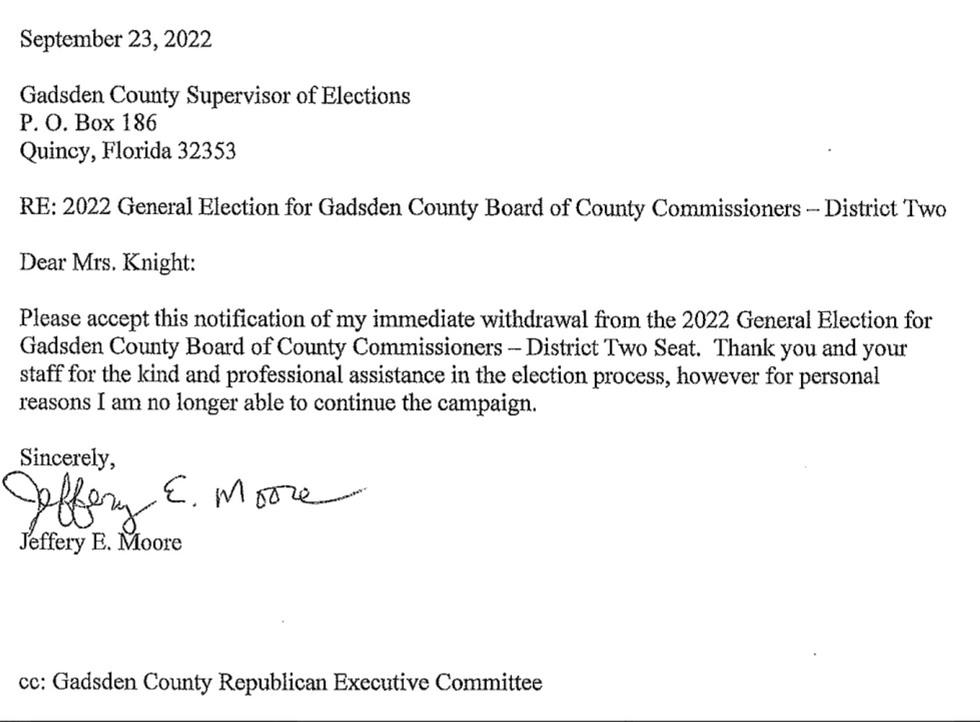 @ChrisCannFL/Twitter
Moore was appointed as the only White person on a board of elected Black commissioners.
55 percent of the residents of Gadsden are Black, according to United States Census data. Moore only served on the board for about two months before the photo emerged.
Many decried Moore's costume choice as racist and questioned DeSantis' judgment now that the photo has gone viral.

Neither DeSantis nor Moore have responded to reporters' questions about the photo but they nonetheless indicated they were unavailable to comment as a result of preparations for Hurricane Ian, which made landfall in Florida as a Category 4 storm.

Mutaqee Akbar, the president of the NAACP Tallahassee Chapter, criticized both DeSantis and Moore, saying he was not at all surprised "DeSantis would appoint someone with this ideology."

DeSantis has been accused of harboring racist sentiment, particularly after he signed into law new guidelines limiting discussions about race in schools as part of his crusade against critical race theory, a graduate school level analysis of systems and institutions which quantifies areas of disparity in treatment and outcomes.
Republicans have falsely claimed CRT is being taught to grade school, middle school and high school children while seeming to not know what CRT is in an attempt to appeal to the insecurities and fears of their core voting base.