A couple have revealed how they found love at 35,000 feet after bonding over an M&S sandwich as they flew through the clouds on a British Airways jet.
When Michael Whitman, 25, boarded flight BA0357 on June 29 2016, and settled into seat 25E after a sunshine break in Nice, in the South of France, with friends, he clocked a beautiful stranger in the seat beside him and was dying to speak to her.
But the account manager recalled how it was not until an hour later, when he was handed an M&S pastrami sandwich, as part of the inflight catering, that he found the courage, saying: "'Bit small, isn't it?' I said to her, breaking the ice."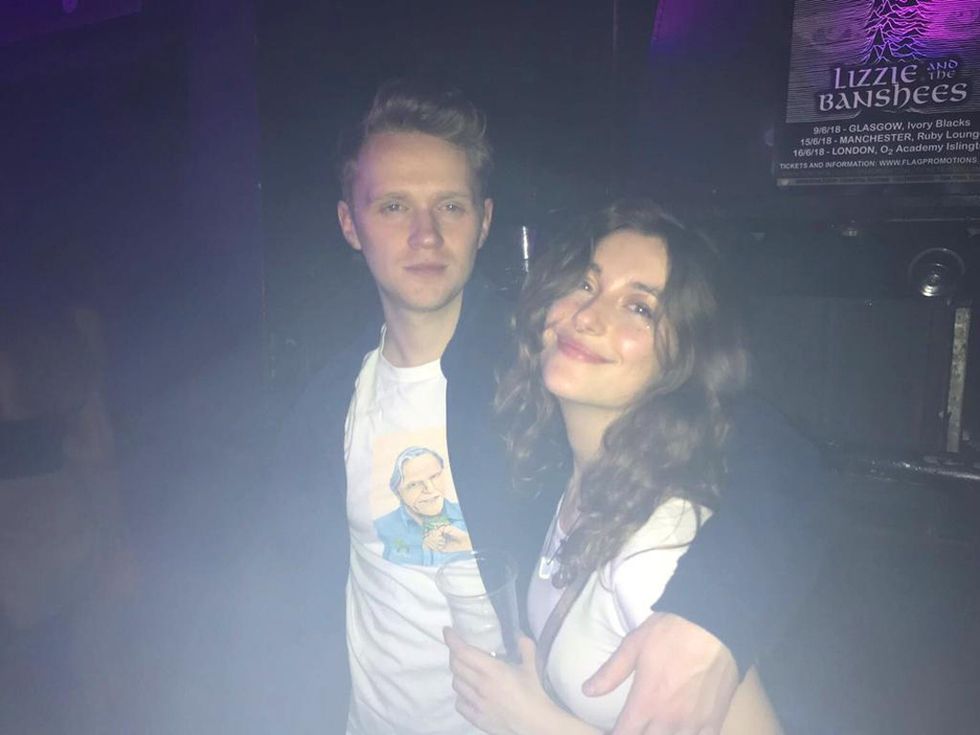 Michael Whitman and Charlotte Everest (Collect/PA Real Life)
After that, the conversation flowed and he and theatre director Charlotte Everest, 23, have been madly in love ever since.

Michael said: "We were complete strangers, but being up in the air gave us a chance to really hit it off and learn more about each other."
Michael was heading home to London, while Charlotte had stopped off to visit her parents in Nice on the way back from a cycling trip in Berlin.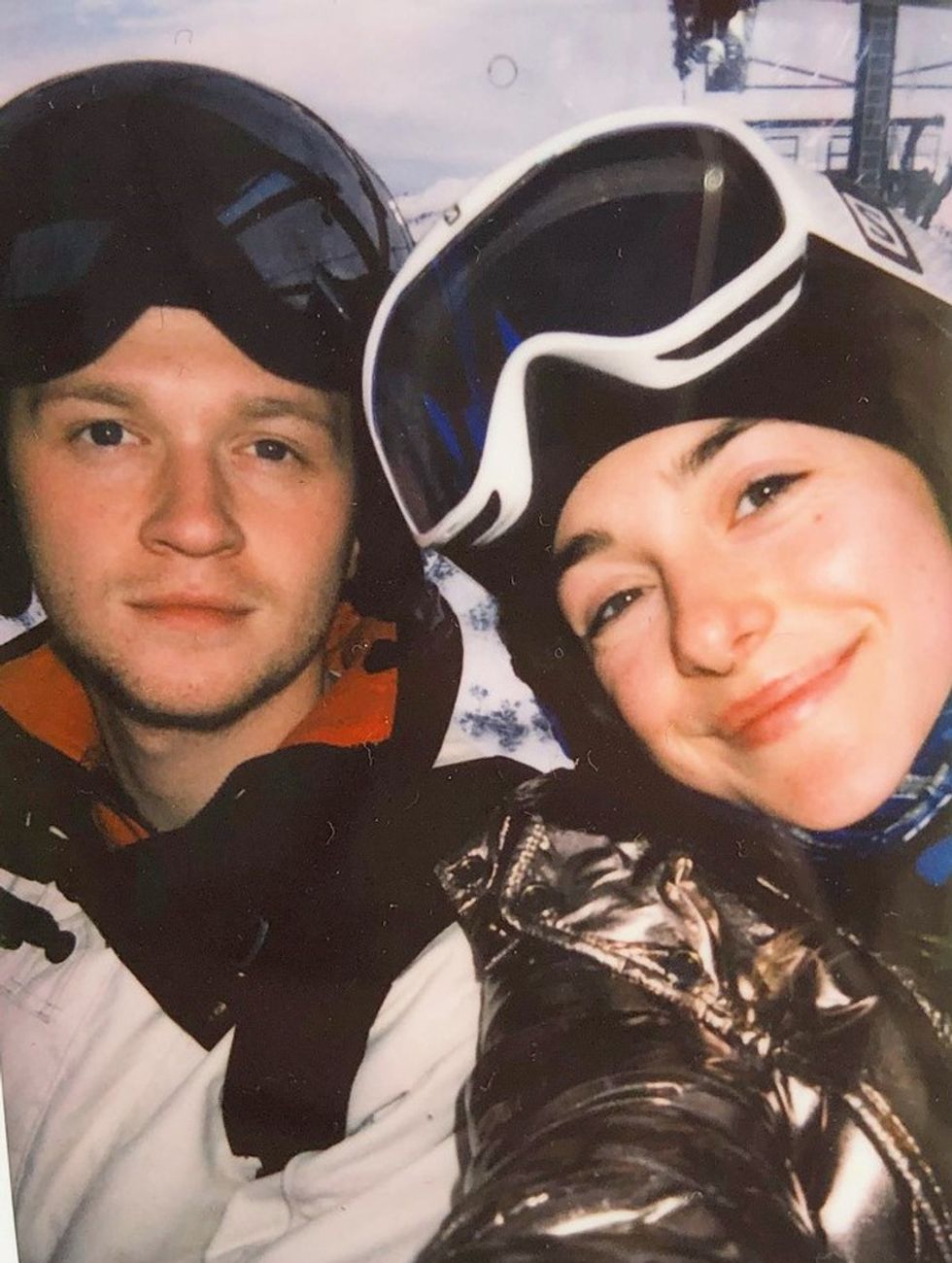 Michael and Charlotte on a skiing trip (Collect/PA Real Life)
"I'd actually had a bit of a nightmare journey because I'd turned off the data on my phone and hadn't realized that meant that the clock hadn't changed in line with the time difference," Michael continued.
"I was out with friends for lunch, before heading to the airport and thought I had lots of time, but one of my pals started panicking that I was going to miss my flight. It was only when I said that I had over an hour that we realized my clock was wrong and I had to run to the station. I really thought I was going to miss the flight."
"Luckily, when I got there, my friend who was getting the same flight, but who had planned to meet me at the airport, told me there was a three hour delay."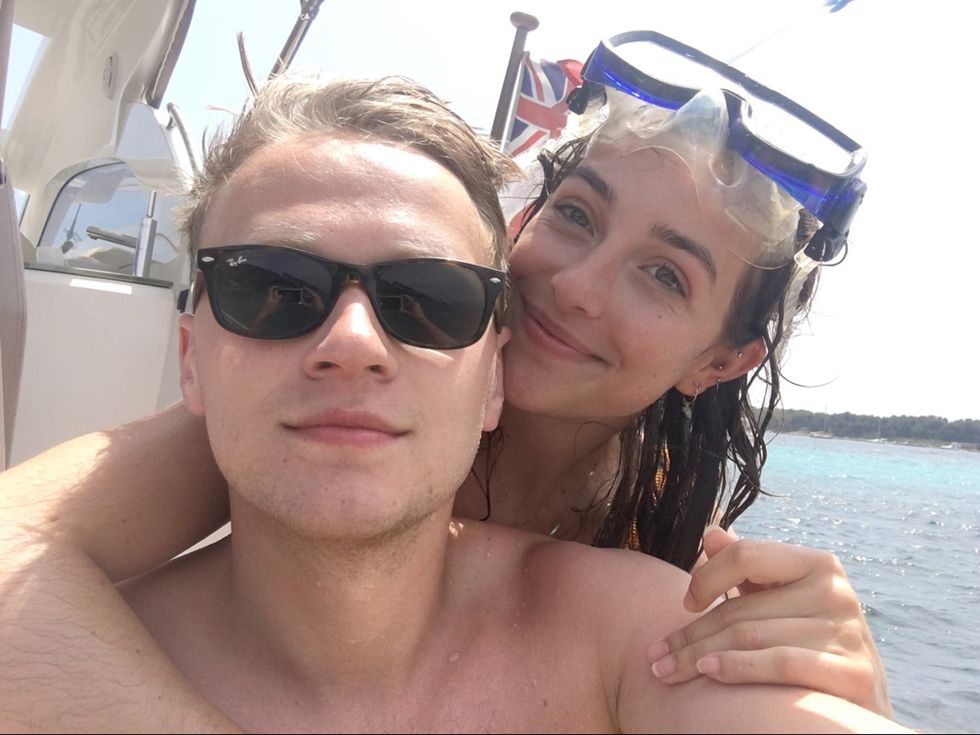 Michael and Charlotte diving (Collect/PA Real Life)
Relieved, the pals headed to the bar for a drink, finishing off their pints when their flight was called, making them two of the last passengers to board.
As Charlotte had already taken her seat, initially, Michael didn't notice her, but when the captain announced the flight's destination was changing from Heathrow to Gatwick, he stood up to speak to his friend a few rows away and she caught his eye.
He said: "I was trying to think of things to say to her. She was reading a book and I was trying to see what it was so I could say, 'That's a good read, isn't it?' Then I was fretting in case it was something I hadn't read."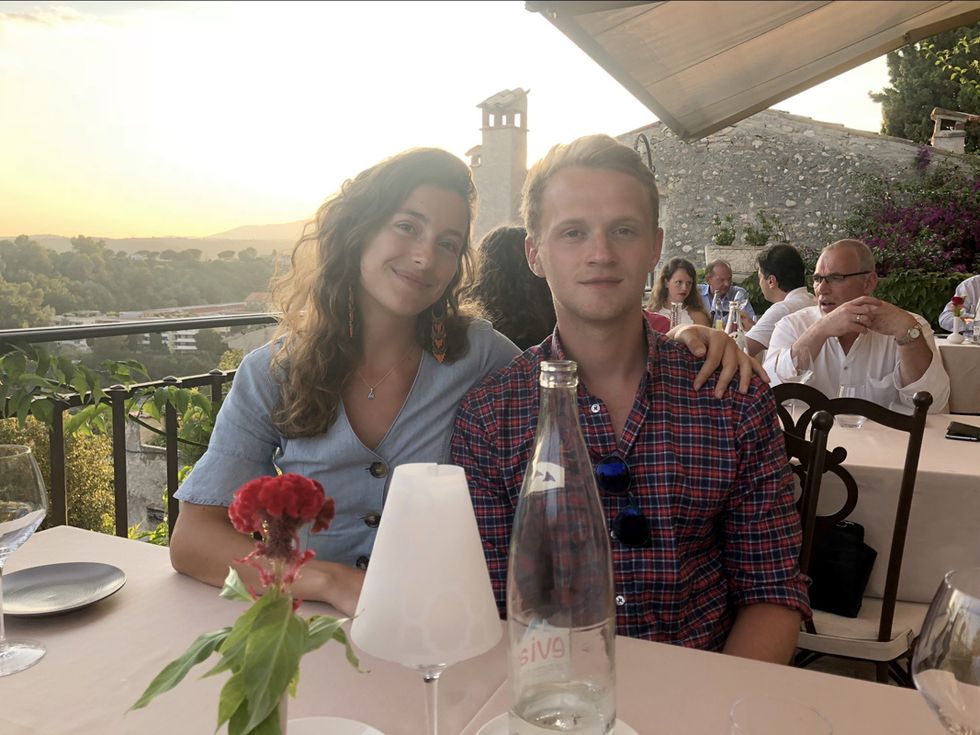 Michael and Charlotte bonded over a cucumber sandwich(Collect/PA Real Life)
He added: "Eventually, when the food came, I ended up just saying the sandwich was small and, luckily, she thought it was cute. After that we got talking. We instantly had common ground, because she went to the University of Leeds and I had gone there a few years before.
"The conversation was flowing. She was talking about the Euro football championships, which were going on at the same time. We worked out we were in the same bar for one of the football games."
After two hours in the air, as they came in to land, Michael took out his phone and told Charlotte he needed to call a cab.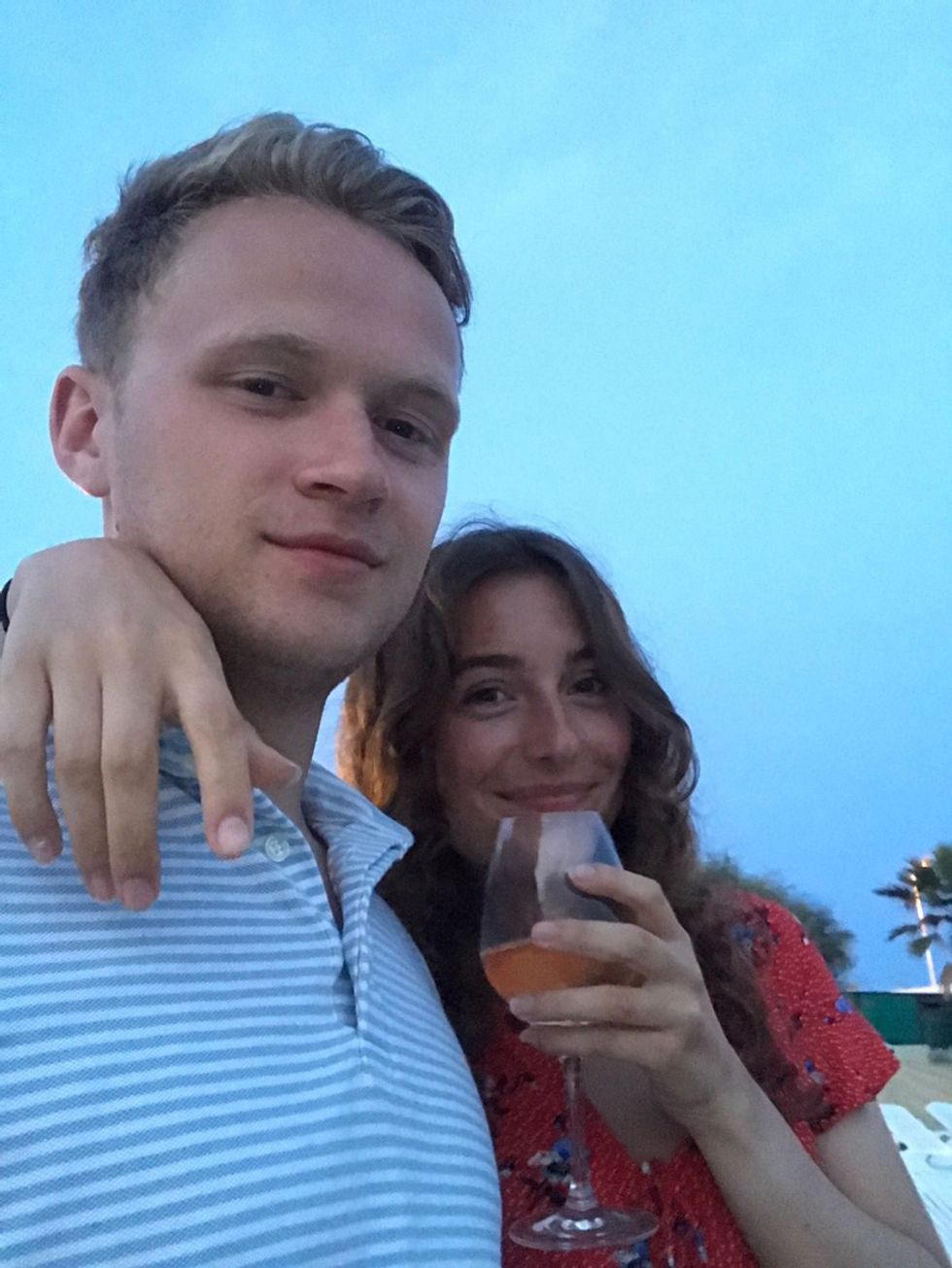 The couple have been together for over two years (Collect/PA Real Life)
He laughed: "She was worried I was using my phone on the plane, but really I was just doing it as an excuse to ask for her number.
"When we got off the flight, my friend was waiting, but I had to tell him to go on without me and I waited for Charlotte, so we could go through passport control and everything together."
After parting ways at the airport, Michael headed home to his flat in Shepherd's Bush, west London, while Charlotte went back to Leeds.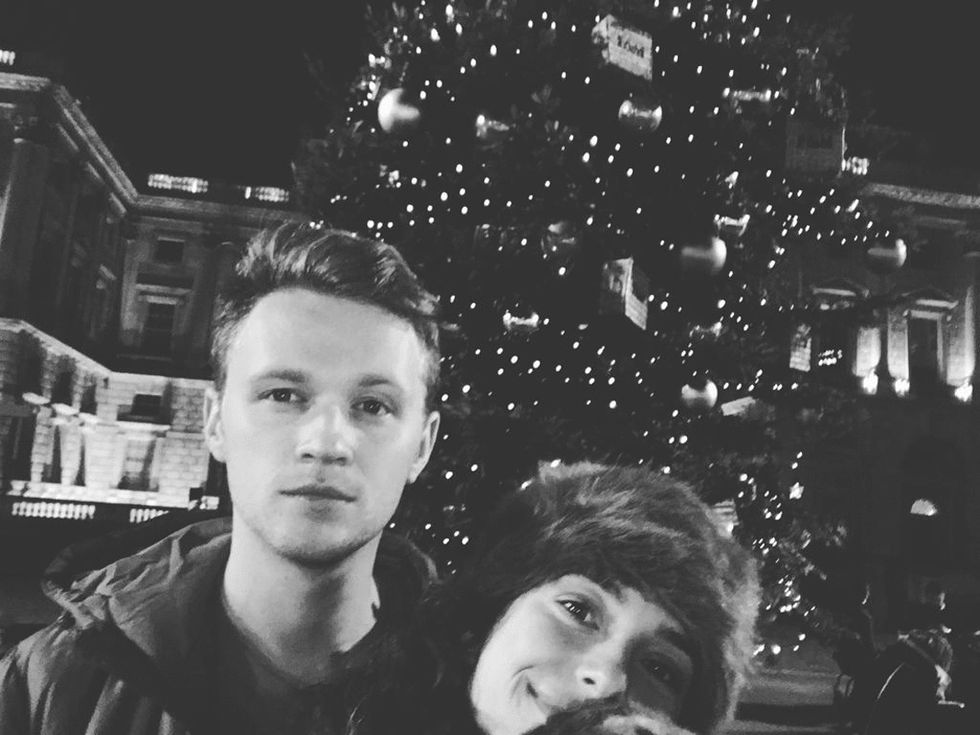 Michael and Charlotte at Christmas (Collect/PA Real Life)
But the next morning, he sent her a text and they arranged a date for the week after, when she met him in London for a romantic day out.

Michael explained: "On our first date, I met her at Kings Cross in central London and took her on a walk along the canal. We went to a restaurant called Cafe Laville, which overlooks the canal, then we made our way down to Notting Hill in west London. It was such a lovely day."
"She went to a friend's birthday party that night, but we were texting each other and we ended up meeting up after it."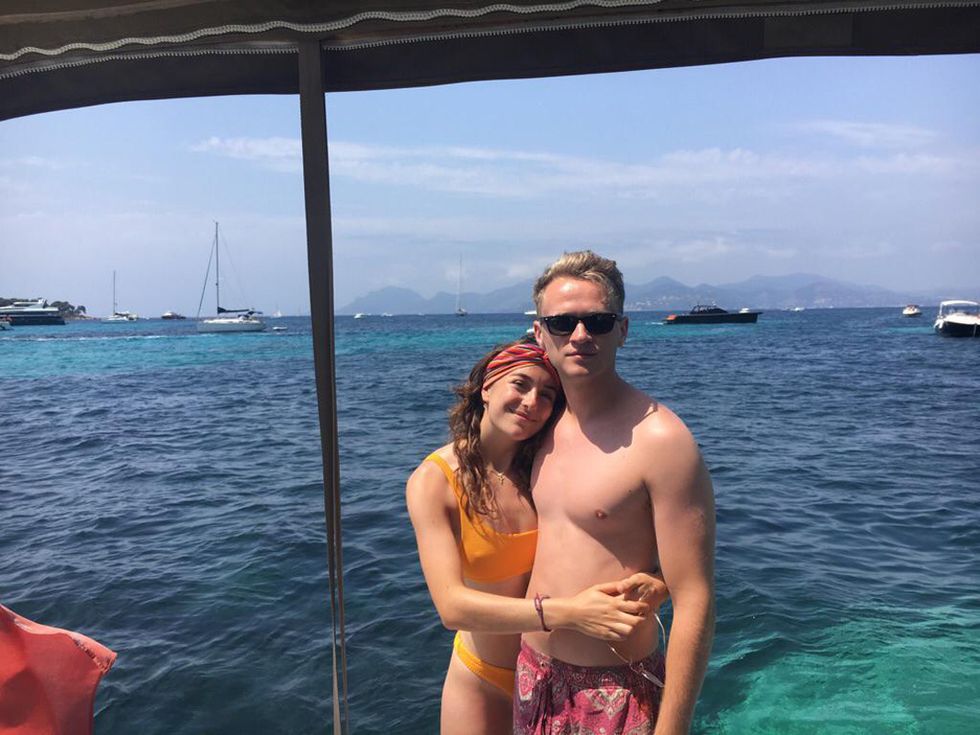 Michael and Charlotte (Collect/PA Real Life)
An example of the two in every 100 people flying every day who meet and fall in love in the air, according to new research from HSBC, after that, the couple travelled between Leeds and London whenever they could, while Charlotte completed the final year of her theatre studies degree.

After graduating, she moved to London, to be closer to Michael, and to start working as a theatre director.
Michael said: "Charlotte is working in Kenya at the minute working on a theatre directing project for three months but it's been great living so much closer to each other since she finished university."
"We're really happy together and looking forward to the future. Thank goodness for that tiny sandwich!"
—Michael Whitman
"We're both really glad that we were seated together and for our first anniversary, she managed to book the exact same seats on the exact same flight. It was really sweet," he continued.
"It's such a nice story to tell people and always sparks their interest. We're really happy together and looking forward to the future. Thank goodness for that tiny sandwich!"
Charlotte added: "I never imagined I would meet someone on a flight. I wasn't actually looking to meet anyone as I'd had a tricky month seeing someone else and that didn't work out."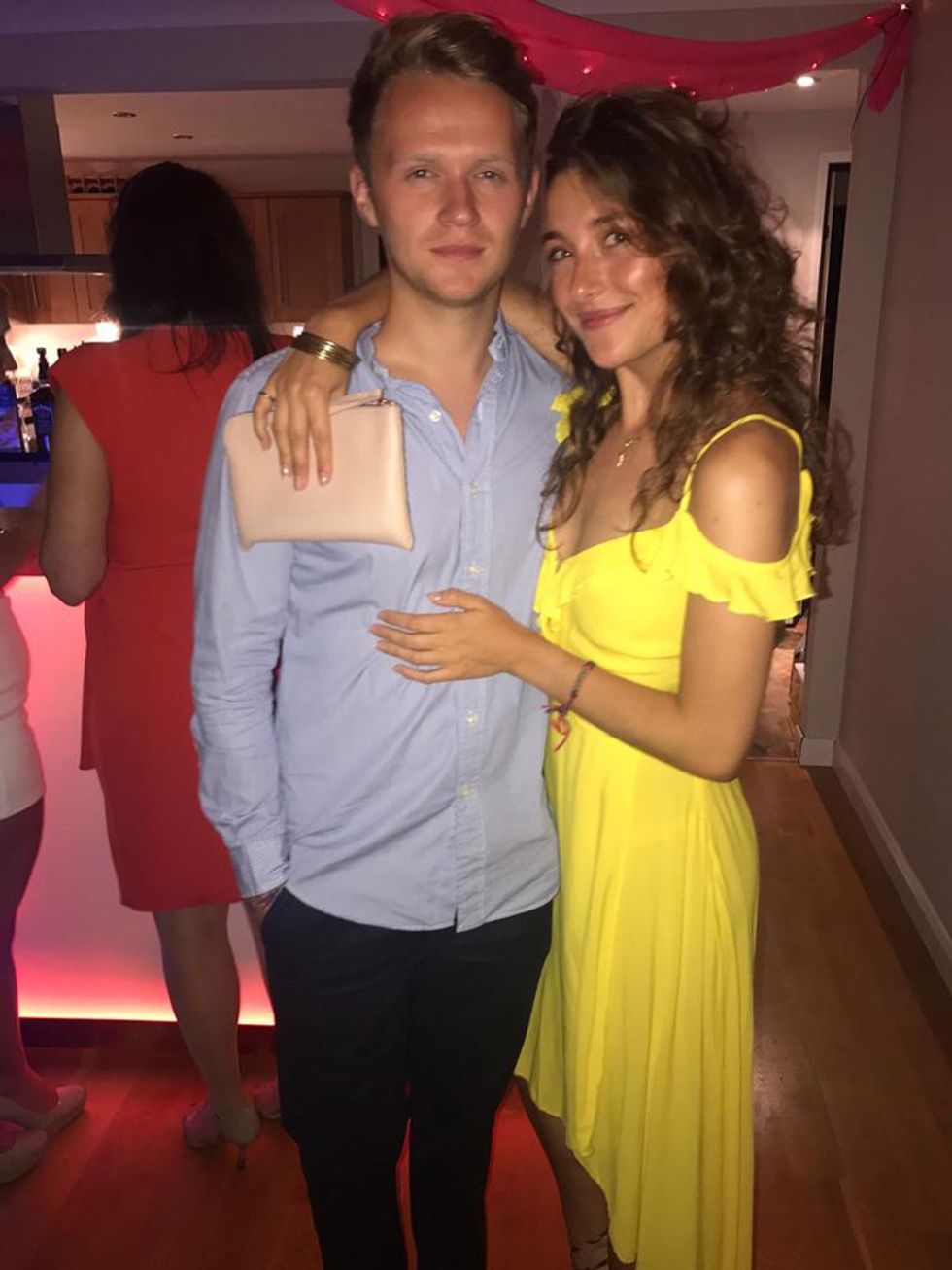 Michael and Charlotte (Collect/PA Real Life)
She added: "I was so surprised when Michael broke the ice with the line about the sandwich. There was an undeniable tension between us but no one ever actually does anything about that so it was a big bravo to him!"
"It is a great story though. When I tell people they think it's a cover up for a Tinder date or they absolutely love it and ask us to give all the detail."
HSBC's research involved 11.9 million people around the world, who are flying on any given day, and found that two in every 100 have met someone and fallen in love on a plane. HSBC UK Head of Personal Banking, Becky Moffat, said: "It turns out air travel brings an incredible sense of possibility and people are making life-changing connections in the sky."
A version of this article originally appeared on Press Association.