Dead to Me actor Christina Applegate has hit back at conservative commentator Candace Owens after she criticized a Kim Kardashian's SKIMS clothing line campaign featuring a model in a wheelchair.
Owens' comments were met with widespread outrage on social media, with many accusing her of ableism.

In a recent episode of her Daily Wire show, Owens expressed her supposed confusion over the "inclusivity thing," saying she did not understand why companies felt the need to include people with disabilities in their advertisements.
She also claimed that people in wheelchairs would agree with her and that the idea of disability-inclusive ads was "ridiculous."
You can hear what Owens said in the video below.

Owens said:
"I don't really understand how far we're going to take this inclusivity thing. I really don't get it. I don't know. And if I'm wrong, again, educate me, today, I just want to be educated in the comments."
"Why did they do this? I don't know, I don't know why this needed to be done. I'm getting tired of this all-inclusivity thing. It seems ridiculous."
"By the way, I think people in wheelchairs will back me up on this. I think they're on my side. I think they think this is stupid."
Owens' remarks soon caught the attention of Applegate, who has been public about her experiences living with multiple sclerosis (MS).
Applegate wrote:
"Going to try and sleep but my rage is keeping me awake. Candace Owens, do you know when you have seen pictures of me how f**king hard it was to get my clothes on? A team has to help me!!! So I'm excited for accessibility clothing for me and my community."
You can see Applegate's tweet below.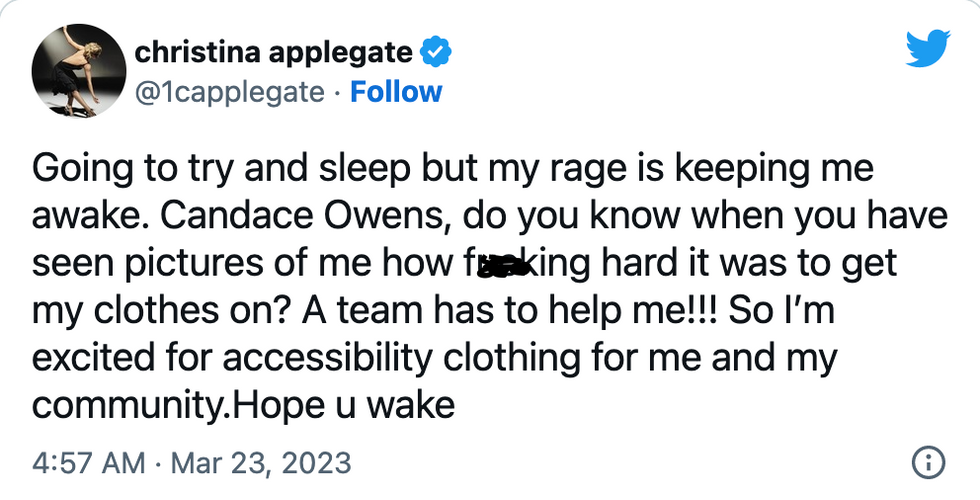 @1capplegate/Twitter
Applegate later offered to "educate" Owens on disability issues, writing:
"I thought my last tweet was enough. But then my heart said something else. No rage."
"If Candace wants to get on the phone with me to be educated on being disabled. I will not come with anger. I will come with love. Because she needs to hear that. I pray for her tonight. Sincerely."
You can see Applegate's tweet below.

Following Applegate's criticism, Haleigh Rosa, the model featured in the ad, toldForbes that Owens' comments were "shocking" and that "wheelchair users will not agree with her views." Rosa also invited Owens to reach out to her to learn more about disability rights and representation.

Owens later posted a video online in which she attempted to clarify her stance, stating that she had been misinterpreted as an ableist.
She said:

"Let's debunk the idea that I'm an ableist. I thought that was really, really interesting, that I somehow wanted to pursue disabled people and I wanted them out of spaces because that is absolute nonsense."
"I've spent my entire life fighting the idea that, in order for me to feel like I'm allowed to be Black or that I'm allowed to be a woman, I need to therefore see Black women everywhere. That is the opposite of what it means to actually have confidence."
"I don't need to see Tyra Banks being a model. I don't need to see Tyra Banks wearing underwear."
However, many continued to criticize her for her lack of understanding of disability issues.

The controversy sparked by Owens' comments highlights the ongoing struggle for disability inclusion in the fashion industry. Despite recent strides, including Tommy Hilfiger's adaptive clothing line and Skims' disability-inclusive ads, people with disabilities continue to face significant barriers to full participation in society.

By featuring people with disabilities in their advertising, companies like Skims and Tommy Hilfiger are helping to challenge longstanding prejudices and assumptions about what it means to be disabled.
However, as Owens' comments demonstrate, there is still much work to be done in terms of educating the public about disability rights and representation.
With disability rights activists and allies continuing to speak out and demand change, the fashion industry and society at large may finally be starting to listen.