Video footage of Busta Rhymes going on an anti-mask tirade at a concert this past June has resurfaced and gone viral.
The footage captured the 12-time Grammy award nominee during an appearance at "Seoul Taco's 10th Block Party" in St. Louis, Missouri.
WARNING: NSFW Language
In the video, Rhymes first expressed his disappointment that he is making only his second live concert appearance in 15 months, declaring "Covid could suck a d*ck".
But rather than taking the opportunity to encourage his audiences to help curb the spread of the deadly virus, which has now taken the lives of over 63 thousand Americans, he instead went in quite the opposite direction.
"All these little weird-ass government policies and mandates… suck a d*ck!"
No human being is supposed to tell you [that] you can't even breathe freely! F*ck your mask."
The platinum selling artist then began to list all the things masks prevent us from doing, such as rapping, eating, and seeing each other's smiles.
Rhymes also bemoaned how a mask covering his face got in the way of his ability to flirt with women.
"I come from a time where before I used to even want to holler at a chick, I used to have to do shit with my face to let her know that I'm into her."
"But all of that energy gets blocked when your mask is on. Energy is important, and we are all conductors of f*cking good energy."
Rhymes concluded his tirade by apologizing for getting "political", but revealed that perhaps the one good thing to come out quarantining was that he became more "empowered."
Of course, the most obvious information missing from Rhymes' impassioned and ill-informed speech was how wearing masks are a highly effective way of preventing the spread of covid.
While Rhyme's audience cheered on his ignorant, mis-informed speech, reaction to his tirade on social media was much less enthusiastic.
Twitter followers were quick to condemn Rhymes for his dangerous anti-mask propaganda, while also pointing out that there was zero scientific evidence in his speech, which was primarily centered around his own personal comfort.

@andrejgee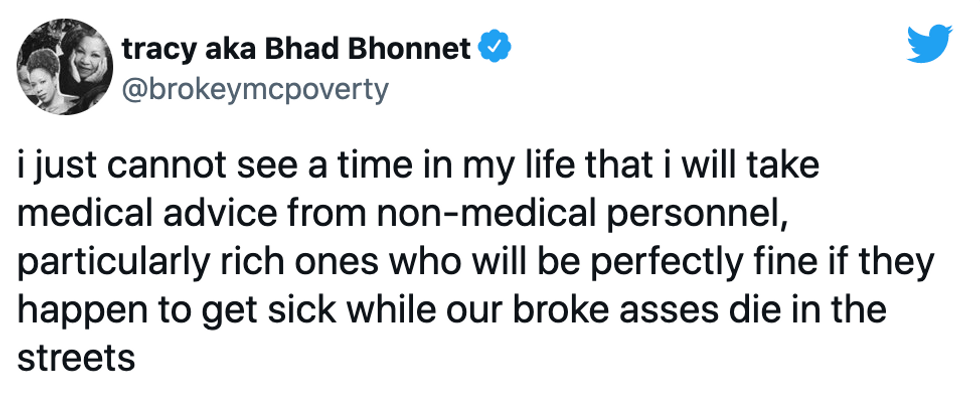 @brokeymcpoverty/Twitter

@Dr. Jason Johnson/Twitter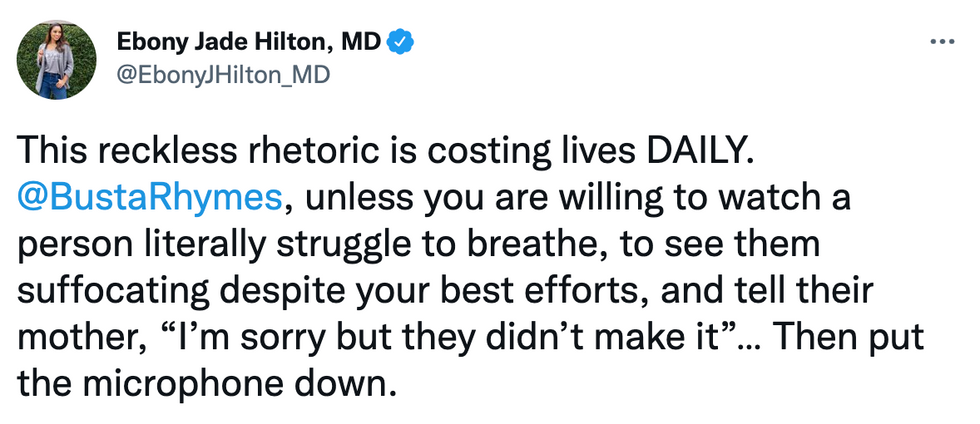 @EbonyJHilton_MD/Twitter
The fact that Rhymes made this dangerous speech in St. Louis, Missouri is especially unfortunate, as less than 40 percent of St Louis residents and only 44 percent of the total population of Missouri are fully vaccinated against Covid-19.
Making matters worse, Missouri is one of three US States, along with Texas and Florida, which make up for over 40 percent of Covid cases in the United States, with over two thousand new cases reported on Monday, August 23.
With many indoor venues across the country requiring both proof of vaccination and masks for audience members to be granted entry, it's entirely possible it might be at least another 15 months before Rhymes performs in front of a live audience again as this video gains more and more viewers.