Brittany Aldean, wife of country star Jason Aldean, is under fire after making transphobic comments on Instagram.
Aldean was strongly criticized by several members of the music industry, as well as many LGBTQ+ voices online.
Aldean made her comments in the caption of a makeup tutorial she posted to Instagram, seen below, in which she subtly denied the validity of gender affirmation measures.

Aldean's comment reads:

"I'd really like to thank my parents for not changing my gender when I went through my tomboy phase. I love this girly life🤎✌🏼"
The backlash to Aldean's caption was immediate.
Musician Cassadee Pope took to Twitter to mock Aldean's transphobia.
Pope wrote:
"You'd think celebs with beauty brands would see the positives in including LGBTQ+ people in their messaging."
"But instead here we are, hearing someone compare their 'tomboy phase' to someone wanting to transition. Real nice."
Responding to Pope, fellow country star Maren Morris was even more direct in her criticism of Aldean.
She wrote:
"It's so easy to, like, not be a scumbag human? Sell your clip-ins and zip it, Insurrection Barbie."
Aldean, who also owns a clothing line aimed at conservative buyers, was clearly irked by the backlash.
In a subsequent Instagram Story, screenshots of which have been widely distributed, Aldean tagged Pope in a screed riddled with transphobic conspiracy theories and far-right talking points about gender-affirming healthcare that have been repeatedly and thoroughly debunked.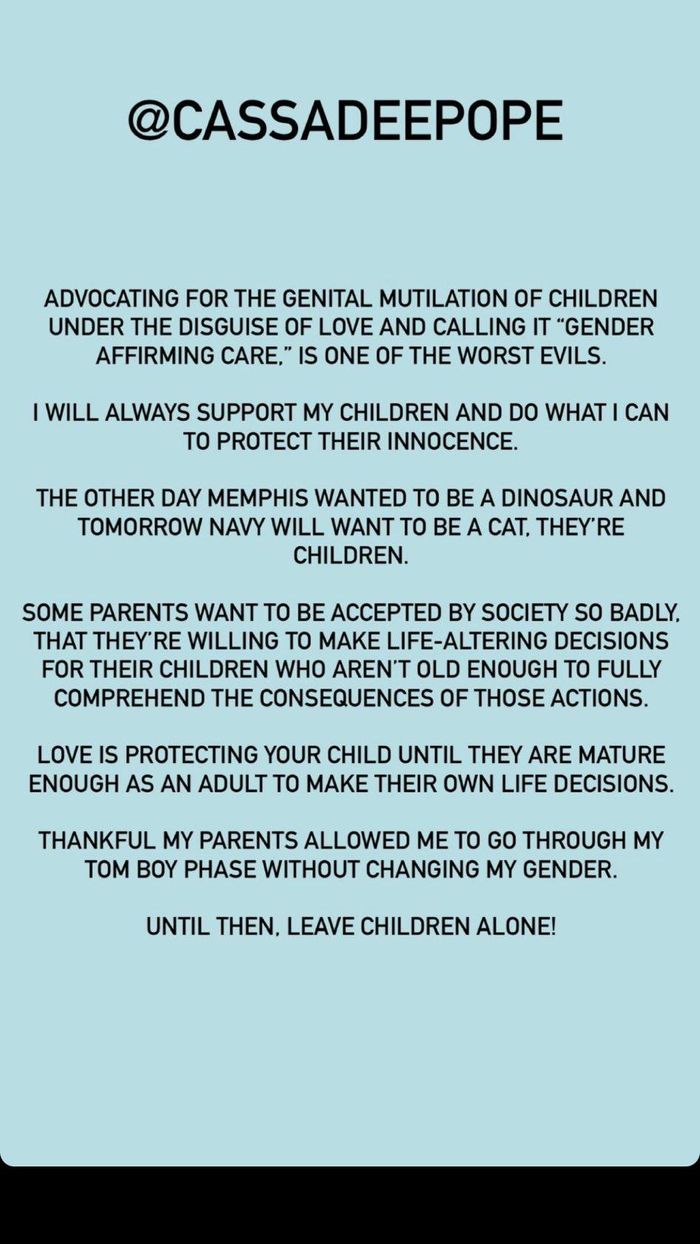 @brittanyaldean/Twitter
Aldean ranted in all CAPS:
"Advocating for the genital mutilation of children under the disguise of love and calling it 'gender affirming care' is one of the worst evils. I will always support my children and do what I can to protect their innocence."
Gender-affirming surgeries, including those performed on genitalia, are not legal to perform on children, and the effects of all medical interventions that are available to transgender children, such as puberty blockers, are entirely reversible.
Aldean went on to attack parents who support their trans children.

"Some parents want to be accepted by society so badly that they're willing to make life-altering decisions for their children who aren't old enough to fully comprehend the consequences of those actions."
Transitioning is an extremely lengthy process which requires extensive medical consultation and guidance by mental health professionals.
Still, erroneous claims like Aldean's continue to be used by right-wing political groups attacking transgender rights, especially those pertaining to children, resulting in a wave of successful legislation targeting trans kids.
And recent studies have shown that far-right disinformation like that propagated by Aldean, and especially accusations of pedophilia or "grooming" leveled at supporters of transgender rights, may be having real-world consequences.
The past two years since the far-right began its all-out assault on transgender rights have seen soaring rates of anti-LGBTQ violence, especially for trans people.
On Twitter, the backlash against Aldean's bigotry was swift.
Many praised Pope's and Morris' sharp-tongued clap backs.
Despite the Republican attacks on transgender rights at present, there is reason for hope.
The 4th U.S. Circuit Court of Appeals recently published an opinion stating gender dysphoria is covered by the Americans with Disabilities Act of 1990, a move advocates are hoping will open paths to legally challenge anti-trans legislation.

Even if it won't help with ignorance and bigotry.