A new viral TikTok shows a young woman being blatantly, and rather graphically, sexually harassed by her boss.
TikToker deathkittyx captured her boss making comments about her clothing, including her "sexy panties," and even going so far as to beg her to show him her breasts.
Throughout the video, deathkittyx looks into the camera visibly repulsed and uncomfortable.
In her interactions with fellow TikTokers who commented on the video, deathkittyx explained she works in home healthcare and cares for a quadriplegic.
It's not specified who exactly the man harassing her is—whether he is her patient, or someone else in the workplace. But she captioned her video "safe to say I have evidence now," so it seems like there may be a long history of harassment at this job.
In the video, deathkittyx was seen wincing in embarrassment and horror as a male voice rattled off a series of ever more suggestive and lurid comments.
"Imagine you're back healthy. You're wearing these cute pink shorts, with a cute little white, silky blouse, looking all so cute. Sexy panties on."
The man also groans and grunts lasciviously in between his comments.

The video then escalates to a conversation between the man and deathkittyx about showing him her breasts. She repeatedly refuses to do so, but the man nevertheless continues almost begging her.
Then he escalates by pleading:
"I want to see how small they are. For real."
Many of deathkittyx's fellow TikTokers were repulsed and outraged by the video.

@em33395/TikTok

@almondmilk_titty/TikTok

@nikachue/TikTok
But a number of other commenters blamed deathkittyx for the incident.

Several TikTokers, many of them male, said she seemed to be inviting his advances during the incident where the man asked to see her breasts and she didn't deny his come-ons forcefully enough. Many felt her "no" in particular sounded insincere, and more like a flirtatious denial.
The victim blaming rightfully drew ire.

@amandalearose92/TikTok

@stampcrabb/TikTok

@ghizou_b/TikTok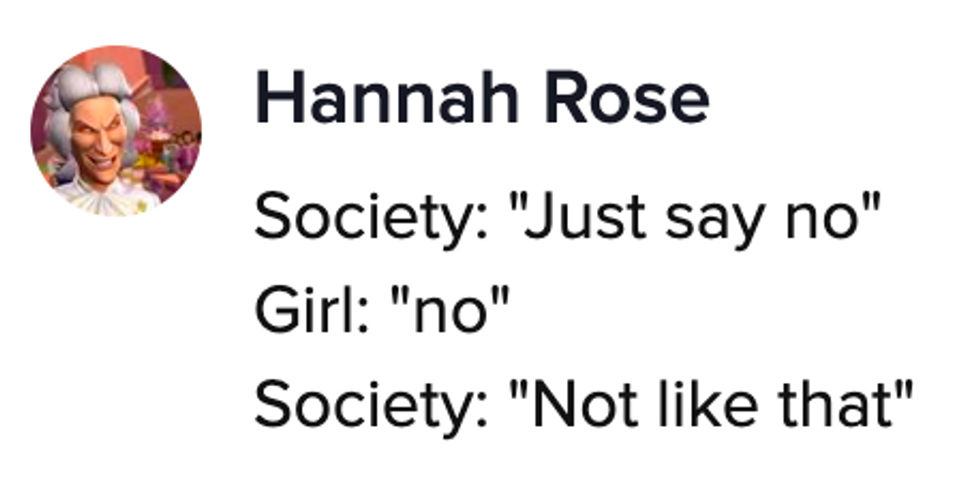 @sunset_flare/TikTok

@_duckydoo/TikTok

@yergaydaddi/TikTok

@untouchedmilk/TikTok

@celeste_smith_0/Tiktok
There is, of course, a simple way to solve this problem.
No means no.
That's it. It really is that easy.