Kids are fantastic innovators and have surprised many of us with their creative methods for getting what they want.
An 8-year-old boy, Max, was no different when he lodged a formal complaint with his mother regarding his early bedtime.
---
Though the letter was handwritten, we otherwise have to give this little boy some serious credit. Not only did he make a clear argument, but he also used research from the NHS (National Health Service) website in the United Kingdom.
Max focused on research that argued for the sleep schedule a child his age developmentally needs.
The 8-year-old wrote in his letter:
"Dear Mummy,"
"I am complaining about my bedtime."
"I am now 8 years old and need more independence."
"Obviously I'm ready to have a later bedtime. I have checked the NHS website and 8-year-olds need 10 hours and 15 minutes [of] sleep."
"This means I should go to bed at 9 o'clock."
"Lots of love, Max."
You can see the letter here: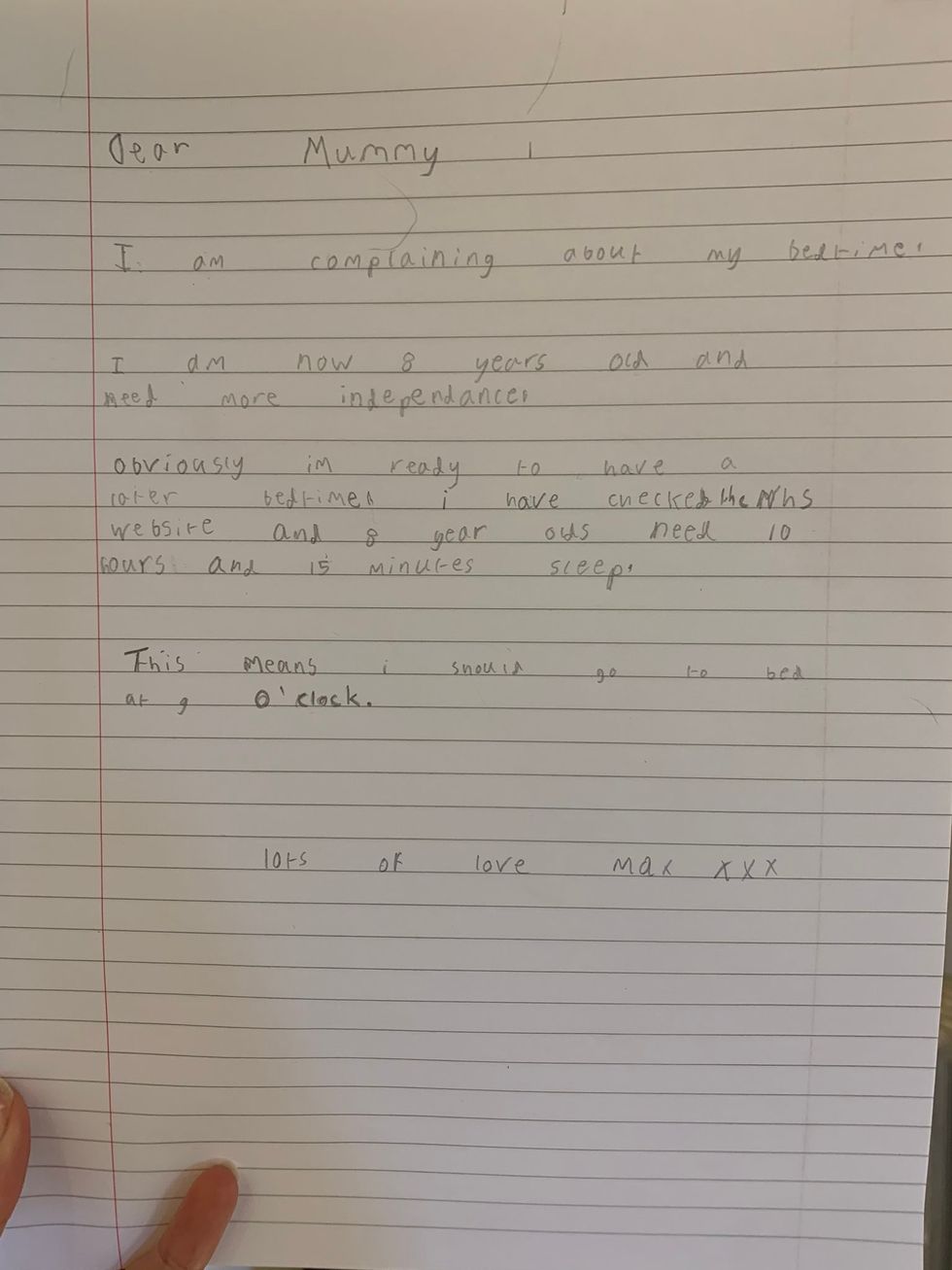 @alexjellicoe/Twitter
His mother, thoroughly entertained by his efforts, shared an image of his letter on Twitter.
The adorable complaint of course went viral, with more than 35-thousand retweets and nearly 320-thousand likes.
Some comments were made about Max's spelling and handwriting. A few also argued that sleep schedule needs are more dependent on the child than on their age.
But all-in-all, the sharing of the letter made for a fun time on a lot of people's Twitter feeds.
Fellow Twitter users were thoroughly entertained not only by Max's writing of a letter but also his use of a credible source.
Many went so far as to say that his use of sources meant he was already smarter than most adults.

Of course, arguments were made in favor of this new bedtime.

And if the mom wasn't ready for the new bedtime, there was always the "holding letter" option.

Quite hilariously, even the NHS website responded!
Whether or not Max gets a later bedtime from this, we really admire his effort and the sheer adorableness of his letter.

Good luck, Max!