Forget The Great British Bake Off.
A Buckinghamshire, England, mum's outrageous showstoppers—showing everything from saucy sex, to drunken newlyweds and hilarious scenes of childbirth—really are the icing on the cake.
---
Lynn Garricks' custom designs—ranging from eyeballs with severed fingers and lashings of blood for an ER nurse to maggot-infested meat for a maggot factory worker to sugar-iced vagina fairy cakes for a lesbian bachelorette party—have earned her a loyal following.
Disclosing some of the bizarre requests she has received, Lynn of Aylesbury, said:
"People do ask for all sorts of things and I've had quite a few far-out ones."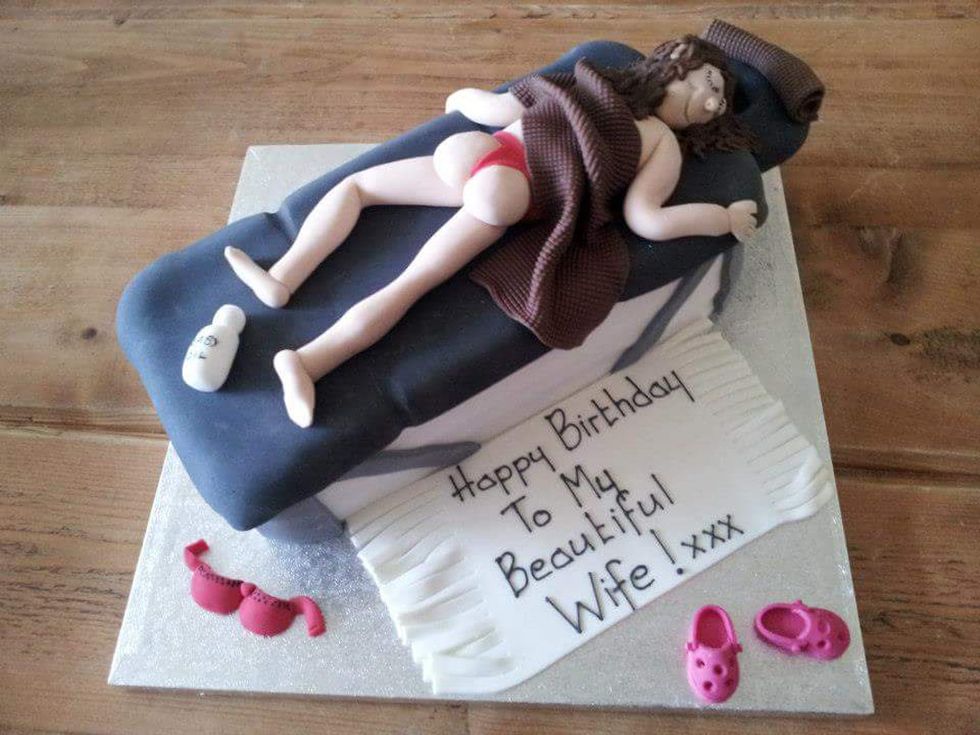 Lynn's humorous birthday cake (Collect/PA Real Life)
She continued:
"I get a lot of penis-cake requests for hen parties, a few boob-cake ones for 18th birthdays."

"It's the kind of thing that actually a lot of people would quite like to have, but they are often too embarrassed to ask for."
"You have to be quite brave to ring up and ask for a cake that looks like a willy."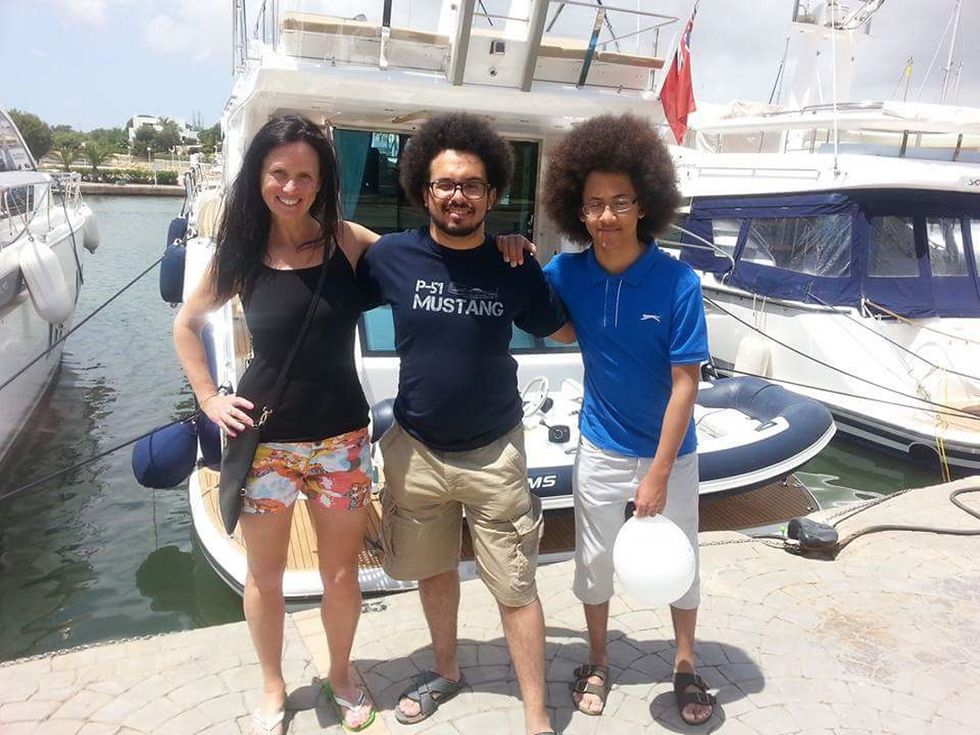 Lynn with her sons Joseph, left, and Morgan, right (Collect/PA Real Life)
Lynn discovered her flair for creating amazing cake toppings when she took a Christmas job helping out in a local bakery when she was 21.

She ended up staying for 14 years. She became an expert decorator, despite having no formal training and rarely eating cake herself.
Then in 2004, she started the Aylesbury Cake Company with her friend and bakery coworker Susanne Rutter.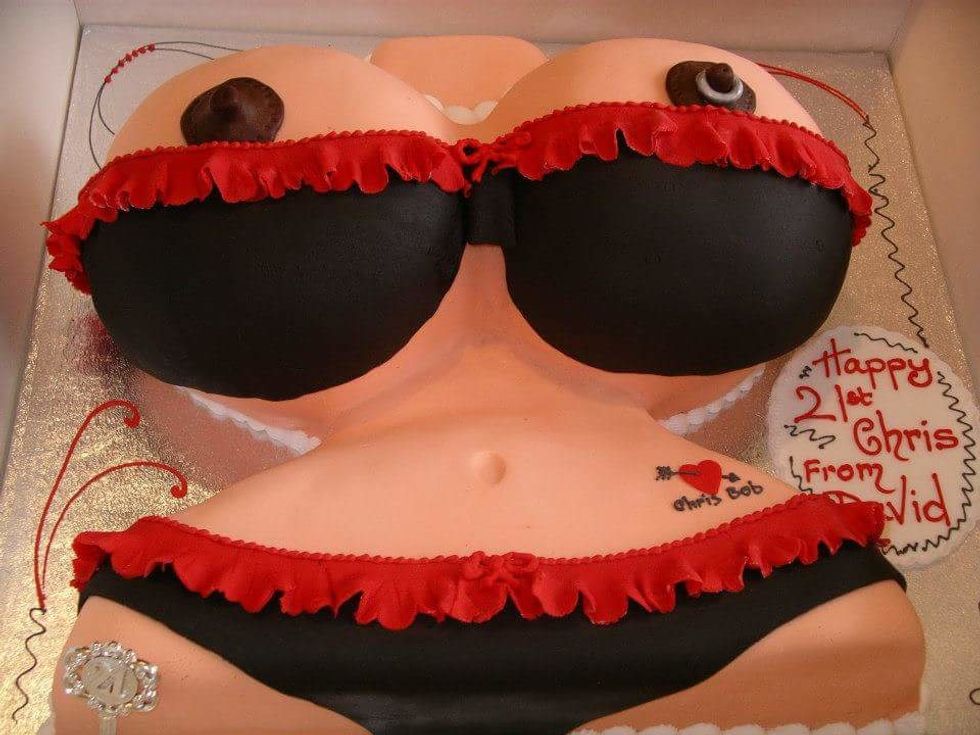 Lynn's saucy birthday cake (Collect/PA Real Life)
Lynn has two sons, Joseph, 21, and Morgan, 17, with her husband, Harold, a building materials merchandiser. Operating from a small shop above another bakery, business is booming for the Aylesbury Cake Company.
Although the subject matter of their cakes would be more likely to give The Great British Bake Off master baker Paul Hollywood a heart attack than to earn one of his famous handshakes.
Even Lynn admits she was taken aback when asked to make a cake showing a baby's head, greased with strawberry jam, emerging from its mum's nether regions, for a baby shower.
The mum-to-be was delighted with the graphic centerpiece to her celebrations—which featured other graphic imagery and explicit text ordered as a surprise by a friend—but her mother's reaction was less enthusiastic.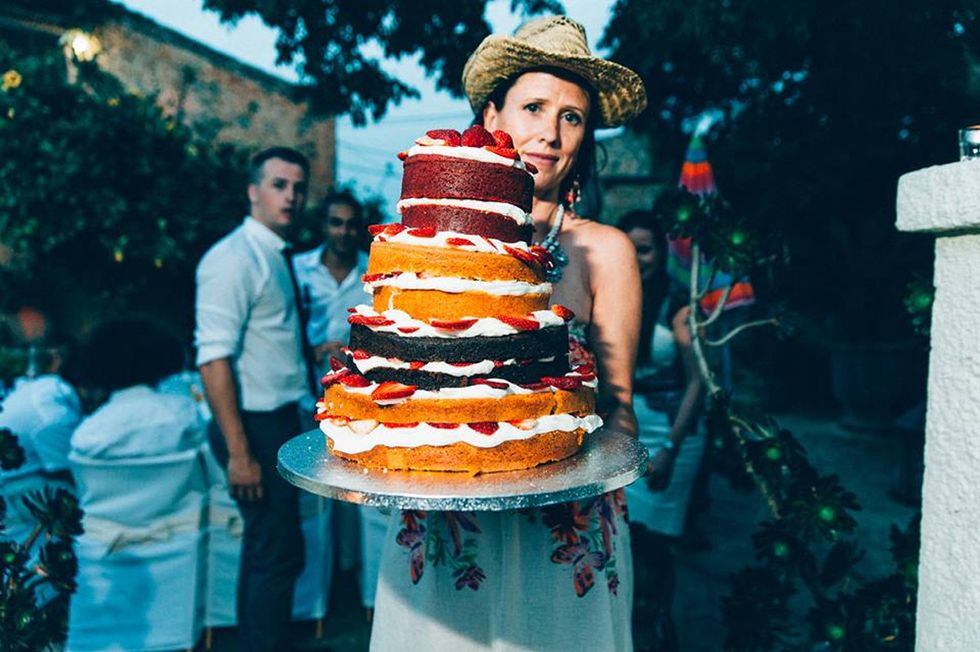 Lynn at a family wedding in Spain, 2015 (Collect/PA Real Life)
Lynn, who charges roughly £50 per cake, recalled:
"I think she was a little taken aback by it. I did ask beforehand, 'Are you sure this is all right?' because it's certainly not for everyone."
"I thought it was a bit much, but I didn't mind doing it. There's really nothing that can faze me, I've pretty much seen it all."
Now a master at creating some of the more risqué confections, Lynn admits some of her crudest creations made customers blush.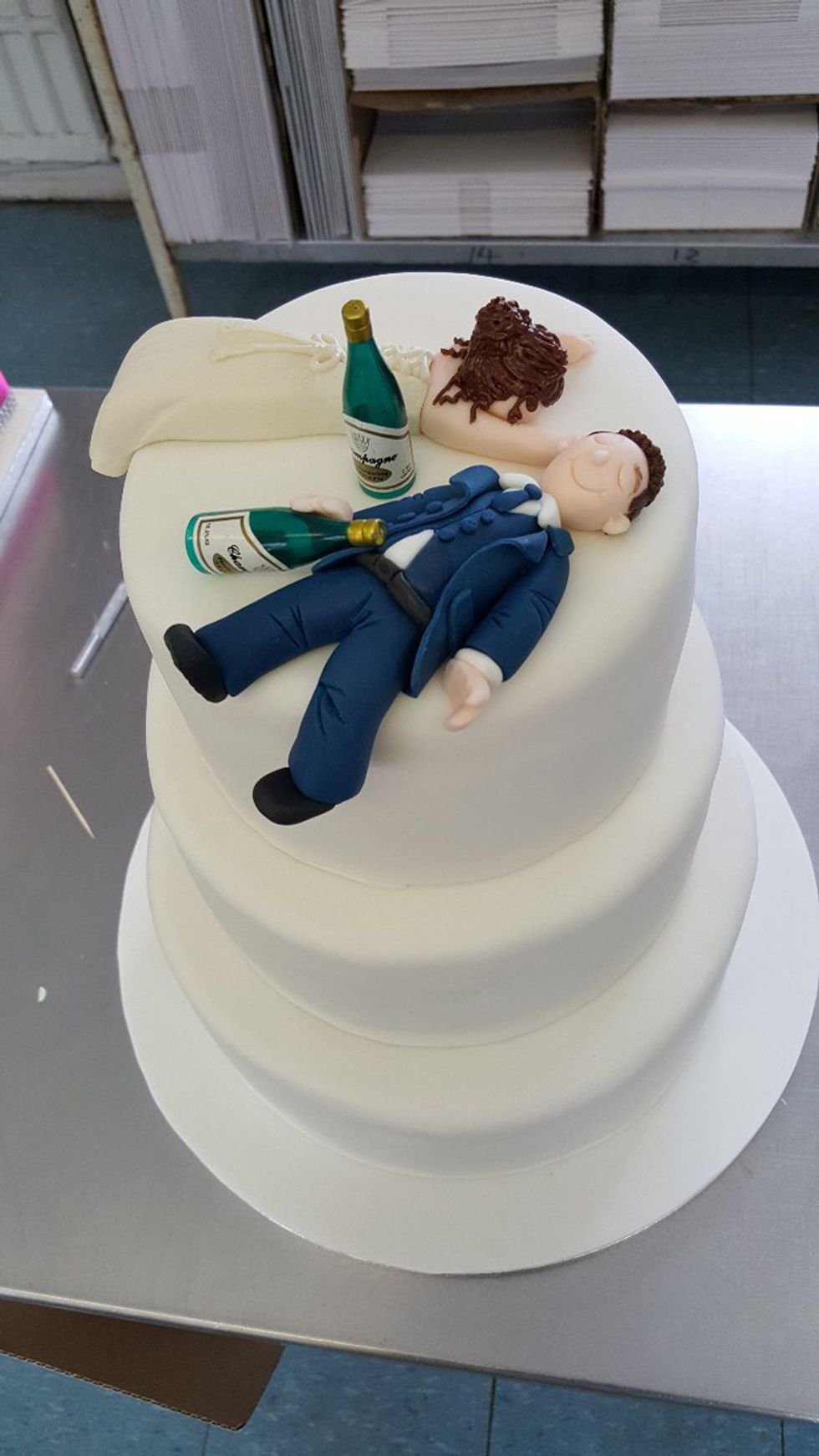 Lynn's cake made for a wedding (Collect/PA Real Life)
Lynn even depicted bawdy sex on a cake. She explained:
"Once you have made one weird cake, you begin to get requests for more."
"I don't have any problem with doing them really. As long as I can physically recreate the design that the customer wants, I'll do it."
"But I do sometimes feel a bit embarrassed for people who walk through our kitchen and see them."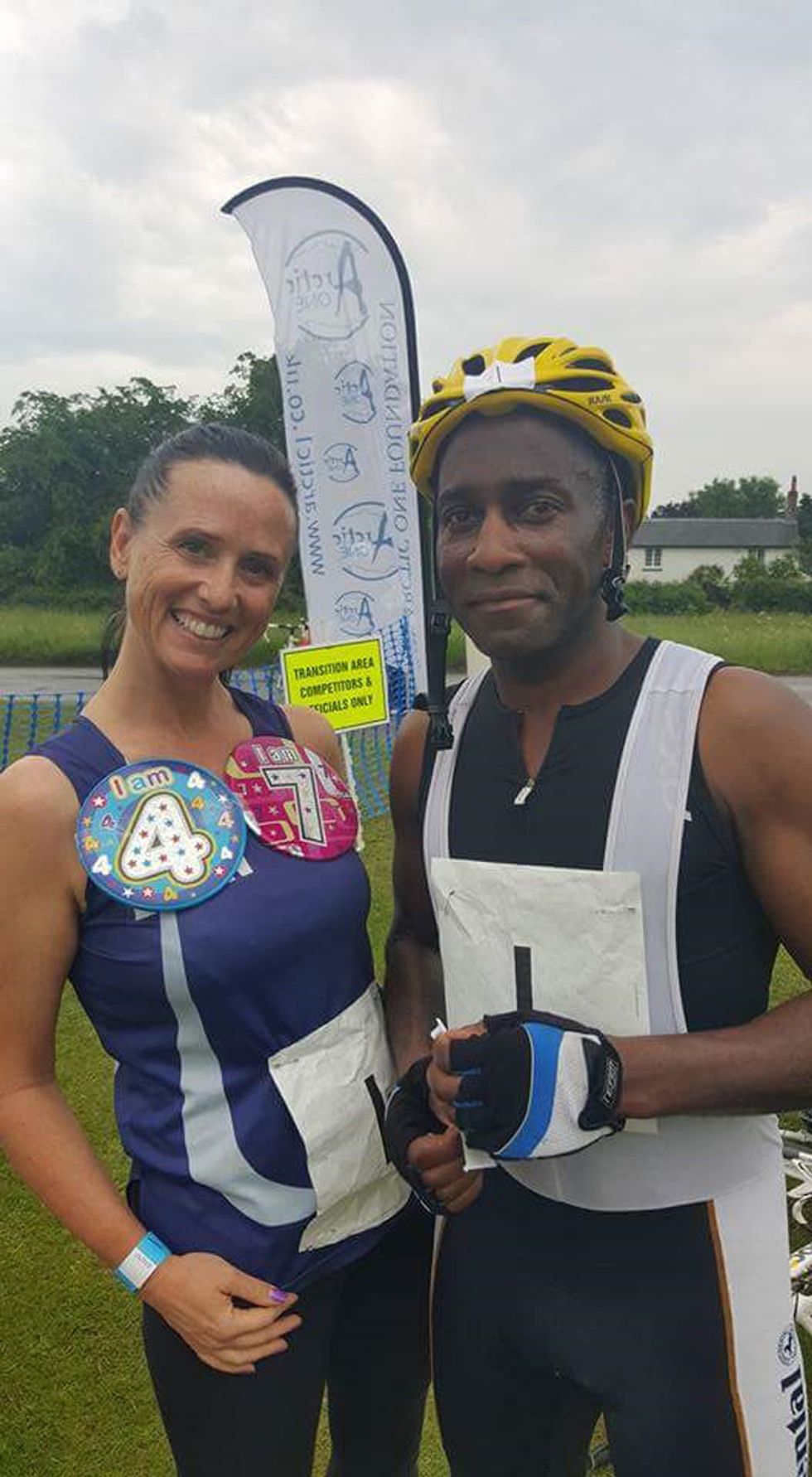 Lynn with her husband Harold (Collect/PA Real Life)
She continued:
"We've had a few people go, 'Oh, that's disgusting'—but they still always want to get a picture of it anyway."
With orders ranging from bare boobs for a guy's 21st birthday cake to a hilarious delivery room scene, complete with woman in labor and dad-to-be on oxygen and a doctor for a new mum, Lynn and Susanne's creations are in huge demand.
Both women bake the actual cakes—usually genoese sponges—while Lynn is responsible for the decorating and Susanne provides the often x-rated lettering overlaying the designs.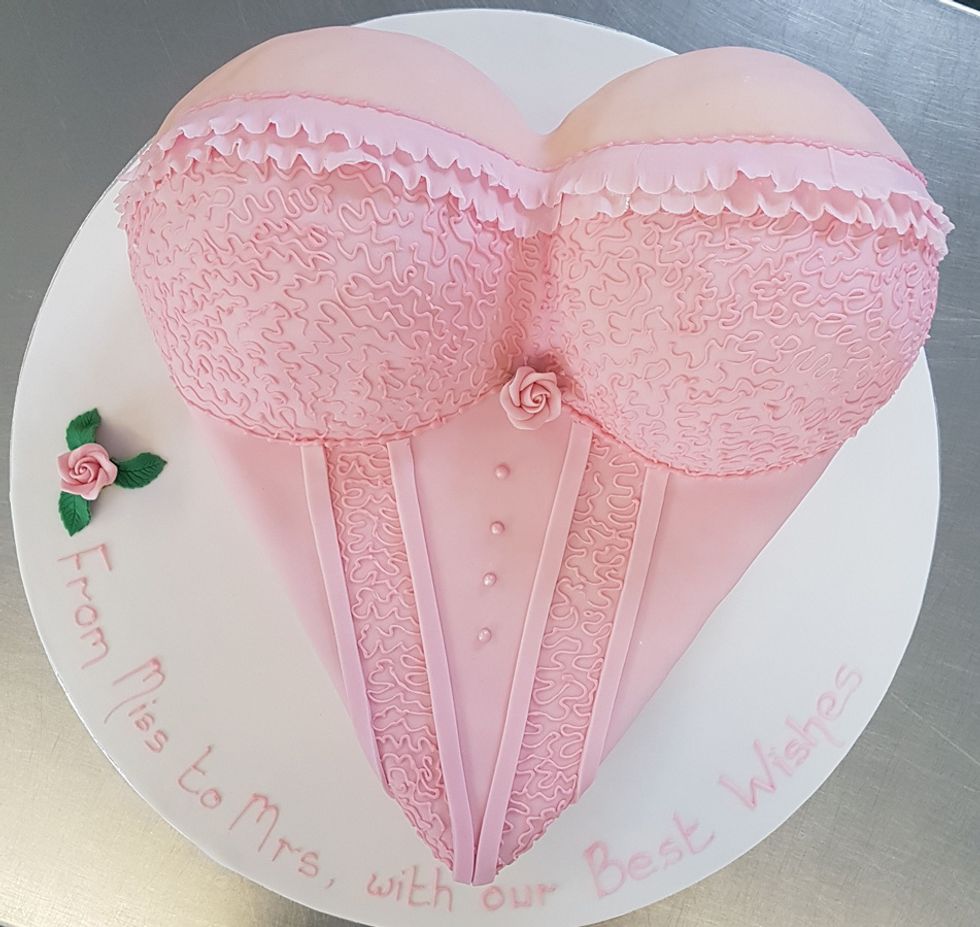 Lynn's risque love heart cake (Collect/PA Real Life)
Lynne said:
"Some people ask for pretty lurid sexual messages, or swear words."
"I realize there are people who might find this offensive, but we also produce a lot of quirky, humorous scenes."
"The way I see it is that cake decorating is a dying art and I want to keep the tradition going as much as I can."
"If that means making a few risqué cakes, I don't mind at all."
A version of this article originally appeared on Press Association.