A baby who was so tiny when she was born three months early that she was dwarfed by her father's hand is now thriving – two years after leaving the hospital on her mother's birthday.
Struck down by pre-eclampsia, causing high blood pressure, 27 weeks into her pregnancy, magazine editor Becky Ffrench, 37, and her accountant husband Alex, 39, were told to prepare for the worst when baby Rose had to be delivered immediately by c-section, weighing just 1lb 4oz.
During four long months in the hospital, Rose's life hung in the balance, but she pulled through and was finally allowed home to a village near Tunbridge Wells, Kent, England, on August 3 2018 – her mom's 36th birthday.
Now Rose – whose due date was July 14, 2018, but was delivered on April 17 – is a healthy two-year-old and was signed off from the hospital last week, according to her mom, who said:
"For her to come home on my birthday was the best present ever, especially after such a long journey to get her there."
"Since then, she has thrived and hit all her milestones. It's been a real miracle."
"She was having regular check-ups at the hospital, but last week she was signed off completely."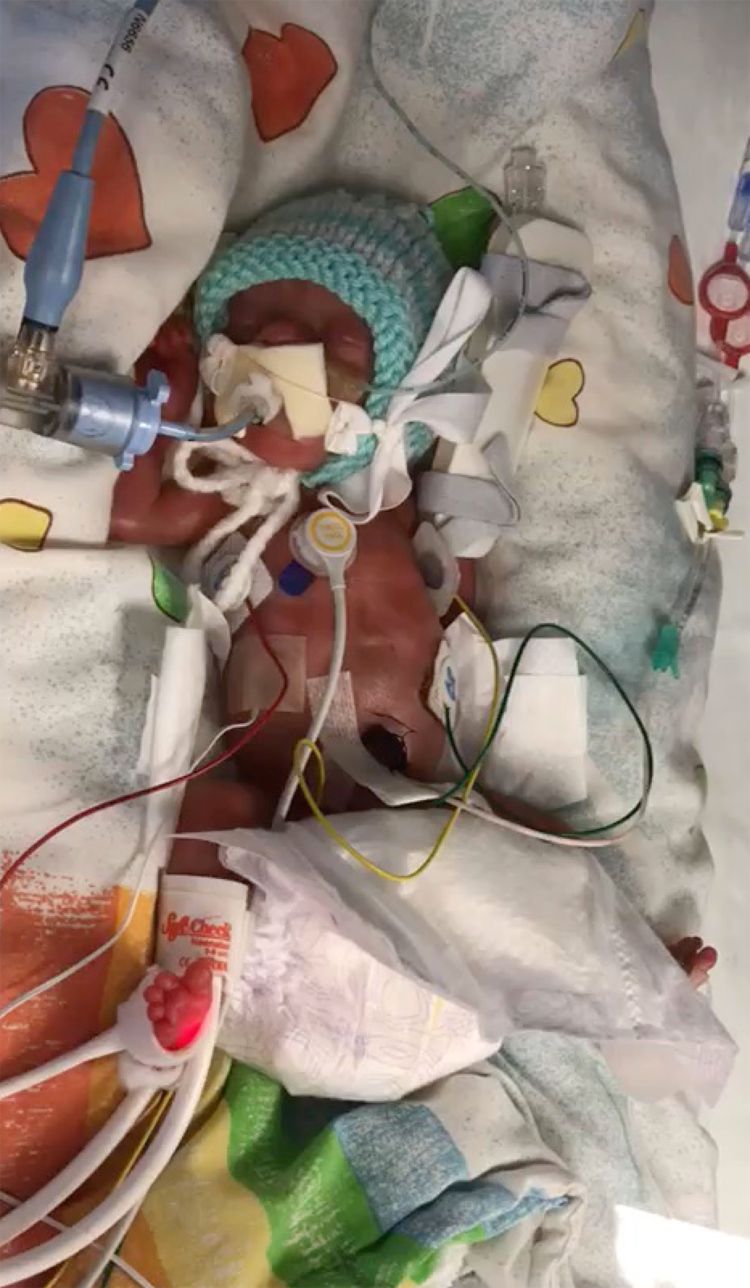 Rose at a few hours old (PA Real Life/Collect)
She added:
"She's a happy and fun little girl. Nothing seems to faze her. At nine months old we took her on holiday to Canada and she had a fabulous time, all wrapped up on our sledge. Nothing bothers her at all."
Becky and Alex had no trouble conceiving and the pregnancy was trouble-free until 27 weeks.
After experiencing pain in her upper stomach, Alex took herself to Kent's Tunbridge Wells Hospital, where she was diagnosed with pre-eclampsia, a condition causing raised blood pressure and the presence of protein in the urine, which affects around six percent of pregnancies in the UK, according to the NHS.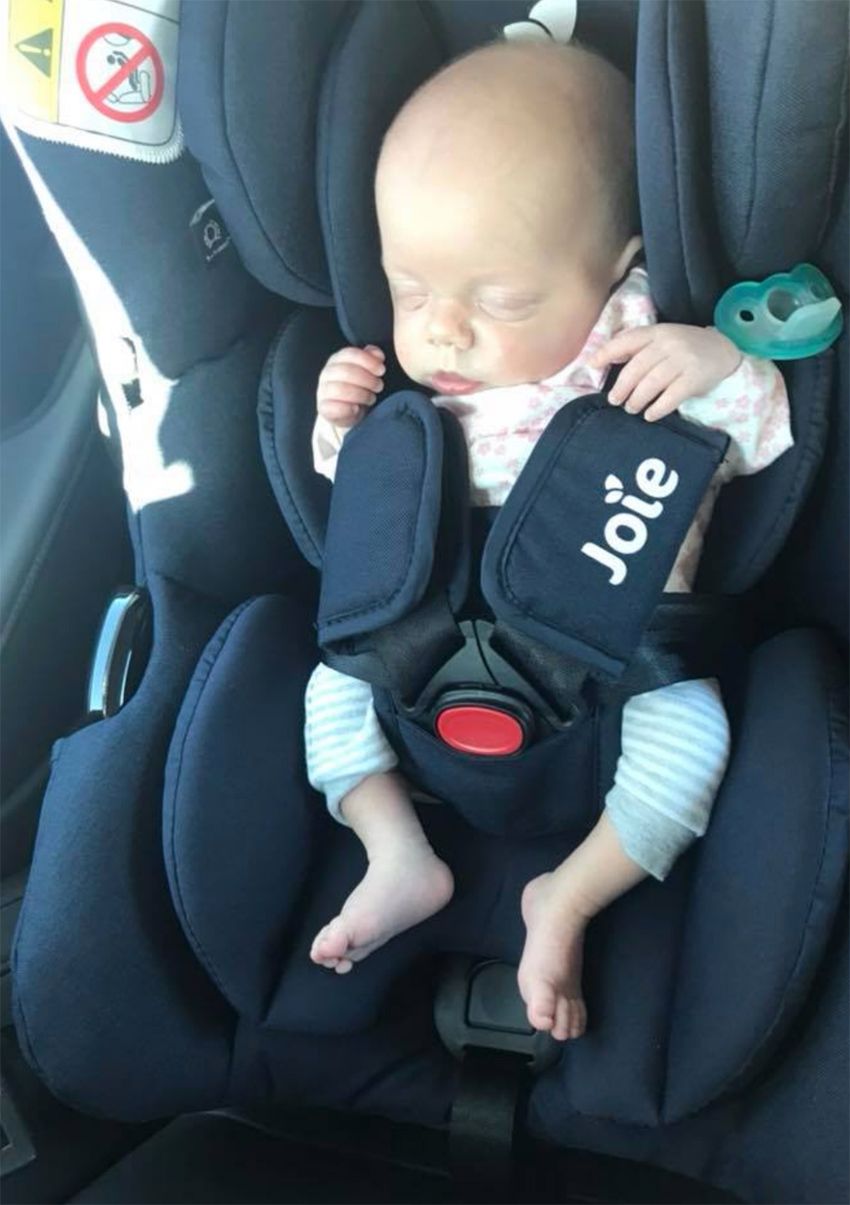 Rose's first day at home (PA Real Life/Collect)
Becky recalled:
"The medical team were talking about whether the baby was 'viable.'"
"They told me they were going to have to deliver her by c-section that night. Alex had to leave work and rush over to the hospital."
"At 8.45pm I went into theatre (surgery). It was dreadful. I went to the hospital that morning thinking I had 13 weeks left of the pregnancy, only to find the baby was coming that day."
"It was a very strange feeling. We should have been really excited, but all we could think was that she might not survive," Becky continued.
"They were telling us that we had to prepare ourselves for the worst. It was so traumatic."
The moment she was born, Rose was whisked to intensive care, with Alex catching a mere glimpse of her as she was carried across the room.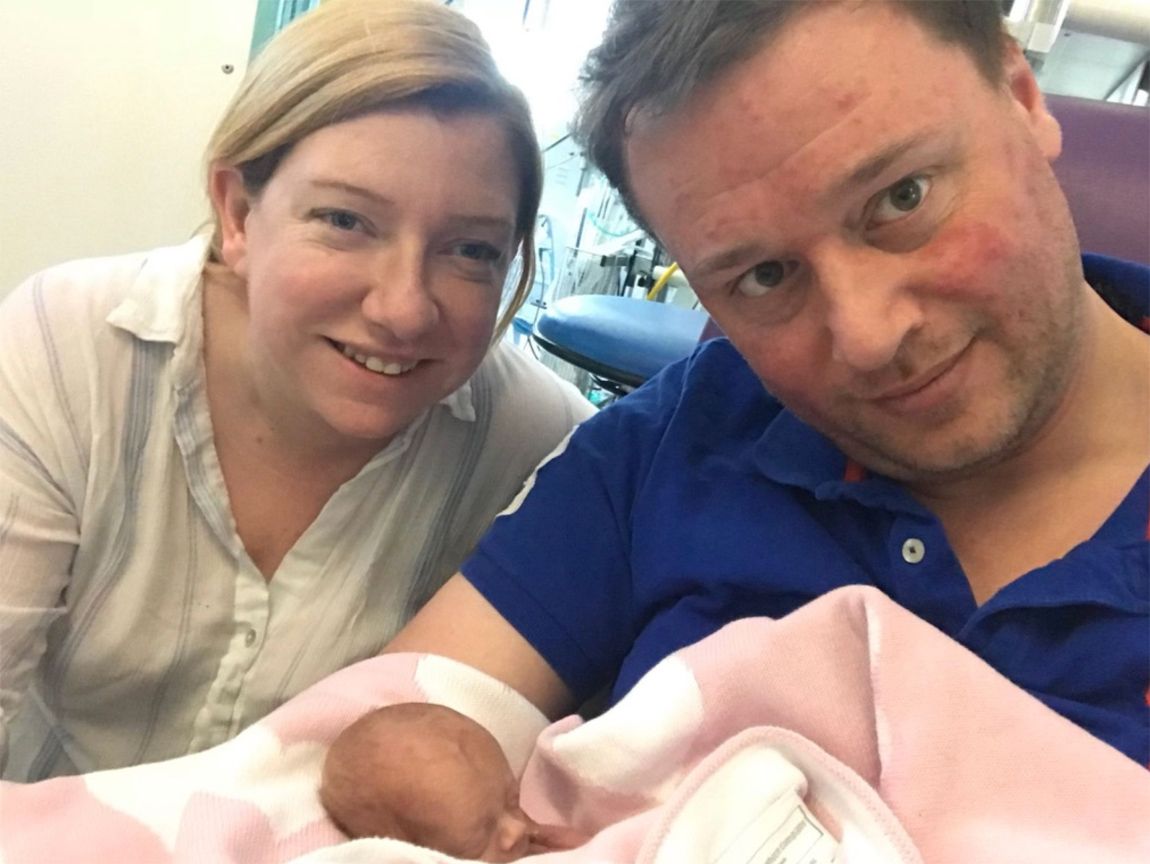 Rose with Becky and Alex at the hospital (PA Real Life/Collect)
It was not until later that night when she was wheeled into Becky's room in an incubator that she got to meet her newborn.
"We could barely see her, because she was covered in wires and had a tiny hat on to keep her warm. You could see her hands were about the size of the tip of our fingers," Becky said.
"She looked a bit like a 3D scan of a baby and she was a funny color. Her skin was thin and she was covered in this downy hair. I was looking at her thinking, 'She does not look like a baby.'"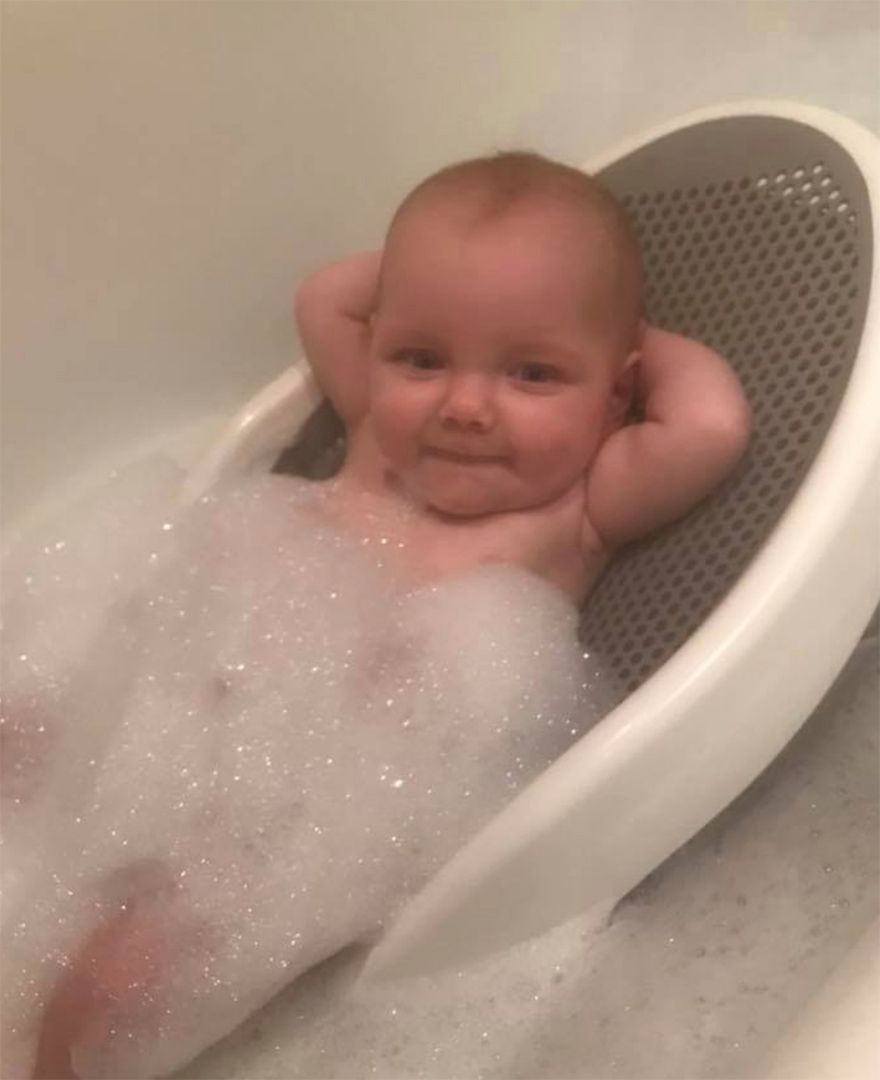 Rose as a toddler (PA Real Life/Collect)
That day, Rose was transferred by ambulance to a specialist unit at Medway Maritime Hospital in Gillingham, Kent, which had the facilities to care for such a premature baby.
Diagnosed with sepsis, a potentially life threatening reaction to an infection, straight after birth, her lungs had not developed properly either.
And she had necrotising enterocolitis (NEC) which, according to London's Great Ormond Street Hospital, is a serious illness in which intestinal tissue becomes inflamed and starts to die. This can, in turn, cause a hole to develop, through which the contents of the intestine can leak into the stomach, resulting in dangerous infection.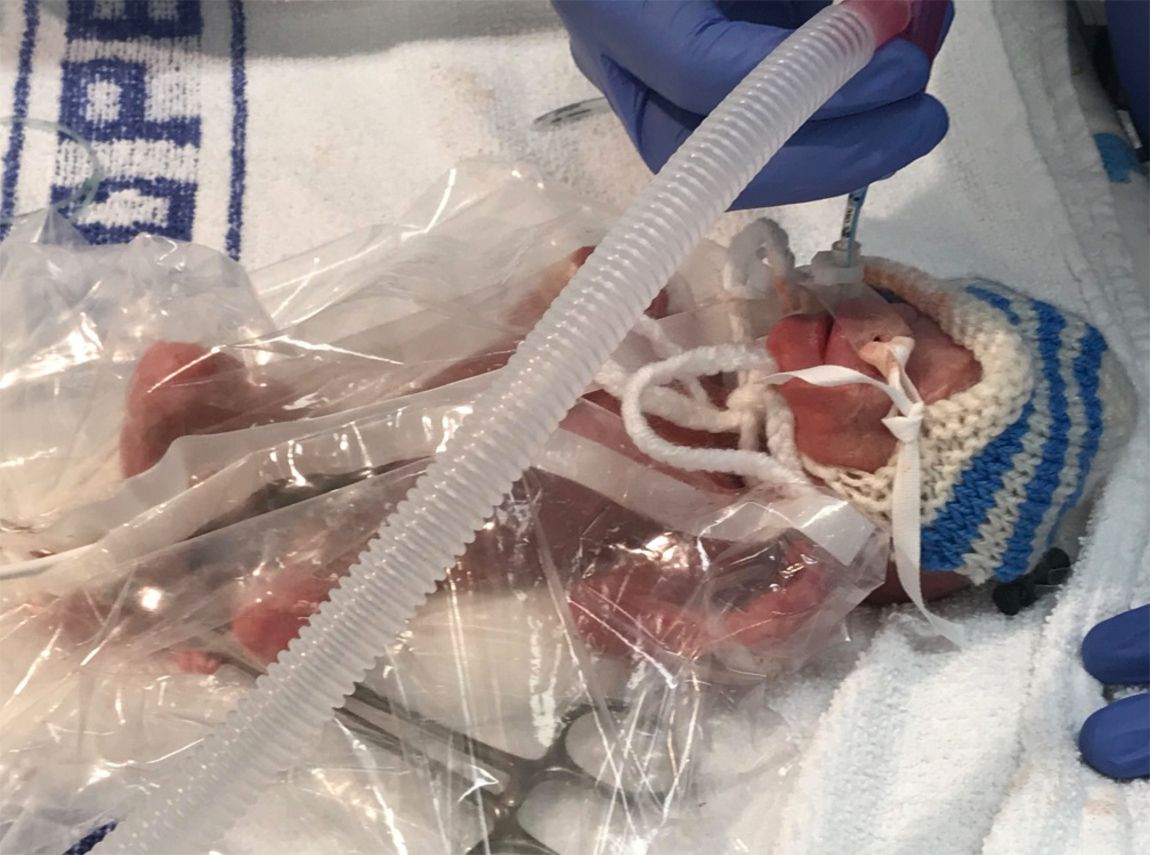 Rose just after she was born (PA Real Life/Collect)
"Because I was still recovering from the c-section I had to stay put and Alex went with Rose to Medway," said Becky.
"He didn't let on at the time, but they were telling him there was a strong chance she would not make it. They said it was hour-by-hour."
"I felt terrible, not being able to be with her, helping her."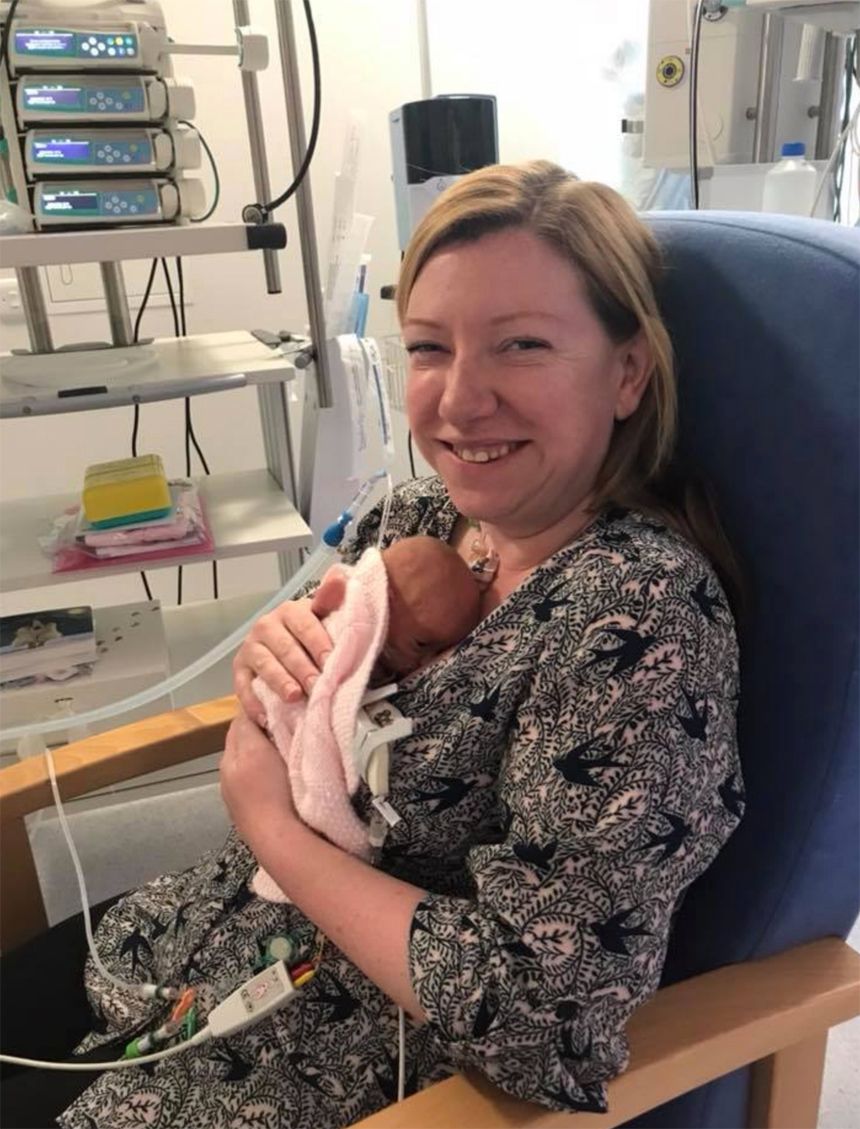 Rose and Becky (PA Real Life/Collect)
"She was on a ventilator for three days with Alex by her side and when I was discharged from Tunbridge Wells Hospital, I went straight to Medway to be with her. She was only four days old and it was horrible," Becky added.
"When I saw her, I just burst into tears, she was so small. I'd had pains in my c-section scar, but when I saw Rose they just went away."
"I can't really convey how tiny she was. She was not even the length of Alex's hand. His hand was twice the size of her head."
Taken off her ventilator after three days, Rose was still being given oxygen, food, and antibiotics through tubes.
"We could put our hand through the hole into the incubator to touch her, but we could not hold her for three weeks, which was hideous," Becky said.
"The first time we held her was really nerve-wracking, because we were so scared of pulling out one of her tubes. The nurses put her into my top, so we could have as much skin-to-skin contact as possible. It was like holding a little kitten. It was wonderful."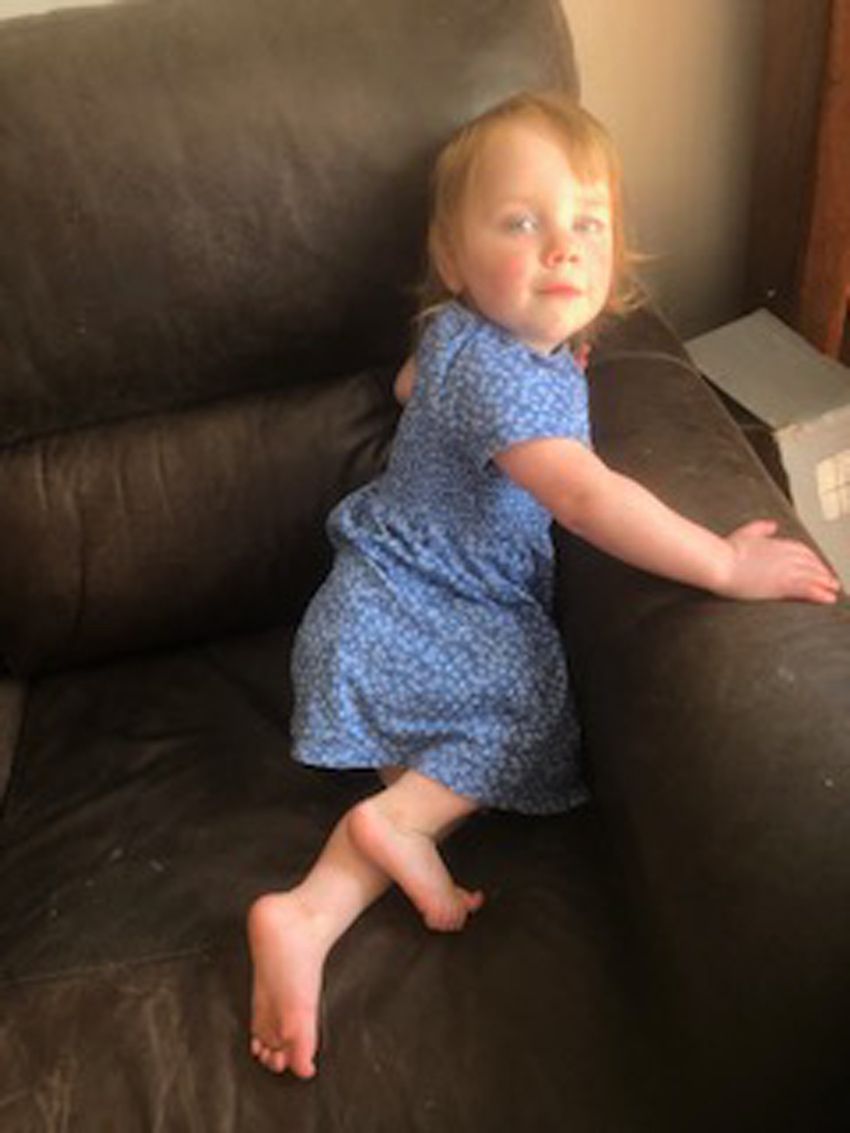 Rose in June this year (PA Real Life/Collect)
After four weeks in Medway, Rose was transferred back to Tunbridge Wells, which was closer to home – a cause for celebration as it indicated she was getting better.
But after a further three weeks, she was whisked to London's King's College Hospital, because of a problem with her bowels.
"That was one of the worst days of the whole journey," said Becky. "NEC, which she had, can be fatal and they feared she would need an operation."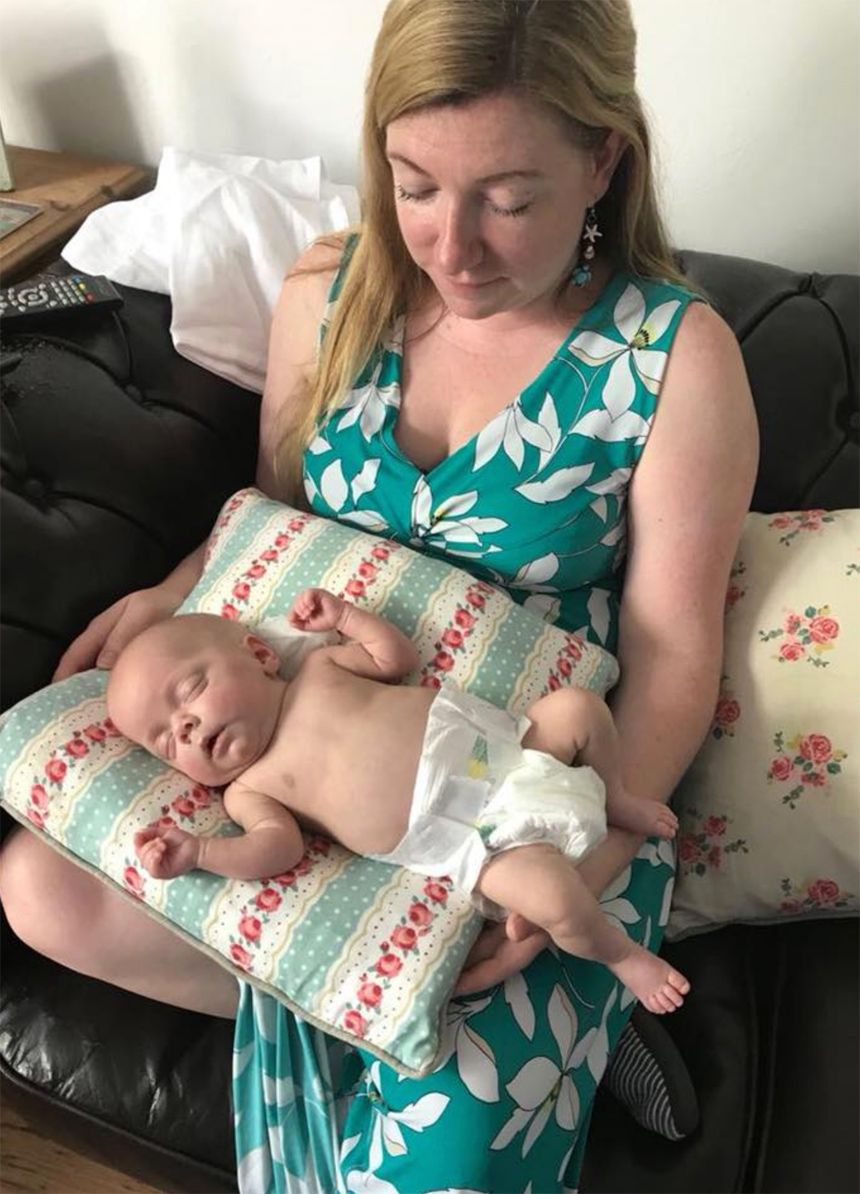 Rose at home with Becky (PA Real Life/Collect)
"She was in King's for around six to eight weeks. There were so many scans and blood tests. Thankfully we were given free accommodation by the charity Ronald McDonald House so we could be close to her," she added.
"Her bowel was so small it was having trouble developing, so she had to go onto a special neo-natal formula and was given antibiotics."
"Really, we were very lucky, because she was tiny, she fought this thing and in the end didn't need to have an operation."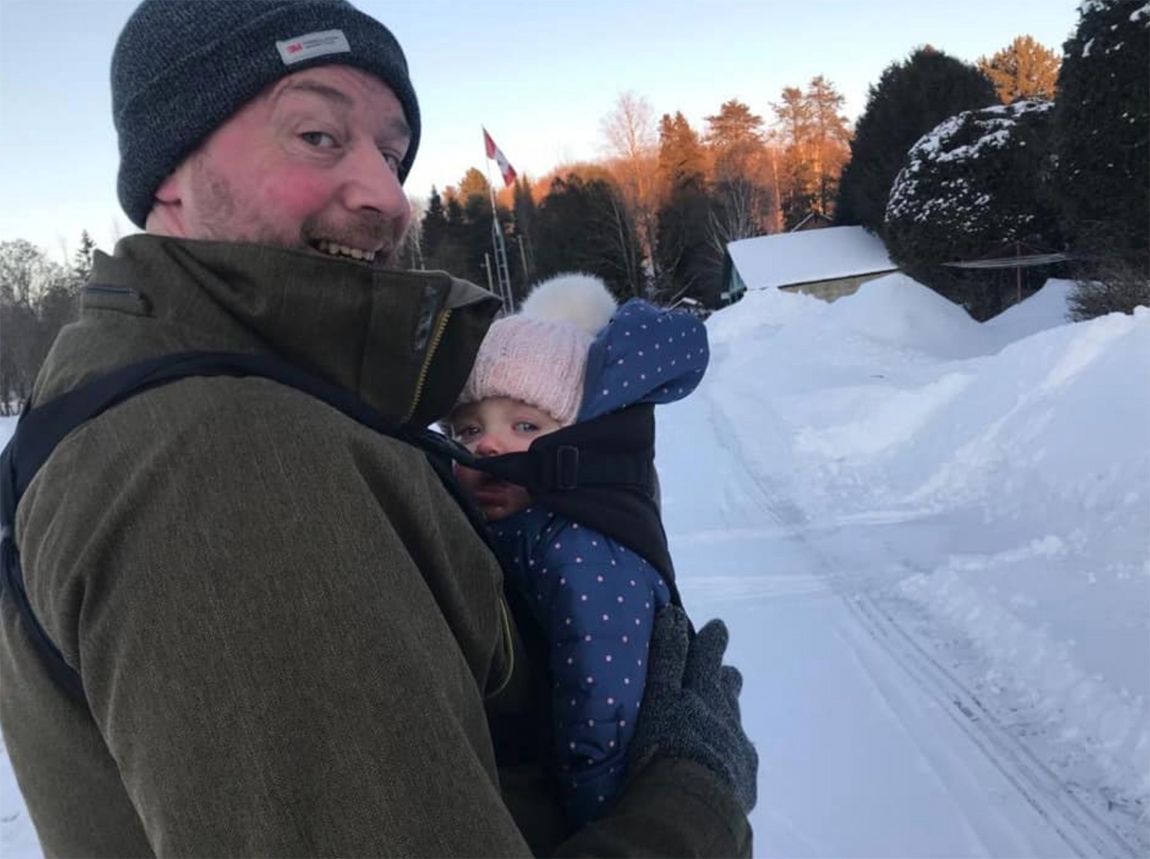 Rose with Alex (PA Real Life/Collect)
Returning to Tunbridge Wells Hospital, Rose had started to gain weight and her parents could finally pick her up, wash her and put diapers on her.
And the nurses were determined to make sure she would be ready to go home on August 3, after discovering it was Becky's birthday.
Becky said:
"After four months in hospital, she weighed 5lb 9oz."
"It was such an amazing day and also terrifying," Becky recalled.
"Like any parents, we were in the car taking her home praying that everyone around us would be careful."
"The first night I kept waking up to go and check on her, but she was fine."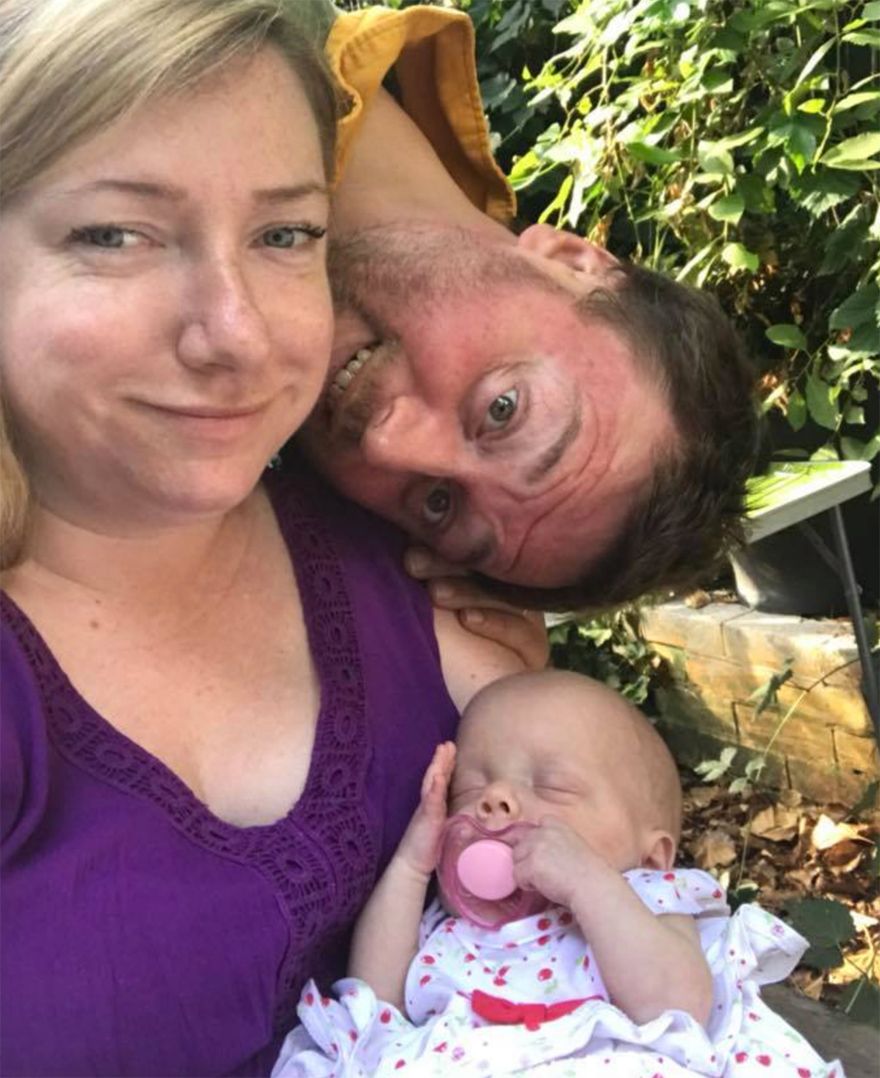 The family at home (PA Real Life/Collect)
She continued:
"She did not have to come home with an oxygen tube, which is unusual, but she had different medications to help her grow."
Rose, who no longer needs medication, has continued to thrive, meeting all her milestones and even going to nursery.
"She's cheeky and full of fun. It's been a long road, but now, she even goes to nursery and loves it," said Becky.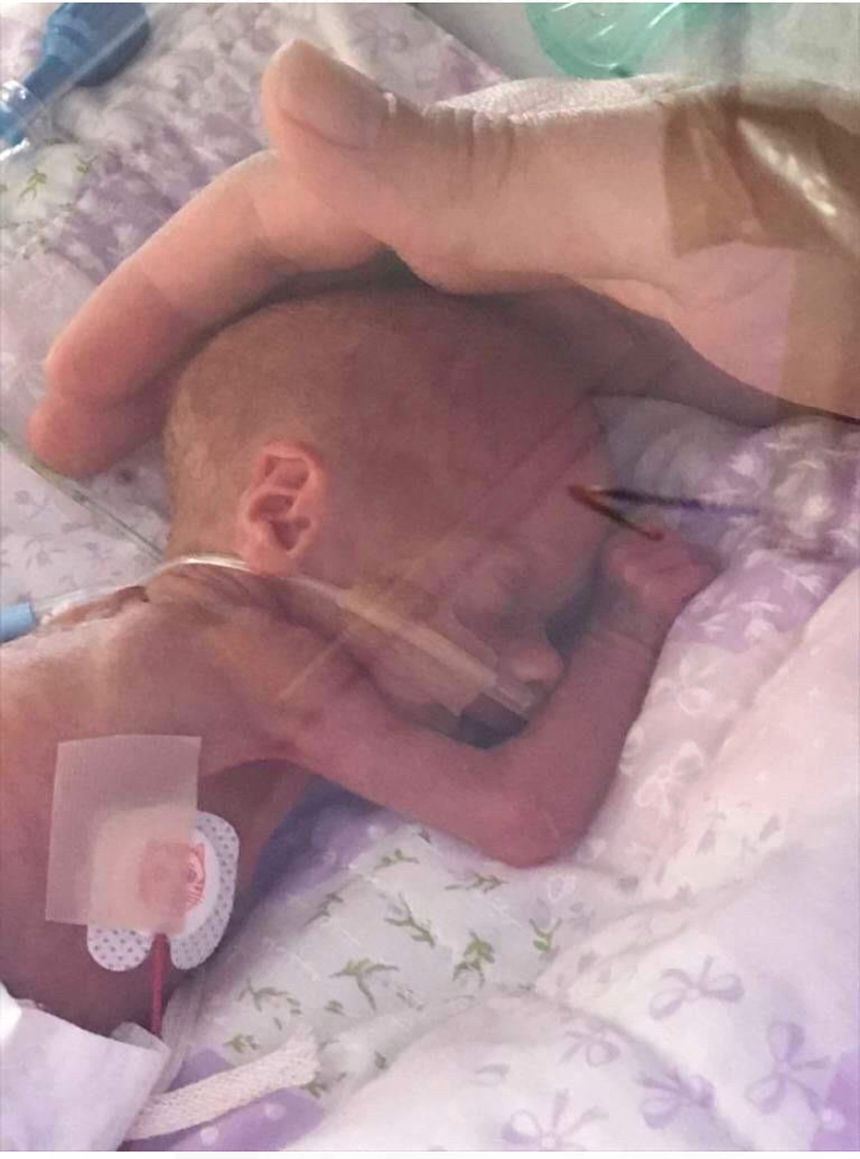 Rose shortly after she was born (PA Real Life/Collect)
Becky said:
"You would never know how touch and go it was for her at the start by the way she is now."
In lockdown, for Rose's birthday on April 17, the couple had a Zoom party with friends and family.
And they are hoping to have a proper celebration for mom and daughter on Becky's birthday in August, if restrictions are further relaxed.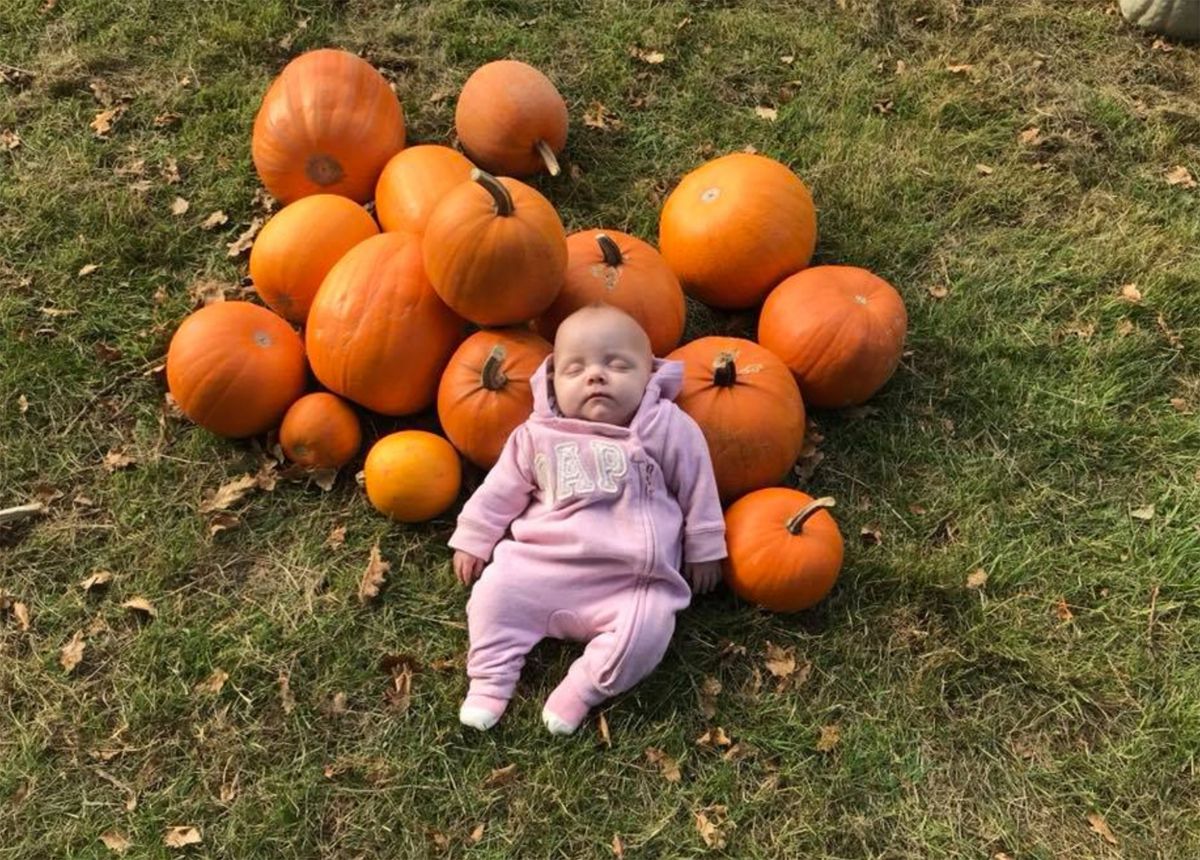 Rose on some pumpkins (PA Real Life/Collect)
Now Becky hopes Rose's story will bring hope to other families going through similar ordeals.
"It's not easy, it's a long road, but you have to keep up your spirits," she said.
"The children themselves are really strong – stronger than you know. You just have to look cautiously to the future and don't give up hope."