An internationally renowned artist whose paintings hang in the White House says a child's cruel comment in her teens made her a success.
With homes and studios in both Cheshire's millionaire enclave of Alderley Edge and on Barbados, Janice Sylvia Brock's talent has brought her a life beyond her wildest dreams, even though she needs two hands to hold a paintbrush.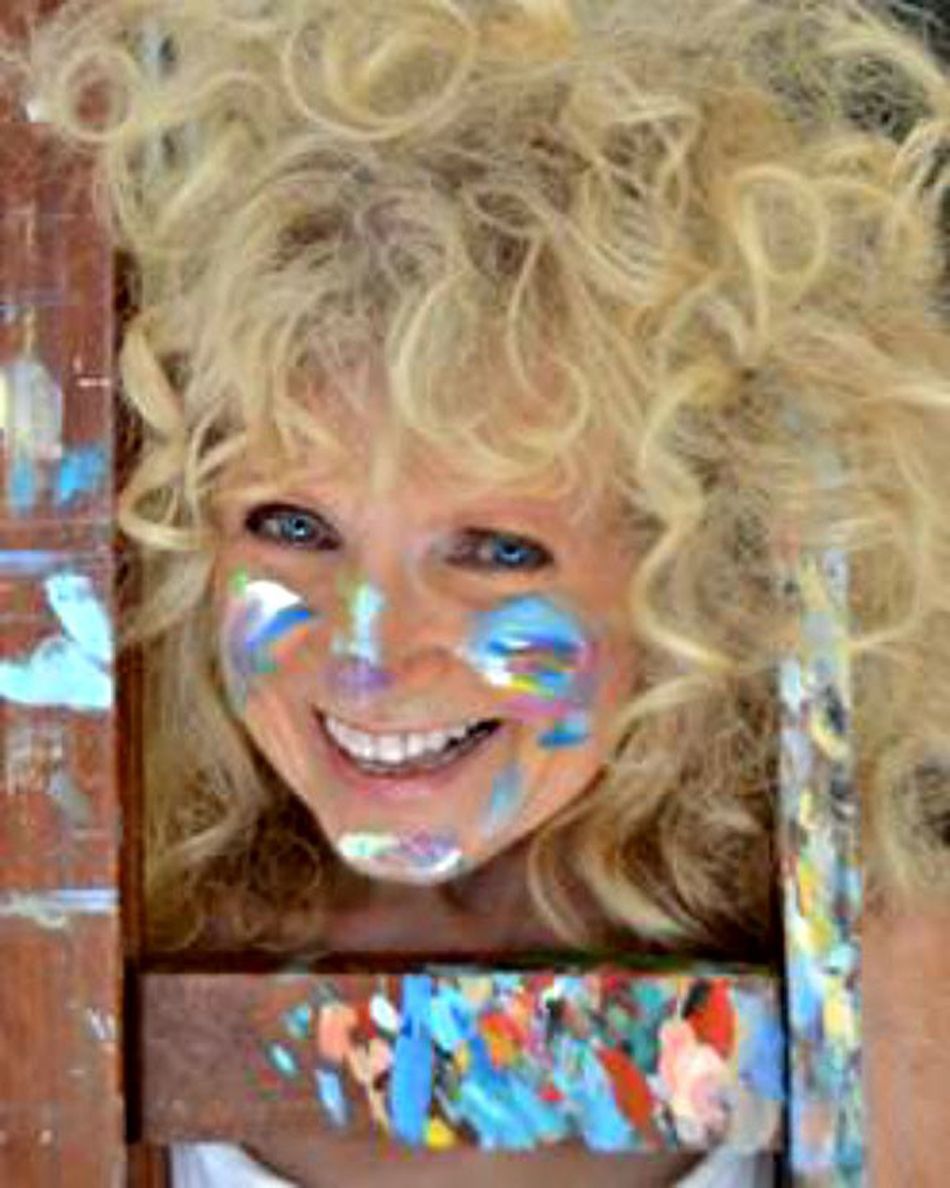 Janice Sylvia Brock (Collect / PA Real Life)
Brockused a wheelchair from the age of 10 to 17, but she refuses to stop walking altogether, despite constant pain she stands for the entire working day to paint.
"A White House staff member bought two of my paintings in a London auction, just before Bill Clinton was in office," she said.
"I didn't know anything about it until someone in the art world told me, as they had been bought and sold by a third party and I don't know how much they paid."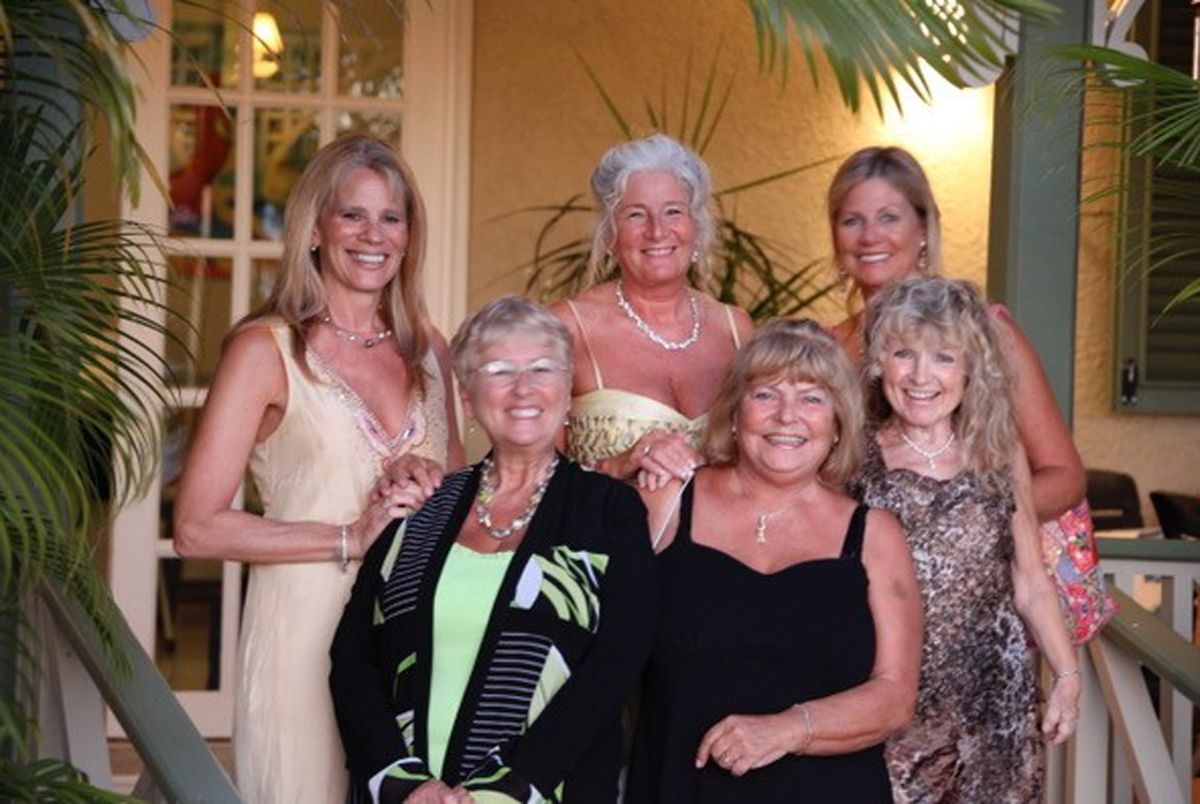 Janice Sylvia Brock (right) with a group of friends (Collect / PA Real Life)
"I do know they were two English landscape paintings in oil– small canvases of about 8ins by 10ins. One was of an autumn scene and the other was a spring scene," Brock continued.
"Then, when George Bush was in office, I was invited to the White House for lunch, but it was really short notice and I had clients visiting me in Barbados, so I had to turn them down. I did write asking to be invited again, but they never replied to me."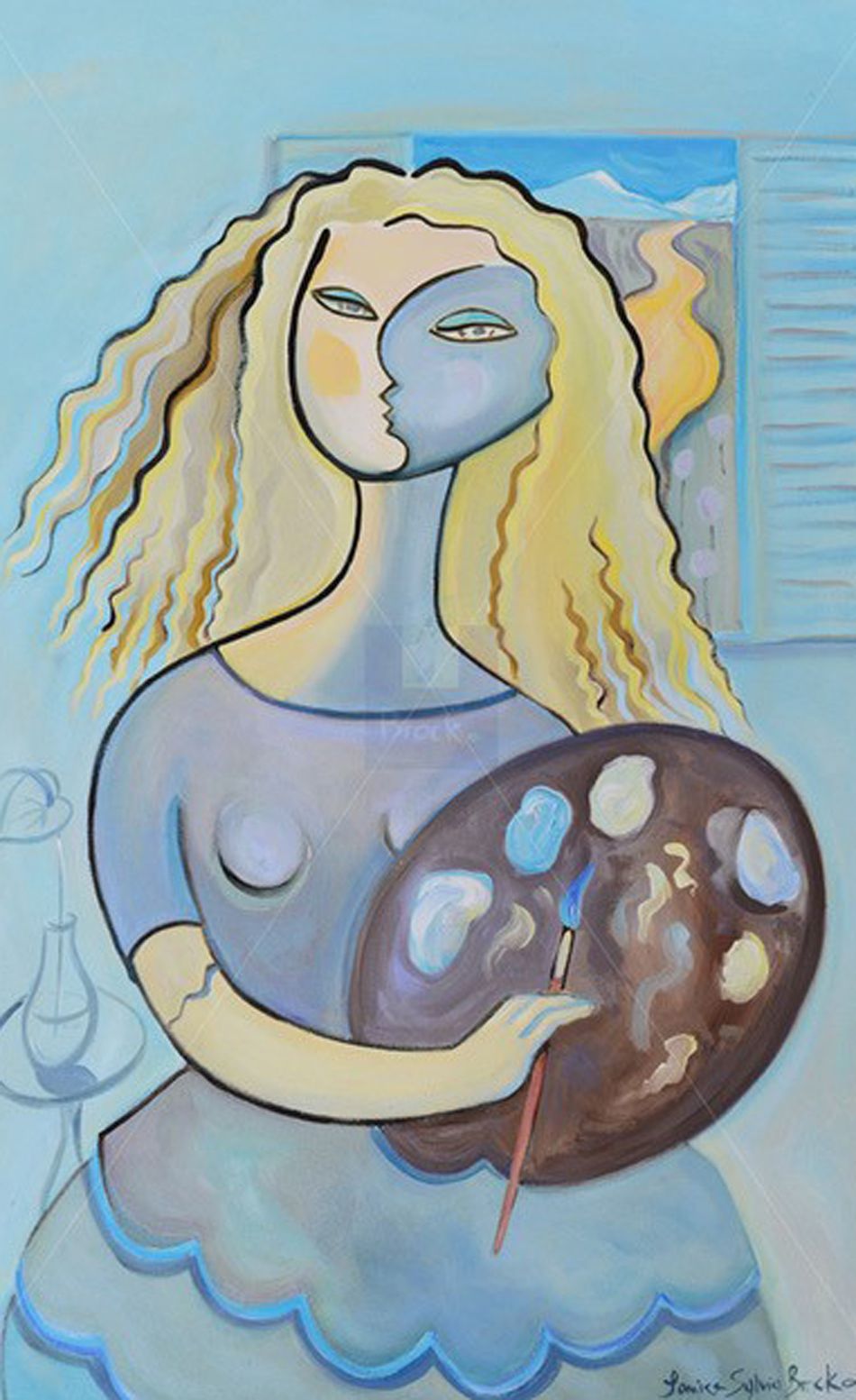 Janice Sylvia Brock painting called 'The Challenge' (Collect / PA Real Life)
"I would like to visit my paintings, which are still on display. It makes me so proud to think that my artwork is being showcased in the most important building in the world," she said.
"In 2011, I also went to Buckingham Palace where I got to meet the Queen. I was invited as a guest of Lord Allan Willett who I'd known for many years, after meeting at charity events and functions."
"Along with Lord and Lady Willett, Roy and I went to the palace for a short visit. We saw the Queen who waved at all the guests and took the time to say hello to everyone. It was a brief but wonderful experience – she's an amazing lady."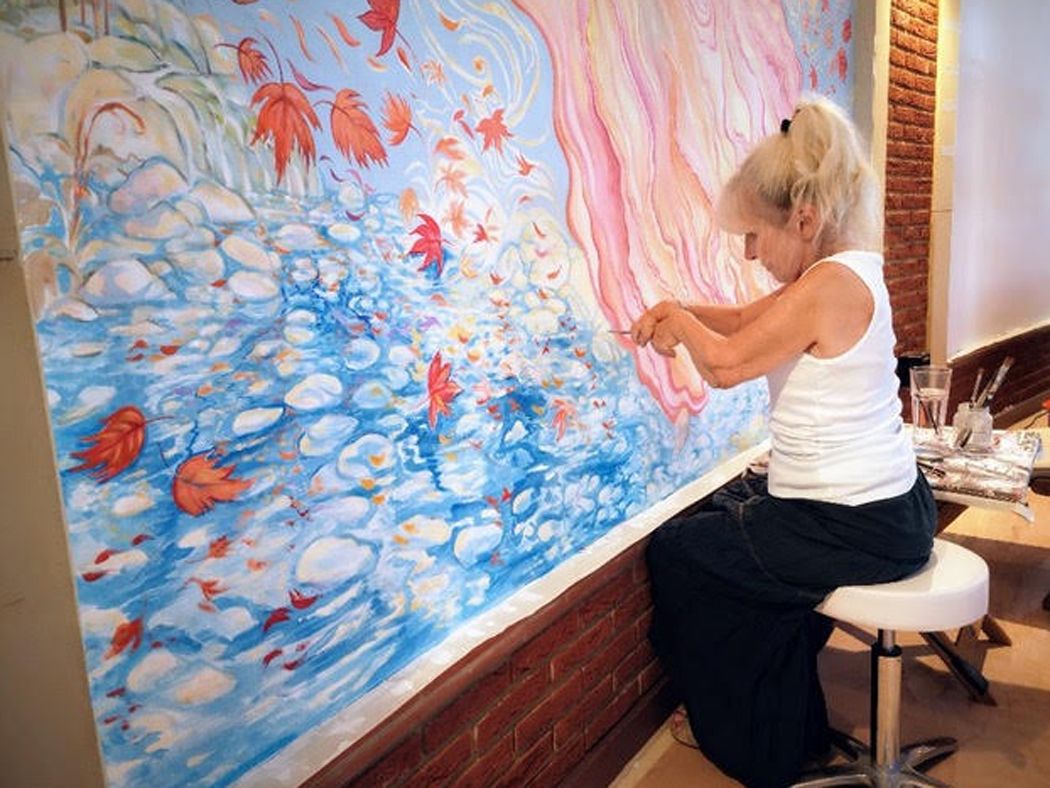 Janice Sylvia Brock painting the 'Goddess of Autumn' (Collect / PA Real Life)
But Brock remembers a childhood fraught with pain and grueling treatment.
"For the first 10 years, I enjoyed an idyllic upbringing in the Cheshire countryside. I was sporty and loved playing rugby with the other local children," she said.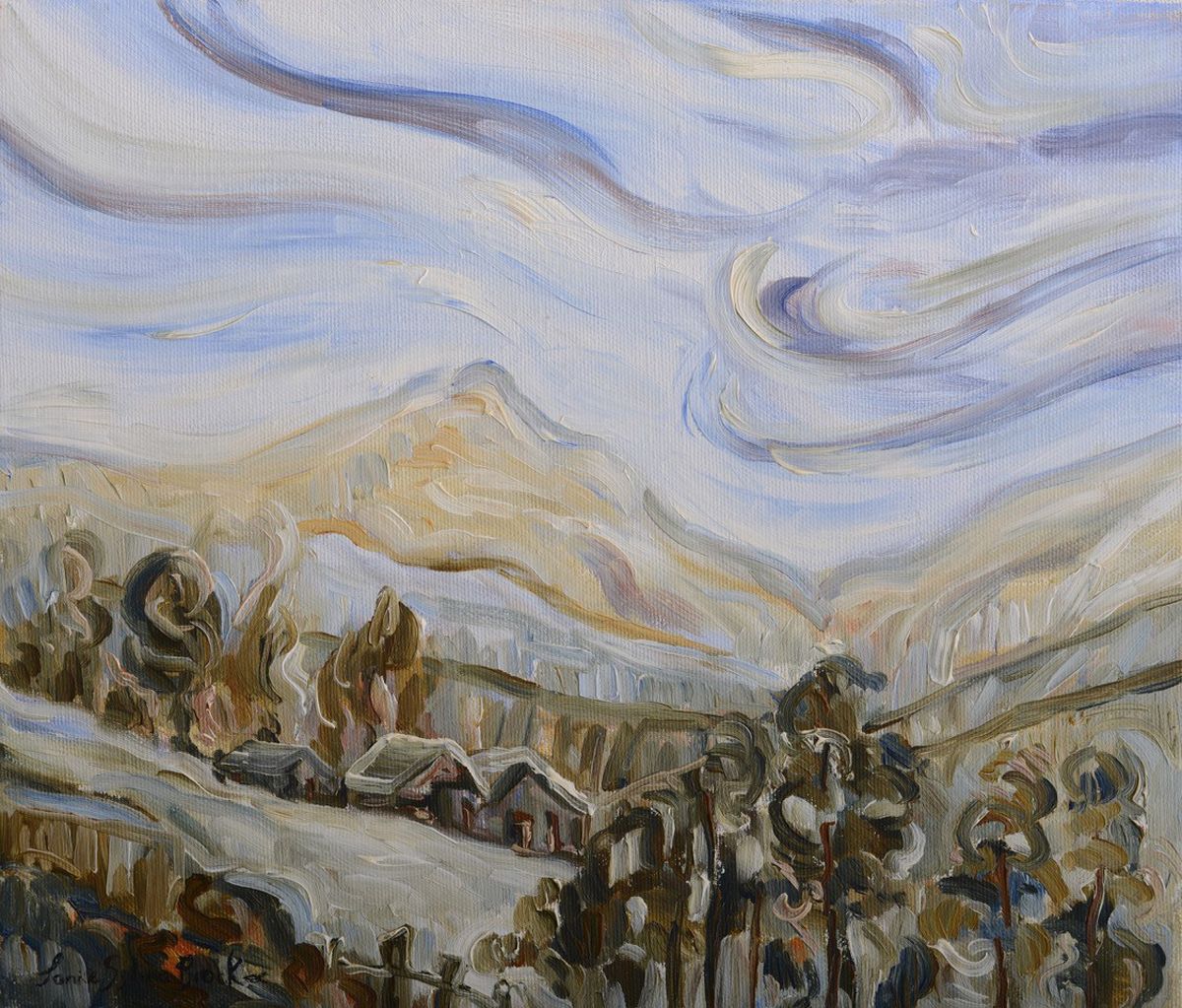 Janice Sylvia Brock's painting of 'Storm' (Collect / PA Real Life)
Everything changed in 1960, when she woke up one morning in agonizing pain.
"My body was on fire," she said. "It felt like you could fry an egg on it."
"I could barely walk or use my hands because I was in so much pain."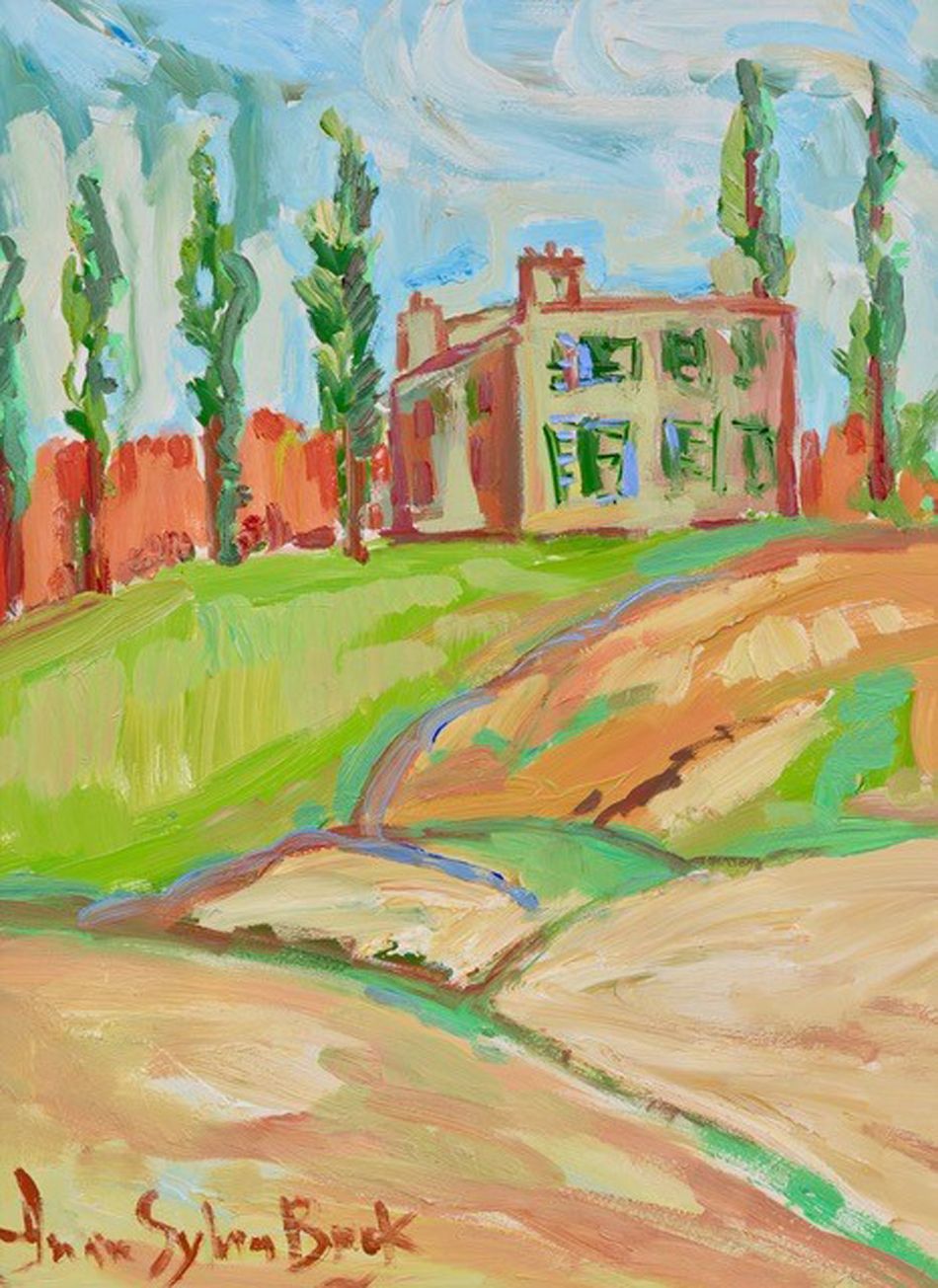 Janice Sylvia Brock painting inspired by a trip to Sienna (Collect / PA Real Life)
Brock was admitted to Pendlebury Children's Hospital in Salford, Greater Manchester, where she remained for 18 months and was diagnosed with Still's disease also known as systemic juvenile idiopathic arthritis.
The cause is unknown, according to the Arthritis Foundation. But the condition can cause joint pain, fatigue, fever and rashes and some researchers believe the genes causing it can be activated by a virus or bacteria.
"I was in pain constantly," she said.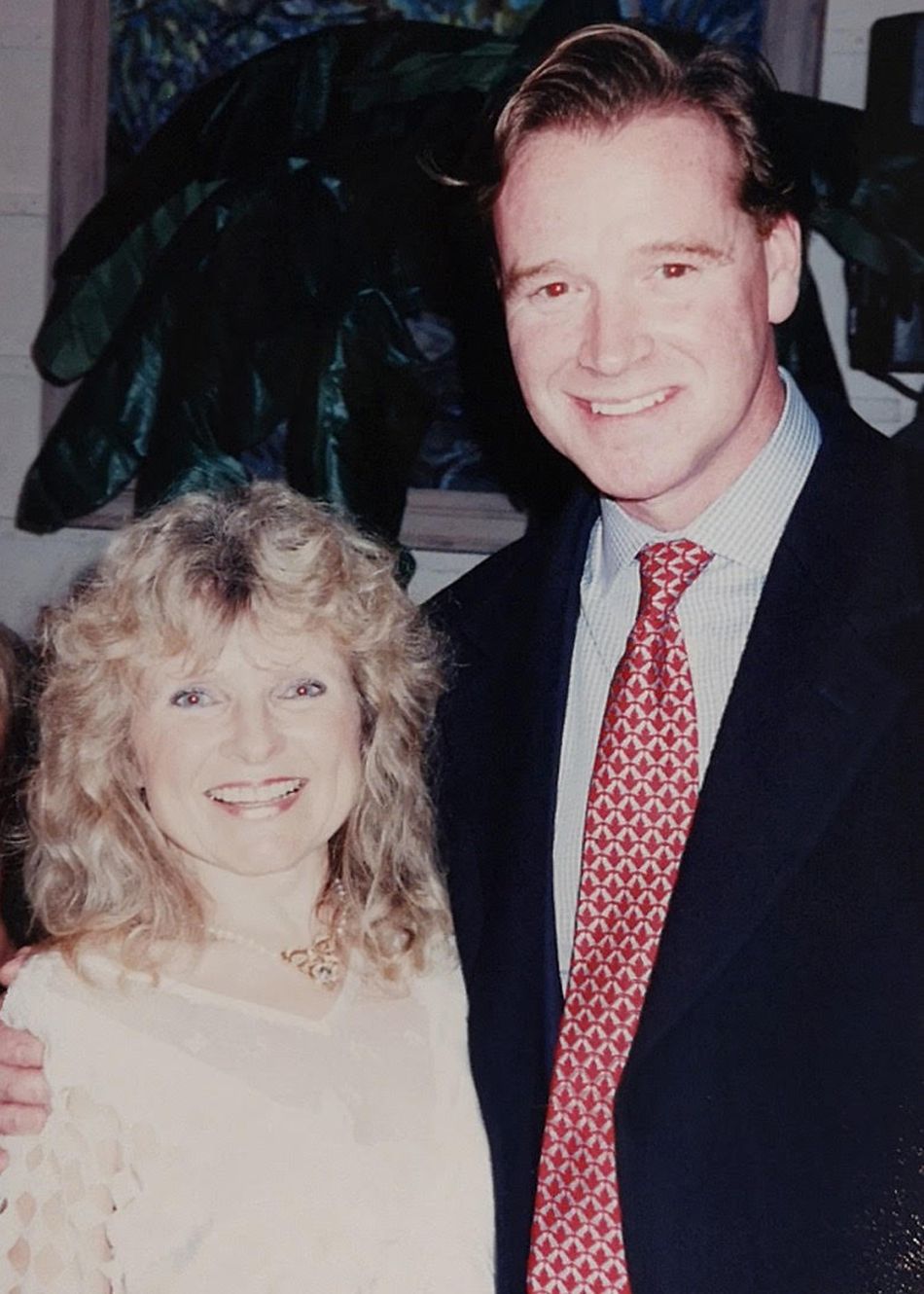 Janice Sylvia Brock with James Hewitt at a charity event (Collect / PA Real Life)
"It got to the point where I wasn't able to walk or sit up and spent a lot of the time crying and wishing I could just go back home," she continued.
"Six months before I got ill an incident happened that I believe caused it. We had a swing in our garden, and I swung up really high and fell off. At first, I thought I'd broken my back, but I'd just winded myself and my body was in shock. I do believe that might've been the trigger."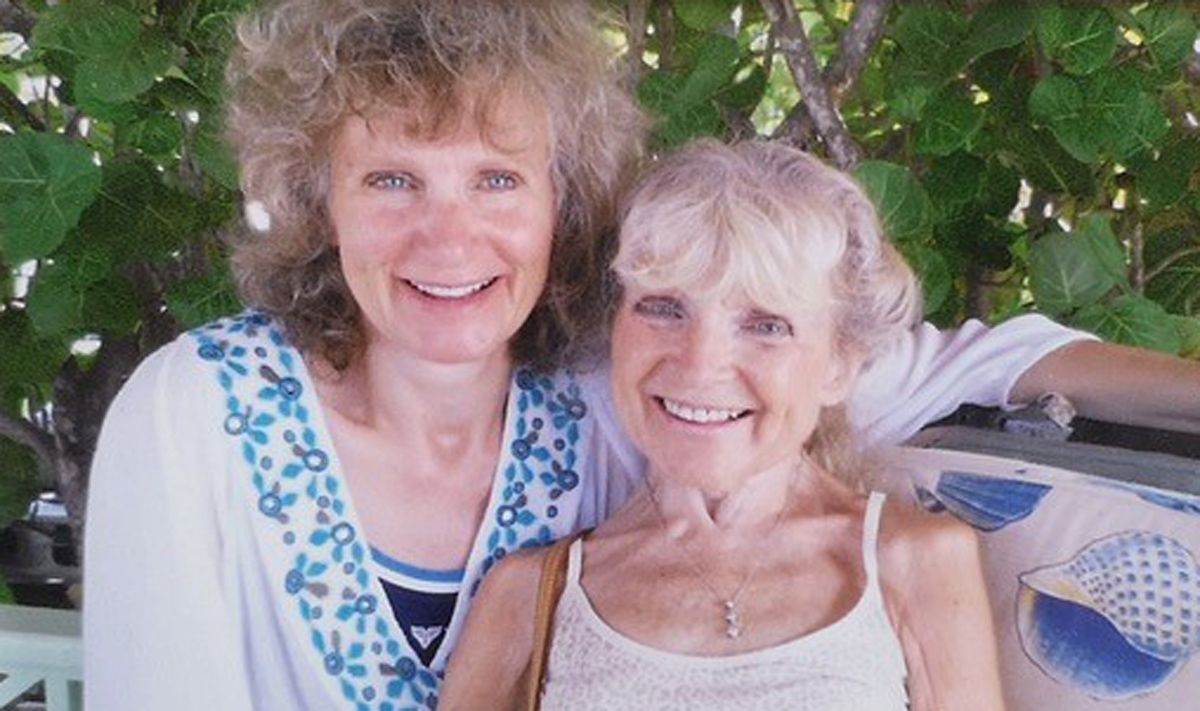 Janice Sylvia Brock with her sister Julie (Collect / PA Real Life)
Six months into her hospital stay, doctors placed Brock on a course of steroids, which provided some relief.
"They made me very chubby," she recalled. "There was another boy on the ward who was overweight too, and the other kids called us Tweedledum and Tweedledee."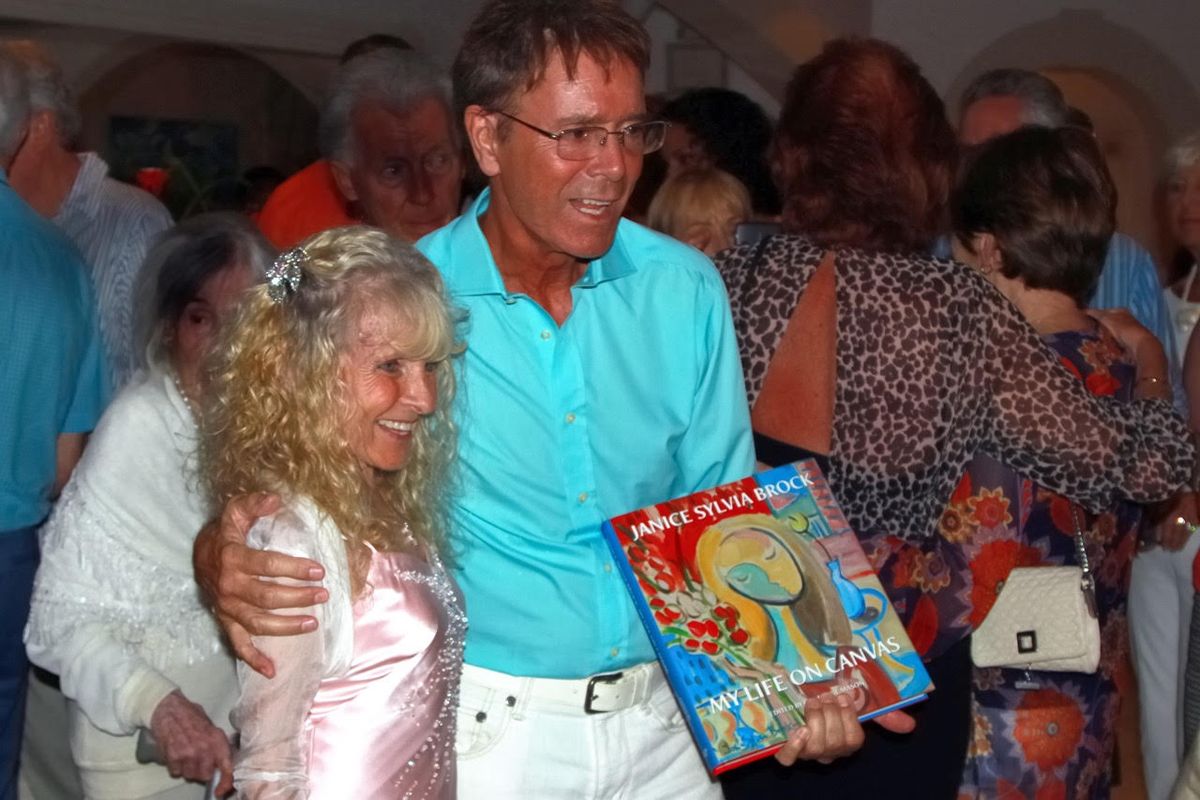 Janice Sylvia Brock and Sir Cliff Richard (Collect / PA Real Life)
"I was despairing, so I prayed to God, saying, 'Please give me a gift'," she said.
Shortly afterwards, she asked a nurse for a brush and some paint and instantly a whole new world opened up for her.
"I took to it immediately. I painted a Hawaiian girl who was very beautiful. A few days later my dad visited, and I told him, 'Don't worry about me, I'm going to become an international artist,'" she continued.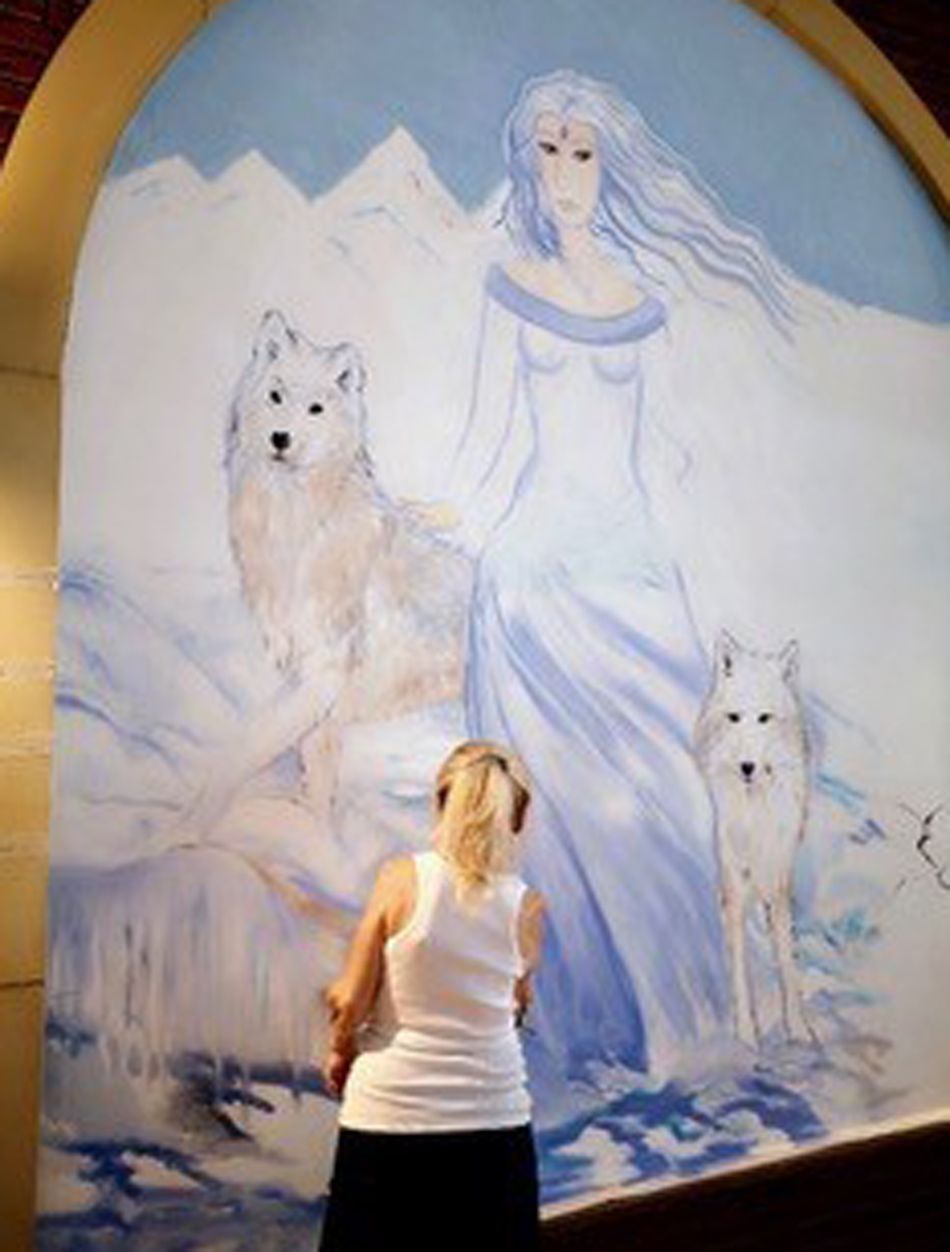 Janice Sylvia Brock painting a mural at the Nirvana Spa (Collect / PA Real Life)
"He smiled and replied, 'Good on you, Brocky,' which was his nickname for me," Brock said.
Leaving the hospital in a wheelchair and still taking steroids she returned to school but felt like an outsider after missing so much and was no longer able to enjoy the sport she loved.
Over the next five years, her joints began to deteriorate leading to frequent hospital stays. But her determination not to be shackled by Still's came when a boy made a cutting comment.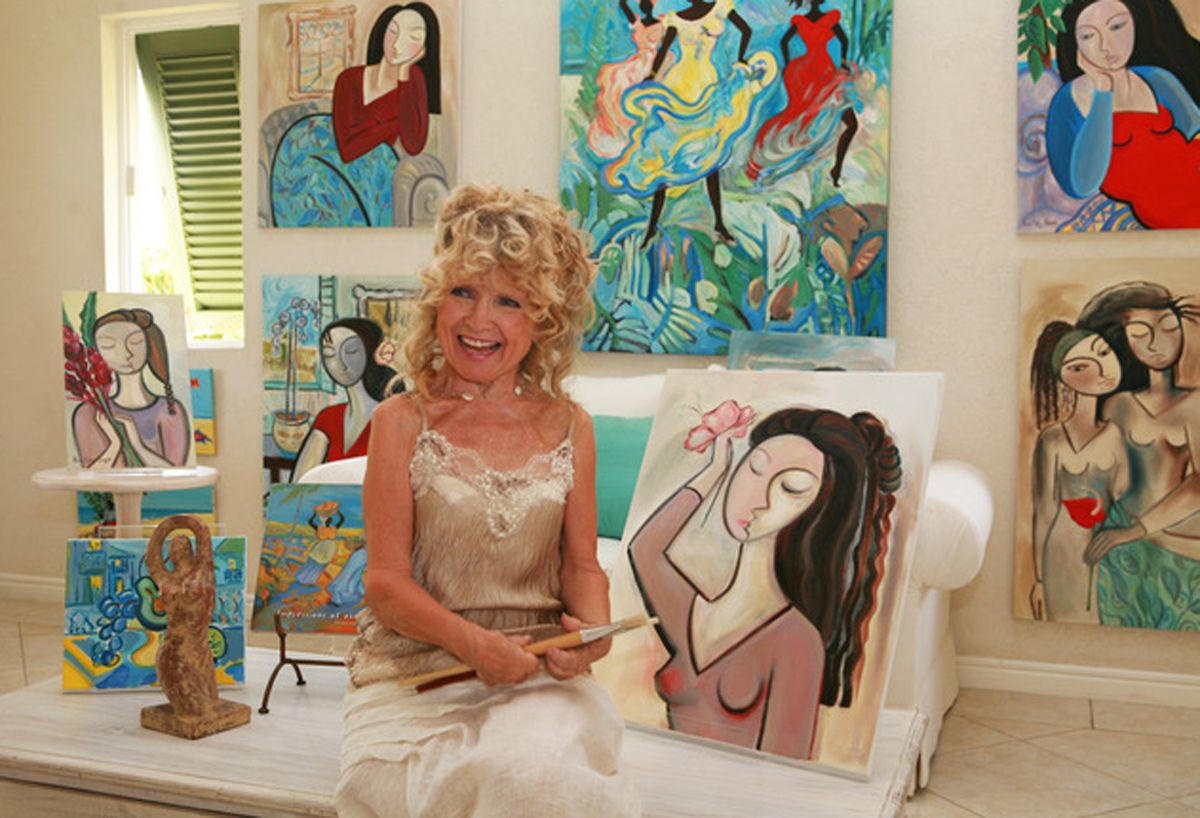 Janice Sylvia Brock (Julie Chalbaud / PA Real Life)
"I've known a lot of people with Still's disease who've died in their 30s because of complications, but I'm now 70!" she said.
"I'm still alive because I took my life into my own hands and refused the steroids. This is because, just before I was 16. I was sitting on my parents' porch and this little lad said to me, 'Are you Janice Brock?' I told him yes, and he replied 'My, aren't you ugly!'"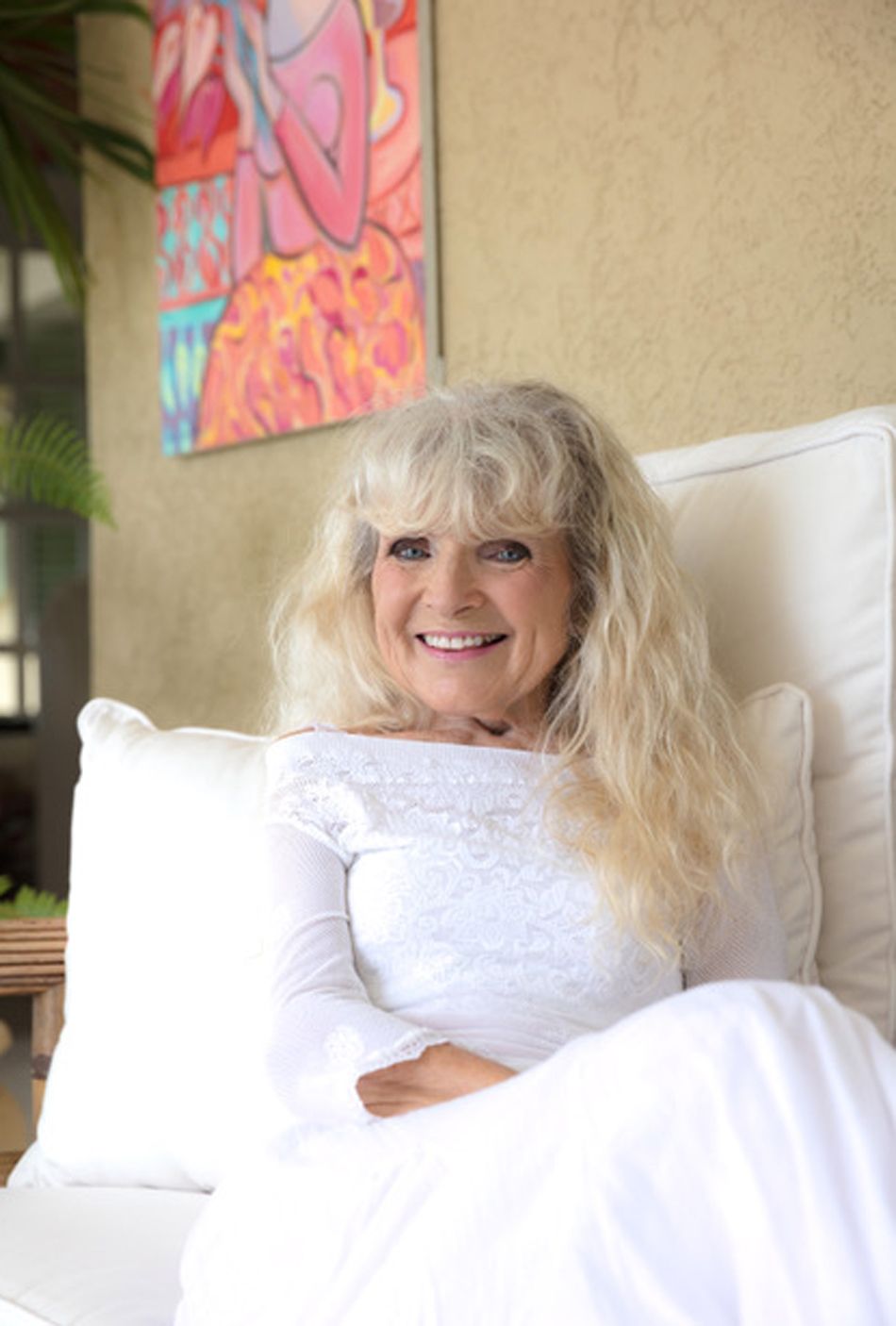 Janice Sylvia Brock (Julie Chalbaud / PA Real Life)
"I cried and cried, but I knew the steroids were making me bloated. So, right there and then, I decided to wean myself off them," she said.
"It took eight months, but I believe if I hadn't had the intelligence to take my life into my own hands I would've died."
Brock insists her next breakthrough came when she turned 17 and was able to walk again, thanks to pioneering surgeon Geoffrey Newton, at Manchester Royal Infirmary, who gave her new knees.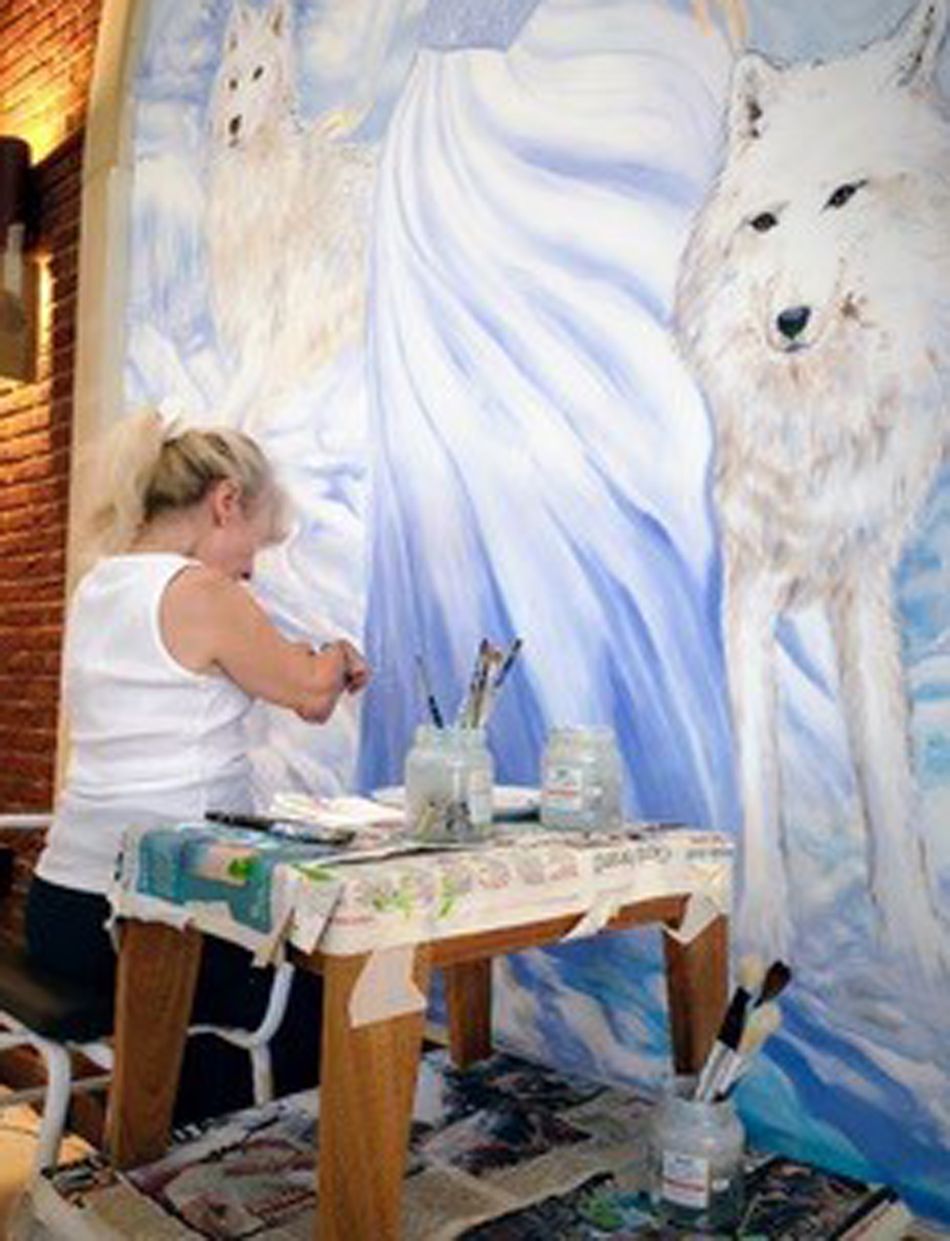 Janice Sylvia Brock painting a mural at the Nirvana Spa (Collect / PA Real Life)
"He corrected my knees and put steel rods in my legs so I could stand up," she said. "The surgery was quite radical, and he and I stayed very close to him over the years.
"Shortly before he died in 2017, I visited him when he was very unwell and held his hand. He was very touched that I came to say goodbye."
Thanks to her surgery, Brock was finally able to act like a young person.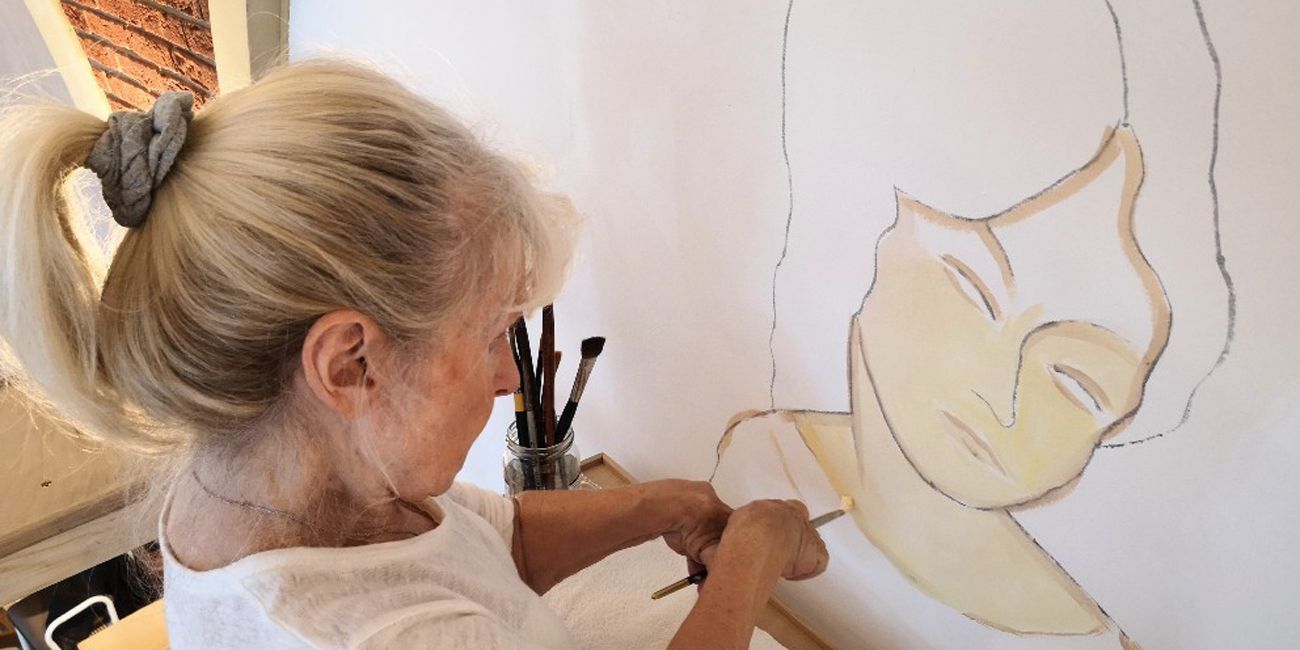 Janice Sylvia Brock painting with two hands (Collect / PA Real Life)
"Even though my limbs and digits have been shortened by my condition, with my new knees, I was able to join my pals on the dance floor after Mr Newton's operation," she said.
"After a few years, I needed to use my wheelchair more and more. But Mr. Newton had given me so much resolve that I was determined never to lose the ability to walk again."
Janice Sylvia Brock painting in her studio in Barbados (Collect / PA Real Life)
Despite all her health challenges, Brock has kept painting.
With no formal training, she sold her first painting at 22 to a little old lady for just $4 and had her first exhibition of everything from English landscapes to nudes at a local library when she was the same age.
Since then, she has exhibited all over the world, raised $660,000 for charities helping disabled children through sales of her work has acquired an impressive property portfolio and become part of the international jet set.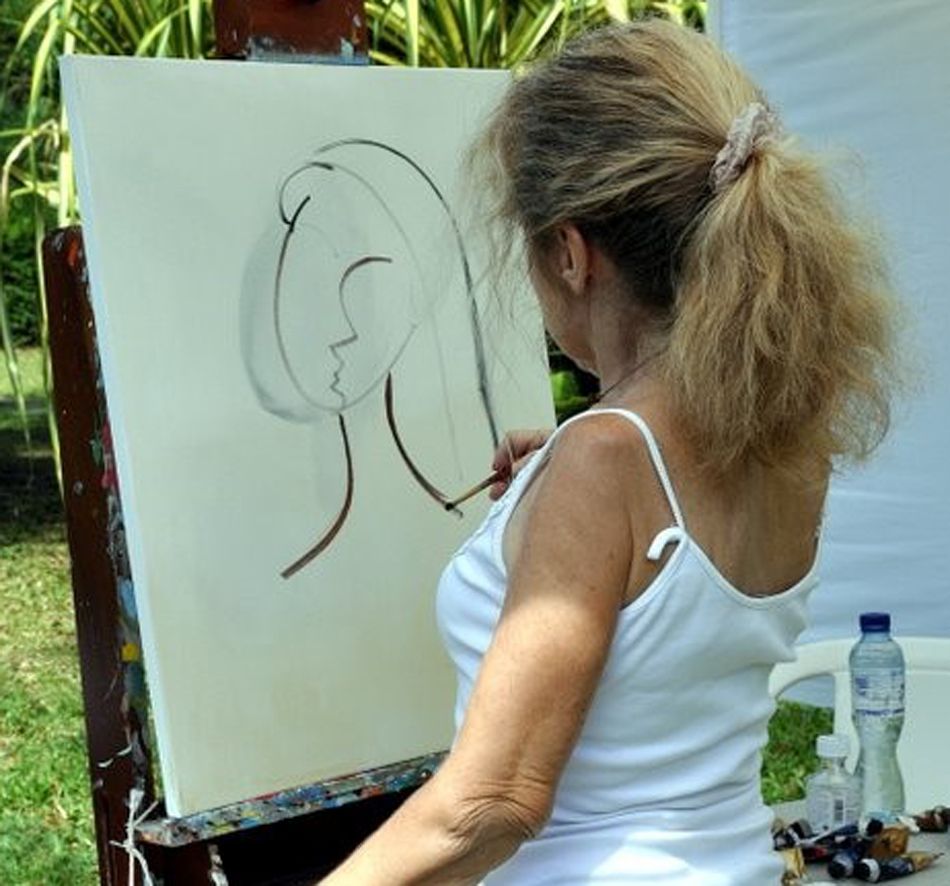 Janice Sylvia Brock painting (Collect / PA Real Life)
"My paintings start from three figure sums up to six figures – so my average sale is five figures," she said.
"John Lodge from The Moody Blues, a lovely man, has bought several pieces of mine and just loves my work. Simon Cowell also tells me he's going to come to my studio for a cup of tea when I see him at events in Barbados. He hasn't yet, so he owes me!"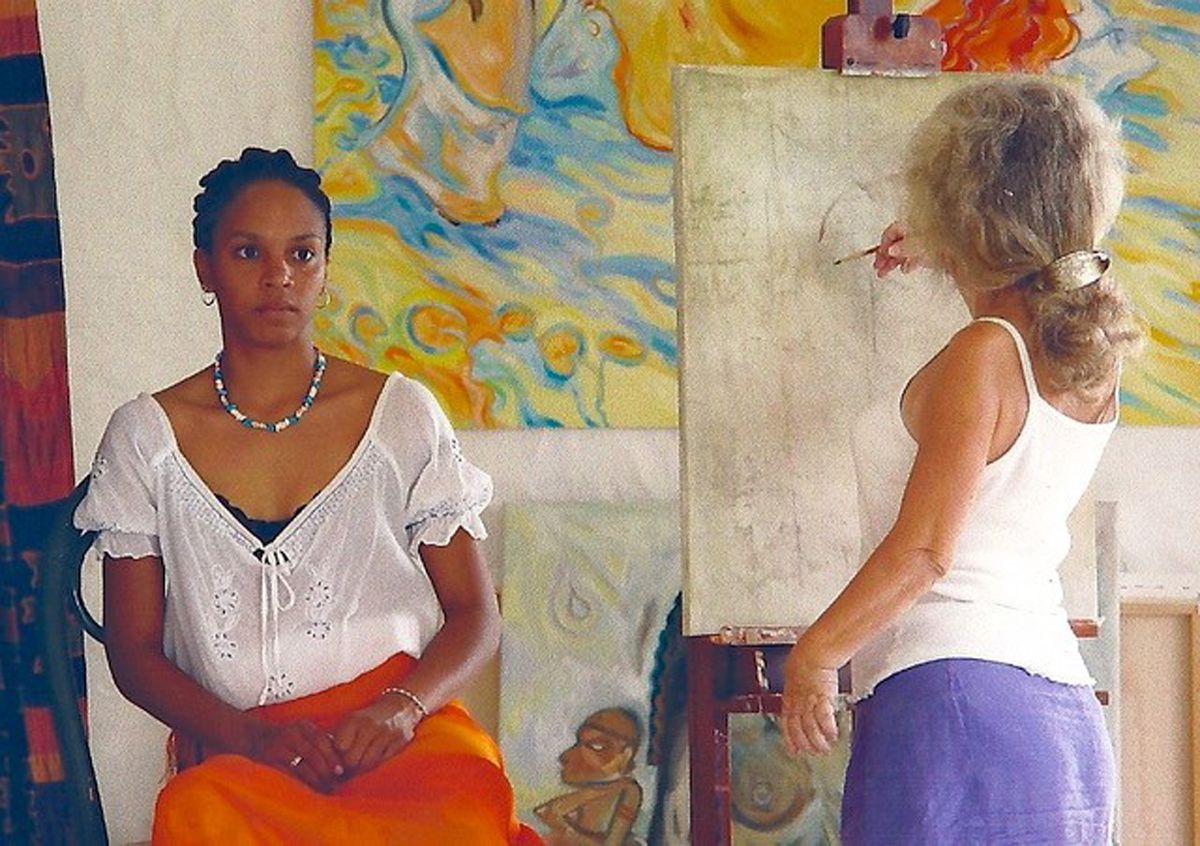 Janice Sylvia Brock painting in her studio in Barbados (Collect / PA Real Life)
"I've worked at charity events with Cliff Richard and I met Cilla Black in Barbados – I got to know her well," she said.
"I was also flown out on a private plane to meet with a music producer, who I won't name, on Mustique. He wanted me to look at some walls in his house to paint. "
One of the highest points of her rollercoaster life was meeting her partner Roy on an online dating site.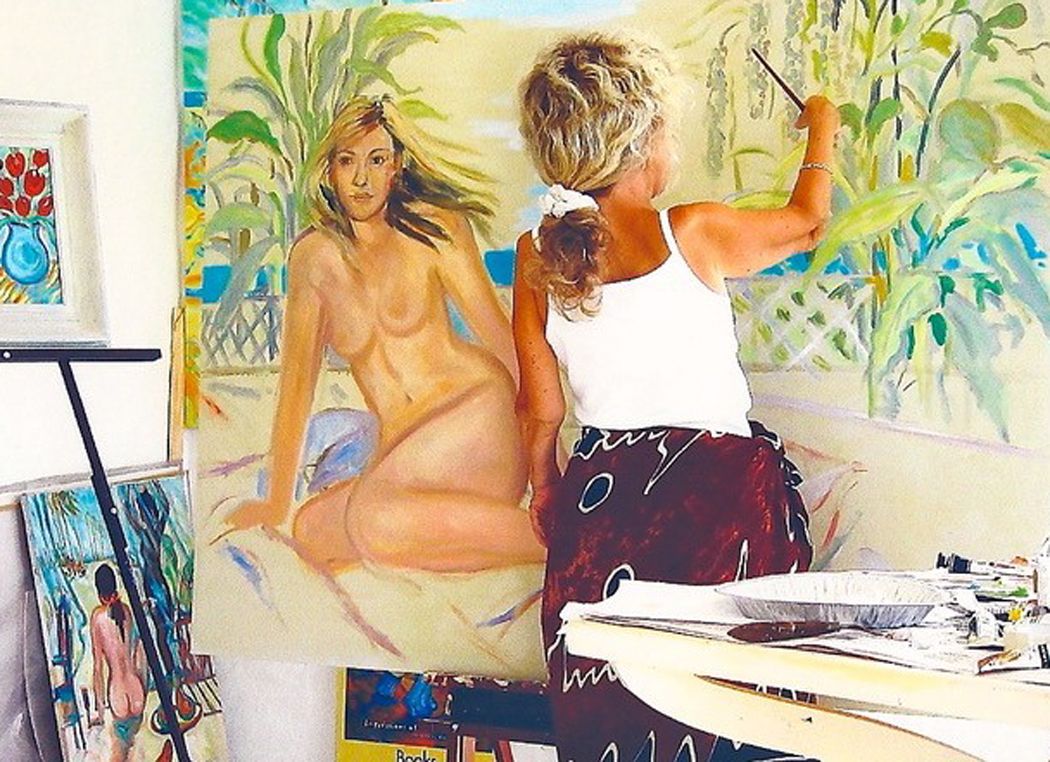 Janice Sylvia Brock painting in her studio in Barbados (Collect / PA Real Life)
"Roy and I met on a blind date in the late nineties , after we started speaking on a dating website," she said.
"We had 16 wonderful years together and when he died in 2011, I feared I might never find the strength to paint again."
"I felt dead inside. I'd lost my soul mate who did everything for me. He gave up his job so he could support me and to lose him felt like I'd lost everything."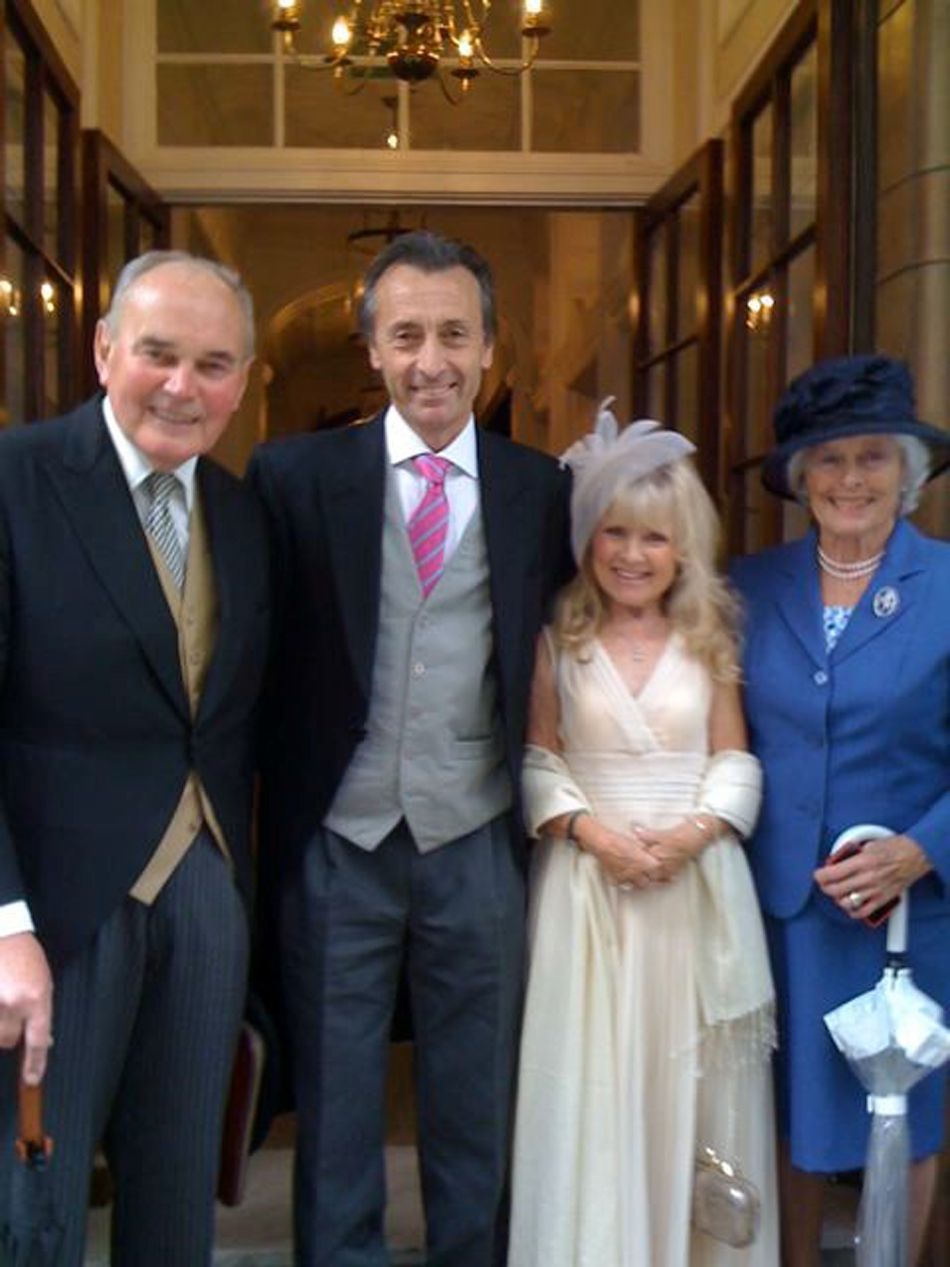 Janice Sylvia Brock (second right) with Sir Alan Willett, Roy and Lady Anne Willett at Buckingham Palace in 2011 (Collect / PA Real Life)
"But painting is my lifelong passion, I found my strength to carry on – determined my life wouldn't change too much – and I know Roy would've been proud of me," she said.
Since Roy's death, a friend of Brocks's, Russ Brockel, has helped her in the studio.
"He photographs my paintings, watermarks them, does the graphics. Any days I have a difficulty walking, he helps me to get from A to B," she said.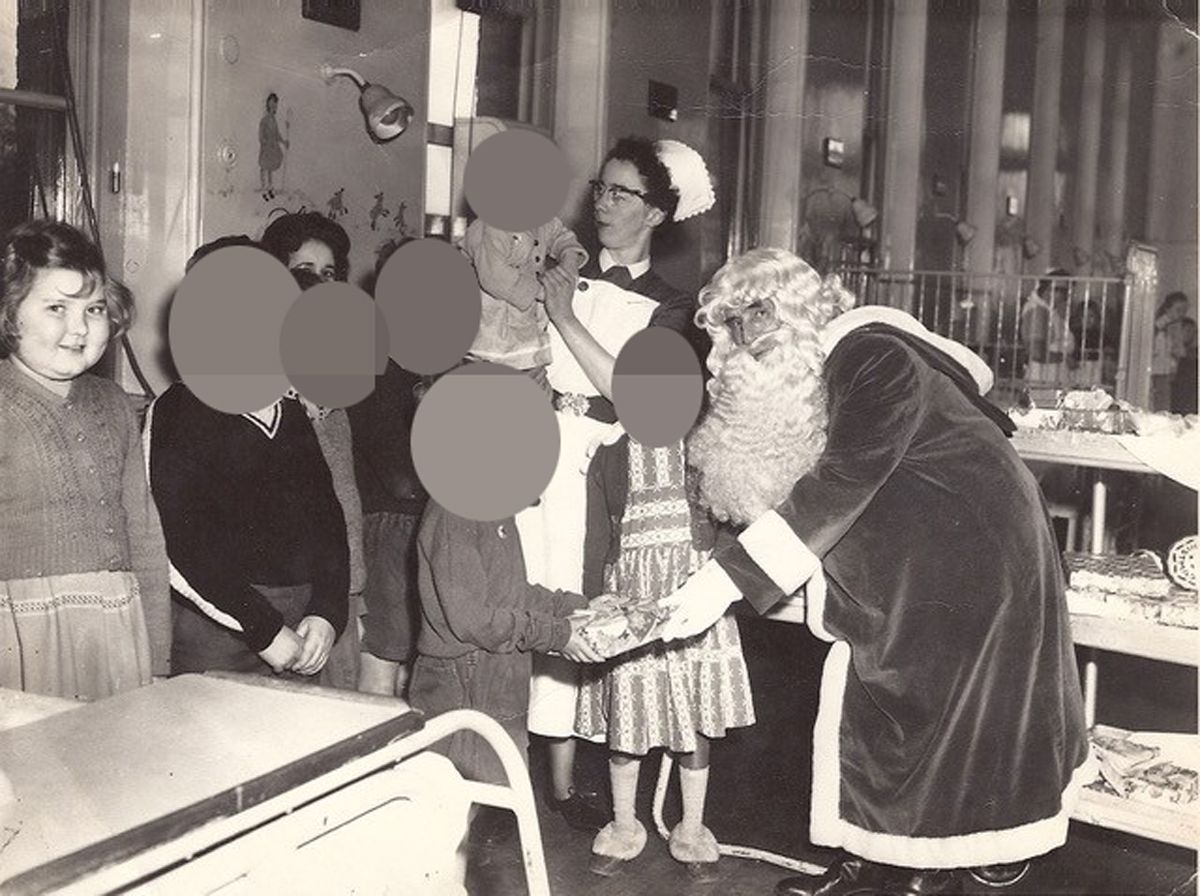 Janice Sylvia Brock (left) when she was at Pendlebury Children's Hospital (Collect / PA Real Life)
"Last year, I was working on a huge mural project for four and half months, at the Nirvana Spa in Wokingham, Berkshire, and he was there every day. We worked hand in hand – he was brilliant. I couldn't have done it without him," she continued.
One of Brock's career highlights came earlier this year, when she was made an ambassador for The Haven + London, a charity supporting creatives in the capital.
And, despite ongoing challenges with her health, she does not plan to put down her brushes any time soon.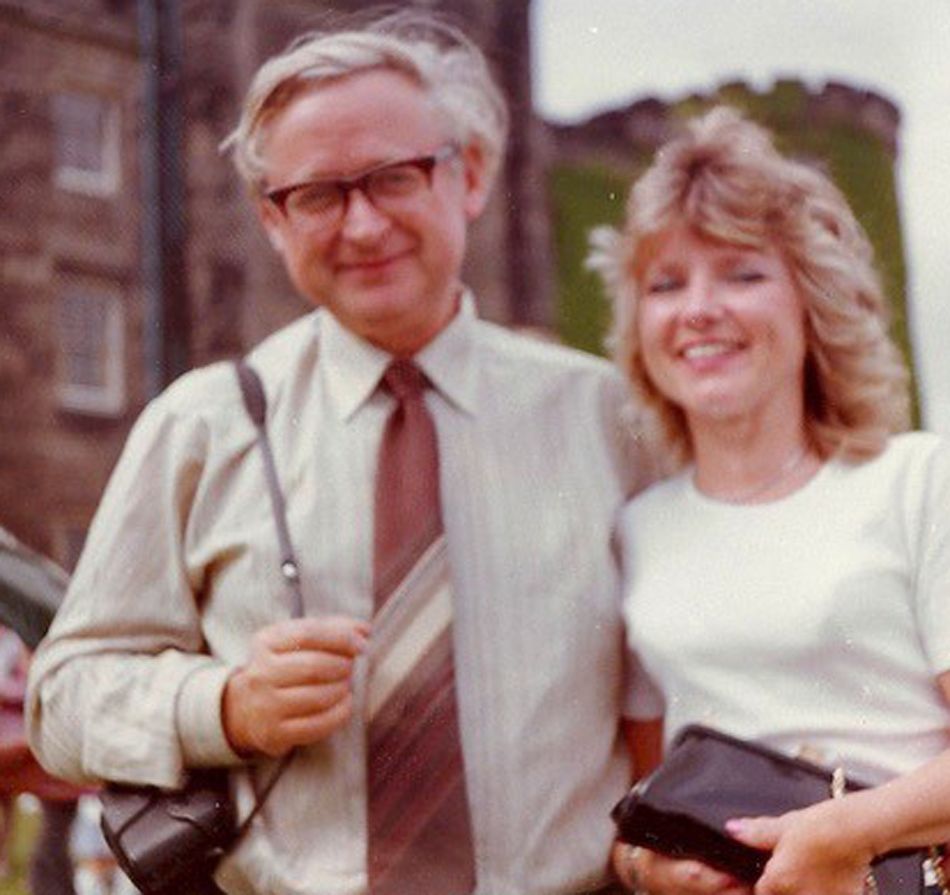 Janice Sylvia Brock and her previous surgeon Dr. Newton who helped her to walk again (Collect / PA Real Life)
"After my fall, I painted a self-portrait called 'The Challenge' with a tear in my eye, using both hands," she said.
"Soon after, I went to a fancy dinner at a private function at a beautiful house in Barbados and they had soup for starter. Because of my elbow, I couldn't lift it to my mouth, so I asked for a straw. The waiter came back with straws for everyone and they all had soup out of straws!"
She is now hoping to have radical stem cell treatment performed in the next few weeks by Harley Street surgeon Doctor Aamer Khan to relieve severe pain in her body.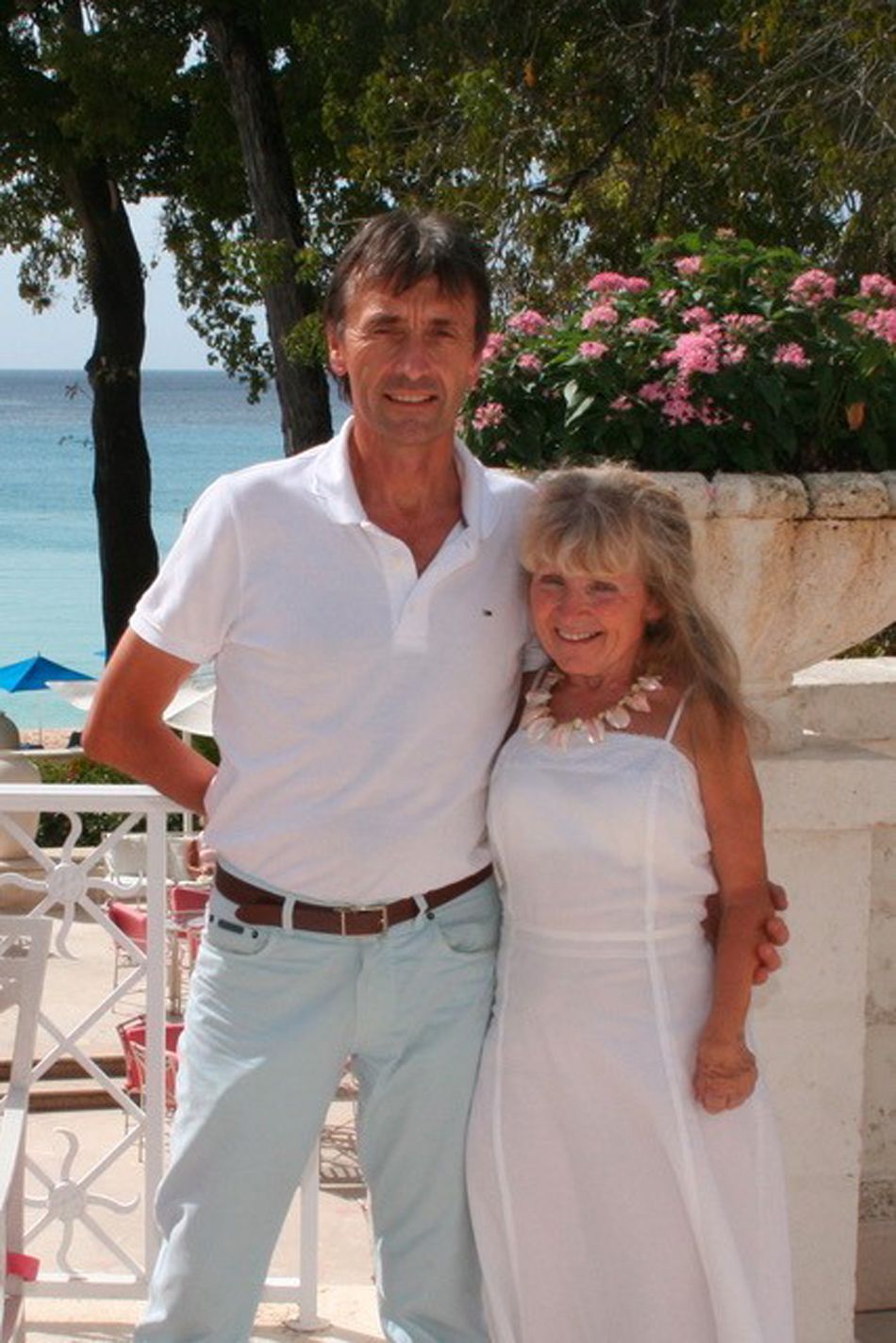 Janice Sylvia Brock and her late partner Roy (Collect / PA Real Life)
"I had a scan recently because my odontoid peg – a projection of the second vertebra – in my neck, has migrated and is pressing into my bone matter. I won't have it operated on, because it's too risky," she said.

"Despite being in constant pain, this gift I've been given has allowed me to live a brilliant life."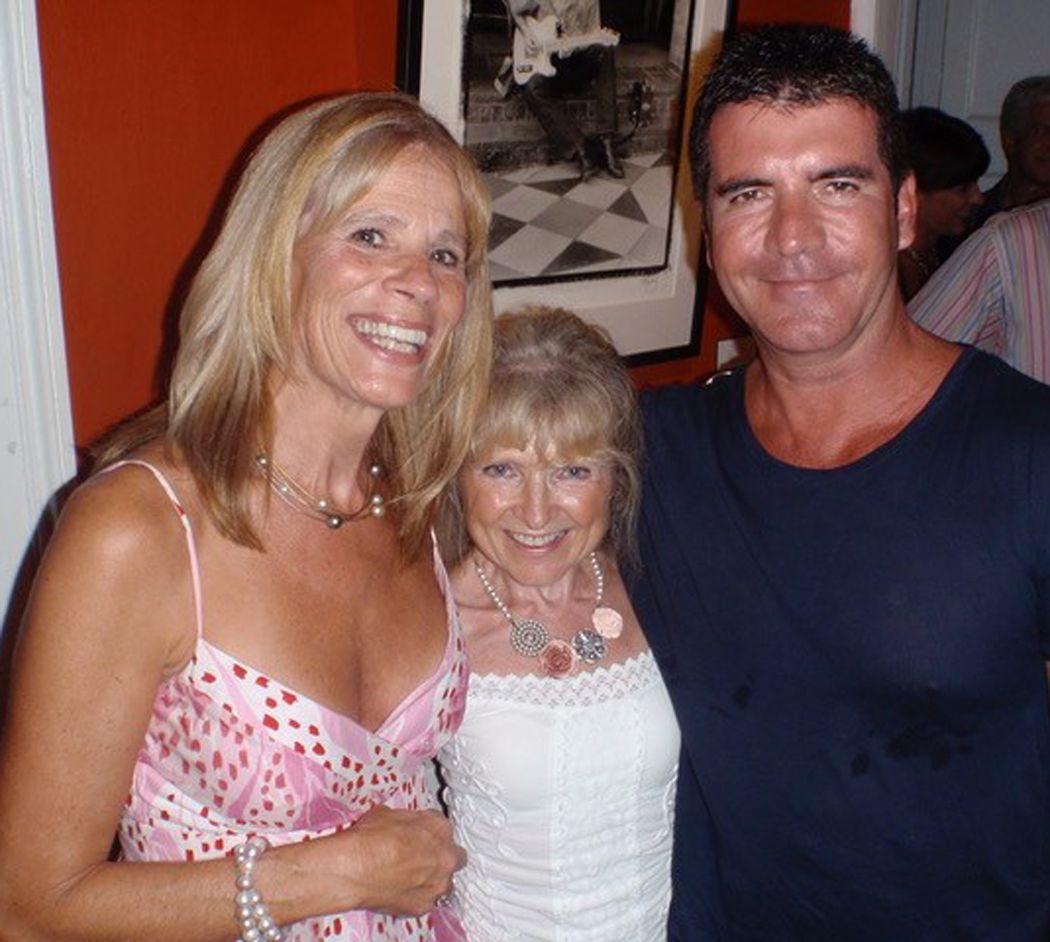 Janice Sylvia Brock with Nicola Aldridge and Simon Cowell (Collect / PA Real Life)
"I've had the most amazing experiences – visiting places all over the world and meeting incredible people – all the while having fun. I face severe physical challenges every day, but I don't let any of it get me down," she said.
Brock's work will soon be exhibited at Nineteen Gallery an exclusive, private gallery in Chelsea run by Roy Ruddock.
"My motto is, 'I can do,' and no matter what, you can survive and thrive," she said.
"It makes me very happy to think that when I'm dead and gone people can remember me for my oil paintings of pretty ladies with big bums."