The Talk co-host Amanda Kloots spoke out on Instagram to respond to a direct message from a follower who "scolded" her for exercising the day after her mother-in-law died.

Kloots—a dancer and fitness instructor—was criticized by the follower for "working out and teaching fitness" the day after her late husband Nick Cordero's mother, Lesley Cordero, died.
Kloots pointed out everyone grieves differently, noting "this is not the first time someone has written to me telling me that I'm not grieving to their standards."
You can see her post below.
Kloots said:
"A very powerful thing I've learned through grief is what I need to do for myself to release the pain — what helps me to process the trauma so it doesn't stay stuck."
"One thing I do is workout and the other [Dancing With the Stars] really helped me realize, dance. Dancing every day during that show released stored pain that I didn't even know I still had in my body."
Kloots said she "almost chickened out" because the dance class she went to was outside of her "comfort zone" but that when she did go, she had an "unforgettable experience."
She added:
"I allowed myself to completely let go. I put every emotion I had in me into each step- the sadness from loss, the build up from weeks before, the ptsd I was experiencing, the shock, the heaviness and weight of trauma."
"I took all of it and danced it out in front of a group of people I didn't know. I didn't look in the mirror. I didn't judge myself. I just danced."
"It was one of the most cathartic experiences I've ever had. I got home and felt like a completely different person — lighter in my head, heart and body and filled with new energy and light."
Kloots went on to stress the importance of allowing people to grieve in their own way:
"The moral of this story is two things. The first…. DO NOT LET ANYONE TELL YOU HOW TO GRIEVE! Do not let anyone's judgements get in the way of how YOU heal."
"They will never know or be able to understand an ounce of the weight you carry with you every single day."

"The second… GET TO KNOW YOURSELF! What do you need? What makes you feel better?"
"Then DO THOSE THINGS AND DONT LOOK BACK OR AROUND. YOU GO FORWARD!"
Many applauded Kloots for speaking out.

@calilori12/Twitter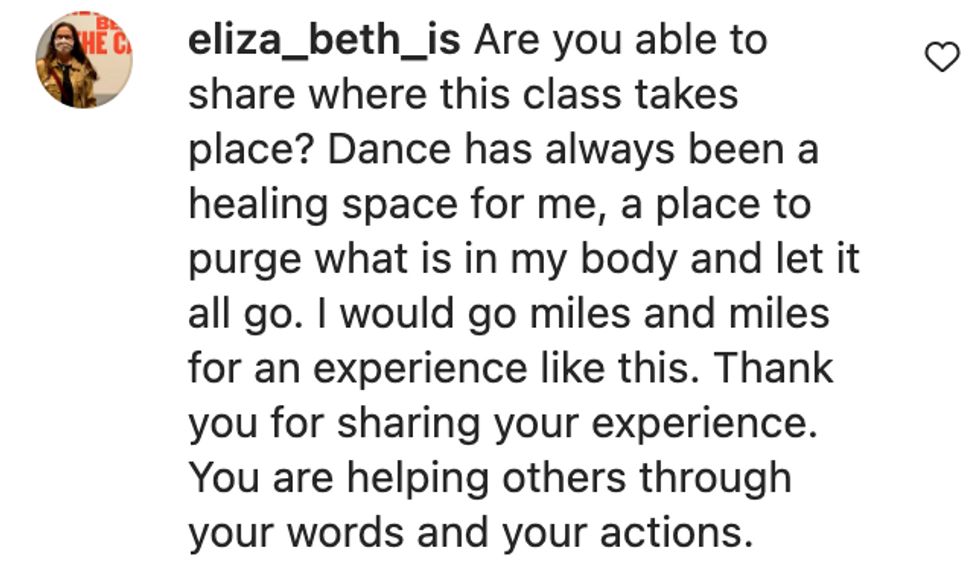 @eliza_beth_is/Instagram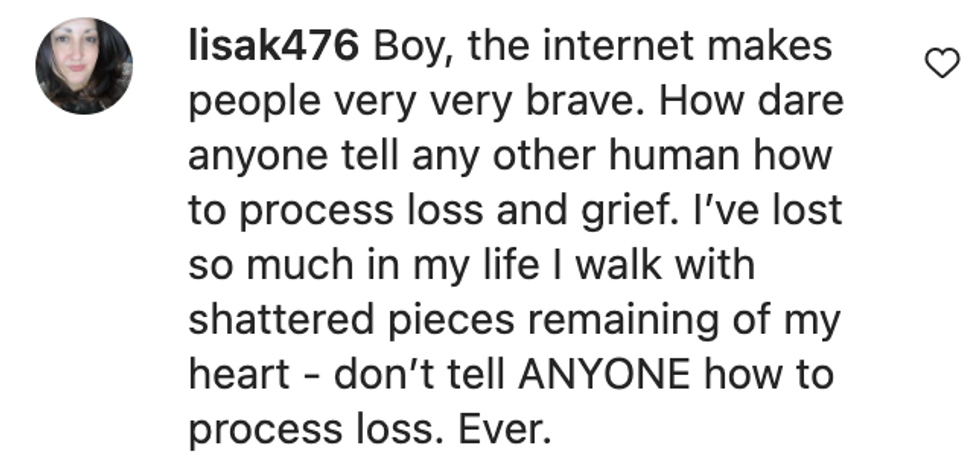 @lisak476/Instagram

@nataliemoralestv/Instagram

@eattravelrock/Instagram

@oliviamunn/Instagram

@alecbaldwininsta/Instagram

@akbar_gbaja/Instagram

@frennifer/Instagram
Kloots made her name appearing in the ensembles of several hit musicals on Broadway, including Young Frankenstein and Bullets Over Broadway.

It was while performing in the latter show that she met her husband, the late Nick Cordero. The couple had a son in 2019 and Kloots later received global attention for documenting Cordero's struggle and death from COVID-19-related complications on Instagram.
Cordero's death was a major loss for the Broadway and larger theatrical community, serving as a vehicle to spread awareness about the dangers of contracting the virus.