Zac Efron, the co-star of High School Musical, Neighbors, and The Greatest Showman, is sporting a new look: dreadlocks.
And now the picture he posted on Instagram featuring the new locks has sparked an online controversy over cultural appropriation.
---
Here's Efron's post showing off his dreads:
His caption, "Just for fun 🤘," signals Efron wasn't fully aware of the intense scrutiny his post would soon be receiving. Unless his idea of fun is being at the center of an online debate.
His Instagram post inspired some lively conversations.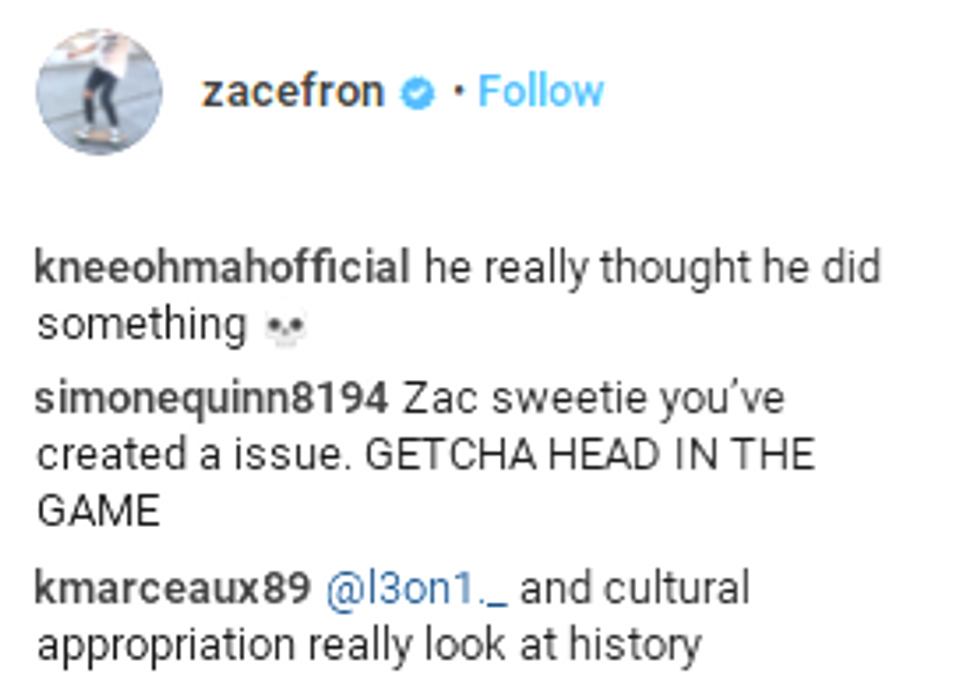 Instagram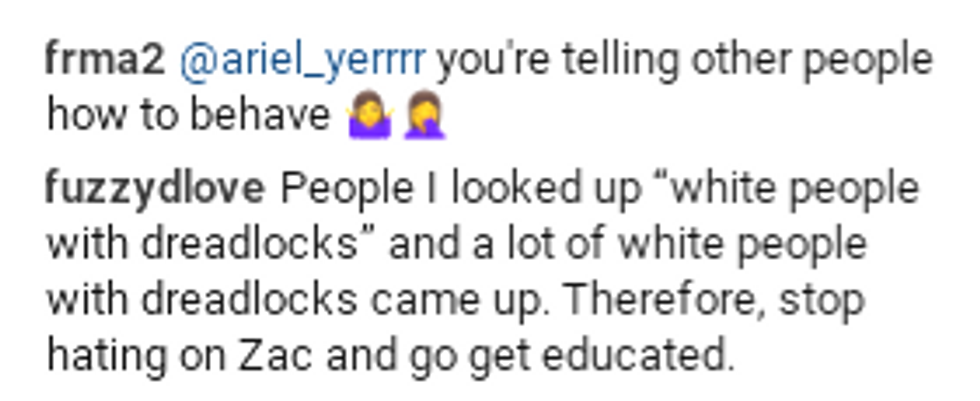 Instagram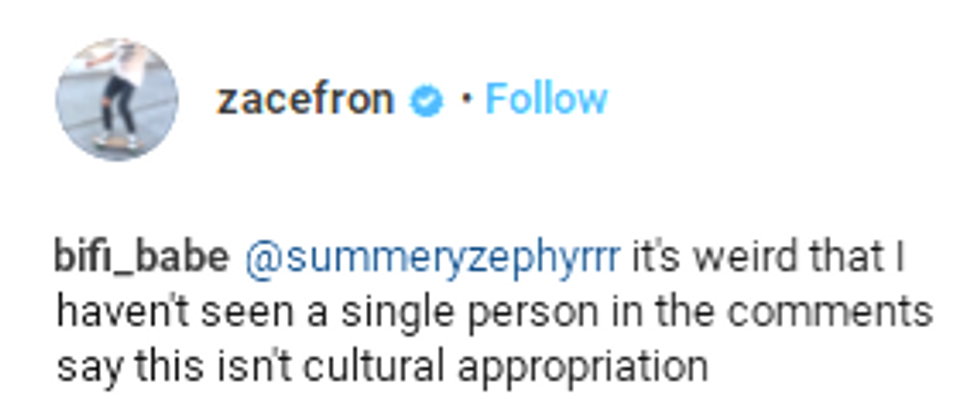 Instagram
Instagram
From Instagram, the debate moved to Twitter where several people pointed out that part of the issue is the bans imposed against people of color wearing their traditional hairstyles in the workplace or in society at large while a white actor can try them out "just for fun."
My annual reminder that there were shoot-to-kill orders in the colonized Caribbean and West Indies for blacks with… https://t.co/fdmcTobYdY

— Crutches&Spice♿️ (@Crutches&Spice♿️) 1530976869.0
Julio with dreads: "your hair is distracting" Zac Efron with dreads: "Just for fun." Aka absolute -> 🚮🚮🚮🚮🚮 https://t.co/qgIdGTtKIB

— Dont@Me (@Dont@Me) 1531056893.0
Zac Efron is catching hell for those dreads which I feel like is a reach but their points are still valid nonetheless.

— Tom Hanks (@Tom Hanks) 1531060930.0
@whtevrmariah It's hair. Hair. Just hair. If you have to fight over who is allowed to wear hair in what styles, you… https://t.co/pPV6lwtylA

— Jack Kalian (@Jack Kalian) 1530891720.0
One Twitter user, Tyde Dermody, wrote about the irrelevance of whether the dreads look good or bad:

It's not about how his dreads look it's about cultural appropriation which doesn't fly even if it was "just for fun"... whatever that means?

Zac Efron has had a special place in my... heart for years but that doesn't mean he gets a free pass.
Childish Gambino also chimed in:
Zac Efron in dreads.

I have really seen it all.

What in the cultural appropriation is going on?

Troy, get your nonsense head in the bloody game .

Pls and Pls.
There were also many Efron fans who thought dreadlocks were a bad move from a purely aesthetic perspective:
Zac Efron just put dreads in his hair...unsubscribed

— Ems (@Ems) 1530811786.0
WHY DOES ZAC EFRON HAVE DREADS "JUST FOR FUN" BABE DONT DO THIS TO YOURSELF

— Raegan McKenzie♥ (@Raegan McKenzie♥) 1530887278.0
zac efron got dreads and my fave is officially problematic :,( boy, white people's hair doesn't "dread" properly! t… https://t.co/BFZLS37kB2

— Ikea Fuck (@Ikea Fuck) 1531024590.0
But other Efron-supporters were behind the actor 100%.

@ZacEfron Zac got dreads and I'm freaking out you could pull off wearing anything tho https://t.co/FNT5yHs36Z

— Jade Thompson (@Jade Thompson) 1530817280.0
Sorry for my unpopular opinion, but Zac Efron is still yummy dreads or not. 🤙

— Madi McGuire (@Madi McGuire) 1530814729.0
Must admit I'm kind of digging the dreads #roughandready @ZacEfron

— Katie Childs (@Katie Childs) 1531060581.0
Others made the oft heard comment on any debate: this is what you're worried about?
why the hell do people care if zac efron has dread locks? I swear every day I see another super popular tweet compl… https://t.co/sW5JO4EVFC

— Nick (@Nick) 1531051515.0
There's real 21st century problems and I promise Zac Efron getting dreads that's he's gonna take out in 2 weeks isn't one of them.

— "PESO THE COUPON" (@"PESO THE COUPON") 1531060738.0
Perhaps the most astute group of people, however, is this one woman who (jokingly) is simply concerned by the way Efron looks in his picture. You OK bro? Do you need some money for the bus?

Someone check on zac efron https://t.co/w5IRgSndDZ

— mariah (@mariah) 1530811815.0
H/T - CNN, Instagram, Getty Images